Amitabh Bachchan shared a video of a young kid claiming him to be the future of Indian cricket, who later turned out to be Pakistani.
Photo : AP/Screengrab
KEY HIGHLIGHTS
Amitabh Bachchan shared the video of a kid with unreal batting skills.
He called him the future of Indian Cricket.
However, netizens pointed out that the kid is from Pakistan.
In India and Pakistan, cricket is not just a sport, it is a religion, a way of life. Rarely, will we find a child growing up in India who has not played any form of cricket, be it in front of his house, on the roads, and in the grounds. There are also several talents who show the gift of being a talented cricketer right from their childhood. Amitabh Bachchan who is an ardent cricket fan himself, has now shown the world a cricketer in the making who can give big batters a run for their money.
Amitabh Bachchan, who is known to share some interesting videos on his Instagram profile, has recently shared the clip of a child playing cricket that has literally gone viral. The young boy can be seen batting with the fluency of a seasoned batter. He can be seen playing some exquisite shots- right from a perfect straight drive to a perfect cover drive. In fact, he is even seen hitting a helicopter shot made iconic by MS Dhoni.
"The future of Indian Cricket is in very safe hands," Amitabh Bachchan captioned the post. Netizens were wowed by
the young kid as well, including popular Bollywood rapper Baadshah. He was amazed by how the kid played the helicopter shot to perfection. "That helicopter shot though," Baadshah commented.
While Timesnownews cannot independently verify the origin of the video, some social media users claimed that the young kid is from Pakistan. Many people pointed Bachchan this mistake including Pakistani singers Asim Azhar and Goher Mumtaz.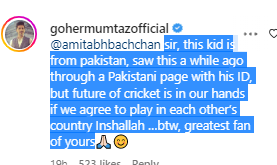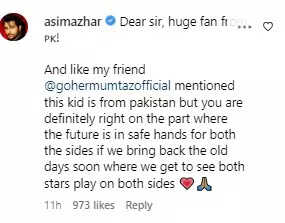 "Sir, this kid is from pakistan, saw this a while ago through a Pakistani page with his ID, but future of cricket is in our hands if we agree to play in each other's country Inshallah …btw, greatest fan of yours," Goher Mumtaz commented.
"Dear sir, huge fan from Pakistan! And like my friend @gohermumtazofficial mentioned this kid is from pakistan but you are definitely right on the part where the future is in safe hands for both the sides if we bring back the old days soon where we get to see both stars play on both sides," Asim Azhar commented.