Considering that about 40 percent of West Hollywood's population identifies as LGBTQ+, it's no surprise that this Southern California city is a hotspot for LGBTQ tourism. And that's especially true during pride season, during the days of WeHo Pride, a 40-day celebration that kicked off on May 22.  
While it may be a bit late to make plans for this year's pride festivities, it's never too late to plan an LGBTQ+ vacation in West Hollywood. The destination, which was incorporated as a city in Los Angeles County in 1984, has a decades-long tradition of celebrating diversity. The city elected its first openly lesbian mayor the year it was incorporated, and in 1985 became the first U.S. city to legalize same-sex domestic partnerships. Visitors will find lots of things to do in West Hollywood as they immerse themselves in this wonderfully inclusive ambiance.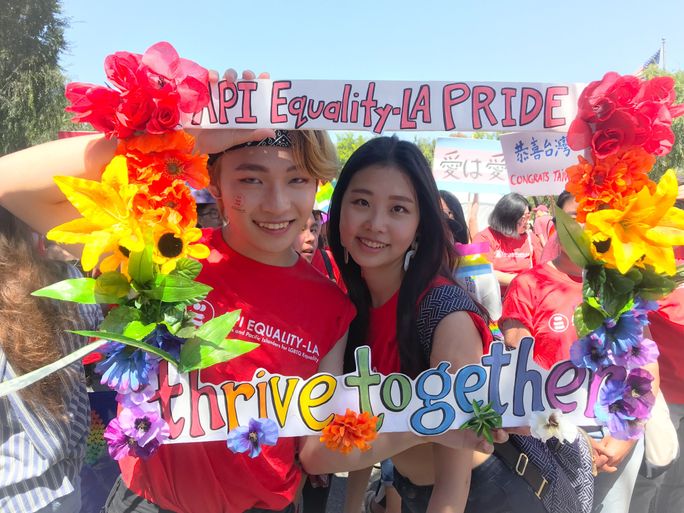 Enjoying LGBTQ+ Nightlife in West Hollywood 
Southern California's year-round pleasant climate makes going out after dark an even more pleasant experience, since most bars and clubs have both indoor and outdoor areas. Santa Monica Boulevard is the main artery for all things nightlife, and it's easy to stop at multiple bars and venues, with each providing its own vibe and musical style, ranging from hip hop to vintage disco music to Spanish-language pop.  
Among the longest-running LGBTQ bars and clubs is the Abbey a reliably popular place for drinks and food, with an extensive menu of food and drinks for lunch and dinner, and both indoor and outdoor seating. Later at night, it packs in revelers for dancing.   
Also popular is Revolver, a lively corner bar that hosts interesting theme events that range from karaoke to Latin music to queer emo nights, with go-go boys and drag shows mixed in. Stache also packs in a festive crowd with a variety of activities, including Monday night "screen queens" movie viewings, Wednesday night "dine, drink and draw" activities, trivia Thursdays and a "wigs and waffles" Sunday brunch.  
Additional nightlife options include Schmitty's, a laidback venue that's one of the city's newest LGBTQ bars, or Hamburger Mary's, a popular restaurant where drag bingo and live entertainment are part of the experience; the weekend drag brunch is an especially festive time to dine and drink there. Just a few blocks away, Sunset Boulevard is a hotspot for live music, standup comedy and other entertainment.  
Exploring Culture 
There are lots of ways to connect with culture. In nearby Hollywood, the Los Angeles LGBT Center is home to the Lily Tomlin/Jane Wagner Cultural Arts Center, which includes the 200-seat Renberg Theatre and the 50-seat Davidson/Valentini Theatre, both of which stage a variety of works throughout the year. Net proceeds from both theatres support the Center's programs and services. 
The MOCA Pacific Design Center, meanwhile, features contemporary art exhibitions, while the West Hollywood Library hosts regular LGBTQ-themed events, author readings, and book signings. The ONE Archives at the USC Libraries, which is billed as having the largest collection of LGBTQ materials in the world, is currently closed for renovations but is still hosting online exhibits; on June 15, it's hosting the launch of a digital exhibition called Satrang at 25: Queer South Asian Diaspora(s) in Context. 
Shopping in and Around West Hollywood 
Visitors can indulge in upscale shopping on Melrose Boulevard or check out the variety of independent shops along Santa Monica Boulevard — including Brick & Mortar, which stocks attractive men's wear, including casual clothing, beachwear and underwear, and Block Party, a clothing store with lots of eye-catching, colorful designs and décor items, with a heavy emphasis on rainbows and sexy men's clothing.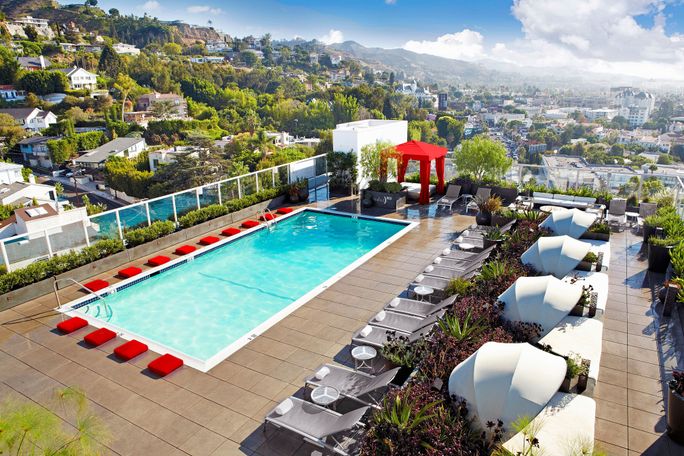 LGBTQ+-Friendly Hotels in West Hollywood
Considering West Hollywood's central location in Los Angeles County, it's not surprising that there is an array of noteworthy accommodation options. If proximity to LGBTQ nightlife is a priority, it's hard to beat the Ramada Plaza by Wyndham West Hollywood Hotel and Suites (https://www.wyndhamhotels.com/ramada/west-hollywood-california/ramada-plaza-hotel-suites-west-hollywood-beverly-hills/overview), which offers reasonable rates and has a swimming pool.  
For a more upscale experience, consider Kimpton La Peer Hotel, a stylish place with a swimming pool and a restaurant that serves breakfast and lunch, and the Andaz West Hollywood, a legendary hotel once nicknamed "Riot House" because of the rock stars who stayed there.  
In addition, a company called Springboard Hospitality has four West Hollywood hotels — Montrose at Beverly Hills, Le Parc at Melrose, The Grafton and Chamberlain West Hollywood — that offer a Passport to Pride package, which includes room upgrades, flexible check-in and checkout times and 20 percent off in-room spa services.  
Getting Around 
Rental cars are the most obvious choice for visitors, but those planning a local visit focused on West Hollywood can save money (and parking fees) by going car-free and taking advantage of the city's walkability — as well as its free shuttle services along Santa Monica Boulevard. CityLine provides free service between 9am and 5:30pm, while The Pickup, which is designed for bar hopping people who want to avoid driving, offers free service on Friday and Saturday from 8pm until 3am and on Sunday from 2 p.m. to 10 p.m.

Topics From This Article to Explore