Arnold Schwarzenegger has lived the American dream. 
He arrived in the United States with little money but a lot of determination, and built a life and career that were the envy of millions.
The Austrian-born star even held public office, serving two terms as the governor (or "Governator" as he was dubbed, based on his role in "The Terminator") of California. 
But for all his success in the world of Hollywood and fitness, Schwarzenegger faced his share of controversies, from affairs to violating city policy.
As the icon reflects on his life and career in his new Netflix docuseries, "Arnold," we're looking back at the triumphs and troubles he faced throughout his life.
HARRISON FORD, ARNOLD SCHWARZENEGGER, JOHNNY DEPP STILL POWER PLAYERS IN HOLLYWOOD FILM INDUSTRY
Mr. Universe and Bodybuilding Fame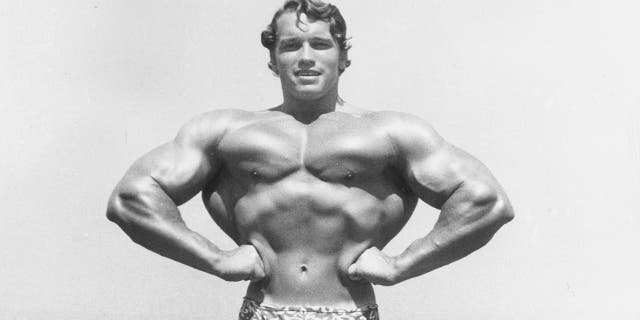 Schwarzenegger first came into the public eye as a bodybuilder, something he pursued as a teenager when his football coach took his team to train at a local gym.
He became so invested in the world of bodybuilding that he even went AWOL from his compulsory military service in Austria at age 18 to compete in a competition in Germany.
By 19, Schwarzenegger was already Mr. Europe and had earned first place in the International Powerlifting Championship. But he came in second in the Mr. Universe competition.
A year later, in 1967 at age 20, Schwarzenegger won the title and became the youngest bodybuilder in history to win Mr. Universe.
He would win a total of five Mr. Universe titles and seven Mr. Olympia titles during his bodybuilding career and earned the nickname "The Austrian Oak," for his impressive height and build.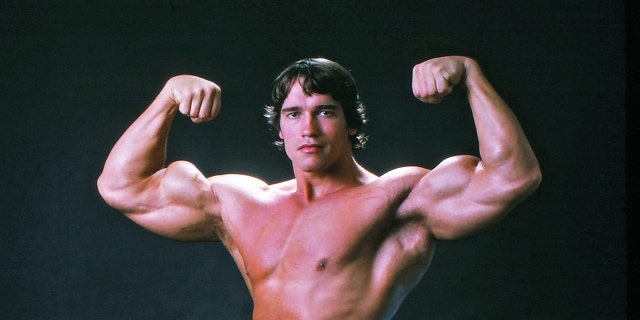 In 1968, the then 21-year-old emigrated to the United States and began working out in Venice at the famous Muscle Beach and Gold's Gym, putting the location on the map.
Schwarzenegger said in a speech, reprinted on his website, "The Mr. Universe title was my ticket to America – the land of opportunity, where I could become a star and get rich. Yes!"
ARNOLD SCHWARZENEGGER'S SON RECREATES ANOTHER ONE OF HIS FAMOUS FATHER'S BODYBUILDING POSES
Hollywood Career
The journey to the U.S. led to his first film role, "Hercules in New York," credited under the screen name "Arnold Strong." But his Austrian accent was deemed too thick to understand, and he was dubbed for the movie.
"It was very difficult for me in the beginning – I was told by agents and casting people that my body was 'too weird,' that I had a funny accent, and that my name was too long," Schwarzenegger wrote on his website in 2000. "You name it, and they told me I had to change it. Basically, everywhere I turned, I was told that I had no chance."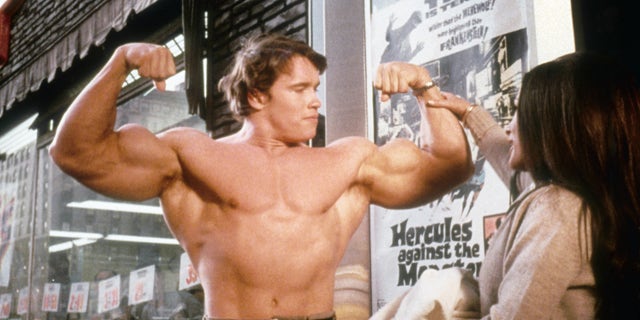 Despite the naysayers, Schwarzenegger continued to pursue acting, and in 1977 won a Golden Globe for best acting debut in a motion picture for his role in "Stay Hungry," alongside Jeff Bridges and Sally Field. 
Also in 1977, Schwarzenegger's profile rose with the release of "Pumping Iron," a docudrama about the world of bodybuilding, focused on the 1975 Mr. Olympia competition (which Schwarzenegger won).
ARNOLD SCHWARZENEGGER TEAMS UP WITH 'TOP GUN' STAR, TELLS FANS 'I'M BACK, BABY'
His breakthrough role came in 1982, when he starred as the title character in "Conan the Barbarian," a box office hit that spawned a sequel and drew the attention of James Cameron.
Cameron went on to cast Schwarzenegger in "The Terminator," launching him to action super stardom.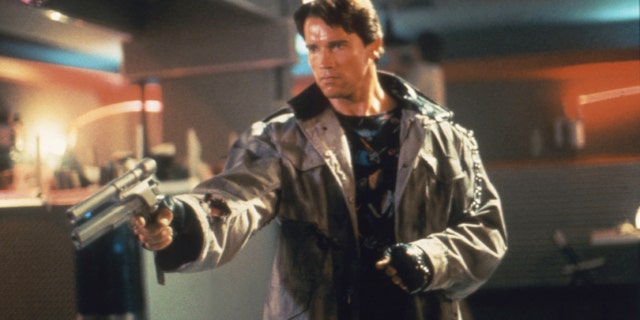 Schwarzenegger continued with a string of hits, including "The Running Man," "Predator" and "Total Recall." He also branched out into comedy, with movies like "Twins" and "Kindergarten Cop."
Throughout the '90s, he continued in a blend of action and comedy films, including "True Lies," "Junior," "Batman & Robin" and "Jingle All the Way."
In 2003, he put his acting career on pause to pursue politics. After he served two terms as governor of California, he returned to the big screen in "The Exependables" franchise, alongside onetime rival Sylvester Stallone.
Schwarzenegger made his TV debut in 2023, with the Netflix series "FUBAR."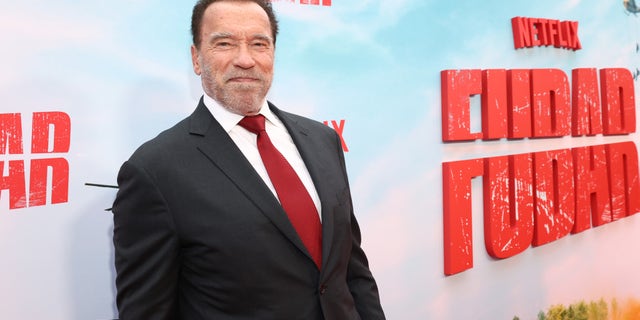 ARNOLD SCHWARZENEGGER'S CO-STAR REVEALS ACTION STAR'S HIDDEN ON SET TALENT
Political Success
Schwarzenegger was interested in U.S. politics ever since his arrival in the country.
In the early '90s, he was appointed the chairman of the President's Council on Physical Fitness and Sports, by President George H.W. Bush, and later served a similar role in California.
When California held a recall vote on Gov. Gray Davis in 2003, Schwarzenegger announced his candidacy on "The Tonight Show with Jay Leno."
Davis was voted out and Schwarzenegger was chosen as his replacement. He won a second term in 2006.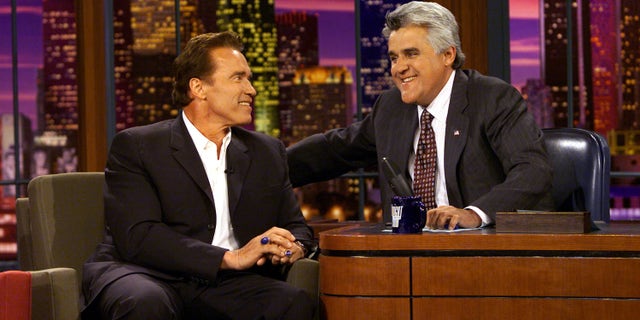 His website lists some of his accomplishments as governor, including passing the Global Warming Solutions Act of 2006 – a bipartisan agreement to combat global warming by reducing California's greenhouse gas emissions, overhauling the state's workers' compensation system, passing legislation to improve nutrition in schools, and promoting California tourism and products.
It was often wondered if Schwarzenegger would consider a run for the presidency after his governorship, but per the Constitution, he is ineligible as he is not a natural-born citizen of the United States (Schwarzenegger has been a naturalized U.S. citizen since 1983, and retains dual citizenship with Austria).
In an interview earlier this year with The Atlantic, he told the interviewer that of his various titles and accolades, governor is the one he cherishes most.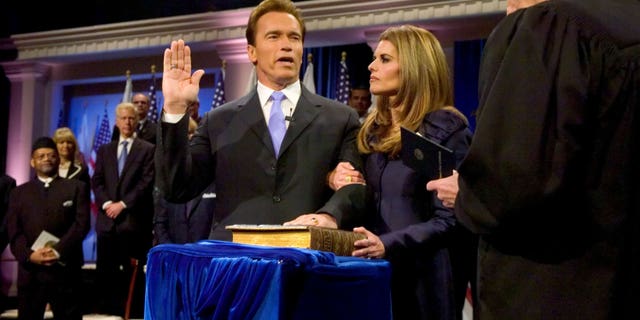 ARNOLD SCHWARZENEGGER WEIGHS IN ON THE CALIFORNIA RECALL
Affair and Divorce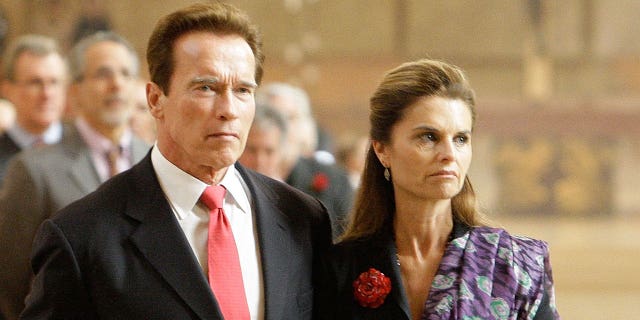 Schwarzenegger married journalist and Kennedy cousin Maria Shriver in 1986, and the couple have four children: Katherine, Christina, Patrick and Christopher.
In 1996, Schwarzenegger engaged in an affair with Mildred Baena, the family's former housekeeper. The relationship resulted in a son, Joseph Baena.
Shriver didn't find out about the affair until 2011, but the couple had sought marriage counseling beforehand, where the "Terminator" star confessed to the affair.
In his Netflix docuseries, "Arnold," the actor said, "In one of the sessions the counselor said, 'I think today Maria wants to be very specific about something. She wants to know if you are the father of Joseph.' And I was like – I thought my heart stopped, and then I told the truth."
"She was crushed because of that. I had an affair in '96. In the beginning I really didn't know," he continued. "I just started feeling the older he got the more it became clear to me and then it was really just a matter of how do you keep this quiet? How do you keep this a secret?"
"I am going to have to live with it the rest of my life," Schwarzenegger said. "People will remember my successes and they will also remember my failures. This is a major failure. I had failures in the past in my career, but this is a whole different ball game, dimension of failure."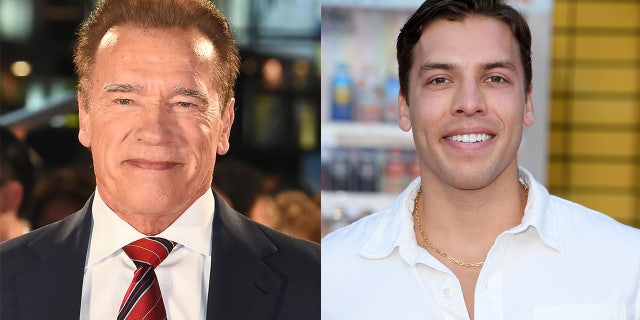 ARNOLD SCHWARZENEGGER DOESN'T MISS BEING MARRIED, SAYS CHEATING WAS 'MY F—UP' AND 'FAILURE'
Baena has followed in his father's footsteps, pursuing a career in bodybuilding and acting, and has said they have a relationship, but it took a while to develop.
"I grew up with my mom, and I was always nervous, and I didn't want him to think bad of me and be like, 'What the heck is this guy doing? He's just partying all the time,'" Baena explained on the "Unwaxed" podcast last year. "Now it's like awesome. I'm so close to my dad, and we talk about everything."
Schwarzenegger was also present for Baena's graduation from Pepperdine University in 2019.
"Congratulations Joseph! Four years of hard work studying business at Pepperdine and today is your big day! You have earned all of the celebration and I'm so proud of you. I love you!" he wrote in a tweet.
ARNOLD SCHWARZENEGGER'S SON JOSEPH BAENA SAYS THEIR RELATIONSHIP 'TOOK A LITTLE WHILE' BEFORE THEY GOT CLOSE
"Grope Gate"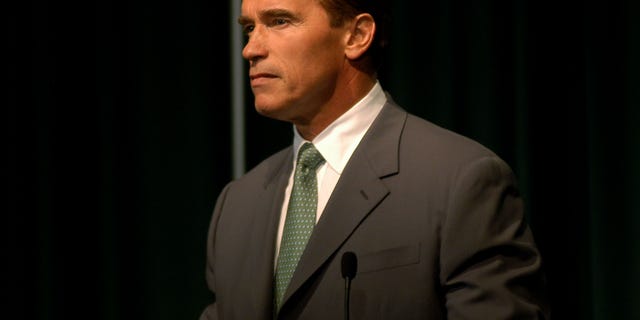 Schwarzenegger's political ambitions were nearly derailed when several women came forward in 2003, accusing him of inappropriate and unwanted touching in years past.
A total of 15 women spoke about the incidents, as reported by the Los Angeles Times. 
Initially, Schwarzenegger and his campaign downplayed and denied the claims, but the actor turned candidate eventually admitted to "behaving badly."
"It is true that I was on rowdy movie sets and I have done things that were not right, which I thought then was playful," he said at the time.
"But now I recognize that I offended people. Those people that I have offended, I want to say to them I am deeply sorry about that and I apologize because that's not what I'm trying to do."
Reflecting on the scandal in his docuseries, Schwarzenegger said, "Today, I can look at it and kind of say, it doesn't really matter what time it is. If it's the Muscle Beach days of 40 years ago, or today, that this was wrong. It was bulls—. Forget all the excuses, it was wrong."
CLICK HERE TO SIGN UP FOR THE ENTERTAINMENT NEWSLETTER
Pothole Drama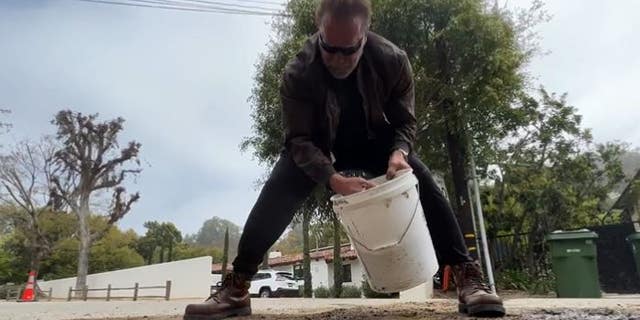 In 2023, Schwarzenegger became embroiled in an unusual scandal: filling a pothole in his Brentwood neighborhood.
The 75-year-old went viral in a video he shared showing him filling in the holes he said were "screwing up cars and bicycles for weeks."
The City of Los Angeles disputed Schwarzenegger's claim. A spokesperson for the city said in a statement the hole "is not a pothole," but rather "a service trench that relates to active, permitted work being performed at the location by SoCalGas, who expects the work to be completed by the end of May." 
A spokesperson also explained to Fox News Digital that work in the area began on Jan. 26 with expectations to be completed by the end of that week.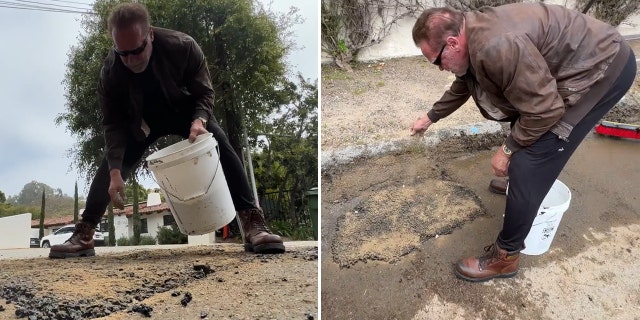 CLICK HERE TO GET THE FOX NEWS APP
However, Schwarzenegger's efforts ended up being kept intact by SoCalGas.
Marissa Girolamo, a communications manager at SoCalGas, told NBC News, "We did leave the patch that Governor Schwarzenegger applied, however yesterday our crews went back to the site and we used special equipment to go over the patch to make it all stronger." 
The actor tweeted the news, writing, "Teamwork. Happy to help speed this up, and thanks to the crew for pumping up my fix."
Not long after the buzz died down, Schwarzenegger told Fox News Digital, "I was very happy that I could help the city to fix some of those dangerous potholes."
"And I was very happy that the city was appreciative, and they came out to inspect my work and agreed that it was great work."
He added, "It's all kind of, like, let's help each other. It was a fun thing to do. I love doing things like that. It took me back to the '70s when I was doing construction work, and I was on top of my bodybuilding career and still didn't make any money. I was a bricklayer and cement worker. So it took me back to those days."