Written by Nick Ackerman, co-produced by Stanford Chemist. This article was originally published to members of the CEF/ETF Income Laboratory on May 23rd, 2023.
BlackRock Utilities, Infrastructure & Power Opportunities Trust (NYSE:BUI) has provided a consistent distribution to its shareholders since its launch. The fund provides exposure to a broad basket of infrastructure plays that include different utilities and energy investments. Instead of utilizing leverage, which can add more volatility and risk, the fund utilizes a covered call strategy. While that carries its own specific set of pros and cons, it's generally a relatively minimal risk strategy.
The fund is only trading at a shallow discount for now, but that's not unusual. In fact, this fund has frequently traded at premiums going back to around 2016. Since our last update, the fund has provided attractive positive total returns. The discount narrowed a bit since the previous update, and that helped provide better results.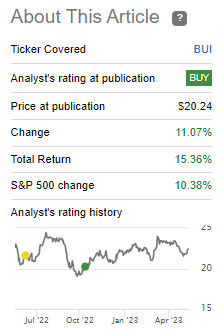 I believe this is a fund that could be bought by income investors and held over the long term.
The Basics
1-Year Z-score: 0.61.
Discount: -0.13%.
Distribution Yield: 6.61%.
Expense Ratio: 1.08%.
Leverage: N/A.
Managed Assets: $509.106 million.
Structure: Perpetual.
BUI's investment objective is to "provide total return through a combination of current income, current gains and long-term capital appreciation."
To achieve this objective, they have quite a bit of flexibility. They will invest "primarily in equity securities issued by companies that are engaged in the Utilities, Infrastructure, and Power Opportunities business segments anywhere in the world and by utilizing an option writing (selling) strategy in an effort to enhance current gains."
The fund's expense ratio is low for a closed-end fund, but it is about normal for a covered call BlackRock fund. The total managed assets don't necessarily make this the largest fund, but it is still a respectable size. When at a premium, they can offer shares through their at-the-market offering, which helps the fund grow. Since they are accretive offerings, it's simultaneously a benefit for current investors. The average daily trading volume is near 50k, so most retail investors should find adequate liquidity needs.
Performance – Slight Discount
The fund's discount has narrowed some from our last update. However, it doesn't appear to be too overvalued in this case. This is because since around 2016, a premium hasn't been all that unusual. Currently, the fund's discount represents a level that is almost at parity with the share price.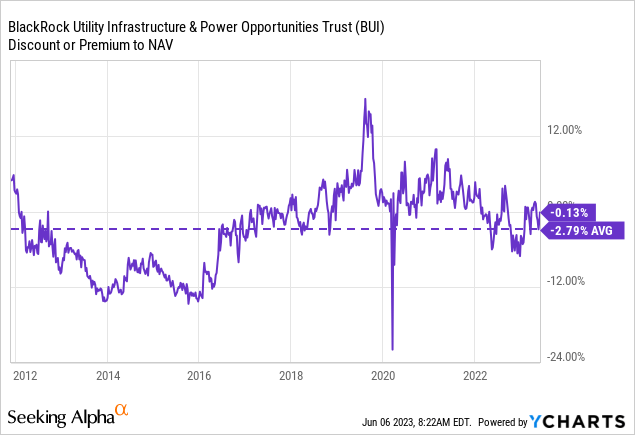 In terms of annualized results, the fund has delivered fairly respectable returns. Being a covered call writing fund can sometimes mean giving up upside during a raging bull market. However, with utilities being less volatile as a defensive sector, that would seemingly be less of a consideration.

One area that can benefit from the covered call strategy is some slight protection to the downside. Over the last year, BUI has outperformed what could be considered somewhat similar peers. I've included the Reaves Utility Income Fund (UTG) and Cohen & Steers Infrastructure Fund (UTF).
I've also included the Utilities Select Sector SPDR ETF (XLU) to give a bit of context to the utility space overall. However, these funds carry exposure that is quite different from XLU, with global exposure and other infrastructure exposure outside of utilities. Additionally, each of these funds is unique in its own way, too. So I see an argument can be made to hold each of these positions at the same time.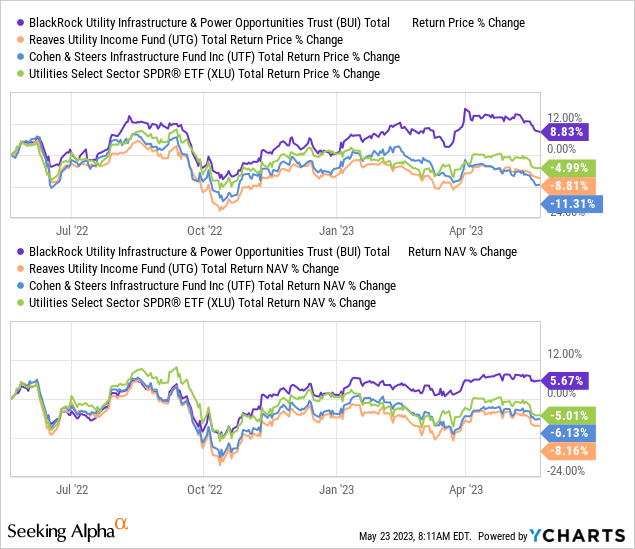 BUI has been the better performer in the last year on both a total share price and NAV return basis. Since the fund's inception, it had underperformed UTF, but it had outperformed UTG. There was a significant underperformance that was apparent up until around the pandemic crash.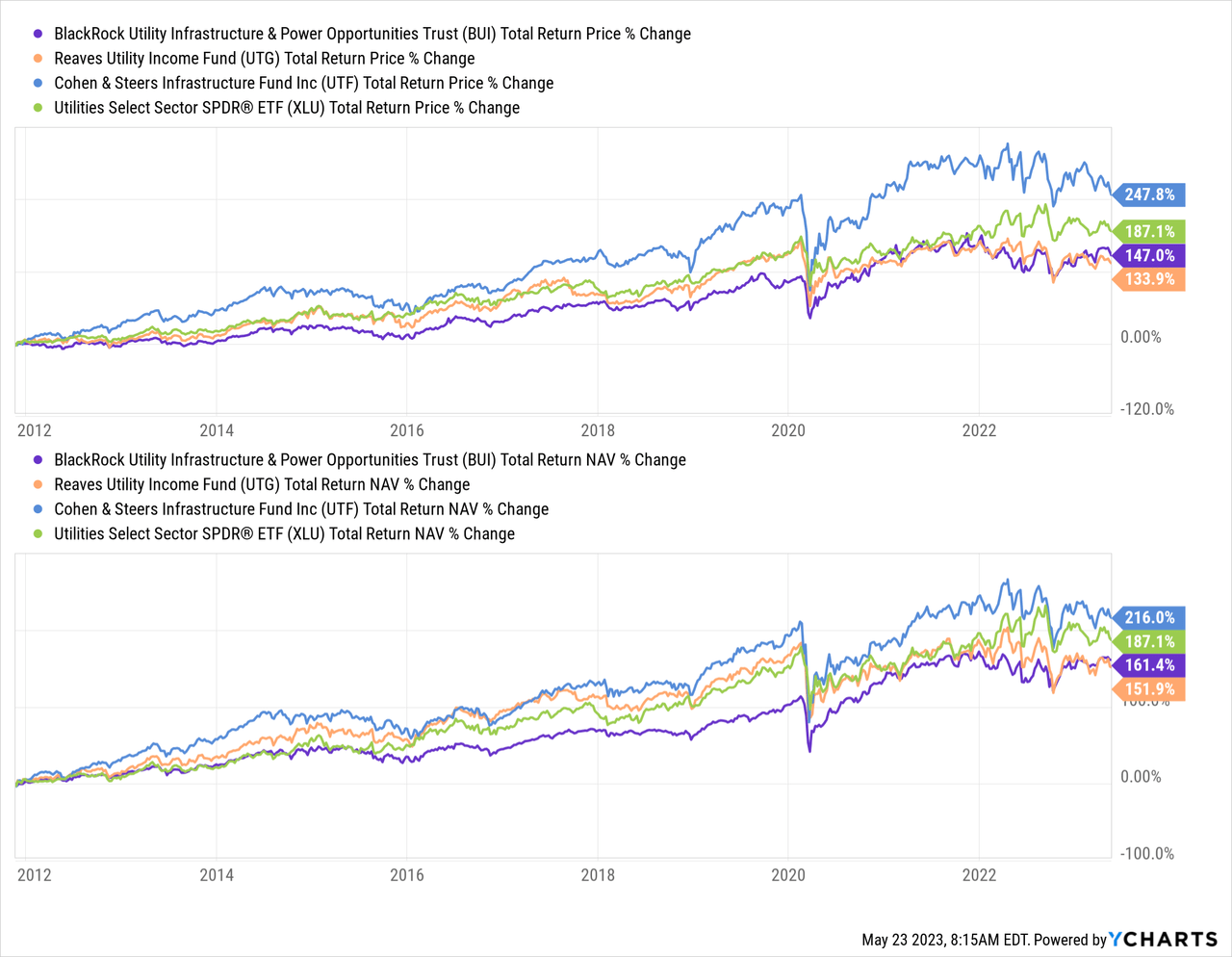 From that point, BUI started to perform better and UTG worse. I think that helps reinforce why holding each can make sense. At different times, each of these funds will shine.
Distribution – Attractive and Reasonable
BUI isn't necessarily the highest-yielding fund, but that does mean there is a lot of safety from being cut. The fund pays a $0.1210 monthly distribution, which has been in place since around 2014. Prior to that, it was a quarterly $0.3625 or the equivalent of $0.120833 per month. Essentially, they've maintained the same distribution since inception. At a NAV rate of 6.39%, slightly below the share price yield due to a small discount, that doesn't seem to be in jeopardy.
Year-over-year, the fund's net investment income rose substantially. However, we can also see they issued quite a bit through the ATM offering and DRIP.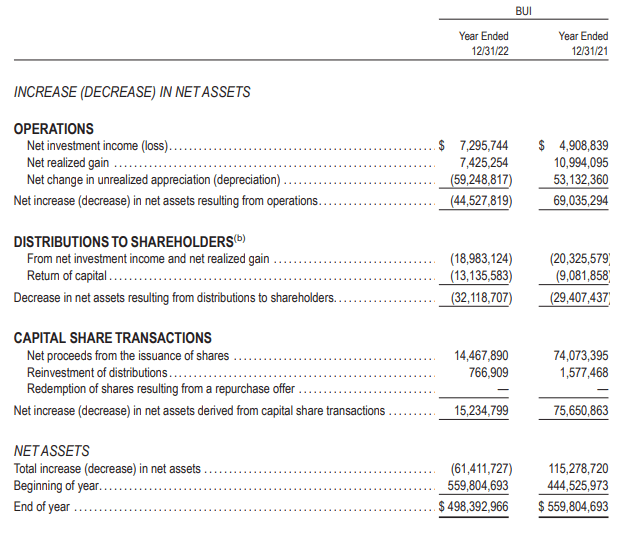 Still, on a per-share basis, the fund's NII per share went from $0.24 in fiscal 2021 to $0.33 in fiscal 2022. Meaning, it was still beneficial on a per-share basis. I'd normally be more excited about that, but the $0.33 NII per share is right where we were in fiscal 2020. It's down from $0.37 and $0.49 in 2019 and 2018, respectively. Although as an actively managed fund, these figures can move around all the time.
The main takeaway is that while the latest year showed some pressure off of capital gains being needed, they will still require a sizeable portion to meet their annual $1.452 payments to shareholders. This hasn't been a problem in most years, but it wasn't achieved last year. On a per-share basis, the fund lost $2.37 per share in realized/unrealized gains. This isn't a concern for short periods of time, but if this occurs year after year, the NAV rate could start to rise. That would reflect the erosion of the underlying portfolio and be something to watch for potential cuts being needed in the future.
To help offset the losses from being even worse, the fund generated around $2.970 million in options writing.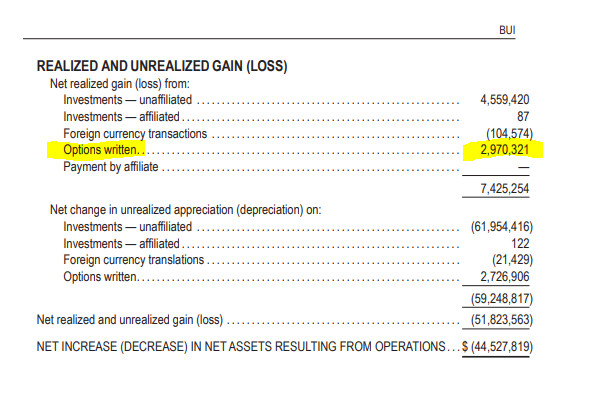 This was actually down from the semi-annual report of $4.135 million generated. In our prior update, I noted that I'd be watching this figure closely to see if they could keep up a similar amount to contribute to gains. Since they could not, that put more pressure on the fund's downside. At the same time, the fund remains overwritten by around 33% – close to the ~32% overwritten it was previously.
For tax purposes, 2022 saw the fund's distribution primarily classified as return of capital, followed closely by long-term capital gains. The remainder was identified as qualified dividend income. Overall, that can be seen as quite tax-friendly.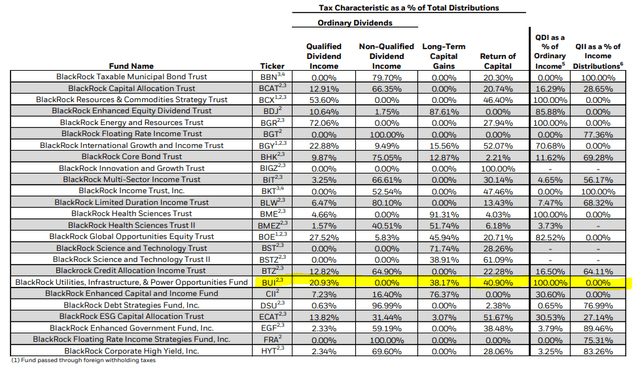 BUI's Portfolio
BUI's turnover has been anywhere from 20-39% in the last five years, with 2022 coming in at 36%. This makes it a fairly active fund, but certainly not the most active. One area that seems to have shifted a bit since our last update is the fund's weighting outside of the U.S. At the end of September 2022, this was closer to 64%.
Some of this could have come from a conscious decision to include more international exposure, or from the fact that global investments started to outperform the U.S. more recently. International markets remain relatively cheap compared to the U.S., which means more upside could be captured. This is even despite the Russian war on Ukraine continuing.
Then again, as we can see below, the European countries where they list the most exposure are going to be relatively less impacted due to being the generally stronger, more financially stable Western countries.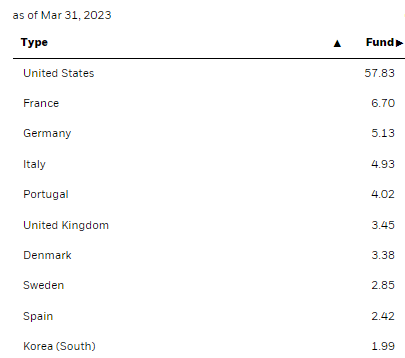 The fund's sector exposure hasn't shifted as notably. The largest allocation remains to utilities, and that only dipped by a negligible level. The capital goods sector exposure saw a small increase, as did their energy weighting. The remaining sector exposure is fairly insignificant after these three weightings.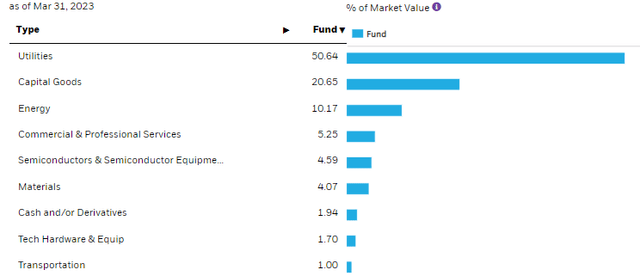 The top ten give us a good mixture of what this fund can offer. Albeit, the weightings in this funds top ten are fairly hefty, particularly towards the top several holdings.

They list 56 total holdings, so that's fairly limited compared to some CEFs. The top ten comprise 37.32% of the portfolio at the end of March 2023, with NextEra Energy (NEE) at a fairly concentrated 8.28% weighting. The NEE weighting was actually a decline from 9.29% at the end of September 2022. At that same time, the top ten was closer to a 40% total allocation.
A change in the top ten has seen Vinci SA (OTCPK:VCISF) and Exelon Corp (EXC) come into the top spots. Those names replaced Johnson Controls International PLC (JCI) and Waste Connections (WCN). At the end of 2022, those names were still in the portfolio, but we don't have access to any more recent full holdings list from the fund.
However, the performance of these names since September 2022 suggests that they could still be holdings, but they simply underperformed the 'new' additions. Those new names aren't exactly new, either, as they were positions back in September. Again, this reinforces the expectation that they were propelled to top spots due to strong performance.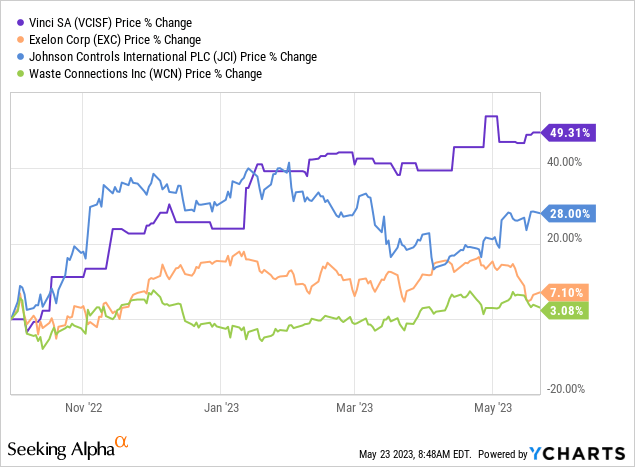 Conclusion
BUI provides exposure to a diverse basket of utility and energy names. However, while carrying diversification there, relative to other CEFs, it could be considered fairly narrow. The top ten weightings make up a hefty portion of their portfolio, with NEE being a particularly meaningful position for the fund. This has been the case for a while.
Still, I believe this fund provides an interesting point to consider as it trades at a slight discount. The fund carries no leverage, instead utilizing a covered call strategy. That can help keep it relatively less volatile. Overall, this fund seems like a solid choice for a long-term investor.
Editor's Note: This article discusses one or more securities that do not trade on a major U.S. exchange. Please be aware of the risks associated with these stocks.