As many as eight young workers at a Mexican drug cartel's scam call center were confirmed dead after reportedly attempting to quit their jobs.
U.S. and Mexican authorities say the eight young workers were reported missing last month after relatives became suspicious when they had not returned from their office in the western city of Guadalajara, according to a report from The Associated Press.
Human remains were then found last week, discarded in plastic bags in the western state of Jalisco. Authorities said they have now confirmed the remains were of the call center workers.
MEXICAN OFFICIALS SAY 45 BAGS OF HUMAN REMAINS RESEMBLE MISSING CALL CENTER EMPLOYEES
Six men and two women were reported missing in the case. According to the report, their families believed they worked at a normal call center when in fact they were working for the Jalisco New Generation cartel.
The cartel, which is among the most violent in Mexico, is well known for its drug trafficking, extortion and kidnapping businesses, but authorities have confirmed the cartel has branched into running call centers, which typically target Americans for scams such as offers to purchase fake timeshares.
While Mexican authorities did not confirm a motive for the killing of the workers, who were all under 30, an American official speaking on condition of anonymity told The Associated Press it appeared the workers were killed because they attempted to quit their jobs.
"Best guess is these kids had decided they wanted out of the business," the U.S. official said, adding the cartel was "sending a message to other defectors."
MEXICAN AUTHORITIES SEARCHING FOR MISSING YOUNG PEOPLE MAKE GRUESOME DISCOVERY
"It appears this has happened before," the official added.
Call centers have in recent years become a large employment source for Mexico's youth, many of whom may have learned English in the U.S. before later returning or migrating to Mexico.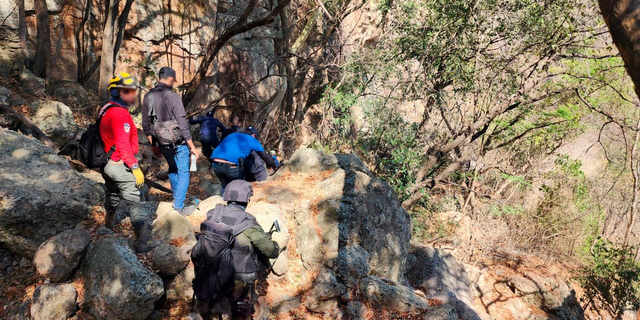 CLICK HERE TO GET THE FOX NEWS APP
But scam call centers have become a larger operation for Jalisco New Generation, with the U.S. under secretary of the treasury for terrorism and financial intelligence saying last month that the cartel's "deep involvement in timeshare fraud in the Puerto Vallarta area and elsewhere, which often targets elderly U.S. citizens and can defraud victims of their life savings, is an important revenue stream supporting the group's overall criminal enterprise."
The Associated Press contributed to this report.