The last time someone had scored four times against Real Madrid in a La Liga game was 76 years ago. When Taty Castellanos did it in April, it attracted attention worldwide – but particularly in Manchester.
Castellanos is already well travelled, and his career path demonstrates the increasing global reach of City Football Group – the parent company of Premier League champions Manchester City.
City Football Group (CFG) has 13 clubs under its umbrella, with representation in Europe, South America, Asia, the United States and Australia. Castellanos has played for three of those clubs.
This is the story of one player, the global football model he personifies, and what it means for world football.
An emerging goal talent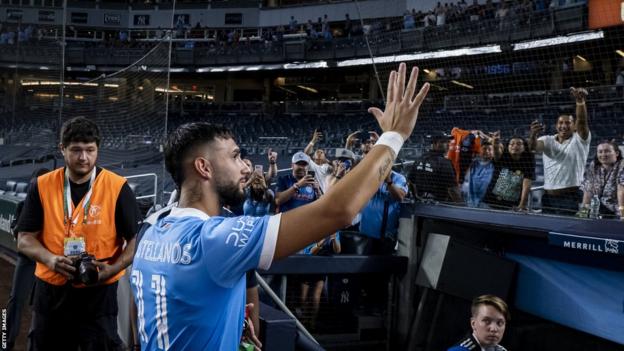 When Castellanos stunned Real, it was the second time in just over 12 months he had scored four in a match. He had also done so for New York City – another CFG club – in a 6-0 Major League Soccer win over Real Salt Lake in April 2022.
His emergence in La Liga, though, suggested a talent ready to take the next step.
Having arrived on loan from New York City last July, Castellanos scored only three times before the World Cup break, but hit form as the season went on, finishing among the top 10 scorers in La Liga with 13 goals – behind global stars such as Robert Lewandowski, Karim Benzema and Antoine Griezmann.
"Scoring four times against Real Madrid was a great feeling," Castellanos told BBC Sport. "When you are in the middle of a game, you are not thinking about goals. You are just thinking, 'I am playing against one of the biggest clubs in the world.'
"People do recognise me more. I am known as the person who scored four goals against Real Madrid. I am really happy with that."
Those at the City Football Group were not surprised by the striker's achievements.
It is six years since Castellanos first came to their attention, when he was struggling to make a senior breakthrough in Chile. CFG signed him and took him to Uruguayan outfit CA Torque, who became the fifth club in its expanding empire in 2017.
After Torque won promotion, he moved to New York City, winning the Golden Boot in 2021 and helping the club win the MLS Cup for the first time.
He initially joined Girona on loan but is not expected back in New York, with a permanent deal potentially on the agenda for this summer.
CFG global football managing director Brian Marwood believes the organisation's multi-club set-up helps it bring through talent such as Castellanos.
"We have always found it quite interesting to sign some of these young talents," Marwood said. "If you take them on a journey with one of your clubs, you can probably control their development on and off the pitch far greater than just farming them out on loan somewhere.
"Our scouts in South America identified Taty as a player of great potential. He was a young, dynamic, aggressive striker and one we thought, for a minimal investment, could be quite interesting for a number of teams in our group."
Identifying players the CFG way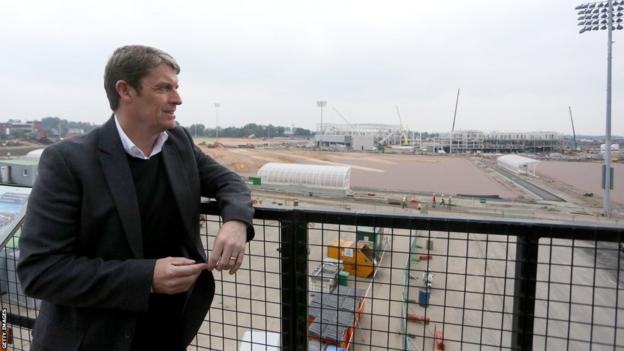 City Football Group was established in 2013, as New York City were formed to compete in Major League Soccer.
Last month, Baiha from Brazil became the 13th club to join the group.
Each club have their own management team but, as Marwood explains, recruitment is a complex process.
"Scouting and recruitment are primarily central functions," he said. "We have 80 or 90 scouts working across the globe, identifying players for different levels. That is not easy because all our clubs are at a different level. There is a unique skillset associated with that."
CFG didn't break the mould. The energy drinks giant Red Bull has a stable of several clubs, having acquired Austrian club Salzburg in 2005.
"We are not unique," Marwood said. "Red Bull were doing it before we came on the scene. We just have a broader choice and a much more eclectic mix of clubs."
Castellanos' journey – from Uruguay to Spain and beyond?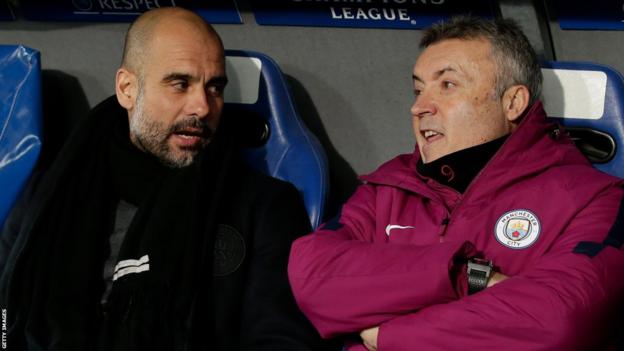 Castellanos was unhappy in Chile when CFG made its approach. He was minded to join Torque, even before an explanation about the wider benefits of the deal were explained to him.
"Five years ago, there weren't as many clubs as there are now," he told BBC Sport. "I did primarily go to Torque to get minutes, not knowing what was in store. But I had a really good season and the group made me feel comfortable."
The influence of Domenec Torrent – an assistant to Pep Guardiola at Barcelona, Bayern Munich and Manchester City – was key to the next move.
"Domenec was coach at New York," Castellanos said. "He already knew me and my agent and he was the one who got in touch to ask about the possibility of coming to New York.
"Domenec had the link with Pep. To have the chance to learn from him was something I didn't have any doubts about. MLS is a difficult league to get used to but I had five really nice seasons there.
"I always wanted to challenge myself, and that included going to Europe. I knew about Girona's project and was very impressed by it. They had just been promoted into La Liga and it was an opportunity to challenge myself in one of the best leagues in the world.
"From the group aspect, the philosophy of play is something that is very important to me. It helped me to settle in and to adapt quicker to each league."
The one who got away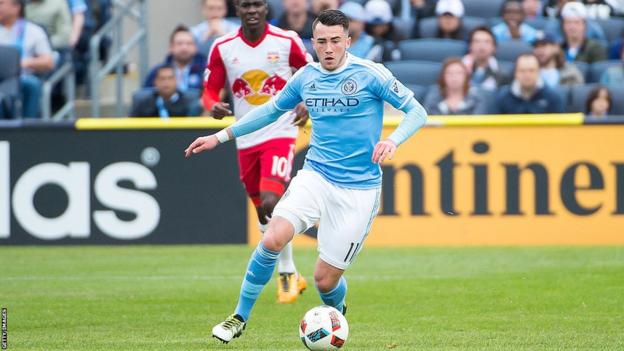 Before Castellanos, Jack Harrison was CFG's most high-profile development.
Born in Stoke, Harrison moved to the USA when he was 14. He was capped twice by England Under-21s while he was at New York City, then moved to Manchester City in 2017. He never played for City but has made more than 200 appearances for Leeds, who he joined permanently in 2021 after three seasons on loan.
"Jack is a great kid and we would have all loved for him to stay at Manchester City," said Marwood.
"But at the time, it was very competitive and very difficult for him to break into City's team.
"We worked closely with him to find the right club to continue his journey. He deserves that and I couldn't speak highly enough of the boy.
"He is an unbelievable person and it is great to see people like that get good outcomes for themselves."
Recruitment off the pitch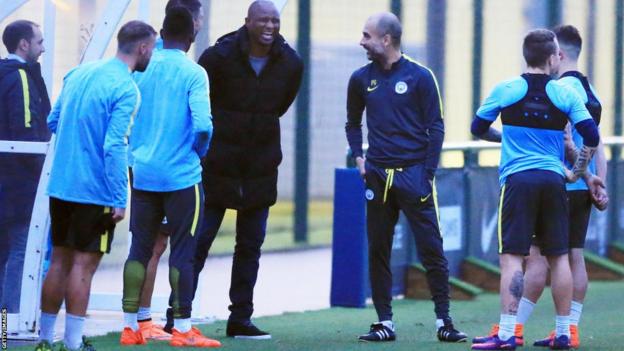 CFG does not concentrate solely on the recruitment of players – with coaches, physios and doctors also moving between clubs in the group.
One significant example is Nick Cushing, now with New York City after seven years managing Manchester City's women's team, during which he won the Women's Super League, the FA Cup and two League Cups.
CFG figures have also gone on to flourish elsewhere. Standard Liege sporting director Fergal Harkin is a former CFG man, as is Don Dransfield – head of research and development at the 777 Football Group, which is starting to invest in clubs.
And then there is Patrick Vieira, who was Manchester City's Under-21s coach before getting his first senior job in New York, eventually leaving for Nice and then Crystal Palace.
"It was a personal disappointment when he left," said Marwood. "But from a professional point of view, I could understand the reasons why and sometimes you might need to leave the house."
'Creative tension'
Maintaining harmony within the CFG structure is not always easy.
There are times when decisions are taken that benefit one club in the group at the expense of another. Castellanos' move to Girona is an example, and the likelihood of him leaving New York permanently will be an issue the MLS outfit have to deal with.
"We call it creative tension," Marwood said. "It is a good thing as long as it is managed properly.
"I get the frustration of New York. You don't want to let your top goalscorer go, but they also realise they are part of a bigger organisation. We have to accept that is the life and that is what it means being part of the group. We can't kill that opportunity."
Castellanos certainly gives the impression of someone who wants to complete the move to Girona, though even that would only be a stepping stone if he got his dream fulfilled.
"Pep Guardiola is one of the best coaches in the world," he said. "Of course, I would love to be able to play for him. It would be an absolute dream.
"Within the group, Manchester City are seen as the big brother. It would be fantastic to make that step but I am also aware how difficult it is."
An unfair advantage?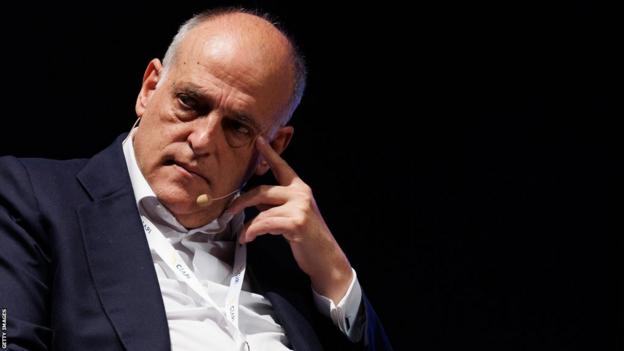 Not everyone likes the idea of multi-club ownership.
There is a view that CFG – and others – are stockpiling talent in a way that could threaten to diminish the competitive order within football as a whole.
The argument is that Manchester City's rivals may find it impossible to sign the growing numbers of players contracted to the group.
La Liga president Javier Tebas has been a vocal critic both of Manchester City and City Football Group in the past, arguing their set-up gives them an unfair advantage.
Speaking at the announcement of the Baiha deal, CFG chief executive Ferran Soriano rejected the criticism.
"This is not a small thing," he said. "If I'm not getting the number wrong, there are 180 football clubs that are owned totally or partially by groups.
"This is a natural thing that happens in any business or industry where you might want to be present in different countries – and in this case, in different leagues.
"With our experiences, everywhere we invested, we improved the clubs significantly, bringing more resources, in terms of money, but also in experience and knowhow.
"It is positive if more clubs are trying to do what we've done. We've done it for more than a decade, so we are ahead. But many others are following us. I don't see many problems."