WASHINGTON – For the first time since those with the Downtown D.C. Business Improvement District can remember, the group is now looking at possibly hiring off-duty D.C. police officers, special police or other security members, as a means to increase security. 
This is something FOX 5 was told over the phone, the BID and business owners would have to pay for.
It's a response to the current crime in the District, which is also in the midst of a D.C. police staffing shortage.
Earlier this month, D.C. Police Chief Robert Contee III told reporters the force was down to around 3,200 members, compared to around 3,800 when he started in 2021. The chief claims it may take a decade to get back to previous force numbers.
WASHINGTON, DC – JULY 17: Sign on scoreboard after what is believed to be shots were heard outside the stadium during a baseball game between the San Diego Padres and the Washington Nationals at Nationals Park on July 17, 2021 in Washington, DC. (Pho
As of Friday, D.C. police stats show while overall violent crime is down about 2% from this time last year, homicides are up 19% and motor vehicle thefts are up around 105% from this same time last year.
FOX 5 asked the Washington Nationals at Media Day about their security plans as the spring and summer season gets underway. A spokesperson declined to answer.
We're still waiting for D.C. United to answer those same questions.
It was previously reported by another news outlet that Capital One Arena has made significant security changes, such as increased staffing and added safety measures, like metal detectors. There's now a 20% increase in off-duty D.C. police officers being hired to increase security within the arena.
For fans, that looks like about 12 officers working inside. 
These changes, we're told, were actually added during the pandemic when fans went back to the sporting venue in 2021. However, some fans began acting out – even running onto the court during NBA games.
"I don't think there was any one event that triggered this," said Jordan Silberman, Capital One Arena's EVP and general manager. "I think it's just something that we've recognized across the country are the police shortages and wanted to make sure that we're doing our part to make sure our fans are feeling safe. So, MPD has limited resources, and you know, we still have the [Special Operations Division] detail that provides street closures and presence around the building, but we wanted to make sure that, you know, we are offering that same safe and secure environment inside the facility as well." 
Silberman told FOX 5 that 40 more off-duty police officers were added to the security payroll in the beginning and that the venue is now up to around 60–63 officers. Silberman also said they increased the pay for those members in order to ensure they have sworn officers' presence as part of their safety plans.
FOX 5 was told a new security command center is also in the works.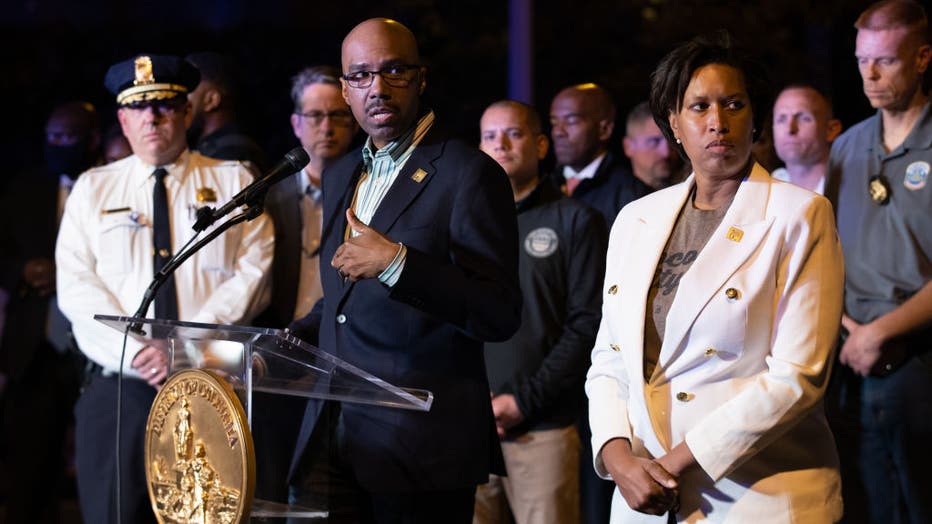 WASHINGTON, D.C. – APRIL 22: From left, Chief Robert Contee III and Mayor Muriel Bowser speak to the media at the scene of an active shooting in Washington, D.C. on Friday, April 22, 2022. (Amanda Andrade-Rhoades/For The Washington Post via Getty Ima
On Friday, D.C. Mayor Muriel Bowser faced questions from the D.C. Council regarding her FY 2024 budget proposals and specifically, her proposed funding to hire more D.C. police officers.
Councilmember Brooke Pinto, who now heads the D.C. Council's Judiciary and Public Safety Committee, expressed concerns that the mayor's budget doesn't fund enough, and it currently only allows for the hiring of around 270 new officers, when the department is projected to lose 330 members. Pinto noted this could shrink the police force by 50 officers each year.
Last year, FOX 5 reported on the opposite – the mayor battling with the previous J&PS committee chair over her proposal to increase police funding after the council made significant budget cuts in 2020.  
"We were going to be at 4,000, we were. Pre-George Floyd, racial recognizing, change in police spending, we were on our way to 4,000," Mayor Bowser told the D.C. council. "I think it's similar strategies we have to approach. I don't ever concede that we're going to lose that many officers in a year, even what that projection is, so we also have to have retention strategies."