With their high production values and equally high-octane energy, eight-piece band Stray Kids are one of the K-pop groups who can command the level of adulation experienced by One Direction and the Spice Girls, and which K-pop acts BlackPink and BTS still enjoy. The band — whose members are Bang Chan, Lee Know, Changbin, HAN, Felix, Seungmin, I.N and Hyunjin — are racking up record-breaking streams and physical sales for their songs, amassing hundreds of millions of views with their dynamic music videos and performing in front of huge crowds in sold-out arenas. In June, their latest album 5-STAR earned them their third number one on the Billboard 200.
On an unwavering, determined journey to the top, they are part of the fourth generation of K-pop, a genre which has steadily taken its place on the global music stage over the past 15 years. With such success, K-pop idols are big business, so it's no surprise that luxury brands are keen to tap into their star power. Earlier this year, Stray Kids' Hyunjin, was welcomed into the Versace fashion family as one of its global ambassadors.
The first thing that happens when I sit down with Hyunjin — often dubbed Prince Hyunjin by his fans — for our interview is that I'm treated to his trademark laugh. STAYs (the name for Stray Kids' fandom) will know the one I mean: where he throws his head back and gives a melodic laugh full of warmth and joy. As he is South Korean, I attempt to greet him in his native language. (I later learn in an email that this was much appreciated by Hyunjin.) Although I am no linguist, this ignites an initial spark of friendliness that sets the tone for our chat.
STAYs will know that Hyunjin has always been into fashion, and the enormity of joining an iconic, international luxury brand such as Versace has not been lost on him. "Versace has always been at the centre of culture, especially music," he says. "So being a part of Versace itself as an artist means a lot and made me feel so honoured and also excited at the same time."
Versace has created bespoke pieces for him for all of this year's milestones, including the VMAs. "I also felt grateful to Versace," says Hyunjin. "They gave me lots of support with my outfits, like Lollapalooza in Paris to the recent (Stray Kids) Dome tour, so I feel really pleased to be with Versace in every single way and [for] important moments." Hyunjin's first Versace duty was starring in its Holiday campaign, which came out in early November. "I was super, super excited" he recalls. "Since it was my first fashion campaign, it was much more meaningful. They took good care of me at the photoshoot, so I could feel really comfortable, and they gave me a lot of inspiration and support. I was really happy to be there." Donatella dressed him up in everything from a shimmering wool and Barocco lurex double-breasted tailored jacket to an acid-green wool coat.
Hyunjin's dance finesse led to him trending at this year's VMAs, where Stray Kids performed their track, 'S-Class'. Those unfamiliar with the band were trying to find out the identity of the "fine-ass ponytail guy". It was, of course, Hyunjin. Another moment from the evening that went even more viral was footage of Taylor Swift in the audience watching Stray Kids. After an initial reaction of jaw-dropped astonishment, she could be seen bopping along in true Taylor-at- a-music-awards-show fashion. Taylor's appreciation of Stray Kids' performance didn't go unnoticed online. As I write, the Swiftie and STAY fandoms are flooding an Instagram post of Donatella's with enthusiastic 'Taylor x Hyunjin' comments.
"It was an honour even being [at] the same venue as Taylor!" says Hyunjin. "After the performance at the VMAs, people told me, 'Have you seen this video! Is it real?!' It felt surreal! I hope I could be with her at another event if there is an occasion or opportunity." As he told me this, I was thinking about which Reputation (Taylor's Version) track would best suit a collab with Stray Kids. I cannot promise that I won't launch an online campaign with fellow STAYs for the eight-piece to collab with Swift on either '…Ready for It' or 'I Did Something Bad'.
He's not the only member of Stray Kids with an eye for fashion. When it comes to style, each of the band members has their own distinct look, which loyal STAYs love documenting. Whether it's a caked-up Bang Chan in tight PVC trousers and midriff-skimming crop top or HAN in the hottest oversized skater and streetwear brands, the fans have dedicated accounts curating every item of clothing and accessory. Seungmin's preppy wardrobe with oversized blazers and outerwear and Lee Know's 90s-style slogan tees, oversized shirts and cropped preppy jackets bring a lot of minimalist, chic cool to the band's aesthetic. Changbin takes any opportunity to show off his gym gains with skin-tight, sleeveless designer numbers or tees with rolled-up sleeves paired with shiny trousers. Felix has talked about loving the blur between womenswear and menswear, and I.N's penchant for a good piece of knitwear and a luxury designer item all add individuality to the band.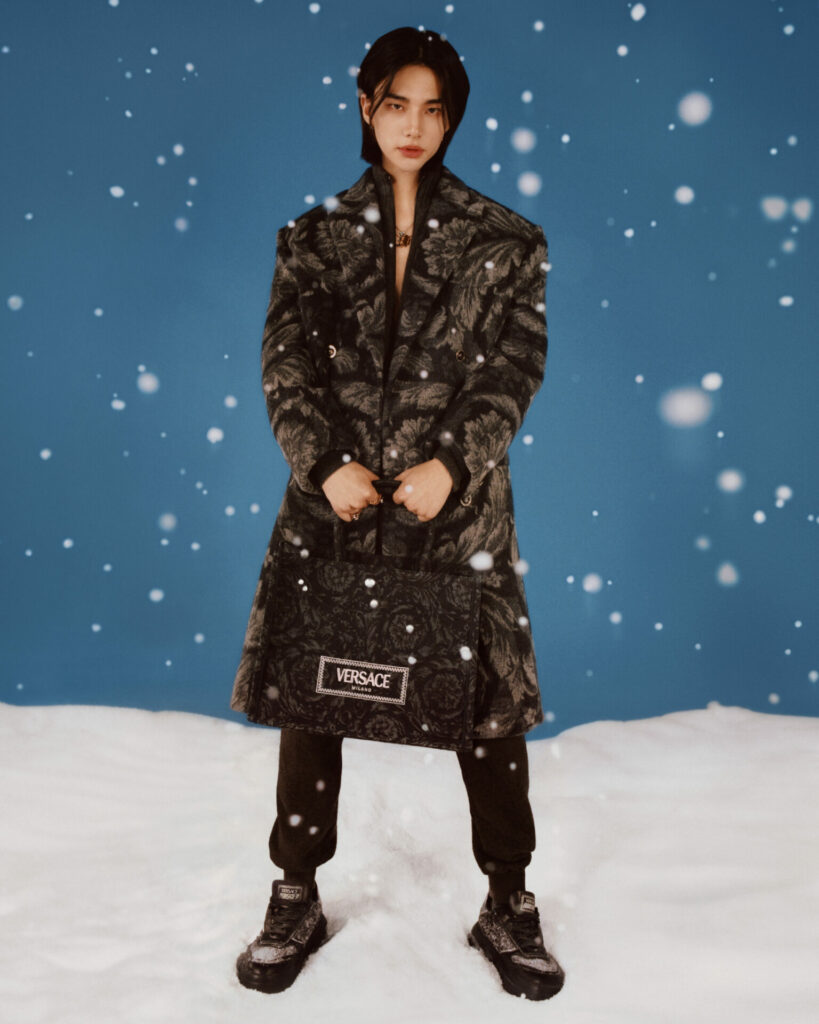 Headed up by leader Bang Chan, Stray Kids, unlike a lot of K-pop bands, produce and write their own songs. In November, they released an extended play, ROCK- STAR. "I wrote a song for this album. The title is 'Cover Me'. Since I wrote the song, I really like it, and I wish more people would listen to my song," Hyunjin says of the track.
Showcasing Seungmin, Bang Chan and Lee Know's vocals, 'Cover Me', released in early November, has soaring high notes and a cascading melody to match the emotional lyrics. It's a slower-paced, thoughtful track that's already popular with STAYs. Hyunjin has chatted with fans and shared some of the production process, including why he asked Felix to sing the intro to the song and the more melodic parts because of his appreciation of his band mate's singing voice. The pair's bond is evident even in Hyunjin's song-writing.
Hyunjin has written tracks for the band before — most notably, the incredibly passionate 'Red Lights', complete with sensual music video. Apparently, the lyrics he originally wrote were quite bold and were toned down by Bang Chan for the final version. He takes a moment when I ask if he would ever consider releasing the original for the fans who feverishly ask for it, before answering with a mischievous giggle. "I think it might be difficult to release the song, so it will be kept as a memory between me and Bang Chan!"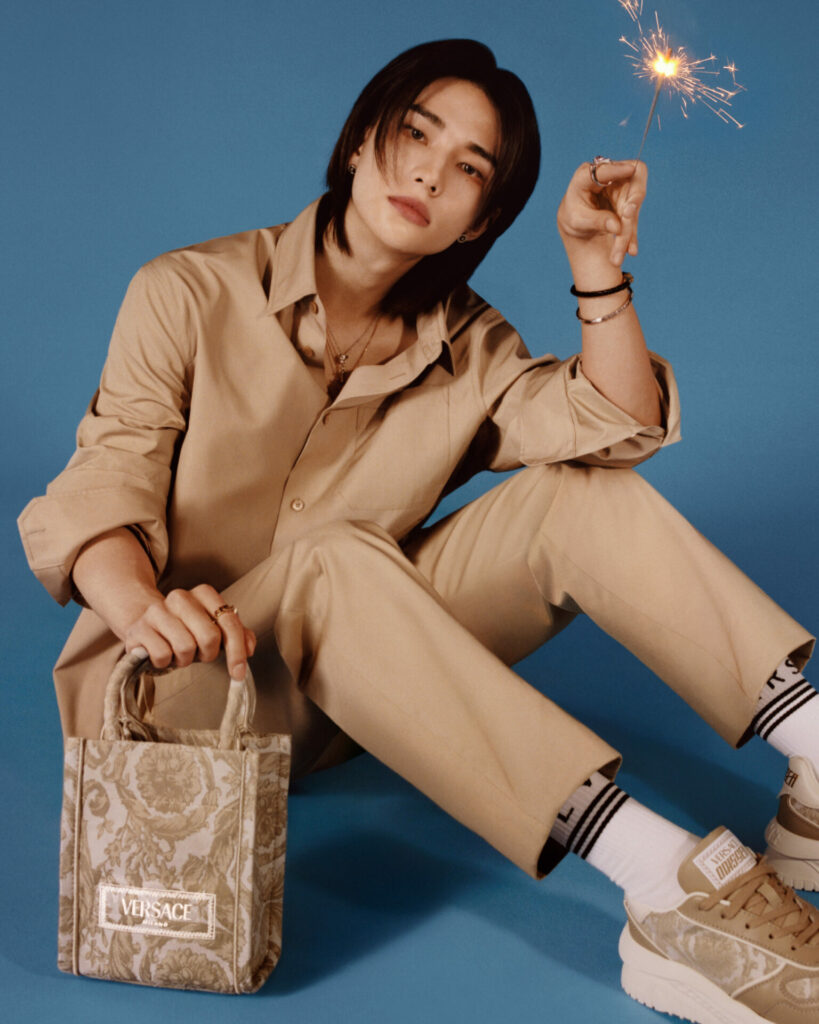 It's easy to see why Versace sought out Hyunjin as an ambassador and model for its Holiday campaign. His beauty is so perfect that once, on a live video stream, he asked earnestly, "Shall I remove the filter?" He then tapped away on the screen for a few moments before realising that there was, in fact, no filter on at all, and that he was simply looking flawless.
Almost a week after our chat, he drove fans wild when he visited the Versace Ginza store in Tokyo to film content for the brand's Holiday campaign. His unannounced appearance there made the national news in Japan, due to the sheer volume of fans who crowded the streets waiting for him. In typical Hyunjin style, he could often be seen peeking from the rails on the first floor and crouching down by the store's giant glass window, doing heart signs, and checking that his fans weren't too chilly waiting out in the cold for him. There is still a humble, appreciative shock on his face as he observes the scene, as if he can't believe that so many people would turn up to see him. He's perhaps the only person in the world who can't fathom the enormity of their star power.
The full eight-page feature and interview with Hyunjin will be available in Issue 14 of Rolling Stone UK, which will be available to buy from 11PM GMT on Thursday 23rd 2023- so set your alarms for then and head over to rollingstone.co.uk then to order (Please note, only issue 13 is on-sale currently.) Hyunjin talks more about meeting Donatella, Troye and Dua Lipa at Versace's La Vacanza show and which SKZ member's wardrobe he would like to borrow clothes from. As well as fashion, he chats about the choreography for the new album, his drawing and paintings and which member of the band is a 'naughty boy.'