THE FLATS – Georgia Tech's 11th-ranked golf team returns to action following a three-week break by competing in the Linger Longer Invitational at Great Waters at Reynolds Lake Oconee in Eatonton Ga. The tournament begins Sunday and runs through Tuesday, 18 holes each day. Tee times begin at 8:30 p.m. Eastern time each day, with groups teeing off both No. 1 and No. 10 tees.
Head coach Bruce Heppler will send his starting five and a pair of individuals against a 16-team field that includes seven teams ranked among Golfstat's current top 50, including top-ranked Vanderbilt, who outlasted the Yellow Jackets by one stroke at the Watersound Invitational in February. Tech also placed sixth at the Southern Highlands Collegiate in the month of February. The first event of the spring schedule, the Amer Ari Intercollegiate in early February, was canceled due to high winds, and the Yellow Jackets wound up playing a single match against No. 20 Texas to salvage the week in Hawai'i. The Longhorns prevailed, 4-1-1.
TEAM UPDATE – Tech has been ranked as high as No. 8 this spring, but has not yet won an event on 2022-23. The Jackets have been a runner-up three times, including the Inverness Intercollegiate and its home Golf Club of Georgia Collegiate Invitational in the fall.
Heppler will field the same starting lineup that competed in Hawai'i and Panama City Beach, including All-American Christo Lamprecht and fifth-year senior Connor Howe, who are the only Yellow Jackets to be a part of the starting five for every event this year.
Lamprecht, a 6-8 junior from South Africa who reached match play at the U.S. Amateur in August, won the Inverness Invitational in the fall and has three other top-10 finishes on his resume this year, including tie for ninth last time out at the Southern Highlands Collegiate. Howe, from Ogden, Utah, tied for third at the Maui Jim and 14th at Inverness for his two best performances so far, and his best finish this spring is a tie for 22nd at the Watersound Invitational.
Also competing are freshman Hiroshi Tai of Singapore, a two-time winner in the fall (Maui Jim individual event, Golf Club of Georgia Collegiate), tied for ninth at Watersound for his best finish this spring; senior Ross Steelman (Columbia, Mo.), who tied for seventh place at the Watersound event and 12th at Southern Highlands; and senior Bartley Forrester (Gainesville, Ga.), whose best finish in three fall events was a tie for sixth at the Ben Hogan Collegiate and tied for 14th at Watersound.
Sophomore Benjamin Reuter (Naarden, The Netherlands), who has competed in three events this year, and freshman Aidan Tran (Fresno, Calif.), who has played in four events, are competing as individuals.
Four of Tech's starting five are ranked among Golfstat's top 100 individuals, and all five have compiled stroke averages of 71.33 or lower. Steelman, averaging 69.00, is Tech's top-ranked player in Golfstat at No. 17, while Lamprecht (69.33) is No. 21, Tai is No. 54, Howe is No. 93 and Forrester is No. 141.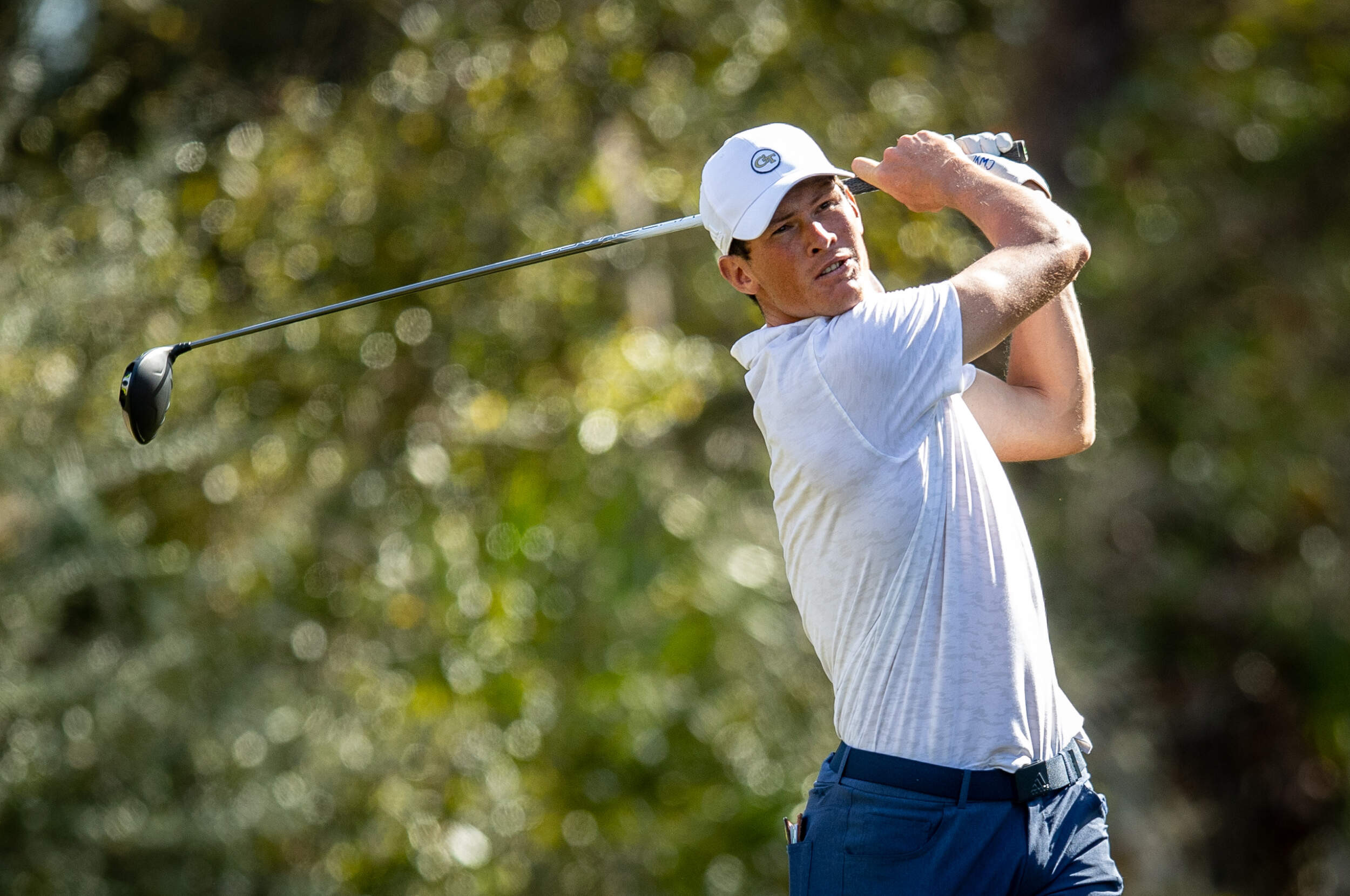 Christo Lamprecht has been Tech's top finisher in eaxh of its last two events. (photo by Ross Obley)
TOURNAMENT INFORMATION – The Yellow Jackets have finished second (2021) and fourth (2013) in its two previous appearances at the Linger Longer Invitational. Georgia won last year's event by four strokes over Vanderbilt, and the Bulldogs and Alabama have each won five times in the 16-year history of the event. This year's tournament returns to Great Waters, which measures 7,436 yards and plays to a par of 72.
The format is 54 holes, 18 each day beginning at 8:30 a.m. Eastern time from both the first and 10th tees, with the low four individual scores of five each day counting toward the team total.
The 16-team field includes Alabama (20), Arkansas (44), Augusta, Charlotte, Chattanooga, Clemson, Georgia (34), Georgia Tech (11), UNC Greensboro (37), Ken­nesaw State, Mercer, South Alabama, South Florida, Vanderbilt (1), Virginia (16) and Wofford.
---
Alexander-Tharpe Fund
The Alexander-Tharpe Fund is the fundraising arm of Georgia Tech athletics, providing scholarship, operations and facilities support for Georgia Tech's 400-plus student-athletes. Be a part of developing Georgia Tech's Everyday Champions and helping the Yellow Jackets compete for championships at the highest levels of college athletics by supporting the Annual Athletic Scholarship Fund, which directly provides scholarships for Georgia Tech student-athletes. To learn more about supporting the Yellow Jackets, visit atfund.org.
ABOUT GEORGIA TECH GOLF
Georgia Tech's golf team is in its 28th year under head coach Bruce Heppler, winning 70 tournaments in his tenure. The Yellow Jackets have won 18 Atlantic Coast Conference Championships, made 29 appearances in the NCAA Championship and been the national runner-up four times. Connect with Georgia Tech Golf on social media by liking their Facebook page, or following on Twitter (@GTGolf) and Instagram. For more information on Tech golf, visit Ramblinwreck.com.