THE FLATS – Georgia Tech's 11th-ranked golf team returns to action for its fifth event of the spring season, making its third appearance in The Goodwin, set to take place Thursday through Saturday at TPC Harding Park in San Francisco for the second time in the tournament's history since 1968.
Head coach Bruce Heppler will send his starting five and one individual against a 28-team field that includes seven teams ranked among Golfstat's current top 50, led by the host team, No. 8 Stanford. Tech has yet to win a tournament in 2022-23, but has finished as the runner-up four times, including twice this spring at the Watersound Invitational and the Linger Longer Invitational. The Yellow Jackets also tied for sixth at the Southern Highlands Collegiate.
The format is 54 holes, 18 each day beginning at 10 a.m. Eastern time from both the first and 10th tees, with the low four individual scores of five each day counting toward the team total. Tech, which finished in sixth place in the event last spring, with Christo Lamprecht leading the way by tying for eighth individually, will tee off at 4 p.m. Eastern time Thursday in round 1 and 11 a.m. Friday in round 2. Saturday's round 3 will be paired according to 36-hole scores.
TEAM UPDATE – Tech has been ranked as high as No. 8 this spring in the Golfstat rankings following their second-place finish at the Watersound Invitational in February, and currently sit No. 11. But the Jackets hold a season-high No. 7 spot in the Golfweek/Sagarin Index having played the nation's ninth-toughest schedule with an 18-21-3 mark against the nation's top 25 teams by that measure.
Statistically, Tech ranks 10th nationally in average individual score, No. 2 in final-round scoring average, No. 8 in par-3 scoring, and No. 13 in both par-4 and par-5 scoring.
Heppler will field the same starting lineup that has competed in the Jackets' first four tournaments this spring, including All-American Christo Lamprecht and fifth-year senior Connor Howe, who are the only Yellow Jackets to be a part of the starting five for every event this year.
Lamprecht, a 6-8 junior from South Africa who reached match play at the U.S. Amateur in August, won the Inverness Invitational in the fall and has finished in the top 10 in each of Tech's last three events, including a tie for second at the Linger Longer Invitational most recently. Howe, from Ogden, Utah, recorded his best finish of the spring last time out at the Linger Longer Invitational.
Also competing are freshman Hiroshi Tai of Singapore, a two-time winner in the fall (Maui Jim individual event, Golf Club of Georgia Collegiate), tied for ninth at Watersound for his best finish this spring; senior Ross Steelman (Columbia, Mo.), who has finished 12th or better in Tech's last three spring events; and senior Bartley Forrester (Gainesville, Ga.), who tied for 14th at Watersound and 24th at Linger Longer
Sophomore Benjamin Reuter (Naarden, The Netherlands), who has competed in four events this year and made his best showing last time out at the Linger Longer, is competing as an individual for the third time this spring.
Lamprecht (No. 12) and Steelman (No. 17) and are Tech's top two players in the Golfstat rankings, while both are in the top 10 of the Golfweek/Sagarin Index (Lamprecht No. 5, Steelman No. 10). Howe is listed among the top 100 in both rankings (No. 76 in Golfstat, No. 85 Golfweek/Sagarin).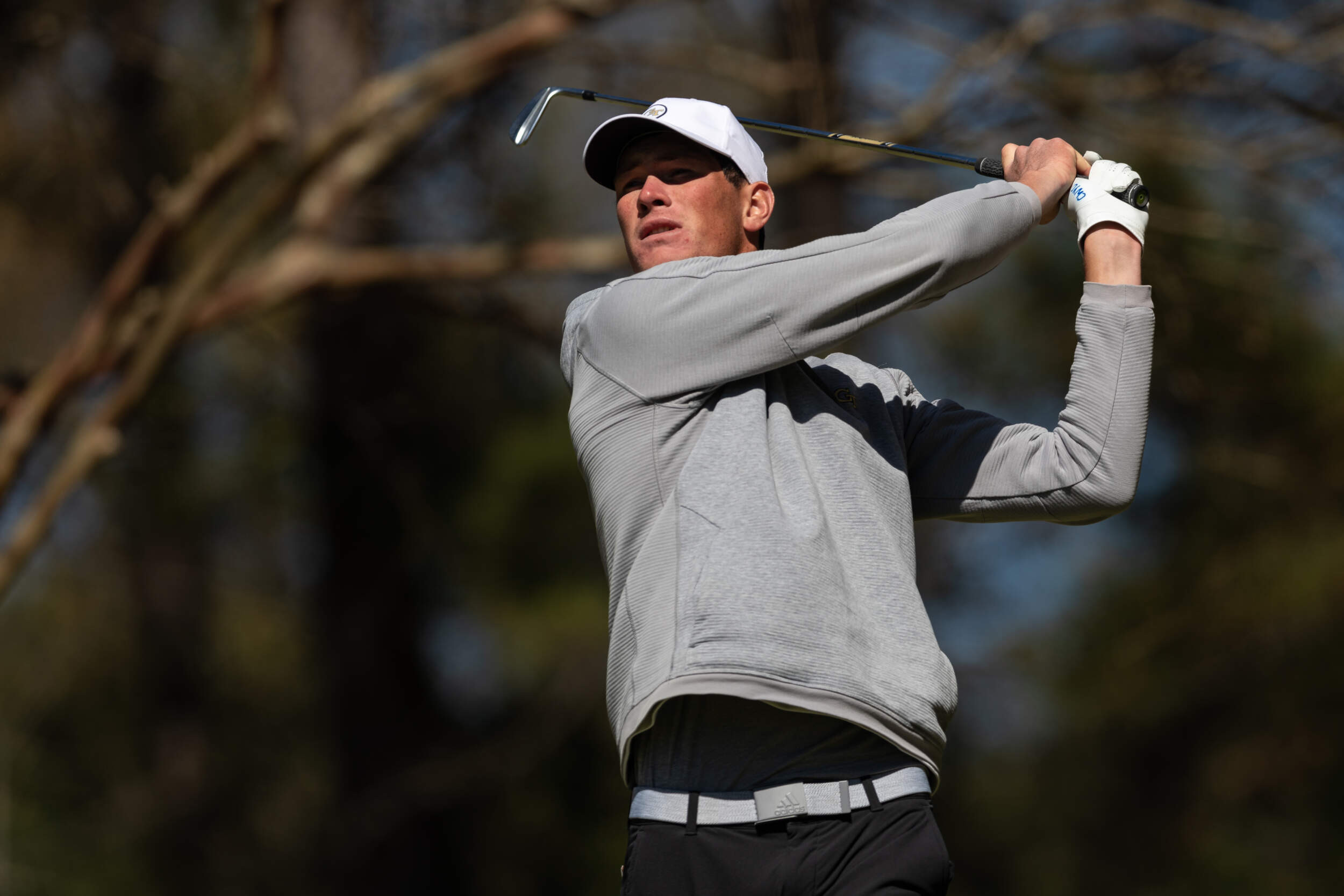 Christo Lamprecht has finished in the top 10 in each of Tech's last three events. (photo by Clyde Click)
TOURNAMENT INFORMATION – This is Georgia Tech's third appearance at The Goodwin, named for legendary head coach who led the Cardinal program from 1987-2000. Stanford's feature home tournament will return to one of the country's elite courses, with TPC Harding Park set to host the event for the second time in school history after serving as headquarters in 2018. TPC Harding Park has played host to numerous PGA Tour events, including the 2009 Presidents Cup and the 2020 PGA Championship. TPC Harding Park will be set up as a 6,939-yard, par-70 layout.
Tech, No. 8 Stanford and No. 13 Oklahoma are the highest ranked teams in the 28-team field, which also includes Brigham Young, California, Cal Poly, Florida Atlantic, Georgia Tech, Howard, Lipscomb, Little Rock, Mercer, Nevada, Northern Illinois, Oklahoma, Oregon, Saint Mary's, San Diego, San Francisco, San Jose State, Santa Clara, Southern California, SMU, UC Davis, UCLA, Utah, Washington and Washington State.
The top 12 finishers this week will be given automatic invitations to the 2024 event.
Host Stanford has won the tournament 16 times since the inaugural event in 1968. Past individual winners include major golf champions Tom Watson and Corey Pavin, as well as veteran PGA Tour pros like Duffy Waldorf and Billy Mayfair, and younger pros like Nick Taylor, Patrick Rodgers, Maverick McNealy and Brandon Wu.
---
Alexander-Tharpe Fund
The Alexander-Tharpe Fund is the fundraising arm of Georgia Tech athletics, providing scholarship, operations and facilities support for Georgia Tech's 400-plus student-athletes. Be a part of developing Georgia Tech's Everyday Champions and helping the Yellow Jackets compete for championships at the highest levels of college athletics by supporting the Annual Athletic Scholarship Fund, which directly provides scholarships for Georgia Tech student-athletes. To learn more about supporting the Yellow Jackets, visit atfund.org.
ABOUT GEORGIA TECH GOLF
Georgia Tech's golf team is in its 28th year under head coach Bruce Heppler, winning 70 tournaments in his tenure. The Yellow Jackets have won 18 Atlantic Coast Conference Championships, made 29 appearances in the NCAA Championship and been the national runner-up four times. Connect with Georgia Tech Golf on social media by liking their Facebook page, or following on Twitter (@GTGolf) and Instagram. For more information on Tech golf, visit Ramblinwreck.com.