All-Inclusive resorts continue to grow and grow throughout the travel industry. 
Princess Hotels & Resorts is one of those resorts that have made new updates to better meet the requests of travelers who love the all-inclusive sector. 
We recently went one-on-one with Nicole Perez, Princess Hotels & Resorts Director of Sales, North America to hear more about what the brand has to offer.
TravelPulse: For those who don't know the brand, can you give an overview of Princess Hotels and Resorts
Nicole Perez: Princess Hotels and Resorts has a total of nine properties in Punta Cana and also in Riviera Maya. We have all inclusive beach front properties in both of these great destinations and we have products that cater to family friendly and adults only options too
TP: What makes princess stand out vs. other all inclusive resorts in the Caribbean?
NP: The first thing I would say is our price quality, so you actually get what you pay for. We price really well, and we see this every time we receive FAMs here. They do tell us that we price really well and the clients actually get a little bit more than what they pay for.
TP: Why was it important for you to sign up to host a TravFORUM event – what makes this event stand out for Princess to want to host it?
NP: For us it's really important to get that brand awareness out there for our Canadian and U.S. market. We want the travel agents and the clients to get to know us and to try us out. We do believe we have a great product, we price really well, we offer great services, we are at great destinations, and we just want to get that word out there
TP: What type of restaurants and dining experiences can guest experience across Princess Resorts?
NP: Last night we had dinner at the Dominican restaurant and that's just here at the Caribe Deluxe & Tropical Deluxe Princess. We have Asian restaurants, we have gourmet international restaurants, we have an Indian restaurant at our Grand Bavaro Princess, we have the only fondue restaurant at our adults only Punta Cana Princess here in Bavaro and the same experiences we have in Mexico. We have the Mexican restaurant, we also have a fondue restaurant, we have a gourmet restaurant, we have the Italian restaurants obviously we can't forget those, so we have tons of varieties at all of our resorts.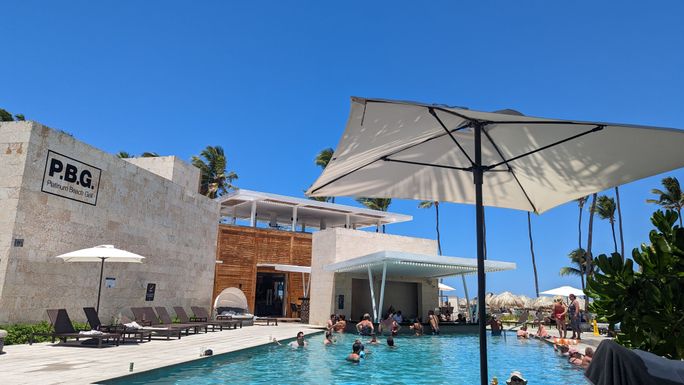 TP: What is the Platinum Club experience at Princess Resorts?
NP: The Platinum Club is more of an upgraded experience when you're staying with us. It gives the option for those clients that want maybe a little bit more while they're on vacation. So they get exclusive access to some specific restaurants, they get premium Wi-Fi, they get access to premium brand drinks, they also have early check in and late checkout subject to availability and they get their private check in and private like out. We do offer tons of opportunities for these clients that do want to upgrade a little bit more while they're staying with us.
TP: How does Princess Hotels & Resorts work with travel advisors?
NP: Right now, we are asking all of our travel advisors to go through the tour operators to make the bookings with us, however we are working on a travel agent platform so that agents can book direct with us and receive commission. Also, we are working on a travel agent rewards program so we should have that information out to you soon. Agents can go to Travel Agent Academy to become a Princess Hotels and Resorts specialist so please go there and receive as much information and training as you possibly can.

Topics From This Article to Explore