Professional sports leagues are the big winners of the streaming wars because live sports seem to be the only thing that still moves the ratings needle. As long as the production value remains intact, the "boom-goes-the-dynamite" guy isn't announcing, and the stream actually streams, I could care less who gets the rights to the NBA's next deal. Well, that is until I heard that NBC is interested in renewing its relationship with the Association.
There's only one reason for my pro-NBC lean despite it being unrelated to the criteria I outlined above. And that reason is this.
"Roundball Rock"
Are you kidding me? "Roundball Rock?" The best sports intro music in the history of American television, and John Tesh's seminal work? It's enough to get me to write unprompted, branded reviews for any show on Peacock. I will voluntarily rejoin Twitter and live tweet Night Court if it means that jingle returns as the theme music to the NBA playoffs.
Can we de-age Bob Costas and let him huff Luka Dončić stepbacks until he starts seeing the Slovenian MJ? That said, NBC isn't the only service interested in broadcasting pro hoops.
Apple and Amazon also show interest in the NBA
The two aspiring media giants already air MLB (Apple) and NFL (Amazon) games, so this tracks. Even if it didn't, they've sunk millions of dollars into programs like The Terminal List and The Morning Show. Live sports probably feels like a goddamn oasis after gambling on action-star Chris Pratt and late-career Jennifer Aniston.
G/O Media may get a commission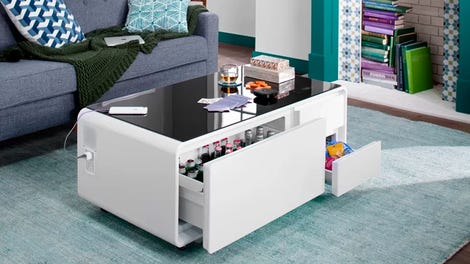 33% off
Sobro Smart Coffee Table
The coffee table of the future.
It's a coffee table with a fridge, high-quality Bluetooth speaker, LED lights, and plenty of outlets to spare.
The issue for Apple, Amazon, and NBC is the rights have to come open first, which means making it past the exclusive bargaining period with the current holders, Warner (NBA on TNT) and Disney (ABC and ESPN). That said, last I saw Disney was hemorrhaging money and employees. You know Adam Silver made a note of the $1 billion deal Amazon made for NFL's Thursday Night Football, and wants some of that internet money. Let's see how big Bob Iger's line of credit really is.
Pro sports leagues really have the streaming wars to thank for the exorbitant jump in salary caps, and be sure to tell Uncle Frank that his love of Jack Reacher is why LeBron James will make $80 million per season in three years. Amazon and Apple aren't just lusting for our dollars, they want our culture, our minds, our sports, and anything else they can monetize.
However, we'll always have Roundball Rock, and they can't take that away from us.