Introduction
Green Thumb (OTCQX:GTBIF), along with other cannabis stocks, has risen in the last month owing to a more favorable regulatory outlook regarding financing and taxing. However, the whole industry is experiencing a protracted price compression, which is reducing operating margins and elevating the cash burn rate, as companies need to invest heavily to remain competitive in the market. In this scenario, I firmly believe Green Thumb will be a winner, but the downside risk is too high at the current price.
Regulatory Framework
There is a positive feeling about the approval of the SAFE Banking Act in Congress, as Chuck Schumer reiterated his commitment to advancing the regulation of cannabis reform. If Congress ratifies the SAFE Banking Act, then cannabis companies will have broader access to financial resources, which have been limited to leasing back agreements, private capital markets, and public shares issues. The bounded financing options have deterred possible new entrants and reduced the capacities of established companies to expand, as less credit availability raises interest. Also, operations need to be done on a cash basis, which makes business operations difficult.
I think the SAFE Banking Act and approved state laws (20 states so far) that exempt businesses from 280E will increase the competition as returns become more appealing (lower state corporate taxes) and barriers to entry from capital requirements decrease due to more credit availability. However, as cannabis is still illegal at a federal level, the 280E Section will still apply for federal corporate tax, keeping the tax burden heavy.
In addition, marijuana is considered a Schedule I controlled substance, so it cannot be shipped across states as it is entirely illegal because transporting it across state borders is a federal matter. The former has created markets with significantly different prices across states.
Moreover, even if 23 states have legalized recreational marijuana and 38 have legalized medical marijuana, legalization at a federal level seems to be slow but positive, as the Department of Health and Human Services (HHS) reportedly recommended relisting cannabis as a Schedule 3 drug. That would allow cannabis businesses to deduct expenses from their corporate tax, reducing the tax burden. Now, it is up to the DEA whether to reschedule or not cannabis. This process could take months, and the DEA is not obligated to align with the HHS. However, according to The Washington Post, a former DEA agent said the HHS recommendation was a 'big deal' and predicted the DEA would follow the reschedule.
Lastly, rescheduling marijuana is not the same as legalizing it. It only means that the federal government recognizes it has medical uses, so more bureaucratic processes will be needed before the complete legalization of marijuana. For instance, even if the marijuana is rescheduled, it won't allow doctors to prescribe it as it has to be approved by the Food and Drug Administration (FDA), according to The Hill.
Competitive Landscape
The market is highly fragmented as many businesses run small operations in a single market, while a few prominent companies compete in more than one state. Consequently, the level of rivalry is high with many new innovative products and pricing competition. However, markets are bounded by state borders, so markets have different prices depending on the competition level, production efficiency, demand, and regulations.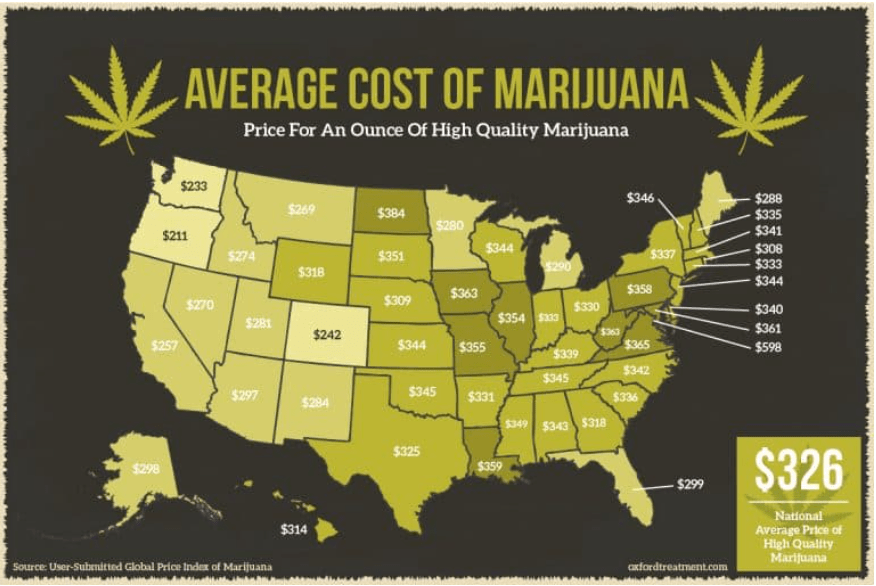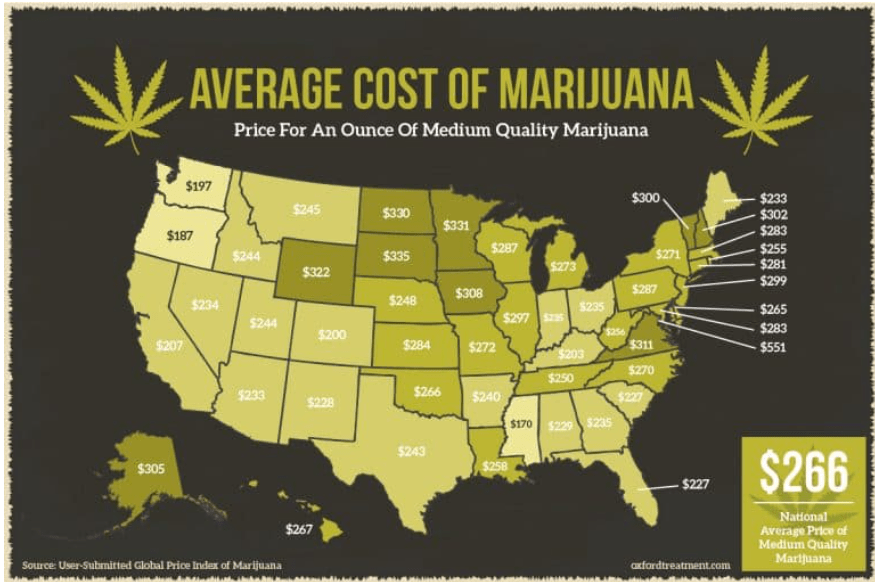 If state markets are no longer protected by their borders, I would expect the national price to converge and the production to be translated to more productive states such as Oregon. This will force many companies (tiny ones) to abandon the market as they cannot compete with low-cost producers from other states. As an example of what total legalization can do to prices, we have Canada, where the costs of marijuana have fallen significantly as the number of businesses increased sharply: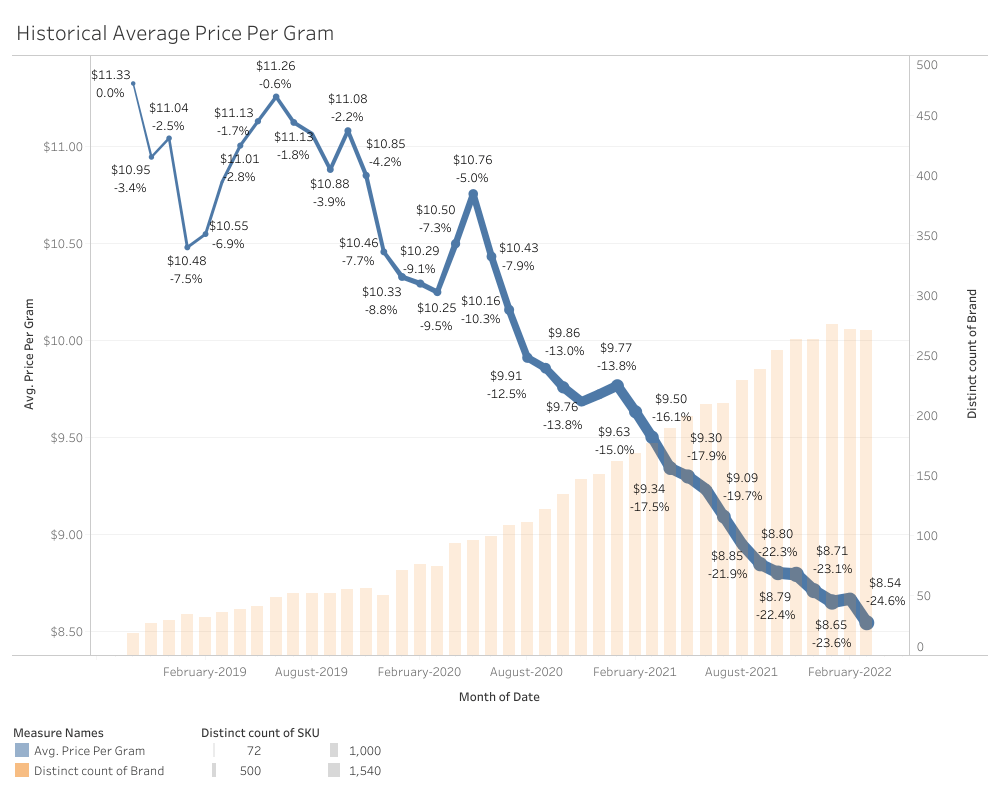 I think Green Thumb would have a potential disadvantage if marijuana could be shipped across states, as the company does not hold any operations in the cheapest states by the average cost. Nevertheless, Green Thumb has better profit margins than many competitors, so in the case of a more profound and protracted pricing war, it plays with some advantages.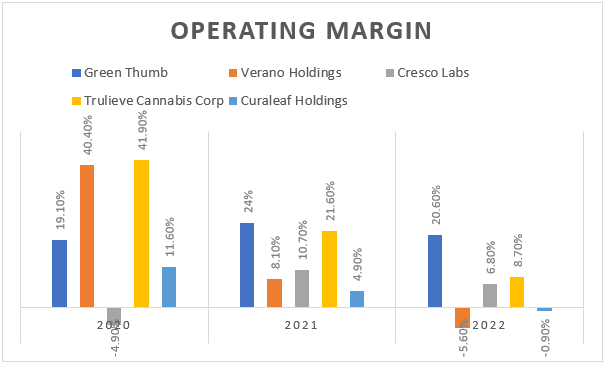 As we can see, in the previous years, Green Thumb has managed to keep a double-digit margin while competitors are struggling to maintain profitability. Notably, all competitors in the graph have vertical-integrated models such as Green Thumb. Thus, I believe Green Thumb is better prepared than any other competitor to fight in a price war. In fact, in the last quarter, many cannabis companies have complained about price compression in some markets.
The degree of fragmentation and strict regulation has led well-funded companies to carry out strategic acquisitions to expand to new markets so that they can avoid all bureaucratic processes for granting licenses (the difficulty to get permits varies among states) and can increase the scale of their businesses aiming to develop economies of scale.
Notably, there are markets with high barriers to entry, as regulators are stricter in granting licenses, and other markets that are close to a perfect market structure, as the barriers to entry are low. Furthermore, the barriers to entry can even go lower if banks are allowed to finance cannabis companies, and cannabis is federally legalized.
Regarding substitute threats, in its latest 10K Report, Green Thumb alerts about the unfair competition from hemp-based products, which take advantage of legal grey zones to avoid strict regulation requirements. Thus, those products are sold cheaper than regulated products. However, many states have already started to regulate those products. Moreover, other substitutes could be pharmaceutical products, tobacco, alcohol, or illegal drugs such as heroin or fentanyl. General illicit drugs are more expensive than marijuana, except for fentanyl, which is currently provoking an overdosed epidemic in the US and may be competing directly with marijuana in the recreational market; nevertheless, fentanyl is illegal, so most customers will prefer marijuana over fentanyl, even if the effects of the latter are more substantial.
In a nutshell, the cannabis industry is highly competitive in markets with looser regulations and less competitive where the licenses are not granted so quickly. Moreover, as more licenses are given, the price competition will continue, which in turn will drive out inefficient businesses. If the federal government legalizes marijuana, I think the industry will experience further price compressions as production moves to states with better production efficiency. In this scenario, Green Thumb is well-positioned to fight a price war, as the company has one of the most efficient productions reflected by wider operating margins.
Opportunities
Currently, Green Thumb operates in fifteen out of 23 states that have already legalized recreational marijuana and 38 that have already legalized medical marijuana. Thus, the company has plenty of opportunities to keep growing by entering new markets through acquisitions.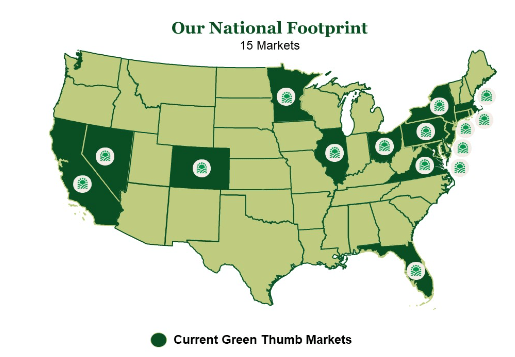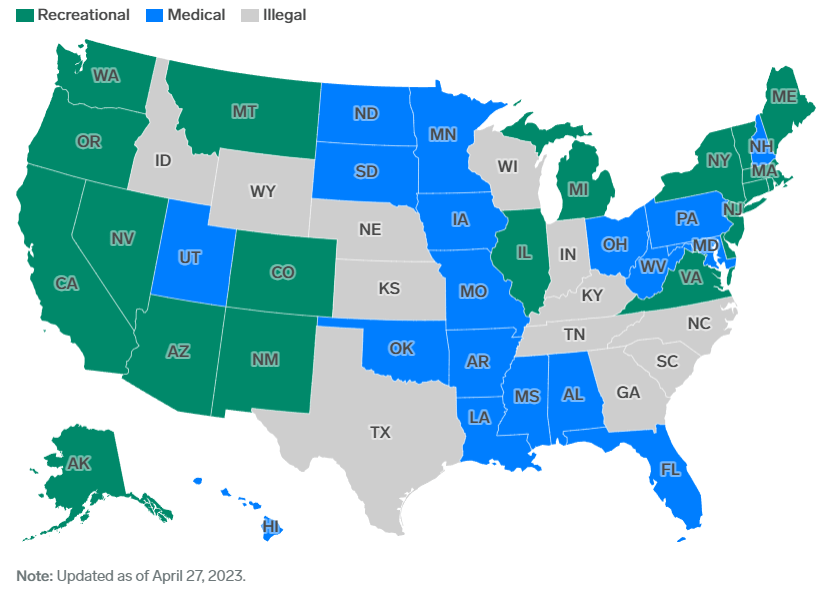 Moreover, if the price compression continues, I believe the market will start a consolidation process faster, with significant mergers and acquisitions. Price compression also triggers greater investments in R&D, as companies focus on developing more efficient production systems (reducing energy and water consumption) that comply with all regulations and provide high-quality products. In this sense, producers need to grow plants in extensively controlled environments (higher costs) so that the plants have determined quantities of CBD and THC for medical purposes. Small cannabis businesses do not have the capacity or the financial sources to carry out expensive investments in R&D aimed at improving product quality and production efficiency.
The US cannabis market is expected to grow at a CAGR of 14.2%, owing to broader medical use, product innovation, a shift in people's perceptions about cannabis, and further legalization. I think Green Thumb is well-positioned to capitalize on the industry growth as it has a large scale that will allow it to keep acquisitions and invest in R&D, and it enjoys higher profit margins than other large competitors. Additionally, the company is not as indebted as other competitors, which allows it to borrow more at better credit conditions. Thus, I think Green Thumb will grow more than the overall industry.
Lastly, if international markets legalize marijuana, US and Canadian companies may be better prepared than nascent in those countries. This may trigger acquisitions by US and Canadian companies to take advantage of new and growing international markets.
Risks
Regulation Uncertainty
Cannabis businesses operate in a thin regulatory framework, which bounds their ability to use banks, raise financial resources, market their products, and carry out standard operations. Moreover, the federal government has the right to seize or close any company if it considers it appropriate (even if it's legal in the state). In addition, states may impose excise taxes on marijuana, limits on the number of licenses for an entity or person, or limits on the number of permits issued. However, I don't think the regulation is going against cannabis companies, but in favor, because of the following reasons: one of the objectives of President Biden is to legalize marijuana, the SAFE Banking Act is gaining momentum in Congress, the negative perception among the population are decreasing, and the HHS considered marijuana should be a Schedule 3 substance.
Competition
The Canadian case shows how far price compression may go inside the United States, so companies will focus on R&D to improve production output or differentiate their products from the rest. Thus, small companies may suffer more as they don't have the scale to carry out large R&D projects; however, it doesn't mean that Green Thumb will dominate the market as a product of its scale because other companies can come up with more profitable R&D investments, which allow them to lower their prices or offer higher quality products at the same price. Nevertheless, I believe Green Thumb will be one of the winners in the industry as it has dealt with price compression without losing a double-digit operating margin and has a large scale that will allow it to invest and compete.
Limited Financing Sources
Green Thumb hasn't generated positive free cash flows in the two previous years, so it depends on external financing to keep expanding to capitalize on industry growth. However, financing sources are scarce, so debt and leaseback agreements may not be enough to fund investment projects, and those agreements and debt carry high-interest rates. The company anticipates additional shares issues to finance future growth; consequently, dilution will affect shareholders' returns. Nonetheless, the SAFE Banking Act will probably decrease the scarcity of credit and reduce current interest rates in the industry.
Economic Environment
As many cannabis companies depend on constant financing to keep their growth (as they cannot generate enough cash flows to fund it), higher interest rates on debts will make it harder for companies to run profitable businesses. Actually, many cannabis firms are fighting to pay their interests, except for Green Thumb, which maintains a healthy interest coverage ratio.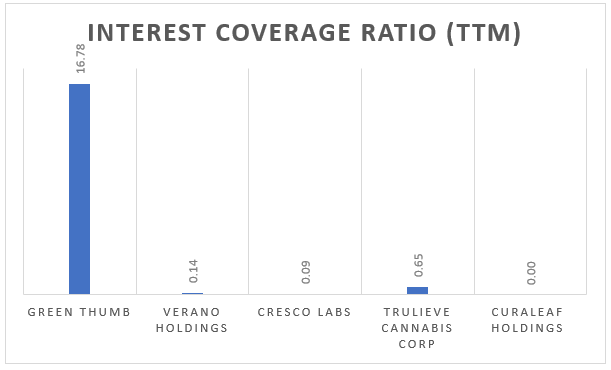 In addition, higher interest rates generally lead to lower share prices, which caps the financing in the equity market. Finally, disruptions in the energy markets may lead to higher marijuana product prices. Consequently, they would compete in a disadvantageous position in comparison to substitutes.
Investment Failures
Many of the acquisitions made by Green Thumb are companies that don't generate positive cash flow or generate no revenue. In addition, developing new products involves a high risk of failure as they haven't been tested in the market before; thus, all the capital investment in their development could be lost entirely. However, Green Thumb cannot stop acquisitions, capital expenditure, and the development of new products, as the competition will make it lose all these growth opportunities.
Rising labor cost
Under 10% of the total Green Thumb's labor force has elected to be represented by unions. Unionization is a general trend in the cannabis industry, which may put more pressure on margins and add instability to the company's production.
Valuation
I expect cannabis to be rescheduled for tax purposes in 2025 (being very conservative) and annual revenue growth of 16.5% in the projected period. Moreover, CAPEX will decrease as the industry matures and Green Thumb reaches enough capacity to support over $1.5 billion in sales. Moreover, I expect the margins to compress as price competition continues. Finally, owing to the high risk, the discount rate selected is 17.5%, and the perpetuity value is 15 P/FCF.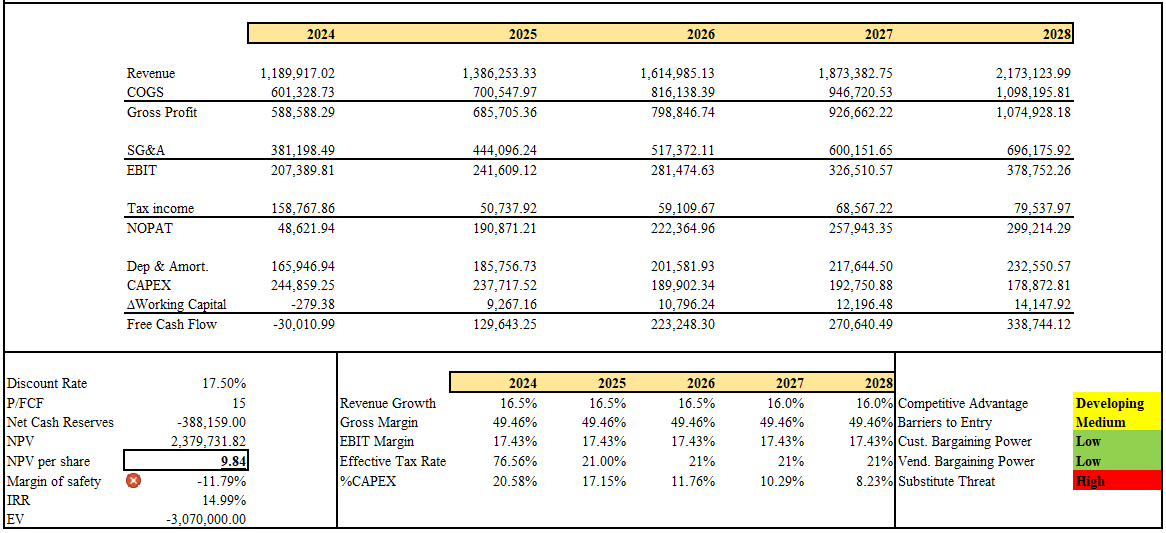 Conclusions
Green Thumb shares seem slightly overvalued to me at the current price of $11. However, the analysis assumes a rescheduling in 2025. If the rescheduling occurs in 2024, taxes could be lower for the first year. Moreover, capital expenditures will be high in the early years as the company keeps gaining market shares, increasing its productive capacity to capitalize on the industry growth, around 14.2% annually. I think the company has the competitive advantages needed to grow faster than the market as it has better profitability, a healthier financial position, and enough scale to carry out significant investments.
Lastly, even if it's slightly overvalued, I firmly believe Green Thumb will be a winner in the future cannabis industry, and currently is one of the best cannabis stocks in the market, if not the best, for investors who are interested in the industry. Nevertheless, the company faces crucial risks, so investors should ask for a wider margin of safety.
Editor's Note: This article discusses one or more securities that do not trade on a major U.S. exchange. Please be aware of the risks associated with these stocks.