Calhoun County, AL – LeCroy emerges from second round with two-shot lead in Wilfred Galbraith Invitational after he and Cole battle through blazing front nine (updated scores, tee times below)
By Joe Medley

There came that it's-on moment Saturday, with Wilfred Galbraith Invitational co-leaders Jacob LeCroy and Ty Cole staring at eagle on No. 3.
Cole rolled his in. LeCroy?
"I barely missed mine," he said. "I said, 'Oh no, we've got us a battle now.'"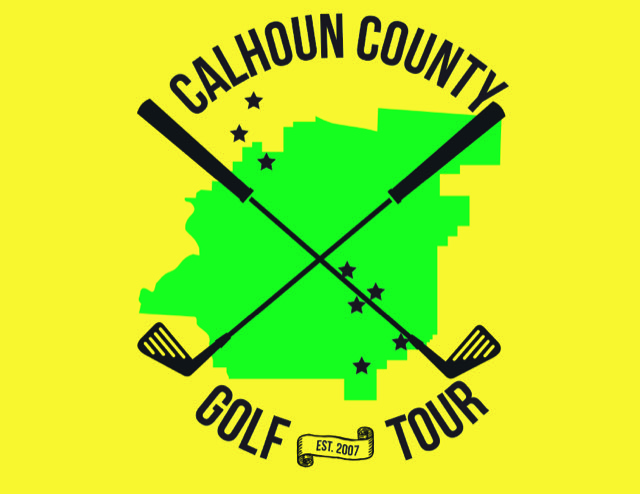 LeCroy prevailed in Saturday's battle, shooting 4-under-par 66 to lead the war by two strokes going into Sunday's final round at Anniston Country Club.
Cole shot a 2-under 68, and Freeman Fite, who was tied with LeCroy and Cole after Friday 67s, shot a par 70 and trails by four strokes.
Trey Rouse shot a 71 Saturday to stand tied with Garrett Burgess for six strokes off of the lead. Burgess shot the day's third under-par round with a 1-under 69.
LeCroy's and Cole's eagle showdown on No. 3 was part of a blazing front nine for a college Southern Amateur qualifier playing on his home course and a perennial Calhoun County Golf Tour contender.
LeCroy shot 5-under 29 on the front nine, with birdies on Nos. 3, 4, 6,7 and 9.
"It's been a while since I shot a 29," LeCroy said, "maybe a year and a half, two years."
Cole stacked birdies on 5 and 8 on top of his eagle on 3 and shot a 4-under 30 on the front nine. File the 30-foot eagle under things that happen to good players.
"I hit a 3 wood, just like Jacob and got a good bounce," he said. "He was inside me for eagle. I just had a really good read on it and just barely touched it, and it rolls 30 feet and runs in."
It was all part of a nine-hole stretch of combustible golf as two of the best golfers connected to Calhoun County pushed each other.
"We both played so good on the front," LeCroy said. "We were just going back and forth, back and forth, and it was a lot of run."
It's hard to hold that level of play for 18 holes, and "it's just like it went away on the back," Cole said.
After a birdie on 11 to reach 5 under, Cole bogeyed three of the next four holes then parred out. He came away lamenting a missed 2-foot putt on No. 13.
He missed a 2-footer on No. 15 Friday.
"I think that's the difference," Cole said. "He's got me by two shots."
Cole and LeCroy figure to play in the same group again during Sunday's final round. The 48-year-old Cole, who won at Twin Bridges two weeks ago, looks to go back-to-back in the county tour's third points event of 2023.
"When you get my age, and you come into a final round with a shot, you're glad to have a shot," Cole said. "Playing somebody as good as Jacob, the way he's playing, on his home golf course, I'm going to have to play really, really good golf to even have a chance, to be honest."
LeCroy looks forward to another fun afternoon.
"Me and Ty, we always butt heads, but we love each other, too," LeCroy said. "I've always thought of him as a great golfer, just like 'Twig' (Gary Wigington) or anybody else. I know I've got my hands full tomorrow."

Second-round scores
| | | | | |
| --- | --- | --- | --- | --- |
| Championship A Flight | | | | |
| Player | Rd. 1 | Rd. 2 | Rd. 3 | Total |
| Jacob LeCroy | 67 | 66 | | 133 |
| Ty Cole | 67 | 68 | | 135 |
| Freeman Fite | 67 | 70 | | 137 |
| Trey Rouse | 68 | 71 | | 139 |
| Garrett Burgess | 70 | 69 | | 139 |
| Jaylon Ellison | 69 | 76 | | 145 |
| Brennan Clay | 74 | 72 | | 146 |
| Ott Chandler | 74 | 73 | | 147 |
| Chandler Wilborn | 73 | 75 | | 148 |
| John Rollins | 74 | 75 | | 149 |
| Landon Straub | 74 | 75 | | 149 |
| Gary Wigington | 78 | 71 | | 149 |
| Championship B Flight | | | | |
| Player | Rd. 1 | Rd. 2 | Rd. 3 | Total |
| Jeff Chapman | 71 | 79 | | 150 |
| Jonathan Bailey | 74 | 76 | | 150 |
| Scott Martin | 75 | 75 | | 150 |
| Timmy Woodard | 76 | 75 | | 151 |
| Chris Cox | 73 | 79 | | 152 |
| Andrew Brooks | 74 | 78 | | 152 |
| Jonathan Pate | 79 | 74 | | 153 |
| Chip Howell | 77 | 77 | | 154 |
| Hank Smith | 76 | 79 | | 155 |
| Rob Svensen | 79 | 76 | | 155 |
| Mark Durden | 77 | 79 | | 156 |
| Jeremy McGatha | 77 | 79 | | 156 |
| Chad Key | 79 | 77 | | 156 |
| Matt Rogers | 80 | 76 | | 156 |
| Championship C Flight | | | | |
| Player | Rd. 1 | Rd. 2 | Rd. 3 | Total |
| Vance Lewis | 74 | 83 | | 157 |
| Tanner Wells | 78 | 79 | | 157 |
| Greg Shultz | 76 | 82 | | 158 |
| Will Reaves | 82 | 76 | | 158 |
| Ryan Huff | 81 | 79 | | 160 |
| Kenny Wright | 81 | 79 | | 160 |
| Matt Hunter | 81 | 82 | | 163 |
| Andrew Morris | 82 | 82 | | 164 |
| Keaton Borrelli | 81 | 84 | | 165 |
| David Kyatt | 82 | 83 | | 165 |
| Cam Hurst | 82 | 84 | | 166 |
| Senior Division Flight | | | | |
| Player | Rd. 1 | Rd. 2 | | Total |
| David Sanders | 73 | NS | | 73 |
| Don Springer | 76 | NS | | 76 |
| Dennis Staples | 79 | NS | | 79 |
| First Flight | | | | |
| Player | Rd. 1 | Rd. 2 | | Total |
| Jack Svensen | 74 | NS | | 74 |
| Cain Hollingsworth | 74 | NS | | 74 |
| Ryan Powers | 75 | NS | | 75 |
| Taylor Morrow | 76 | NS | | 76 |
| Clay Calkins | 76 | NS | | 76 |
| David Smith | 76 | NS | | 76 |
| Brian Woodfin | 77 | NS | | 77 |
| Mike Wiedmer | 77 | NS | | 77 |
| Ted Heim | 78 | NS | | 78 |
| Charlie Smith | 78 | NS | | 78 |
| Dru Davenport | 78 | NS | | 78 |
| Will Broome | 80 | NS | | 80 |
| Bradley Elliott | 80 | NS | | 80 |
| Eric Lett | 80 | NS | | 80 |
| Second Flight | | | | |
| Player | Rd. 1 | Rd. 2 | | Total |
| Billy Thompon | 81 | NS | | 81 |
| Graham Morrow | 81 | NS | | 81 |
| Rusty Whitlow | 81 | NS | | 81 |
| Tyler TenEyck | 82 | NS | | 82 |
| Caleb Morrow | 82 | NS | | 82 |
| Kyle Glover | 82 | NS | | 82 |
| Corey Mize | 82 | NS | | 82 |
| Austin Elliott | 82 | NS | | 82 |
| Greg Rainey | 83 | NS | | 83 |
| Joe Hedgepeth | 83 | NS | | 83 |
| Eric Stringer | 84 | NS | | 84 |
| Trey Hopper | 84 | NS | | 84 |
| Third Flight | | | | |
| Player | Rd. 1 | Rd. 2 | | Total |
| Carson Chandler | 85 | NS | | 85 |
| Jimmy Ulrey | 85 | NS | | 85 |
| Andrew Gunnels | 85 | NS | | 85 |
| Matt Hartdegen | 86 | NS | | 86 |
| Henry Pritchett | 86 | NS | | 86 |
| Trey Stone | 86 | NS | | 86 |
| Houston Black | 86 | NS | | 86 |
| Matt Greer | 86 | NS | | 86 |
| David Coffey | 86 | NS | | 86 |
| Chase Thomas | 87 | NS | | 87 |
| Chance Haywood | 87 | NS | | 87 |
| Mark L. Cotton | 88 | NS | | 88 |
| Taylor Jones | 88 | NS | | 88 |
| Taylor Vera | 88 | NS | | 88 |
| Zach Limberis | 88 | NS | | 88 |
| Christopher Sprayberry | 88 | NS | | 88 |
| Fourth Flight | | | | |
| Player | Rd. 1 | Rd. 2 | | Total |
| Chase Arnold | 89 | NS | | 89 |
| Kenneth Willingham | 91 | NS | | 91 |
| Sean Kline | 91 | NS | | 91 |
| Heath Waldrop | 92 | NS | | 92 |
| Kolby Slick | 94 | NS | | 94 |
| Mark Gaines | 94 | NS | | 94 |
| Lucas Boozer | 94 | NS | | 94 |
| John Lindsey | 96 | NS | | 96 |
| Keith Hutcheson | 99 | NS | | 99 |
| Scott Jimmerson | 105 | NS | | 105 |
| Adam Benefiel | 107 | NS | | 107 |
| Marlee Hedgepeth | 109 | NS | | 109 |
Sunday's tee times
| | |
| --- | --- |
| Time | Group |
| 8 a.m. | David Sanders, Don Springer, Dennis Staples |
| 8:12 a.m. | Marlee Hedgepath, Adam Benefiel, Scott Jimmerson |
| 8:24 a.m. | John Lindsey, Lucas Boozer, Keith Hutcheson |
| 8:36 a.m. | Sean Kline, Heath Waldrop, Kolby Slick, Mark Gaines |
| 8:48 a.m. | Zach Limberis, Christopher Sprayberry, Chase Arnold, Kenneth Willingham |
| 9 a.m. | Chance Haywood, Mark L Cotton, Taylor Jones, Taylor Vera |
| 9:15 a.m. | Houston Black, Matt Greer, David Coffee, Chase Thomas |
| 9:30 a.m. | Andrew Gunnels, Matt Hartdegen, Trey Stone, Henry Pritchett |
| 9:45 a.m. | Eric Stringer, Trey Hopper, Carson Chandler, Jimmy Ulrey |
| 10 a.m. | Kyle Glover, Austin Elliott, Greg Rainey, Joe Hedgepath |
| 10:15 a.m. | Rusty Whitlow, Tyler TenEyck, Caleb Morrow, Corey Mize |
| 10:30 a.m. | Will Broome, Eric Lett, Billy Thompson, Graham Morrow |
| 10:45 a.m. | Charlie Smith, Ted Heim, Dru Davenport, Bradley Elliott |
| 11 a.m. | David Smith, Clay Calkins, Mike Wiedmer, Brian Woodfin |
| 11:15 a.m. | Ryan Powers, Cain Hollingsworth, Jack Svensen, Taylor Morrow |
| 11:36 a.m. | Keaton Borrelli, David Kyatt, Cameron Hurst |
| 11:48 a.m. | Ryan Huff, Kenny Wright, Matt Hunter, Andrew Morris |
| Noon | Vance Lewis, Tanner Wells, Greg Shultz, Will Reaves |
| 12:15 p.m. | Jeremy McGatha, Chad Key, Matt Rogers |
| 12:30 p.m. | Hank Smith, Rob Svensen, Mark Durden |
| 12:45 p.m. | Chris Cox, Andrew Brooks, Jonathan Pate, Chip Howell |
| 1 p.m. | Jeff Chapman, Jonathan Bailey, Scott Martin, Timmy Woodard |
| 1:12 p.m. | Chandler Wilborn, John Rollins, Landon Straub, Gary Wigington |
| 1:24 p.m. | Garrett Burgess, Jaylon Ellison, Brennan Clay, Ott Chandler |
| 1:36 p.m. | Jacob LeCroy, Ty Cole, Freeman Fite, Trey Rouse |