In a career that stretches back to the mid-1980s — one of his first on-screen credits was as a dancer on the TV version of "Fame" — Harold Perrineau has seen a lot. A lot.
"I have had some great experiences. I've met some really great people who have enhanced my life," said Perrineau, whose résumé features roles in "Oz," "Lost," "Romeo + Juliet," and the "Matrix" films. Some of the people he's worked with have been gems who made the work — and the spaces they moved through — better.
Perrineau has also seen a lot of terrible behavior. He's watched actors with more power (and better compensation) show up drunk, behave abusively, use offensive language, and generally act like entitled jerks. He's also, despite his obvious skills as a performer, routinely been passed over for the kind of lead roles that his white peers frequently get, whatever their track records on other sets. For Perrineau, who plays a small-town sheriff on the Epix horror drama "From," which premiered in 2022, things are starting to shift.
Their bad behavior was considered a necessary accessory to their creativity, passion, drive, dedication, artistic boldness, and vision.
"I'm not gonna lie, I feel a little bit like the beneficiary of this racial reckoning," he said, referring to the halting attempts the industry has made in recent years to come to terms with its history of bias and exclusion. These days, producers, studios, and other key industry folks "are interested in even considering something other than a white male to play the lead in a show," Perrineau told me. "Had none of those things happened, I firmly believe that I might not be playing this character, and they would've gone to some straight white male actor. 'Cause that's the way it still goes down now, you know what I mean? Unless it's a uniquely Black story. You could try to tell the story of the "Godfather of Harlem" [an Epix drama that premiered in 2019] without Forest Whitaker, but you really can't, you know?" Perrineau said with a laugh. "Adrien Brody's not going to tell that story."
Finally, Perrineau is playing the kind of part that white actors have always been considered for — basically, just a guy. A lawman with a difficult past in a small town beset by frightening phenomena. It's a long-overdue starring role that amply displays Perrineau's ability to channel quiet resolve, wounded yearning, and determined resilience all at once. And it marks a notable milestone: After decades in the industry, when he walked on to the set of "From," it was the first time Perrineau had ever been the most important actor in a production. He waited for the transformation.
"I was really excited to be No. 1 on the call sheet, because I was curious about whether something happens to you," he said. "What happens? What happens when you become No. 1 on the call sheet that turns you into an a**hole?" There was that resonant laugh again.
To be clear, not every No. 1 in Perrineau's past was unprofessional or phenomenally irritating. But over the years, enough fellow artists with starring roles have been, to the point that Perrineau had long wondered, what button got pushed? What inevitable transformation began with that No. 1 status?
The suspense was killing me. "What happened?" I asked, ready for a big reveal.
"Nothing," he said, chuckling. "Nothing happened. Nothing was different. I still did the work."
The only conclusion he could come to was that the people who'd used their authority poorly had assumed that they were really being handed something else: the power to do whatever they wanted, no matter how counterproductive, time-consuming, money-draining, or damaging. Those people were, he said, "just a**holes." That's what they were allowed to be, because — and I'll trot out some shopworn industry phrases here — it was "part of their process," "how they accessed their art," or "how their genius manifested," etc. Their bad behavior was considered a necessary accessory to their creativity, passion, drive, dedication, artistic boldness, and vision, blah blah blah. The list of excuses is endless. 
The thing is, these excuses aren't rolled out for everyone — but some coast on them for decades. Bill Murray went from "Saturday Night Live" fame to huge success in the film industry despite a litany of troubling incidents that span decades. He used a massager on Geena Davis on the set of 1990's "Quick Change"; she "said no multiple times, but he wouldn't relent." As she writes in her autobiography, she still had to do media appearances with him, including an "Arsenio Hall Show" appearance where he pulled down the strap of her dress on camera.
When filming "Charlie's Angels" in 2000, he hurled "insults" at Lucy Liu using language that was "inexcusable and unacceptable," Liu said. At "SNL" in 2016, Murray allegedly put his hands on Solange Knowles's hair after she performed the song "Don't Touch My Hair." A more recent incident shut down production on the film "Being Mortal" in 2022: Murray straddled and kissed a much younger woman who was horrified but who "couldn't move because he outweighed her," according to a news story. The woman and a colleague both filed complaints and the woman received a settlement — but she also reportedly had to sign an NDA. Murray described the incident as "a difference of opinion."
Because these kinds of litanies are not rare, I get why actor, writer, and producer Issa Rae, the woman behind "Insecure" and "Rap Sh!t," is over it. She said in a 2022 Elle interview that it "feels like we're regressing, depressingly so. There are just too many enablers for there to be real change." 
Ezra Miller as The Flash/Barry Allen in "Zack Snyder's Justice League" (HBO Max)For her, Exhibit A was Ezra Miller, the star of the Warner Bros. film "The Flash." During the past several years, Miller has been at the center of a long litany of unfortunate or unprofessional incidents, and along the way, they had encounters with the members of the public and law enforcement that paint a picture of a person in crisis. It is possible to believe Miller is a gifted artist and to be concerned for their welfare while also recognizing that they have a history of creating troubling, unacceptable, or unsafe situations for other people. The studio behind "The Flash," in the midst of these myriad problems and legal issues, filmed reshoots with them in 2022, and the movie is set to come out in 2023. "I'm gonna be real, the stuff that's happening with Ezra Miller is, to me, a microcosm of Hollywood," Rae said. "There's this person who's a repeat offender, who's been behaving atrociously, and as opposed to shutting them down and shutting the production down, there's an effort to save the movie and them. That is a clear example of the lengths that Hollywood will go to to save itself and to protect offenders."
It doesn't have to be this way. But undoing the legacy of "creativity" will be difficult, thanks to the ideas the industry absorbed, strengthened, and promulgated for long, long time.
Nancy Wang Yuen, author of "Reel Inequality: Hollywood Actors and Racism," worked as a production assistant on a film more than a decade ago, but she is still struck by a dynamic she witnessed there. The Asian American director of the movie had a white, male first assistant director who was "toxic," she recalled. "He yelled at us. He humiliated us. Everybody on set was terrified of him. We asked the director, 'Why do you have this guy around?' And he's like, 'Well, there has to be someone like him.' He believed this person had to exist on the set so he could be the nice person. The idea was that this was an important part of filmmaking. I was shocked that everyone just accepted it."
* * *
I do think the suffering all kinds of artists frequently refer to can be and often is part of the creative process. The immensely destructive thing Hollywood has done for a century is normalize externalizing that suffering and those difficulties on the wrong targets at the wrong times.
Also not creativity: any of this Jared Leto nonsense.
Doubt, neurosis, panic, nervousness, worry, fear — these are all feelings that people are likely to experience when taking on a new role, designing a costume, trying to land a director of photography job, writing a script — whatever the creative activity might be. Those reactions and emotions are normal, as are anger and frustration when things go south. As is talking about them with friends, professionals, and possibly even collaborators, within the appropriate settings and situations. Maybe there's venting in the group chat, or maybe whoever is feeling the jitters or frustration needs a night on the town. Or maybe, as happened on the set of Beyoncé's "Homecoming," people need to be told — in a professional, direct way — that some of them are not hitting the correct targets.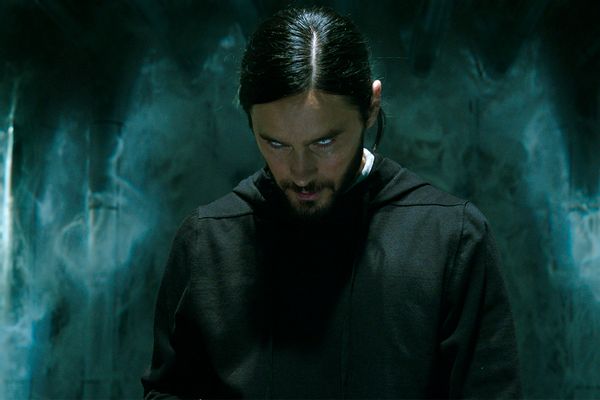 Jared Leto in "Morbius" (Sony Pictures Entertainment)Humans need to process and deal with the hard parts of being inside a creative endeavor. But physically taking out one's frustrations on others, verbally harassing or abusing them, using one's status or power to make everyone in the vicinity suffer, again and again, manipulating people and abusing them — that's not creativity. Nope, nope, and nope. Also not creativity: any of this Jared Leto nonsense.
"Jared Leto was so committed to playing Michael Morbius [in the 2022 film 'Morbius'] that even when he had to go to the bathroom, he would use his crutches and slowly limp to get to the bathroom. But it was taking so long between for pee breaks, that a deal was made with him to get him a wheelchair so someone could wheel him there quicker and he agreed to that," director Daniel Espinosa said about the actor's activities on set when asked by entertainment reporter Mike Ryan (no relation).
"I think that what Jared thinks, what Jared believes, is that somehow the pain of those movements, even when he was playing normal Michael Morbius, he needed, because he's been having this pain his whole life," Espinosa responded. "Hey, man, it's people's processes." 
Rather than rolling my eyes to the point that they pop out of my head and fall on the ground, I'm going to let Uproxx editor at large Brian Grubb take this one:
There's a lot to unpack here, some of which we can knock out via bullet point, so let's start there:

This is deeply funny
Imagine how much all the other people on set hated this
Actors seem like very exhausting people, generally

There's also the other thing, which I point out because I have a for-real disability and use a wheelchair because I have to: Please knock this off. Please. Just act. I understand you want to get into the character's mind so you can comprehend their situation, but also, no. Get up. Jared. Listen to me. Do not do this.

Also, somewhat related, but still: Please consider casting actual people with disabilities in roles where a character is disabled. Let's go back to the bullet points again here:

It's not like disabled actors can super-easily play non-disabled characters, so there's already a limited pool they're working with
Some people defended Leto by pointing out that Daniel Day-Lewis did similar stuff on the set of 'My Left Foot,' but I'll just go ahead and say it: that doesn't make either any better
Let me play Batman
If you think the point of this book is to advocate for a pop-culture columnist from Pennsylvania to take on the role of Batman, you are not wrong. In all seriousness though, we can't look past the fact that Leto's unfortunate behavior was considered acceptable by his own director. This kind of knee-jerk enabling happens a lot.
One result of these tiresome mentalities is something that has come up in conversations with many creative people over the years: being well-adjusted, kind, unproblematic, and efficient often does not help them get ahead. Hollywood, they suspect, wants the jerks.
As one experienced writer/producer told me, "being an enfant terrible is still rewarded." Hannah, the former assistant turned writer/producer, mentioned the career trajectory of a man she knows and respects. He's done OK, she said, and she certainly doesn't endorse him or anyone else acting like a monster. But in her view, he's not wrong to suspect that being a good egg has not been great for his career. "He doesn't have any of the markers of what Hollywood considers 'genius,'" Hannah observed. "His approach to work was to show up on time, to try to be under budget and then everybody goes home. He's not 'difficult.'"
Maybe he's too nice to be truly creative? I honestly think that is the mindset of any number of Hollywood gatekeepers. The truth is, the industry has barely begun to dismantle this noxious belief. Many, many people want to believe that the suffering they went through — or witnessed others go through or dish out — was worth it, because of "art" or whatever.
"I guess they have to excuse these things, somehow," Hannah observed. "Because when you have a bad experience, you have to consistently tell yourself, 'This is worth it because of some X factor. This is worth it because this person is a genius.'"
Is Jeff Garlin such a genius?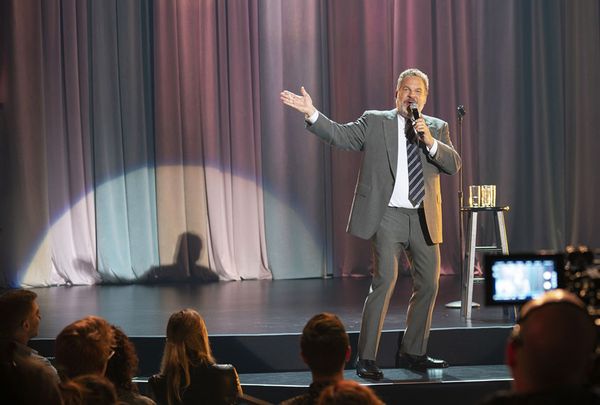 Jeff Garlin: Our Man In Chicago (Elizabeth Sisson/Netflix)In the fall of 2021, I had what I thought was a simple question: Was Garlin still employed by "The Goldbergs," a long-running ABC sitcom? I naively thought that there were only two possible answers to that question: yes or no. I had not allowed for a third potential answer: clusterf**k.
I'd heard for years about a difficult environment at "The Goldbergs." When word bubbled up again about Garlin and "The Goldbergs" in 2021, I looked into whether he'd left or been fired. For weeks, I could not get a definitive answer from anyone, including Sony, the studio that makes the show. Then Garlin emailed me.
Eventually, we ended up talking on the phone for nearly two hours. I asked Garlin, at length, about a confrontation with a stand-in, his habit of engaging in physical behaviors that made people uncomfortable, and his pattern of saying offensive, unprofessional things in the workplace. In the resulting piece, I cited sources who said that "The Goldbergs" could indeed be a punishing environment, especially for women. Garlin told me he was "a hugger" and he'd stop doing that. But he said the rest of his behavior is intrinsic to his creativity.
"We have a difference of opinion, Sony and myself. OK. My opinion is, I have my process about how I'm funny, in terms of the scene and what I have to do. They feel that it makes for a quote 'unsafe' workspace. Now, mind you, my silliness making an unsafe workspace — I don't understand how that is," Garlin told me. When I said I'd heard that he'd been investigated by Sony HR, he stated that he had been — three times. 
Again and again, Garlin told me, his behavior on set was both harmless and necessary. He also quite vehemently insisted that anyone who ever reported his behavior on any set should do so using their name. My explanations of why people probably did not want to use their names — as a well-known and well-connected industry figure, Garlin had far more power and influence than almost anyone who might want to report him — just did not land. In any event, within a few weeks, Garlin had exited the sitcom for good.
If nothing else, Garlin's claim that the "Goldbergs" crew universally loved him was not correct.
After that interview was published, my inbox filled up — again. Sources at "The Goldbergs" were not happy that Garlin had downplayed the stand-in confrontation, which they said was anything but light or funny. Before and after the piece came out, people who observed Garlin's behavior told me that they regularly found him to be a disruptive, disrespectful, or rude presence whose "process" often involved using unprofessional, vicious, or offensive language. As for Garlin's claims of respecting women, "in general, he is a nightmare for most female directors," a source told me. In the 2021 interview, one of Garlin's defenses was that he was well-liked and behaved appropriately on the set of the movie he directed, "Handsome." However, one person who contacted me said that was definitely not her experience and that the actor was unprofessional to her and other women on that set. 
I spoke with more than a dozen sources during my reporting on Garlin and the vast majority shared the same view of his toxic workplace behavior. A few people I talked to during months of reporting had no issues with Garlin's behavior (but all understood that others did and respected those people's accounts). During the phone call with Garlin, I myself was all over the map. It was intensely frustrating when he did not — or would not — recognize how his behavior affected others and how protected he was by his status. At times he appeared to be genuinely trying to understand where he'd gone wrong, and if nothing else, he was at least willing to answer my questions, which is more than I can say of many other people with questionable industry histories.
I ended that call with mixed feelings that were tipped into a more negative region by the reports that reached me after the interview was published. If nothing else, Garlin's claim that the "Goldbergs" crew universally loved him was not correct. A source who reached out after Garlin talked to me said he "uses his power and status to intimidate and demean everyone on this crew." Many sources praised "Goldbergs" star Wendi McLendon-Covey who, on social media, described Garlin as "someone who doesn't want to be there and wants to leave mid-scene." As for his work at "Curb Your Enthusiasm," Garlin had a "very vindictive energy" there, a source told me. HBO HR had investigated complaints about Garlin's behavior multiple times, sources said. I heard from more than one person that there was at least one legal settlement with a former "Curb" employee regarding Garlin's conduct.
In the fall of 2022, Garlin stated on his social media that he lives with bipolar disorder. It is always my hope that anyone with a mental illness diagnosis gets the help that they need. Every person working for every entity in Hollywood deserves to have their boundaries and their mental and physical health respected. This philosophy also applies to all of Garlin's coworkers, past, present, and future. If anyone engages in patterns of behavior that are disrespectful, harmful, or unprofessional, employers need to step in and take meaningful actions to preserve and enforce a safe and acceptable work environment for all.
I reached out to Sony about the additional allegations here; they never replied.
What follows are allegations that three sources with knowledge of events at "Curb Your Enthusiasm" made to me in 2021 and 2022: that Garlin used demeaning, graphic, sexual language in the workplace; that his behavior was investigated by HBO; and that those investigations touched on the harassment or mistreatment of people connected to the show. I also heard that Garlin (an actor and executive producer on "Curb") requested the names of people who had complained about him, and that it was not unusual for him to behave in an inappropriate, unprofessional, or vindictive fashion. I asked HBO about all these matters.
This was HBO's entire response: "Any reports of inappropriate conduct on our productions are investigated fully and addressed. Jeff Garlin remains a cast member and executive producer on 'Curb Your Enthusiasm' and will return for any subsequent season."
I asked Garlin's PR representatives about these allegations as well. They did not reply.
Read more
about this topic