A Houston-based sports technology company is planning a downtown festival and exposition next spring that aims to showcase a cornucopia of games and athletic activities along with products and innovations that shape the sporting world – while also providing an entertaining, interactive experience for attendees.
Pokatok will be held next April 4-7 at the George R. Brown Convention Center and nearby Discovery Green, among other locations, according to an announcement this week by Gow Companies. Its vision is to create a world's fair in Houston that centers around sports, with activities such as live competitions in sports and electronic sports, watch parties, athlete meet-and-greets, panel discussions and vendor exhibitions, said company co-founder and CEO Lawson Gow.
"We're aspiring to be the largest global gathering of sports everything, a true world's fair for sports," he said. "It's a showcase of sports across the world, from the wild and wacky to the innovations that are transforming the industry."
Gow said his company is coordinating with the Greater Houston Partnership, Harris County-Houston Sports Authority and Houston First Corporation, the latter of which oversees the convention center on behalf of the city government, as it organizes Pokatok. The name of the festival is an homage to an ancient team ball game played thousands of years ago in Mesoamerica.
Details such as who exactly will be participating and which sports, games and technologies will be showcased will be announced in the coming weeks and months, according to Gow. He said the plan is to have live exhibitions of extreme sports such as skateboarding or stunt biking, along with games that attendees can play, including bean bag toss and pickleball, in addition to vendor showcases that will be geared toward investors, athletic organizations and businesses within the sporting industry.
"There's certainly still a lot to flesh out with the concept," said Chris Massey, the vice president of the Harris County-Houston Sports Authority, which is consulting the event organizers and helping them connect with potential participants. "I do think they've got a great idea for a sports- and tech-centered type festival. Where that ultimately falls in terms of exact programming and who some of those targeted audiences are across the board, I think that's still to be determined and fleshed out."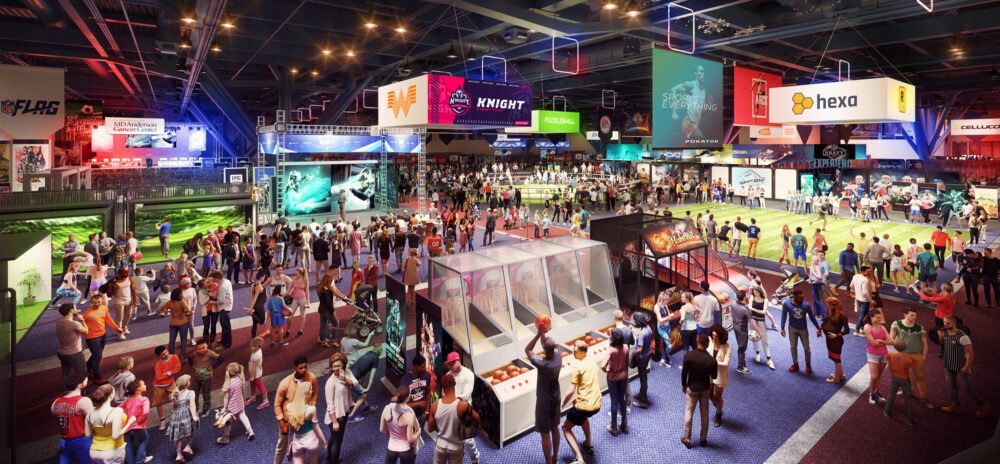 Gow said the Pokatok festival has been in the works for more than a year and described it as "multi-million-dollar thing we're creating from scratch," with his company having raised capital, built a staff and worked toward putting the event together. He declined to say how much it would cost to attend the event or participate as an exhibitor or vendor, adding that tickets are expected to go on sale within the next two months. Those interested in participating can apply on the festival website, pokatok.com.
The plan is for the event to include two different experiences – a family-friendly festival that will include interactive games and exhibitions along with watch parties, live music, food vendors and a beer garden; and "Pokatok X," which will be geared toward the sports industry and technology businesses and include demonstrations and networking opportunities. The overarching themes, according to Gow, will be how athletes train, how fans engage with sports and how venues put on events in an age when betting and fantasy sports are becoming significant parts of the fan experience.
Pokatok's festival track will be less costly for attendees than the expo experience, Gow said.
"In ticket pricing, in year one, we're trying to have it be as big as possible and not try to make as much money as possible," he said. "We've got one shot to make an amazing impression on people that are going and the rest of the world that this is truly a world's fair for sports."