Across the Caribbean, chefs are embracing local food traditions and homegrown ingredients, which is both attracting travelers who want authentic culinary experiences and raising the area's reputation as a foodie paradise. 
In Grenada, Chef Andre Bernard is intent on using seasonal ingredients and local spices at his popular Dre Flavors Restaurant. "I use a lot of local ingredients in my cooking," he says. "The only juice you'll be served at my restaurant is made from 100 percent local, seasonal fruits. I also infuse Indian spices in my curries and starters, and our cheesecake dessert highlights local fruit that's in season like mango, guava, ripe, and passion fruit."
Chef Bernard's hyper-local approach to cooking is part of the culinary movement that's highlighting local flavors and helping to drive tourism to the islands. "Our menu is geared towards experiencing the unique infusion of local ingredients in a fine dining experience. Grenada has a rich history of mixed social groups and I try to represent all of those indigenous social groups in my menu," Bernard says.
The Caribbean's unique mix of diverse flavors has also resulted in a number of food and wine festivals cropping up around the islands, attracting culinary talent from all over the world. In November 2022, St. Maarten hosted its first annual food festival, St. Maarten Flavors, where over 40 restaurants offered a tasting menu that showcased the island's diversity of Indian, Dutch, and Italian flavors.
Renata de Weever, Sous Chef at The Morgan Resort & Spa in St. Maarten says she's noticed travelers' interest in local food has increased. "Food is another way we showcase our culture and adding local spices and ingredients keeps your menus interesting and fresh," she says. "For instance, at The Morgan Resort, the lobster dish is enriched with the bold Caribbean curry flavor and instead of offering it with just white rice, guests can enjoy the traditional rice and peas. Our dishes are done with an infusion of Caribbean flavor and presented in an elegant fashion."
Over on St. Kitts, an island known for its scenic mountains and historic landmarks, a similar movement is taking place. At the Park Hyatt St. Kitts, the food and beverage program now includes a Destination Dining Experience that highlights the local food found on the island. Resort Sous Chef Terrence Dasent says, "For a taste of the Caribbean, we introduced a menu showcasing the most delicious dishes from around the region such as a lobster chowder with coconut and lime dumplings and curry crisps and brown stew oxtail with seasoned breadfruit and garlic butter organic vegetables."
Te'Chyna David, Park Hyatt Sous Chef, says that travelers are becoming more educated about the places that they're traveling and the resort's popular Sunday Brunch now offers 100% local, authentic dishes. So what can travelers find on the menu now? "Our signature goat water [a savory goat meat stew] is always available," David says,  "And you can also try some of the food our mothers and grandmothers used to prepare for us as kids like Terrance's chicken and dumplings – a recipe that was passed down from his grandmother."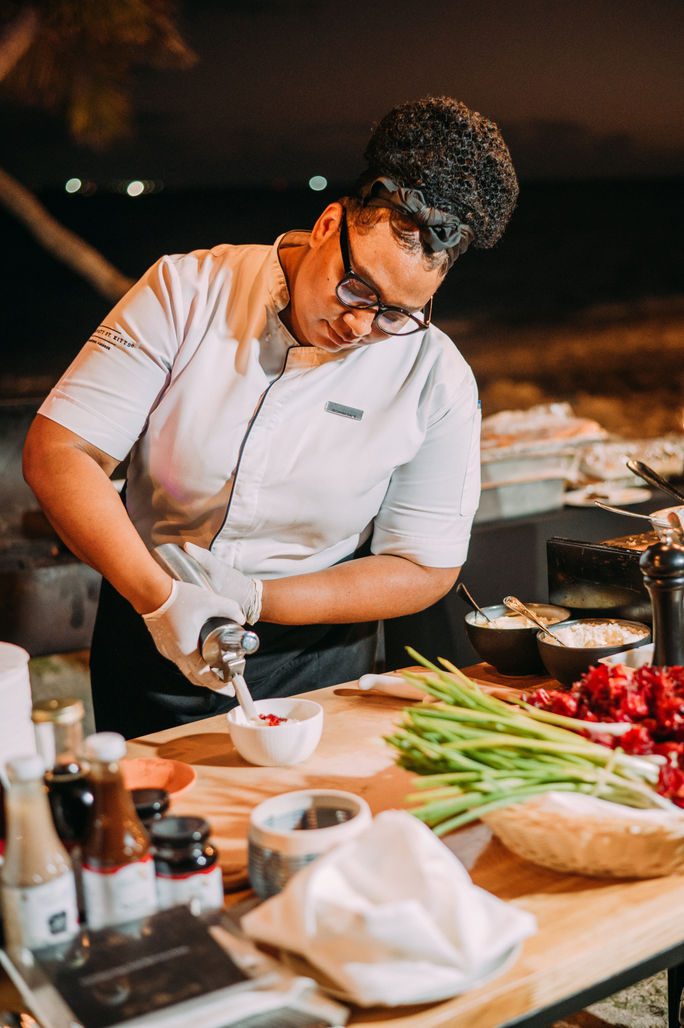 And in Barbados, an island lauded for its beautiful beaches, the island's culinary scene continues to flourish. Every October the island hosts the annual Barbados Food and Rum Festival which features local and international chefs, and last year the festival welcomed Top Chef finalist Eric Adjepong.
At Barbados' oldest resort, The Crane Resort, Akem Cadogan, Food and Beverage Manager says the food and beverage team is proud to highlight the local dishes and flavors. "We are now offering a Farm-to-Table concept incorporating local ingredients from an on-property vegetable garden, and we are using fresh, local catches of fish for Ocean-to-Table menu offerings," Cadogan says. "Additionally, for special occasions at The Crane, such as our beloved Rum & Rhythm event, we spotlight local ingredients and flavors with a broad Bajan food platter featuring island favorites such as guava glazed pork belly cutter, breadfruit chips, Bajan fishcakes, and pickled seafood, all served with local rum sours."
The Caribbean has always been home to great food, and the recent efforts to highlight local flavors at resorts means that Caribbean cuisine is now gaining more recognition and attracting foodies, festivals, and fans of great food.
"We have certainly seen travelers take a greater interest in the culinary programs at The Crane Resort in recent years on a much more intimate level," Cadogan says. "Our guests are more keen to ask about where the ingredients are sourced with concern for the most natural and nutritional processes and support for local purveyors. Travelers are looking for dishes using fresh ingredients, prepared simply and ethically, that still showcase the complex flavors of the island."

Topics From This Article to Explore