Unlike sports like football and hockey, cricket is particularly vulnerable to inclement weather – the game does not just stop during rain, there are lengthy delays post-rain, primarily due to the outfield being wet.
In a world facing the effects of climate change, where weather becomes increasingly unpredictable and freak spells of rain can wreak havoc to a game even in the peak of summer, cricket's vulnerability to inclement weather is a looming issue.
Experts have floated various fixes, from better drainage systems to stadiums with roofs. We take a look at how cricket can better combat rain.
Drainage systems
Better drainage systems are expensive, but fundamental to rain-proof cricket grounds. While they will not allow play to continue while it is still raining, good drainage systems ensure quick restarts by preventing water accumulation on the ground.
There are a few basic principles that modern cricket grounds follow viz a viz drainage.
First, grounds ensure that there are no "low points" – points where water typically accumulates – on the field of play. While grounds have always appeared pretty flat, even tiny imperfections on the surface can allow water to build up, leading to wet patches. Modern technology allows for grounds to be sculpted with near-surgical precision to obtain the exact amount of incline desired.
Second, natural soil under cricket grounds is increasingly being replaced by sand-based outfields. Sand allows for water to penetrate through the surface at much faster rates. Along with sophisticated drains underneath the field of play, which collect the water and divert it to moats and duvets outside the pitch, sand-based outfields are much quicker to dry than more traditional ones.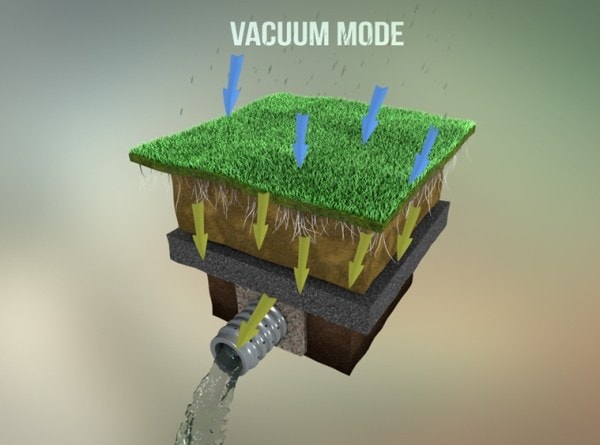 A cross section of SubAir Systems' drainage system. The water that accumulates on the surface is literally sucked underground through a porous sand-based outfield using vacuum pumps. Once underground, pipes carry the water away from the playing area. (Image: SubAir Systems Media Gallery)
For instance, Bengaluru's Chinnaswamy Stadium unveiled a sub-surface aeration and vacuum-powered drainage system, built by SubAir Systems, in 2017. Built at a cost of over Rs 4 crore, the system evacuates water from the ground at the rate of 10,000 litres per minute, using sensor operated vacuum pumps which activate when it begins to rain. As the water percolates down the sand-based outfield, it is collected in underground pipes and sent to the ground's rainwater harvesting system.
Even the Narendra Modi Stadium boasts of a similar drainage system. At the time of its unveiling, it was claimed that the drainage system at the stadium ensures that action can start within 30 minutes of rain relenting.
Covering the whole field
But the delay on Monday night was much longer. This is because while drainage systems are effective under the outfield with grass, pitches still capture water and get wet. Monday's delay was caused due to wet patches on the practice pitches, which had to be manually dried by the ground staff using sponges.
Some grounds, nowadays, cover the full playing area with water-proof covers – not just the pitch being used and the area around it, as has traditionally been the norm. Currently, the Eden Gardens in Kolkata is the only stadium in India to do this, even though the concept was first introduced in the mid-2000s.
Crucially, full ground covers definitely work – in 2016, despite over two and a half hours of incessant rain in Kolkata in the lead up to the marquee India-Pakistan World Cup clash, the match began less than an hour after the rain stopped, in contrast to the over two and a half hour delay during the IPL final.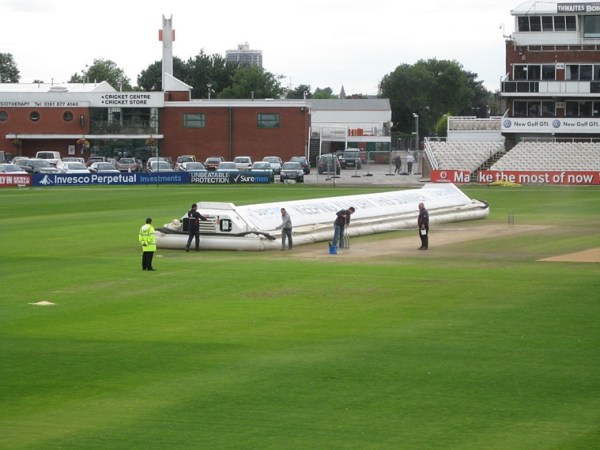 A hover cover at the Old Trafford stadium in Manchester. (Wikimedia Commons)
Automated systems to deploy covers – as seen in grounds in England – can also be used. Hover covers, as these are popularly known as, were first introduced in England in the late 1990s. They are typically quicker to deploy than their manual counterparts and thus prevent the rain from doing much damage before covers are in place.
Better covers could have mitigated the rain delay on Monday, as indicated by Cricket Association of Bengal President, Snehashish Ganguly.
"The delay was because the side wickets got wet," Ganguly told PTI. "If they cover the full ground, there won't be this issue anymore", he said.
Hybrid pitches
The above mentioned solutions, however, do not allow cricket to be played in during rain itself. Currently, even light rain, if persistent enough, can cause games to stop. This is because how water affects the pitch itself.
A damp pitch behaves very differently than a dry one, producing different bounce and movement off the surface. Rain during a game can also lead to the two teams enjoying wildly different conditions –significantly increasing the role of chance in determining the game's outcome.
Hybrid pitches are fine-turf cricket pitches that have plastic fibres stitched into them in a regular pattern. They have been shown to have significantly greater wear resistance than non-hybrid pitches of the same soil type – meaning, they are less likely to stop play in cases of light rain.
Hybrid pitches also have other benefits, including reduced overall wear and tear, but are still to be adopted on a large scale by major cricket boards.
Water-resistant equipment
While cricket equipment has improved by leaps and bounds over the years, it still does not address specific rain-related concerns.
For instance, the reason why play does not start with if the outfield is wet is because of the risk of players slipping and injuring themselves. This is easily addressed. Footballers, for example, routinely play on extremely wet surfaces without getting injured due to specifically designed football cleats (shoes). Currently, while cricketers might wear different pairs of shoes depending on whether they are batting, bowling or fielding, there are no specific shoes designed for wet outfields.
Beyond footwear, innovation in the ball to make it easier to dry in wet conditions can also go a long way to allow cricket to better withstand rain.
Better scheduling and more flexibility to hold games
Lastly, cricket needs to be more cognisant of weather while scheduling. Venues should be allotted games with prior consideration of weather and possibility of rain. Advances in meteorology have gone a long way in helping make more accurate rain predictions and cricket has to tap into these advances.
Furthermore, it has to be more flexible in reacting to sudden inclement weather. For instance, earlier this year, the Pakistan Super League rescheduled its final due to a forecast of heavy rain in Lahore on the chosen day. Similar forecasts were around even for Sunday (and Monday) but IPL's organisers were not proactive enough.
There can also be more flexibility in terms of stoppage of play and play time. For instance, rather than start Monday's IPL final at 7.30 pm, the game could have been started earlier, given that rain was forecasted throughout the evening. This would have ensured that the Final would not go on till 2am in the morning, and allowed people to view it without having to pull an all-nighter.
Stadiums with roofs
Ultimately, all the above solutions still have limitations – rain can often be unpredictable and if intense or persistent enough, delays are inevitable. The only "perfect" solution for this is to build stadiums with roofs, taking rain out of the picture all together.
The problem with this is that both, adding roofs to existing stadiums and building new stadiums with roofs would be an enormously expensive enterprise. NFL stadiums in the USA with retractable roofs have often cost over $ 1 billion to make – most cricket boards do not have that kind of money.
Currently, Melbourne's Docklands Stadium is the only cricket stadium in the world to have a retractable roof. It was completed in 2000 at a cost of A$ 460 million – equivalent to A$ 940 million or roughly Rs 5,030 crore in 2023. For context, the Narendra Modi Stadium was built at a cost of Rs 632 crore.