"Franchise." It's a word you hear more often than not these days when talking about movies. "It's part of a franchise" or "We want it to start a franchise." Franchises are prized in Hollywood because it means much of the hard work is already done; making a new Marvel movie or Star Wars movie is a no-brainer because the interest from the public is already in place. There's no need for true ground-up creation. That happened a long time ago, and whatever follows reaps the benefits.
Despite this neverending reliance on franchises, when you look at all of the most popular sequels, remakes, reboots, or adaptations in recent years, one thing is very clear: very, very few of these ideas are new. If you define a new franchise by a film that has spawned at least two sequels and is not based on a book, show, toy, movie, etc., seemingly every single big franchise movie to be released in the past decade is from a property that already existed. Cast in point, last year's top-grossing domestic movie, Top Gun: Maverick, was a sequel 26 years in the making. Star Tom Cruise's next movie, Mission Impossible: Dead Reckoning Part 1, is (deep breath) the sixth sequel in a nearly 20-year-old franchise based on a TV show from 60 years ago, which also happens to be the first film of a two-part finale. This is what blockbuster movies tend to be today, relics or recreations of the past.
Long gone are the days of groundbreaking originality. Think of films like Back to the Future, Ghostbusters, Indiana Jones, and Star Wars—risky, original ideas backed by Hollywood studios which then became giant hits and spawned franchises. It's something that basically doesn't exist anymore. In fact, outside of a few examples in horror and animation, you have to go back almost a decade to find Hollywood's last purely original idea that spawned a huge franchise. That movie is 2014's John Wick, which has its fourth movie, John Wick: Chapter 4, in theaters this week, and two spinoffs currently in the works.
G/O Media may get a commission
In 2014, John Wick basically came out of nowhere. At first, it looked like a seemingly unremarkable little action movie starring Keanu Reeves. But then people realized it was special. Something exciting, new, layered, and awesome. The original went on to gross over $85 million globally on a budget of around $20 million. That gave the studio, Lionsgate, confidence to give the filmmakers more money to make a sequel in 2017. It grossed over double the original. Then, in 2019, the third film grossed almost double that sequel, becoming one of the top-grossing films of the year. All based on an original idea by a writer (in this case, Derek Kolstad) which was supported by a popular actor (Reeves) and executed for maximum entertainment by the director (Chad Stahelski) on a budget a studio could live with.
And while you'd assume the idea of shepherding and giving a chance to high-concept, original ideas would be the norm in modern Hollywood, it is not. At all. That's probably because when there is an honest attempt at doing that (this month's 65 is a great example, but there are dozens), it usually goes nowhere. Looking at the highest-grossing domestic films of the past 15 years or so—and, again, defining a new franchise by a film that has spawned at least two sequels and is not based on an existing entity—there are only a handful of examples in total, most of which are animation or horror. There's Despicable Me in 2010, Hotel Transylvania in 2012, The Purge in 2013, and, well, that's kind of it. They're the exception, not the rule. So where are the original franchise films geared at non-animation or horror fans in the past decade? There's one. John Wick.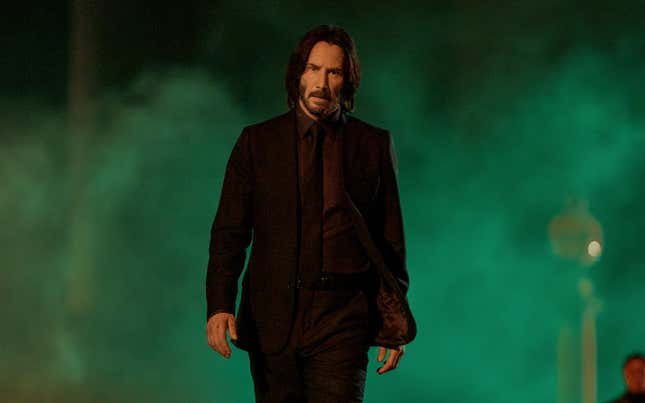 The further you look back, the more examples there are of these original franchise starters. Final Destination and Fast and the Furious in 2000, Saw in 2004, Kung Fu Panda, The Hangover, a few others. But, even 20-25 years ago, original ideas that become franchises were still rather rare. And though the future will see several growing franchises overtake Wick as the most modern examples of this— 2009's Avatar being a prime example as well as 2018's A Quiet Place, both of which only have one sequel right now but multiple others in development—at this very moment, John Wick is the most recent, and current, reigning champ.
In other words, John Wick is the mythical creature everyone is chasing: an affordable, awesome, original idea that people enjoy and want more of. A franchise. The Hollywood unicorn.
---
Want more io9 news? Check out when to expect the latest Marvel, Star Wars, and Star Trek releases, what's next for the DC Universe on film and TV, and everything you need to know about the future of Doctor Who.