Khalifa Mukadis: The young Ghanaian aspiring towards football greatness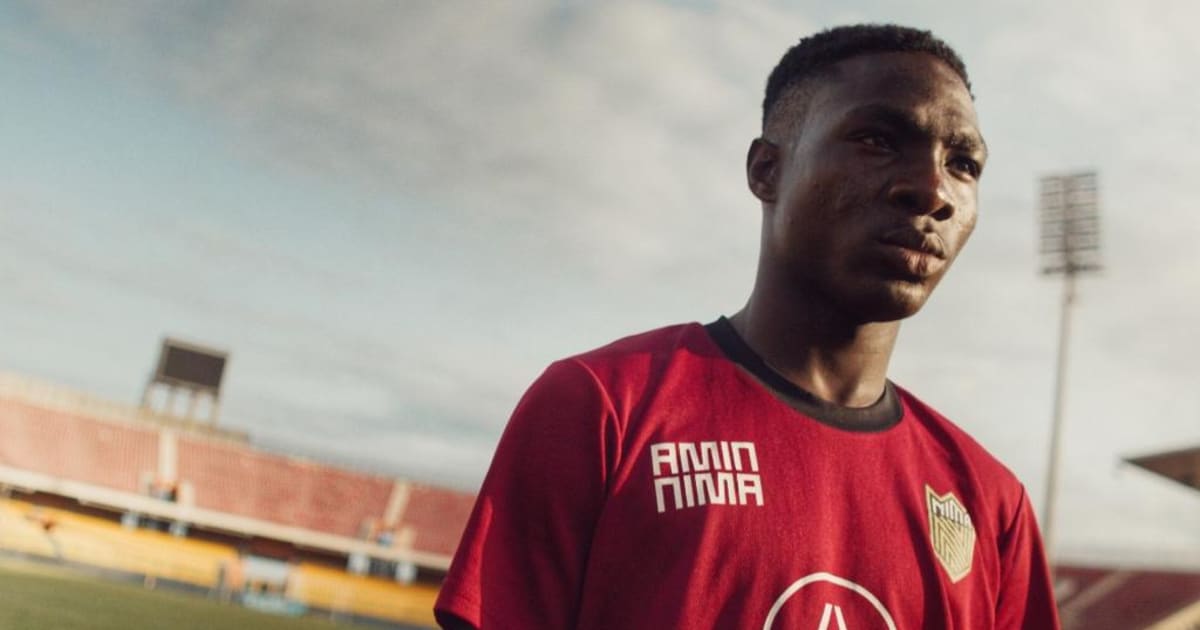 The higher level.
It's a world full of football and endless possibilities, and for 16-year-old Ghanaian Khalifa Mukadis, it's one he often mentions.
Speaking to Olympics.com from his hometown in Nima, one of Ghana's poorest neighbourhoods in the country's capital of Accra, Mukadis outlines his goals for the future.
"Playing in a big club in Europe, playing at the Olympics, playing at a World Cup for the national team. I think that will best," he said.
Mukadis is part of the new Olympic Channel original series 'Playing Fields' available to stream now on Olympics.com for free, and his episode delves deep into his journey so far and hopes of a long career in men's football.
"If I could pick to play for any team in the world, I think it would be Manchester City. City is a good club: they all play very well. They play in a lot of tournaments. They lose, they win but, still, I support them.
"City is the best club, I think. In the world."
Khalifa Mukadis: "Football makes me who I am"
With the career of Nima's born-and-bred Ajax star Mohammed Kudus as his proof, Mukadis knows that leaving Nima to become a top-flight player is not an impossible dream, but he also understands it's not an easy one.
He doesn't remember when he first started kicking a ball around so long has football been a part of his life, but he knows his love for the beautiful game really began to take root at nine years old.
"Football makes me who I am and who I want to be," Mukadis said, describing what he loves most about the sport.
"When playing football, I feel very happy and joyful. Playing is one of the best things in my life."
Since then, progressing has become his main focus, and just over a year ago, the left-footed teenager was chosen to play as a forward for the Nima Kings – the top team in the district.
Head Coach Salifu Nurudeen recognised right away the potential in Mukadis and believes with the right amount of training the teenager can go all the way.
"When I was selected as a player for the Nima Kings I was very rejoiceful," Mukadis remembered, knowing how important that day was in helping him on his journey. "There's so much support in moving their players to a higher level."
Khalifa Mukadis: Inspired by his grandmother towards greatness
One of the great drivers behind Mukadis' quest to become a football star is his grandmother.
Seeing how much football means to him, she has become one of his biggest supporters in his mission to one day become a professional, even though she initially didn't understand the game.
Mukadis said he has often spent time with her, talking her through the rules, and now she enjoys it almost as much as he does:
"When watching football with my grandma, she used to ask a lot of questions like, 'What team is this? Where are they from?' She used to ask me a lot. 'This player, which country he is from? And that player. How do they play? Where are they coming from? Which country are playing for?'
"She loves it now. When I am explaining the football to her, she feels very happy. Sometimes she used to call me, like, 'Oh today, is there any match available?' I would tell her, 'Yes there's a match but it's around this time and this time. And she would say, 'Okay, when it's time, come in.' She would change the channel to watch.
As well as believing in Mukadis on a personal level there is also a sense in which his grandma is depending on him to become successful so that he can help improve her life and the life of his family.
To help him stay on track she shares with him words of wisdom which he holds close:
"My grandma gives me all sorts of advice like, don't follow bad friends, be who you are and do what you want, be yourself and don't be someone else. You want football, let your mind be on that. Every day we must be respectful and great.
"That encourages me on the pitch to play better and play harder."
When asked if he feels pressure to succeed, because of her expectations and his own ambitions, Mukadis doesn't shy away from the answer.
"Yes, I feel the pressure," the young Ghanaian said. "But I overcome it by working harder and improving my playing skills."
Why self-belief is everything
The path towards greatness can sometimes be a lonely one. And Mukadis knows that not everyone around him is on board with his mission to one day make it.
"I think in this community, some people discourage people. Some friends discourage you. Playing football in this country sometimes doesn't move you faster; it slows you down so, many people decide to stop. They're like, okay, I'll wait, when I move to Europe, then I'll start."
Sometimes, he said, he finds himself demoralised by outside voices and it can be one of the hardest things about pursuing his dreams.
In those moments, Mukadis blocks the noises out and strengthens his sense of belief: "I think I must encourage myself to push, work harder on my training, and move forward."
That want to turn away from the negativity and focus inwards on himself is something Mukadis learned from studying the world's best footballers.
"I think it's not talent," he said when explaining what sets the likes of his idol Lionel Messi, apart from everyone else.
"The thing that makes the best players be top in the world is not talent but that they believe in themselves, and when you believe in yourself, you can move to the top."