Toto Wolff has admitted that Lewis Hamilton "needs to look" at joining other teams in the future if Mercedes are unable to provide him with a winning car.
Hamilton has won six of his seven drivers' titles since joining Mercedes in 2013, but with the team set to be out of championship contention for a second successive campaign, there has been increasing speculation over the Brit's future.
Mercedes and Hamilton have yet to agree an extension on his current contract, which expires at the end of this season, but the 38-year-old said on Thursday ahead of this weekend's Saudi Arabian Grand Prix that he doesn't "plan" to leave.
"I don't think that Lewis will leave Mercedes," Wolff said after watching Hamilton and team-mate Russell finish more than a second behind Red Bull's Max Verstappen at first practice in Jeddah.
"He's at the stage of his career where we trust each other, we've formed a great bond among each other, we have no reason to doubt each other even though this is a difficult spell.
"So nice it will be when we come out of this valley of tears and come back to solid performances.
"As a driver, if he wants to win another championship, he needs to make sure that he has the car, and if we cannot demonstrate that we can give him the car in the next couple of years then he needs to look everywhere – I don't think that he's at that stage but I would have no grouch if that happens in a year or two."
Debate around Hamilton's future was fuelled by the Brit's comments after he finished 50 seconds behind Verstappen in Bahrain, when he said that people at Mercedes hadn't listened to him regarding the development of their W14 car.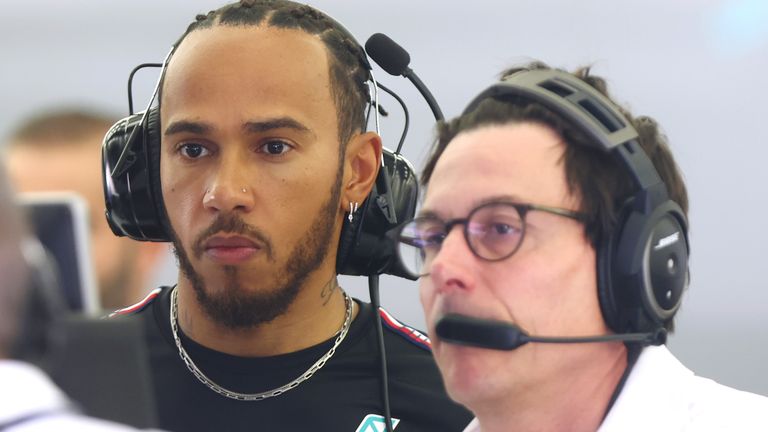 Wolff also made notable comments in Bahrain, accepting that the team's design concept had failed and that they would now move in a different direction.
Asked whether he had spoken to Hamilton about the driver's comments in Bahrain, Wolff said: "We speak all the time but it's not just one word that matters in the team.
"Because we know each other so well, we know there are emotions at play with him, with me, with many others in our team – we wear the heart on our sleeves."
Hamilton: No plan to leave Mercedes
Hamilton, who remains highly motivated as he seeks a record eighth world championship, reiterated his commitment to Mercedes when he addressed the media on Thursday.
"I still have 100 per cent belief in this team, it is my family and I've been here a long time, so I don't plan on going anywhere else," he said.
Hamilton also explained that ongoing discussions over a contract extension are centred on off-track initiatives, as opposed to performance.
"There are no performance clauses," Hamilton said. "We are in talks, just in the process of going through the motions of what that looks like, what the future looks like, what we want to do.
"(We are) always looking to continuously challenge ourselves rather than just doing a driver's contract like everyone does.
"What can we do? We did the Ignite partnership last year on how we can promote diversity within the sport, just exploring different avenues and what else we can do.
"I'm fully integrated within Mercedes-Benz. I've been with them for such a long time, since I was 13, so I'm very proud of the brand and the business, what they do, what they stand for and the impact they have throughout the world, but you can always do more, so discussions are around what else we can do together to lift people up."
Brundle: There is trouble at Mercedes
Sky Sports F1's Martin Brundle gives his analysis on Mercedes' early-season struggles and uncertainty over Hamilton's future.
"It is very unusual for Toto and Lewis to be anything other than super positive about the Mercedes team but there is trouble there. The car is not fast and talking to a few people in the team it is going to be a while before they sort it out. Clearly the boss is unhappy. Toto wears his heart on his sleeve and can get angry when he's not happy.
"Despite all the glory, tuning this around will be the biggest test of Toto's tenure. Keeping the right people involved, bringing in fresh talent and energy and not upsetting the others. He needs to keep Lewis on board.
"Toto has been talking for a while about maybe backing off from doing all the races and putting other people in place. Even before these troubles, I don't think he saw himself as the lead person in that team for the next seven years.
"If you suggest to Toto that he inherited a winning team and all he did was take the glory, I'd be inclined to be ready to run quickly! You can't take away the magnificent victories and championships they had – they had a supreme power unit that won them the first few of those, they had to work hard for the later ones.
"I tread very carefully when it comes to criticising teams and management. There are boulevards of thousands of intelligent people working on two racing cars. You see the resources, skills and knowledge so maybe it just needs a bit of fine-tuning but it can be a bit of an avalanche when things start to go wrong [in terms of] keeping morale high."
"They [Mercedes] were disheartened after Bahrain and they have a long hard slog. They are a long way behind. Lewis even said Red Bull have got this won unless Ferrari can come at them. That's where he is at.
"I think Lewis feels the philosophy of the car is wrong and that they weren't listening to him last year. He has backtracked a bit on that and said he didn't choose his words wisely but they were the words he used at the time. Lewis is highly intelligent and thinks carefully about what he says."
Watch the Saudi Arabian Grand Prix live on Sky Sports F1 this weekend with Sunday's race live at 5pm. Get Sky Sports