JUNIUS – Amy Chait can only imagine how crowded some of the new service areas along the Thruway will be this holiday weekend.
She sat at a counter at the compact, redesigned Junius Ponds service area, between Syracuse and Rochester, and recalled her trip to Massachusetts to pick up her daughter from college.
"When I was going east, the one that was like this was packed," Chait said while taking a break on a recent weekday before she and her daughter Anna continued the drive west to Ann Arbor, Mich. "It was on a Friday afternoon. It was like you couldn't even move."
Twenty-seven Thruway service areas will be replaced or revived under a $450 million overhaul that began in 2021 and is set to continue through 2025.
As of Memorial Day weekend, six new travel plazas have opened while 10 others remain closed for construction.
Travelers say they appreciate the clean, bright look of the new rest stops, which feature a different mix of restaurants including Shake Shack, Chick-fil-A and Popeyes.
But they wonder why some redesigned service areas, like Junius Ponds and Indian Castle near Utica, are so small.
Their size, combined with the shutdown of so many travel plazas for construction, has led to long lines on busier travel days.
It's also led to questions about whether the network is ready for the summer travel crush.
"In the short term, I have concerns about how it's impacting our tourism season and making sure we just have adequate facilities to handle the amount of people coming into New York," said Assemblyman Michael Norris, a Lockport Republican and Thruway commuter.
The Thruway Authority and the developer, Applegreen Limited, defended the pace given the complexity of the project and nagging supply-chain delays.
The authority acknowledged the reopening of some plazas, including Clarence and Pembroke, is behind schedule and said it has prodded Applegreen to finish as quickly as possible.
The entities say the new service areas were designed with different sizes based on historic patterns of use and crowding at the smallest centers should ease as more facilities come online.
"We understand that this is an inconvenience to our motorists," authority spokeswoman Jennifer Givner said. "However, we ask for their patience during this project. It's incredibly complicated. Not many construction projects like this exist with 27 separate buildings over 570 miles."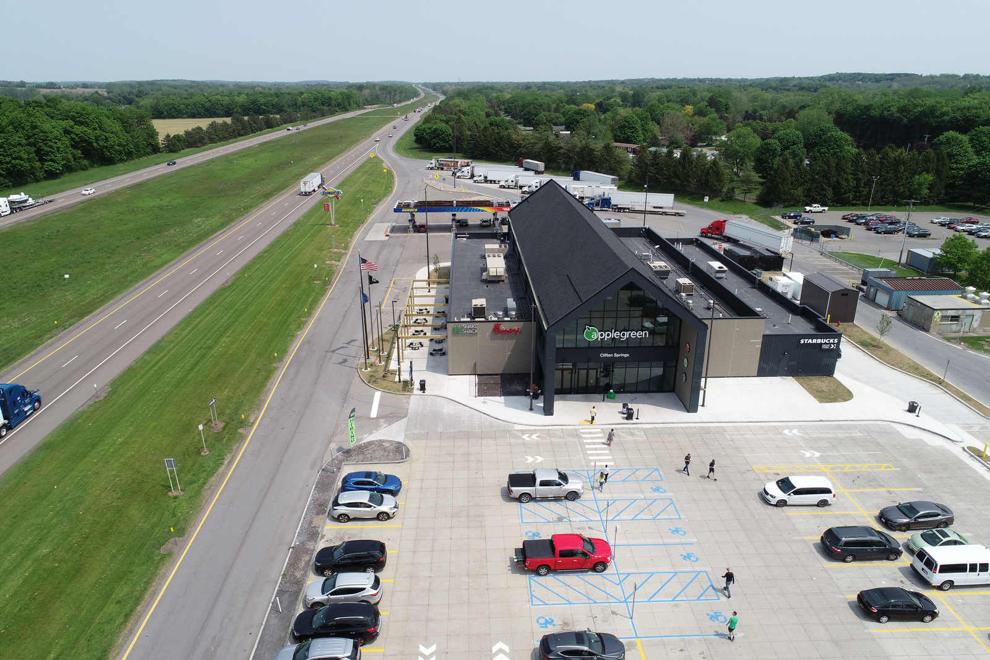 Then-Gov. Andrew Cuomo unveiled the project in his 2018 State of the State address. The rest stops had opened in the 1950s and were last remodeled or replaced in the 1990s.
The winning bid came from Empire State Thruway Partners, operated by Applegreen.
The Irish company promised to cover the $450 million cost to replace 23 service areas, and renovate four others, in exchange for a 33-year rest stop concessions lease. Fuel service at the plazas is on a separate contract with the authority.
The project promised modern plazas, updated restrooms and food selections, rebranded convenience stores, better Wi-Fi and extra electric-car chargers.
There were several size levels based on traffic and sales data at the existing stops, ranging from 3,900 to 20,100 square feet.
This is standard retail practice, said Charles Lindsey, a University at Buffalo associate professor of marketing. Stores that are too big are unnecessarily costly to maintain, while stores that are too small make for unhappy customers.
"They're trying to find the sweet spot and maximize both efficiency and effectiveness," he said.
To limit the inconvenience, planners barred the closing of two consecutive rest areas. Only when work finished at one rest area could an adjacent area be shut down.
Applegreen's contractors began work on the first service areas in 2021. Since then, six have reopened. Eastbound Clifton Springs and westbound Junius Ponds are the plazas closest to Buffalo that have been replaced.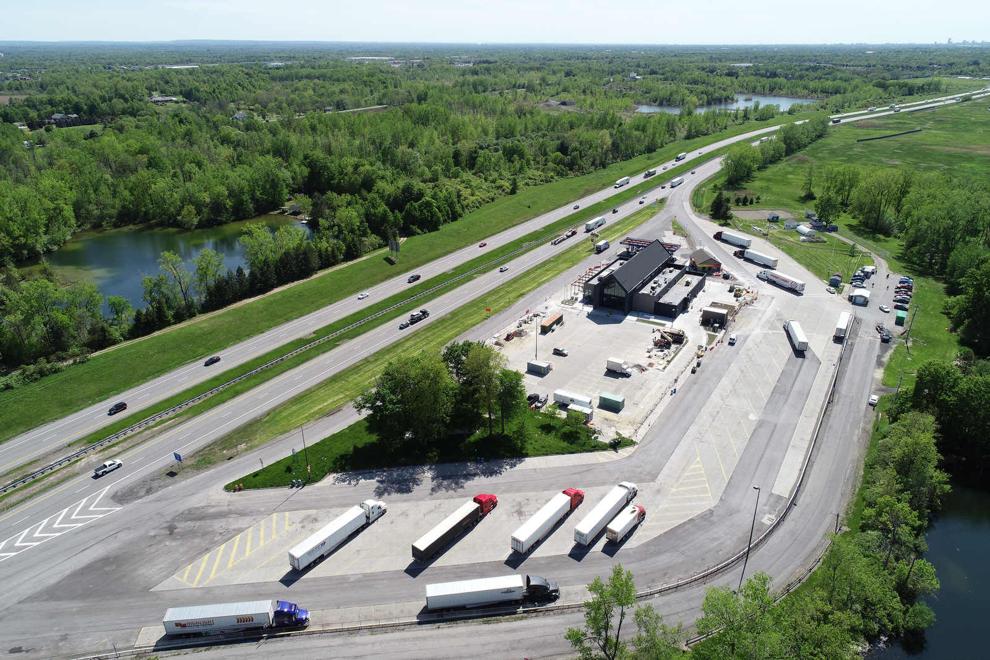 The Clarence and Pembroke rest stops were shuttered in July 2021. They were scheduled to reopen last August and October, respectively, but both won't come online until the end of June.
In the meantime, travelers heading east from Buffalo must wait for the as-yet-unrenovated Scottsville service area, near Rochester, to stop.
Clifton Springs, east of Scottsville, is one of the large new service areas.
Opened in March, it has a Starbucks, Chick-fil-A, Shake Shack and Applegreen market featuring "Taste of NY" items such as maple syrup and Nelson Farms jam. A recent visit found a worker on a ladder installing the sign for a future Auntie Anne's pretzel shop.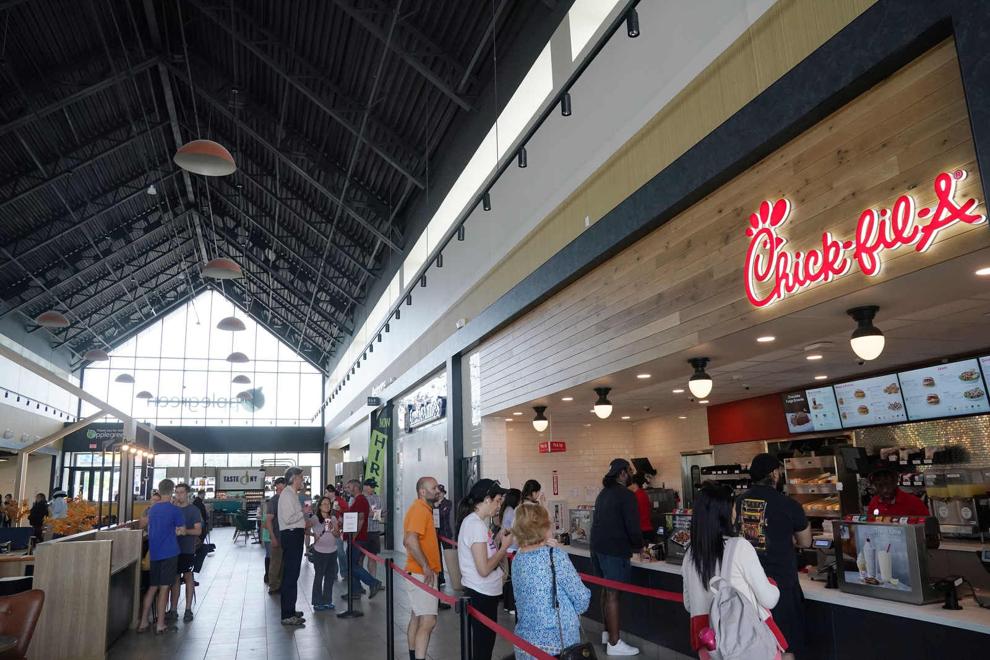 Trey Byrge, a long-haul truck driver from Tucson, Ariz., taking a load to Massachusetts, said he appreciated how well-kept the service area was. He also liked the food selection.
"It's usually, like, Burger King. You're stuck with the same old, same old," said Byrge. "That's what made me come here. I saw the Chick-fil-A. I was like, 'I'm gonna get Chick-fil-A.' "
Aryell Williams, a Utica-area resident bottle-feeding her 8-month-old son, Jack, recalled the prior rest stops as "dumpy and old" and said she doubted the authority would ever upgrade them.
"It's really nice, almost homey in a way," said Williams.
The Clifton Springs building is 3½ times the size of the new Junius Ponds, which is 5,740 square feet.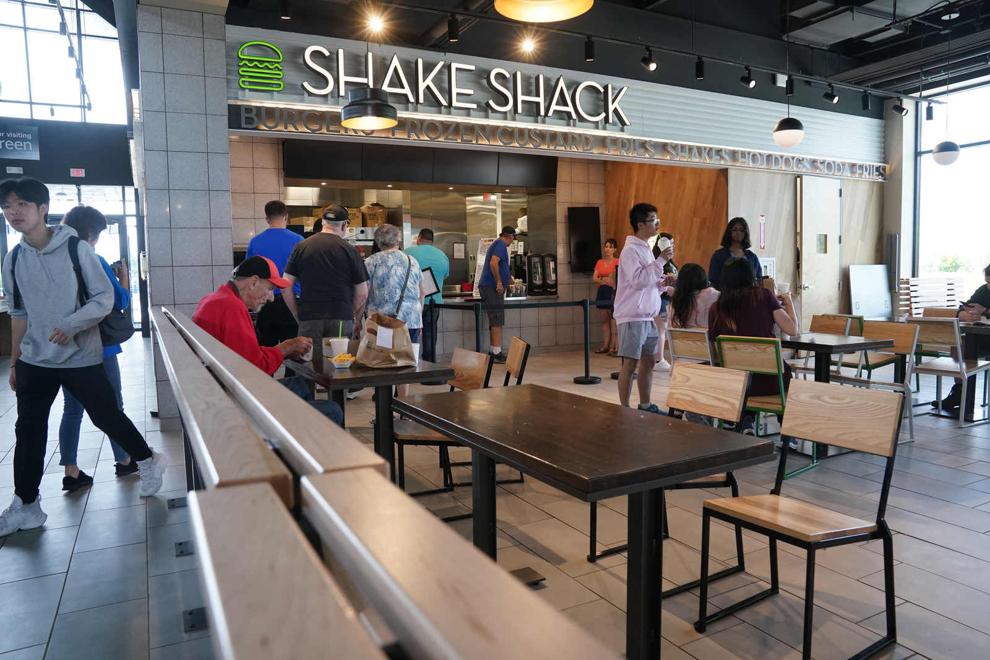 At Junius Ponds, there's not much space between the 25 or so indoor seats, the smaller-scale Applegreen market and the lines and waiting areas for the Starbucks and Shake Shack, though outdoor seating helps in warmer weather.
Part of the problem is the westbound service areas on either side, Chittenango and Seneca, are closed except for the fuel stations.
Anna Chait, who regularly drove the Thruway between Michigan and Mount Holyoke College, questioned the timing.
"I just think they should have done it systematically – not closing all of them at once," she said. "Because I was driving this in December and, like, I just didn't stop in the whole of New York because I couldn't."
Sitting nearby at Junius Ponds were Linda Cecere and Diana Wenz. The sisters from Geneva had come to try a Shake Shack milkshake.
They loved their shakes but had questions about the project.
"Why is it taking so long on the other ones?" Wenz said. "You can't even go to the bathroom on the way to Syracuse. What is the problem? I thought they were all supposed to be done."
"I figured they'd be done by the travel season," Cecere added.
'Unforeseen circumstances'
The Thruway Authority said travelers will enjoy a modern service-area network once the project is completed by 2025.
The authority and Applegreen cited supply-chain delays that began during the pandemic and said the war in Ukraine and last winter's devastating storms in Western New York also slowed the pace of construction.
In fact, the main contractors are seeking $260 million taxpayer bailout for project overruns, a request that remains under review in Albany.
"While we had hoped to have more renovated service areas open for the summer 2023 travel season, unforeseen circumstances and complexities in the construction process necessitated the phased approach," Applegreen spokeswoman Paula Chirhart emailed.
Applegreen and the authority defended the different plaza sizes. They said smaller rest stops such as Junius Ponds easily will handle their typical crowd volumes once more reopen.
"It's important to note that many of the previous larger-sized buildings were highly underutilized. They had vast eating areas that were often sectioned off by the operators because they were never used and there was too much space to clean given challenges associated with staffing levels," the authority's Givner said.
And they said the best way to handle the construction of new service areas was the staggered closure of the existing service areas, including restroom facilities. They noted fuel is still offered at the shuttered stations and motorists won't see two of them in a row.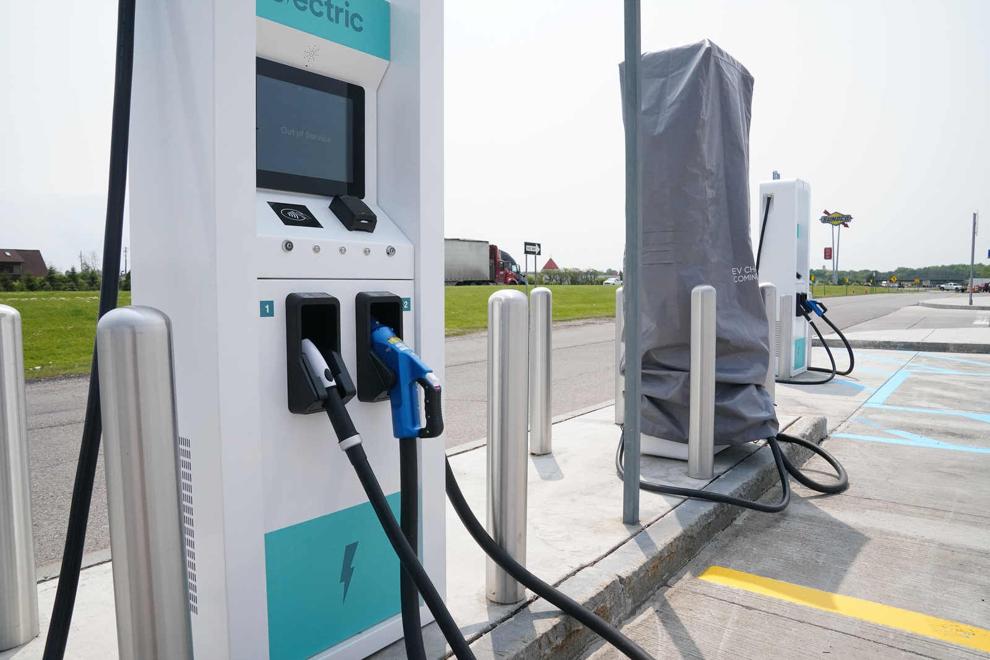 Better planning possible?
Do the service areas have enough employees to keep the buildings clean and to keep lines at the restaurants moving? Applegreen said hiring is a priority for the company.
"Between new site openings and staffing up for the peak summer season, we expect to significantly increase our staffing levels to ensure a quality guest experience," Chirhart said.
UB's Lindsey wonders whether it was possible to open larger travel plazas first, or to place public portable toilets at the shuttered rest areas.
"Should the sequence have been different? Should we have done a better job anticipating the bottlenecks and, because of that, maybe built some temporary space?" he asked, such as flex space at smaller site.
State Sen. Tim Kennedy, a Buffalo Democrat who chairs the Senate Transportation Committee, said he's heard complaints about the smaller service areas and he's seen them for himself. The authority has assured him the crowding issues will resolve themselves as work progresses.
"I share the frustrations with the community that sees these new rest areas going up, but they're not complete," Kennedy said. "We want to get that process expedited as quickly as we can. We want these new rest areas online. And we want them to serve the public as the public deserves."