There was a tense moment after No. 5 Louisville took down No. 4 Texas in the women's NCAA Tournament Monday night in Seattle. 
The Cardinals' star guard, Hailey Van Lith, who led the way with 21 points, three rebounds and three assists in the 73-51 win, made her way to the handshake line, and the Longhorns' Sonya Morris was the first to meet her. 
Morris made sure to hold on to Van Lith's hand as she exchanged words with her. While the camera didn't pick up what was said, Van Lith clearly didn't like what she heard. 
CLICK HERE FOR MORE SPORTS COVERAGE ON FOXNEWS.COM
Van Lith pushed aside Morris's hand and continued to work her way down the line before eventually looking back and saying something else. 
Asked about it in the postgame press conference, Van Lith believed Morris was angry about the loss. 
FELTON SPENCER, LOUISVILLE GREAT AND NBA VETERAN, DEAD AT 55
"I think there was some frustration going on," she told the Courier-Journal. "I'm not gonna let no one disrespect me. But my teammates got my back. And I don't have nothing bad to say.
"They're coached great. They have great players. So, it is what it is. People are sad when they lose. I'd be sad too."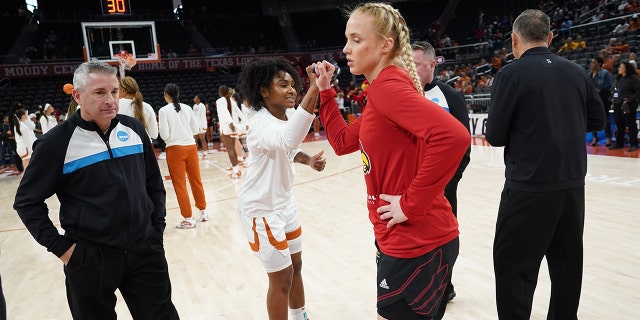 Morris is a role player with the Longhorns. She came off the bench in the second-round matchup to play 11 minutes and scored two points. Texas had trouble scoring throughout the contest. Forward DeYona Gaston, the team's leading scorer, had 12 points over 26 minutes. 
MIKE ANDERSON WILL FILE ARBITRATION LAWSUIT AGAINST ST. JOHN'S AFTER FIRING: REPORT
Van Lith averaged 19.5 points per game this season, her best in three years with Louisville. Her efforts over 40 minutes led the Cardinals to their sixth straight Sweet 16 appearance.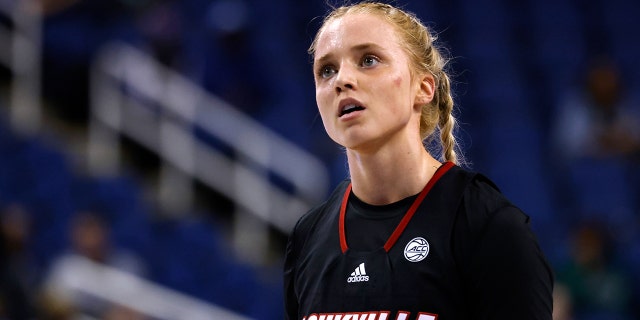 CLICK HERE TO GET THE FOX NEWS APP
Louisville will next face No. 8 Ole Miss, which upset No. 1 Stanford in the second round.