Quzhou Sports Park, a sculptural complex infused with nature
The year 2022 was marked by the completion of the Quzhou Sports Park in China's Zhejiang Province, the largest earth-sheltered structure ever built. Led by MAD Architects' founder Ma Yansong, the project spans nearly 700,000 sqm and fluidly integrates into the surrounding landscape neighbored by a mountain range and nestled among dense forests. The centerpiece of the expansive sports park takes shape as a sculptural stadium, emerging from the rolling ground as an open-air and sinuous volume. You can learn more about the project's nature-inspired aesthetic by visiting designboom's full 2022 coverage. 

image by Aogvision | all images © MAD Architects
watch mad architects' ma yansong discuss his unique design
In a recent conversation with Archdaily, Ma Yansong (see more here) discusses the concept behind his sculptural design for the Quzhou Sports Park. While conceived as a monumental landmark, the stadium doesn't take on an invasive quality; instead, thanks to a series of voids and openings, the architecture injects breathability and open space into its context.
'I think I consider this space a void in this new town because we often talk about objects, functions, those positive things, but I also think architecture can be negative, can be a void, can be space. We want the architecture to disappear. We need a space for people to have a moment to dive into another dimension of space and time. So I want this space to be very engaging and inviting,' shares Yansong.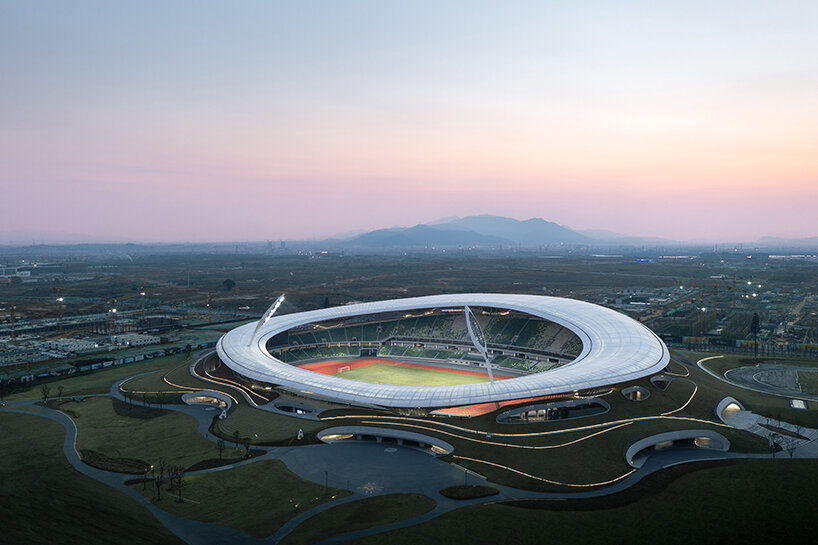 image by CreatAR Image
Beyond avoiding an invasive design, the architect also made sure to convey a sense of surrealism and pleasant 'artificiality'. As he explains in the video, visitors only get a peek at the white steel roof structure when approaching the stadium, evoking a floating cloud atop green mountains. However, this sense of lightness gradually shifts and transforms as one accesses the interiors of Quzhou Sports Park. '[…]when you enter the building, you will find structure inside the mountains, underneath the green. I imagine those spaces to be very strong, very heavy. I find this is a discovery process,' reflects the architect.
Watch the video above to learn more about Ma Yansong's poetic vision for the stadium.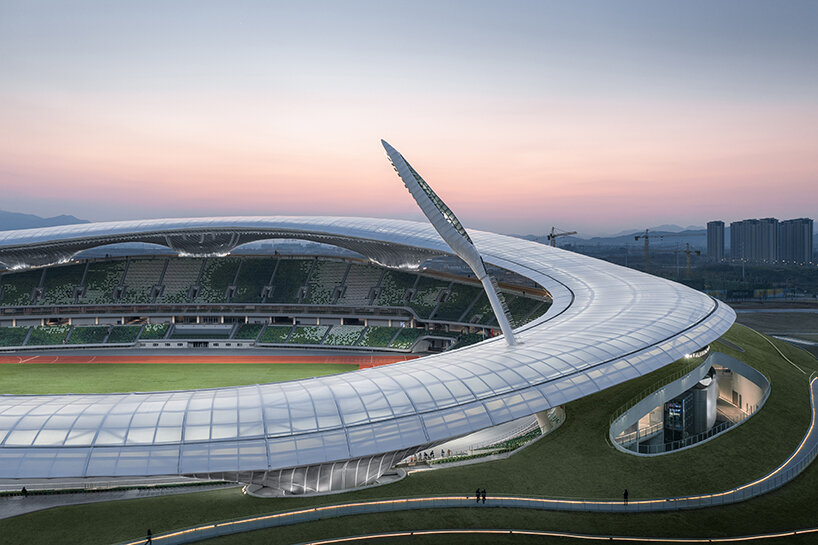 image by CreatAR Image