Self-care will forever be our favourite hobby but we appreciate that recharging and putting yourself first looks different for everyone. Each week, we'll ask the celeb lot to share their ideal self-care Sunday routines, the hard-working beauty products they recommend to their friends and which TV show they're currently binging…
This week it's all about self-confessed 'body posi spiritual babe', Amy Christophers. The former model is best known for starring in Married At First Sight UK in 2021 and was adored for being down-to-earth, hilarious and someone we'd like to be BFFs with IRL.
(And yes, we are still fuming that producers did her dirty by matching her with then-commitment-phobe, Joshua Christie.)
Now she continues to rise as a mega-successful sports presenter and qualified referee, working for plenty of outlets including Racing TV, TalkSport, The Daily Star, The Mirror Online and more.
Amy chats exclusively to heat about the importance of daily gratitude, self-care routines and her favourite DIY hair mask…
On self-care
What does a self-care day look like for Amy Christophers?
"On my ideal self-care Sunday, I would first get up and fully blitz the house. Give it a quick tidy-up and clean. I've got my cleaning down to a tea. I set a timer and then I try to do personal bests to try and get everything done. Because I live alone, I always want my house to be like a show house.
"Now that I'm living back in Cornwall, people do pop in for cups of tea, which never happened before in London. That's not the done thing. I'm like, 'Oh my God, my house has to be clean all the time.' So, I give the house a quick once over and then I sage the whole house because I like to start the week afresh. I like to get rid of all the energy from the previous week, whether it was good or bad.
"Then I would make a nice breakfast, sit down and then watch Match of the Day. I'd go out for a nice walk with the dogs and then have a roast dinner. Then I'd have a bath, wash my hair and do a nice hair mask. I dermaplane my face every other week. I love having a bath and hair mask in and then washing it off afterwards.
"I also do water meditation in the bath – it's about imagining you are soaking all the negativity off you. I do feel like you need to give yourself a quick shower rinse off after you've had the bath so all the energy's gone and you can watch it go down the plug hole."
On make-up favourites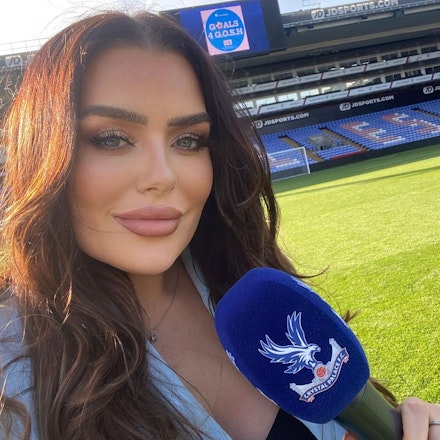 "I love the REN Perfect Canvas Primer(£42). It sells out all the time, so I'm actually annoyed that I'm promoting it! I swear by REN skincare. People always ask me if I get anything done. I do get a bit of Botox now and again, I need to get some actually because the last time I had Botox was last summer so I think considering it's all worn off, I'm not doing too badly.
"REN skincare is literally the best. I use everything REN, but this primer is a game changer. It's literally like glue. It's breathable, it's the best primer I've ever used. Some of them are really greasy and I just can't get on board with those primers, or sometimes they fill in your pores. But this primer is the best and it doesn't feel sticky or anything. It's basically a unicorn in a bottle that makes sure make-up stays on all day.
"The HD Brows Brow Glue(£16) is another game changer. I always use it on my brows. I also love the Pro Eyebrow Pencil (£18) you can use it to fill in the little brush strokes. It looks so natural. I love using both of them and then after I've done my eyelashes with mascara, I go over my brows with the mascara, too. A good budget tip, if you don't have brow gel."
On budget beauty buys
"The Collection Concealer (£4.49) is actually decent – you can't get any more budget than Collection. I've been using Collection 2000 since I was 14. When I do my make-up nicely, I use the MAC one, but for every day, popping to the shops or going to the gym, it blends really nicely."
On DIY hair masks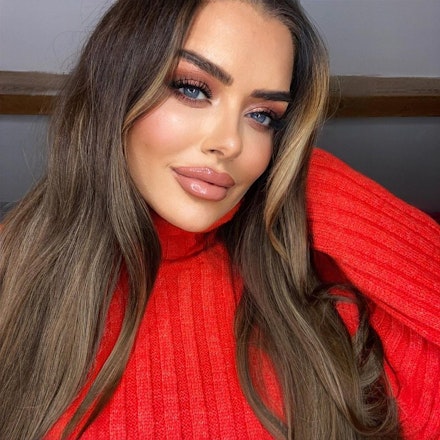 "In Superdrug, you can buy a big pot of coconut oil(£2.49) and it's not very expensive. I will scoop some out and put it in a microwaveable bowl and just heat it up for five seconds. Then I literally just pour it over my scalp, rub it in and then I'll go to the shops or whatever.
"I'll go out with no make-up on and coconut oil in my hair and every time, you can guarantee that someone will come up to me and be like, 'Oh my god, my girlfriend loved you on the show – can I have a picture?' I just know that picture will last forever and I'm literally covered in oil!"
On daily gratitude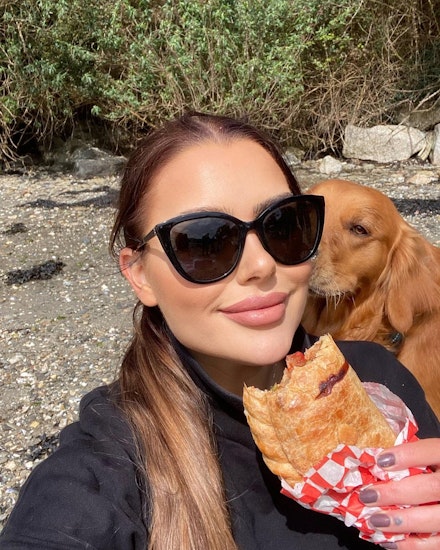 "In the morning, I will go and get up, have a coffee and just go and sit in my conservatory. It's so green, it's stunning. I sit there and think about how lucky I am and I do my gratitude lists. I think gratitude's really important because you have to become what you want to attract. If you're loved, you're going to attract more love and good things into your life. It's really about being positive and not coming from a place of lack.
"If you feel, 'Oh, why have they got this, why don't I have this' you're just projecting that you have nothing so you don't want anything else. Never come from a place of lack, always feel gratitude."
On sleep routines
"I love to do a facemask, read a book and try and get an early night. That's where my self-sabotage comes in though, I literally don't sleep. I live on four hours of sleep a night. So I'm just always trying to get everything done. If I have been lazy and procrastinated all day, I can't go to bed unless I have been productive. So I'll stay up till around 2 am making content. That's when I'll finally relax and feel like I've done something positive today."
On the moon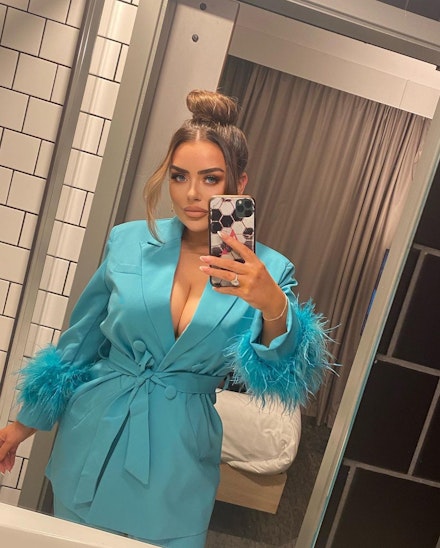 "If anybody wants to get into like learning more about the moon, there's a fantastic book called Moonology by Yasmin Boland. I also love listening to her podcast, I really recommend it. She's literally the moon queen, I love her. I've just always been mesmerised by the moon.
"The moon was kind of the reason why I applied for MAFS, because I just had this really weird feeling, especially if I'm on a night flight and you can see the moon, I just think like, 'Oh my God, whoever I ended up with, they're looking at the same moon'. I just think it's quite a nice thought to think how me and whoever I'll end up with both look up to the same moon."
Quickfire round:
What show are you currently watching? Married At First Sight Australia
How do you like your cuppa? A double shot of espresso.
Go-to loungewear brand? I never put on loungewear, I always just wear pyjamas. I love Primark's pyjamas, I like sets that are super cosy.
Favourite face mask? I love the Procoal Charcoal Face Mask (£11).
Go-to takeaway order? A chicken curry or a chicken and black bean sauce from a Chinese. Obviously with all the fries.
Favourite candle? I'm going to be a basic bitch and say, Jo Malone! I have loads of them but I never want to light them because they're too nice.