Mercedes have unveiled their much-anticipated new black Formula 1 car for what Lewis Hamilton and George Russell will hope is a bounce-back 2023 championship challenge.
The motorsport giants, F1's dominant and record-breaking force from 2014 to 2021, fell back to a shock third place last season and the W14 is the car tasked with returning the team to title contention with Red Bull and Ferrari.
It is also the machine Hamilton will be bidding to seal a record eighth drivers' crown in after falling to his worst-ever F1 campaign in sixth in 2022.
Mercedes have overhauled the W14 after their struggles in the first year of F1's huge rule changes and the covers were pulled off it at Silverstone on Wednesday morning.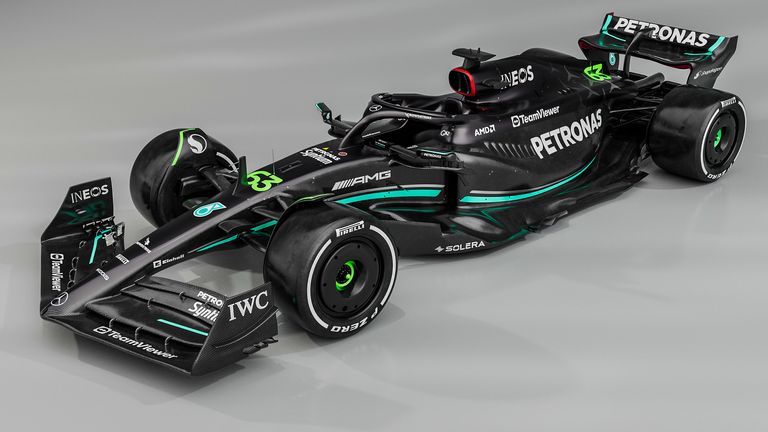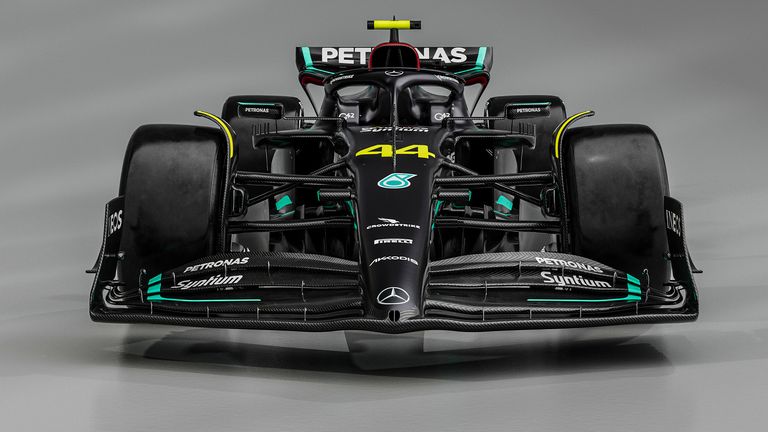 "We've redesigned, optimised, and innovated so many parts of the car and that is impressive," said Hamilton. "And I love the new livery! It says, 'we mean business'."
Mercedes used a black livery in 2020 and 2021 in a stand against racism and team boss Toto Wolff said at the launch of last year's car that the team colours going forward would be silver and black.
The team say they are back in the latter livery 'in the name of performance', as many rivals are doing in a bid to save weight.
"We were overweight last year," added Wolff. "This year we have tried to figure out where we can squeeze out every single gram. So now, history repeats itself.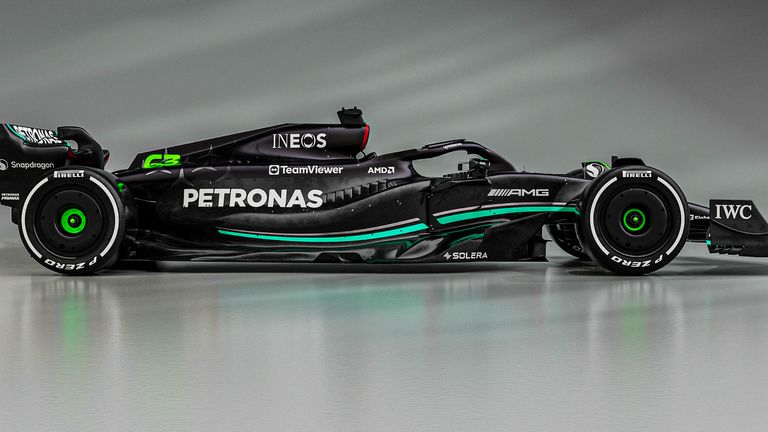 "Of course, when we changed the livery in 2020 the main driving factor was to support the diversity and equality causes which are always close to our heart.
"The colour black became part of our DNA at that point, so we are pleased to return to it."
Both Hamilton and Russell are driving the car for the first time around the Northamptonshire circuit later today.
Pre-season testing is on February 23-25 in Bahrain before the season begins at the same track with the Bahrain GP on March 5.
Testing as well as every practice, qualifying and race session will be live on Sky Sports F1.
'We are going all in' | Can Mercedes return to the front?
F1 embarked on an all-new era last year with rules and car overhauls, and Mercedes were expected to ace the regulations after their dominance through the previous eight seasons.
The W13 car, though, saw the team fall from title contenders to a distant third, and it was only in the final stages of the season that saw improvements from Mercedes with Russell claiming their only win in the penultimate race.
After diagnosing the problems, they are much more confident with this year's challenger.
The team say the W14 has a significantly lighter chassis, revised front suspension geometry, cooling system adjustments and a refined aerodynamic concept based on last year's learning.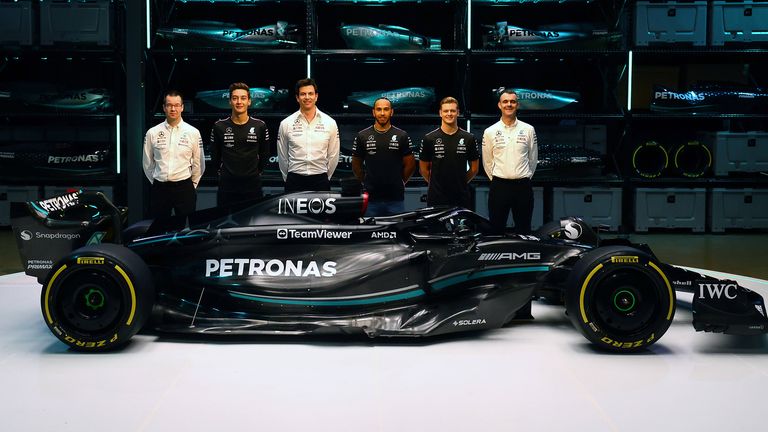 Now, the challenge is to battle Red Bull, who won their first constructors' title since 2013 last year, and Ferrari, who are similarly optimistic with their redesigned car.
"Our hopes and expectations are always to be capable of fighting for a world championship," said Wolff.
"However, our competitors were very strong last year, and we are playing catch-up."
He continued: "Racing at the front requires resilience, teamwork, and determination. We face up to every challenge, we put the team first, and we will leave no stone unturned in the chase for every millisecond.
"This year, we are going all in to get back in front.
"I see so much effort, motivation, and energy in the organisation to launch a car that will eventually be competitive enough to fight at the very front of the grid."
Hamilton planning F1 stay | Will Russell beat him again?
The performance of the car isn't the only thing fans will be itching to see this year, for the second season of Hamilton and Russell's all-British partnership also promises to be blockbuster.
Russell enjoyed a stellar rookie campaign with Mercedes in 2022, winning his maiden race in Brazil and becoming the first team-mate to outscore Hamilton in a season since Nico Rosberg in 2016.
Hamilton, off the back of his hugely controversial title defeat to Max Verstappen the year before, struggled more than Russell in the difficult W13 car.
2023 represents the final year of Hamilton's contract although the 38-year-old intends to sign on for what will more than likely be his final F1 deal, with team boss Toto Wolff indicating talks will ramp up soon.
"I love being part of a team that is working towards a common goal," said Hamilton. "I always believe I can get better. I always love that challenge, the physical and mental element, having to deep dive and extract more performance from yourself and the people around you.
"The car is always changing, there's always new tools, and I love that. I'm planning to stay here a little bit longer."