Miami Heat avoided becoming the first team to squander a 3-0 NBA playoff series lead after beating the Boston Celtics 103-84 in Game 7 of the Eastern Conference Finals on Monday.
After a dramatic defeat in the final seconds at home in Game 6 on Saturday, Miami got the win they needed at Boston's TD Garden to reach the NBA Finals against the Denver Nuggets, with that series set to begin on Thursday.
Miami's Jimmy Butler – named the Eastern Conference Finals MVP after averaging 24.7 points, 7.6 rebounds and 6.1 assists in the series – struggled in Game 6 but was back to his best on Monday with a game-high 28 points.
Caleb Martin added 26 as the Heat became the second No 8 seed to reach the NBA Finals and first since the New York Knicks in 1999, having bounced back from losing the previous three games.
Bam Adebayo recorded 12 points, 10 rebounds and seven assists as Miami finished the job, with teams holding a 3-0 series lead improving to 151-0 all-time in the NBA playoffs.
Jaylen Brown had 19 points and eight rebounds while Derrick White scored 18 points for second-seeded Boston, who became only the fourth team in NBA history to force a Game 7 after losing the first three games.
Jayson Tatum had 14 points and 11 rebounds for the Celtics, but he sprained his left ankle during the game's first possession and hobbled throughout the contest.
"That was tough because it kind of impacted me the rest of the night," Tatum said. "It swelled up. It was frustrating that I was a shell of myself. It was tough to move. It was frustrating, especially happening on the first play."
Miami shot 48.8 per cent from the field, including 14 of 28 from three-point range. Duncan Robinson and Gabe Vincent added 10 points apiece. Martin made four treys and collected 10 rebounds and Butler also had seven rebounds, six assists and three steals.
"I have so much belief in myself, and this group of guys I know how good of a team we are and we made it happen," Butler said. "We stayed together as a team, we are excited and happy, but we have four more [wins] to do"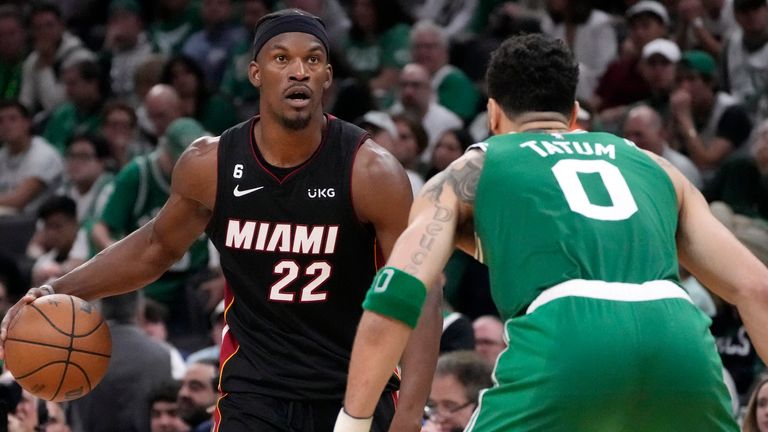 The Celtics connected on 39 per cent of their shots and were nine of 42 (21.4 per cent) from behind the arc. Boston went 16 of 77 [20.8 per cent] from three-point range over the final two games of the series.
Brown shot just eight-for-23 from the floor, one-for-nine from long distance and committed eight turnovers on Monday.
"We failed. I failed," Brown said. "We let the whole city down." Boston trailed 52-41 at half-time, and White kept the Celtics in the contest with 13 third-quarter points.
White put up eight straight points as Boston trimmed a 16-point deficit in half with 8:29 remaining in the third. The Celtics were unable to creep closer than seven, and Martin's short baseline jumper with 1.5 seconds left gave the Heat a 76-66 lead heading into the final quarter.
Miami started the fourth quarter strong with a three-pointer from Martin and back-to-back baskets by Butler to push the lead to 17. Later, four straight points by Adebayo increased the advantage to 21 with 6:55 remaining. Miami's advantage topped out at 23 points.
"We talked about going to get a tough one on the road and we did just that," Butler said. "But we're not satisfied. We got four more [wins] to get."