Normally, when a football program has a competent coach who's gone stale, the university will force out whichever coordinator is most responsible for the lack of success. If only life was that easy for the Iowa Hawkeyes. The team is stuck in an offensive malaise (to put it kindly), but can't oust Brian Ferentz because his dad is Kirk Ferentz, the head coach. So instead, the school resorted to amending the son's contract with very low hurdles that even a Big Ten team should be able to clear.
Under the revised deal, Brian's base salary will be $850,000. In order to maximize his earnings, the team has to average more than 25 points per game, and win at least seven of them. The latter is basically a guarantee if he hits the former. Outside of the COVID season when they went 6-2, Kirk's teams have won a minimum of seven games every year that they've averaged 25 points per contest.
The issue is Iowa has never been super-interested in scoring, and I doubt a few clauses will change that.
It's more existential than X's and O's
Kirk Ferentz's teams aren't explosive, creative, or really that concerned with offense. The team's brand of football is so risk-averse it's a wonder why they bother to throw at all.
G/O Media may get a commission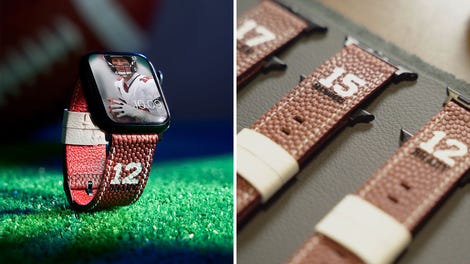 Official NFL PRODUCTS
Official NFL Apple Watch Bands
Touchdown!
MobyFox has partnered with the NFL Players Association to bring mega fans a series of hand-crafted Apple Watch bands crafted from authentic football leather. Choose from bands featuring Tom Brady, Patrick Mahomes, Mac Jones, Justin Fields, Josh Allen, and Dak Prescott.
If I may offer up a soccer analogy. Iowa approaches the game like Italy. Score only as much as needed and then lodge a bus in the middle of the field and grind out a result. While some fans in Iowa City may have come to appreciate that particular brand, the Hawkeyes will never be talented enough to consistently execute that approach. (To take the analogy a step further, there are many college fanbases who, like Brazilians, actively recoil when their team has no interest in the beautiful aspects of the game.)
Kirk's philosophy will win you games, but it's usually ugly and often unwatchable. Iowa has had a litany of double-digit win seasons over the past 20 years. They also have a few .500 or worse clunkers. I don't care who is calling the plays, It could be Kyle fucking Shanahan and the Hawkeyes would still top out at about 30 points per game.
Brian Feren-heimer
The nepotism in football is excruciating for so many reasons, but I think my main qualm — outside of qualified candidates being passed over because their dad doesn't have connections — is the apple never strays that far from the tree. It's not surprising that Kyle has added to what his dad, Mike Shanahan, taught him. The father was an offensive guru in his own right.
However, Brian Shotenheimer is an example of a son perpetuating his father's, umm, legacy. The new Cowboys offensive coordinator runs the 2023 version of his dad's imagination-free offense, and that'll continue in Dallas until he or Mike McCarthy gets fired.
And the same thing is going to happen at Iowa because Kirk is too good of a coach to fire, and he's not going to jettison his offspring. The team might hit those incentives because college football programs can fall out of bed and score 25 points per game, but they are not, nor will they ever be, good at offense.