The 2023 Nike World Basketball Festival at Lincoln Center
New York City, the epicenter of basketball's cultural legacy, played host to a spectacular celebration of the sport at the 2023 Nike World Basketball Festival. Held at Lincoln Center on the weekend of September 15th and 16th, this event was both a two-day tournament and an art exhibition. Competing were eighty of the best high school basketball players, with equal representation from both girls and boys, traveling from twenty-three different states and three countries. Meanwhile, one of the event's standout contributions was a centrally-showcased sculpture of oxidized steel created by the renowned New York Sunshine artist, John Margaritis — winner of THE DESIGN PRIZE 2021 in the category of 'distribution.'
'If running is the heart of Nike, then basketball has always been Nike's soul,' says Scott Uzzell, Vice President and General Manager of Nike North America. 'There's no place like New York City to witness basketball's deep connection to culture. And that influence grows as the global game continues to grow.'Lincoln Center's courtyard was transformed to host the tournament | images courtesy Nike
beyond the court
While the tournament was undoubtedly a highlight, the 2023 Nike World Basketball Festival was about more than just slam dunks and three-pointers. Nike partnered with Lincoln Center for the Performing Arts to establish year-round access to the arts for local youth. This initiative included a substantial $2 million grant aimed at making the arts accessible to tens of thousands of young people across New York City's five boroughs.
The festival served as the culmination of a series of VS tournaments that had taken place earlier in the summer in cities like Chicago, Los Angeles, New York City, and Toronto. However, it was much more than a mere showcase of young talent. It was a celebration of the profound cultural influence that basketball has had and continues to exert on society. Watch the full livestream of the tournament here!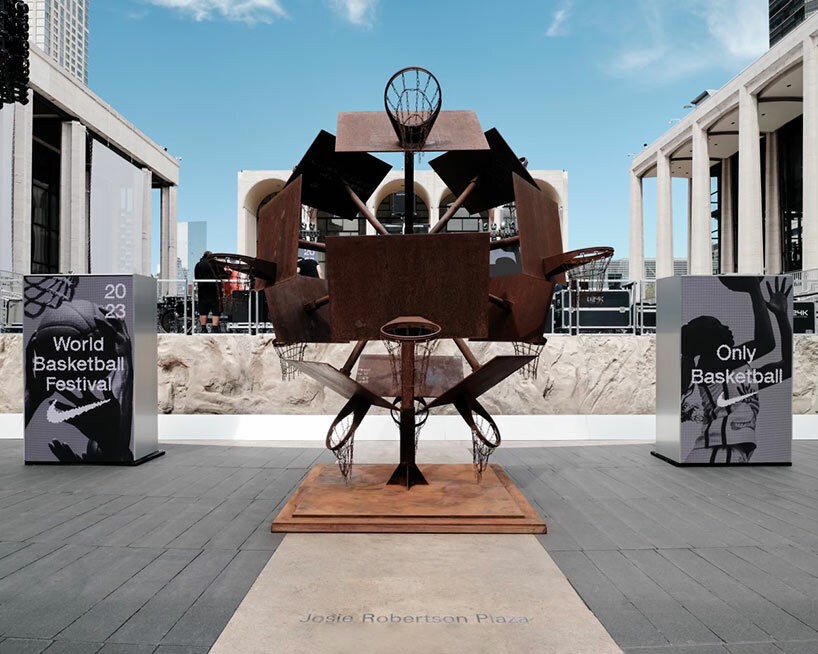 'Basketball Globe,' a sculpture by John Margaritis of New York Sunshine is spotlighted at Lincoln Center
New York sunshine's Steel Tribute to the sport
One of the festival's central attractions was a central sculpture dubbed 'Basketball Globe' created by the talented artist John Margaritis of New York Sunshine and his install team. Margaritis' sculpture takes shape with a radial formation composed of oxidized steel basketball backboards and nets. This installation stood as a testament to the enduring impact of basketball on both art and culture. Margaritis' work not only celebrated the physicality of the sport but also encapsulated its emotional and cultural significance. The oxidized steel, with its weathered appearance, recalls the enduring spirit of the game and its impact on the city's heritage.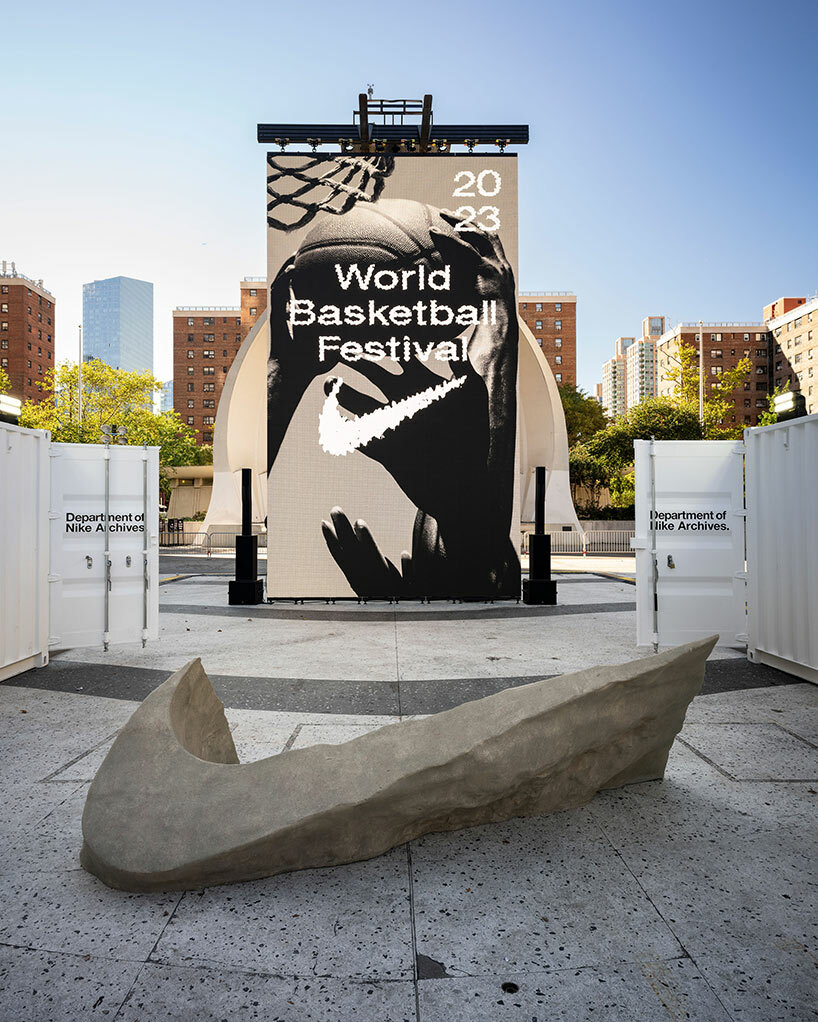 the Department of Nike archives put the past on display
'The game has always stood for something bigger than simply what happens on the court,' explained author and NYU professor David Hollander. 'Basketball actually provides a unique, compelling portal into the human condition. That is the source of its phenomenal power — its ubiquity, its influence and its peerless future.'
Mikal Bridges, small forward with the Brooklyn Nets, continues: 'The energy of New York City basketball is unlike the energy in any other place in the world. This incredible moment pulls together next gen talent, icons of the game and the people who help share the culture of the city. Only in New York. Only because of basketball.'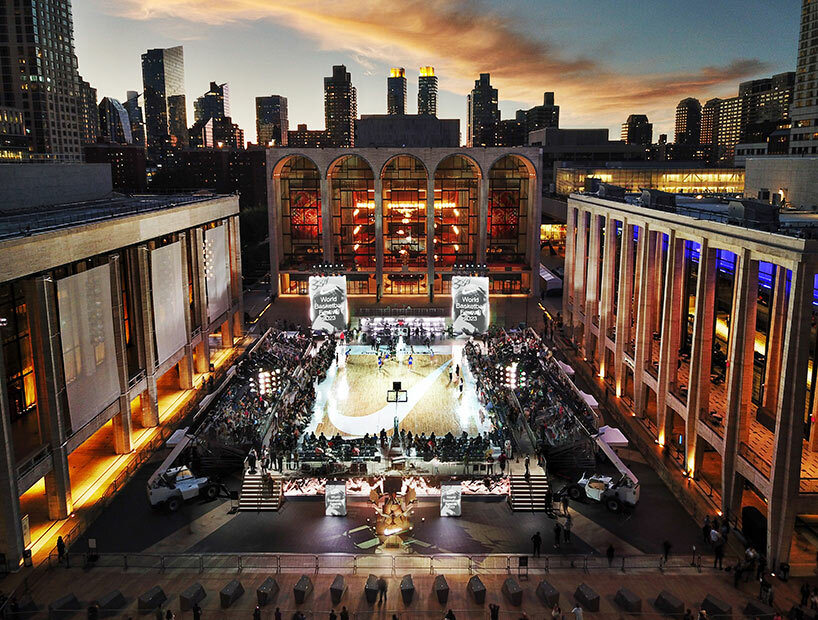 the event brought together athletes, artists, and community members to represent the love of the game
1/2
pieces from the Nike archives are joined by a first look at Nike Basketball footwear launching this holiday season
the retail pop-up featured limited-edition Air Force 1's and apparel designed by local artists
project info:
event title: 2023 Nike World Basketball Festival
host: Nike | @nikenyc, @nikebasketball
contributing artist: John Margaritis / New York Sunshine | @newyorksunshine
location: Lincoln Center, New York, NY
dates: September 15-16th, 2023