The Denver Nuggets came out in the organization's first NBA Finals and continued its dominant home streak in the NBA Playoffs. 
Denver defeated the Miami Heat in Game 1, 104-93, remaining undefeated at home during the playoffs. 
Two-time MVP Nikola Jokic also continued right where he left off in the Western Conference Finals against LeBron James and the Los Angeles Lakers, recording his sixth triple-double in his last seven playoff games. 
ADAM SILVER SAYS NBA MADE DECISION ON JA MORANT'S FIREARM INCIDENT; WAITING UNTIL NBA FINALS ARE OVER
Jokic is now just the second player to record a triple-double in his NBA Finals debut, with Jason Kidd being the first to accomplish the feat in 2002. 
He is just the eighth NBA player to have a triple-double in Game 1 of the finals and just the second in the last 25 years to have 10 assists by halftime of an NBA Finals game. 
Jokic finished the night with 27 points, 14 assists, and 10 rebounds.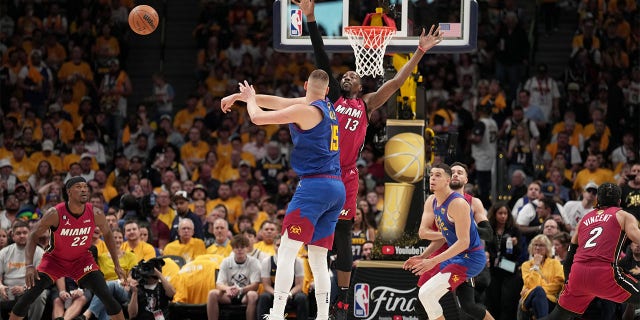 "I don't need to shoot, and I know I don't need to score to affect the game," Jokic said.
CLICK HERE FOR MORE SPORTS COVERAGE ON FOXNEWS.CO
Jokic's running mate, Jamal Murray, was also brilliant in his finals debut, scoring 26 points and adding 10 assists. 
"I think that's what the beauty of this team is," Murray said. "We have so many different weapons and so many different looks. You've got to guard everybody. . . . Free-flowing, and it's a lot of fun."
Miami made its own history in Game 1, just not the kind they'll want to remember. 
The Heat shot and made just two free throws, the fewest free throws ever made and attempted in an NBA Finals game. 
"We've got to attack the rim a lot more, myself included," Heat star Jimmy Butler said.
CLICK HERE TO GET THE FOX NEWS APP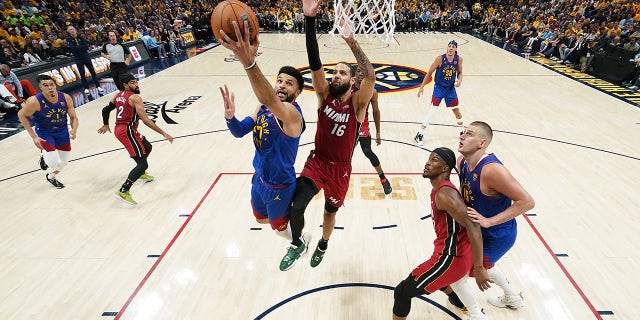 Prior to Thursday, Miami was 3-0 in the opening game of a series these playoffs, winning all three on the road as the eight-seed in the Eastern Conference. 
"That was one of my last messages to the group before our game," Nuggets coach Michael Malone said. "I reminded our group, if they didn't know, that Miami went into Milwaukee and won Game 1. They went into the Garden in New York City and won Game 1. They won Game 1 up in Boston. So, we did not want them coming in here taking control of the series on our court."
Game 2 of the NBA Finals is Sunday night at 8:00 p.m. ET.
The Associated Press contributed to this report