National award-winning actor Adil Hussain has a diverse filmography to his name, including critically-acclaimed international films such as The Reluctant Fundamentalist and Life of Pi and movies like Hotel Salvation and Maj Rati Keteki, which earned him National Film Awards. Speaking at an interactive event with theatre and cinema enthusiasts organised on the sidelines of the National School of Drama's 22nd Bharat Rang Mahotsav,  the NSD alumnus said that early exposure to Assamese folk culture cultivated his interest in acting and propelled his career. "Actors are the hunters of truth," he firmly believes.
Hussain, whose sheer love for the craft of acting is evident from his continuous involvement in theatre, the rigorous training that he undergoes, and the sessions that he takes to share his knowledge with budding actors, opened up about the same in an exclusive interaction with indianepress.com. Edited Excerpts:
Adil Hussain (Right) shares the stage with Amitabh Srivastava (Middle) and Chittaranjan Tripathy (Left) for an interactive session, which is a part of NSD's allied events. (Photo: NSD)
How being a theatre artist has helped in your cinema acting and vice versa?
Taking lessons from theatre, I always try to get into the skin of the character through rigorous rehearsals. Rehearsals help you get a systematic way of travelling through the character and understand its graph, the emotional journey, as well as the interrelationships between different characters. On the other hand, acting in films has helped me understand the internalisation of the role because the camera comes so close to you that you don't need to raise your voice and deliver the dialogue. It has to be more subtle as the audience is going to see a close-up shot as if you're speaking to a person who's sitting on your lap. For instance, if you want to show that you're surprised, you need not necessarily feel it while acting on stage but simply express it through your gestures. But in a film, you have to truly feel surprised from within.
You've been part of a mobile theatre as well. Tell us something about the same.
I became a part of the mobile theatre in 1994, which I joined for a specific reason because I wanted to work with one of my teachers and I needed money in hand. I required one lakh rupees for my personal expenses, including purchasing a motorbike. There was no other way to earn that money apart from the Assamese mobile theatre that I had joined. The mobile theatre group taught me a lot as I had to play four different roles in four plays for nine months, in front of an audience of 2,000. To do the same thing every day for nine months without a day's break, you need a certain amount of stamina and conviction. To avoid monotony, not only for the audience but also for myself, I started experimenting with my role in the play.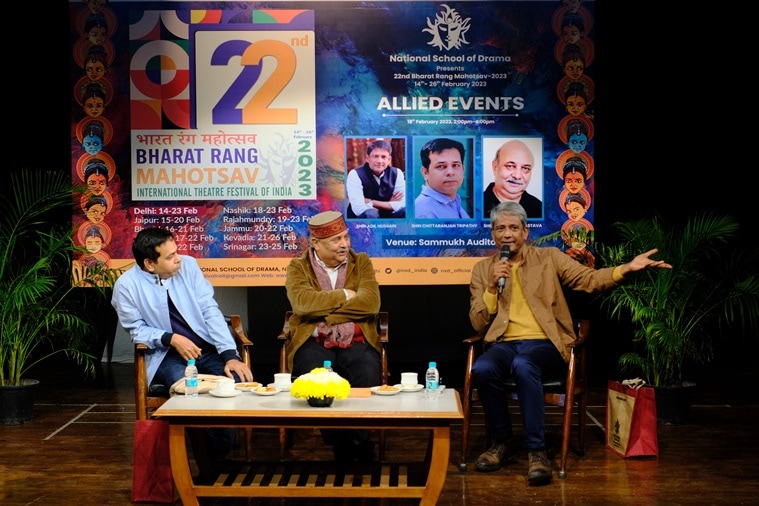 Did your experience in standup comedy for six years help you in the roles you played?
When I performed stand-up comedy, I was part of a group of four where I was the youngest. It was not a slapstick comedy; it was satire – political and social. So, we were not doing what you generally see now, which is popular on television or YouTube. Nevertheless, the characters we used to play were funny, but we obviously approached them seriously. Even now, any character I play, even if it is a comic one, I play it seriously. For instance, the doctor's character I played in Good Newwz. However, people hardly cast me in comic roles.
How was your experience starring in so many multilingual films — English, Hindi, Assamese, Bengali, Tamil, Marathi, Malayalam, Norwegian and French. Was it difficult to adapt to the cultural context of a particular language and the mannerisms associated with it?
I think it's a privilege for the simple reason that as an actor you get to experience a different language and a different cultural background. When you put hard work into a craft for a long time and you get to showcase it via various languages, it feels as if all the efforts have paid off. I believe each and every cinema exudes and radiates truth and that's the fundamental ingredient of acting. Nevertheless, I think it is pretty difficult too. I'm familiar with four languages, Assamese, Bengali, Hindi and English. Apart from that, when I act in other languages, I feel uneasy. And that's why I have stopped doing films in languages I am not comfortable with as I felt it is not fair to the language, on the film and on me as well, because I don't enjoy it.
You have done a lot of films which come under arthouse cinema, such as Hotel Salvation. How do you engage the audience when the 'entertainment factor' is attenuated?
My job is to act seriously and honestly. The job of keeping the audience engaged in a particular film is the job of the director. I'm a microcosm of the film, portraying only one role. If all the stakeholders do their jobs honestly, a certain kind of audience will come to see these ideas, a very niche audience though. However, in spite of being a niche audience here, Hotel Salvation ran in Japan for 150 days and in most Western European countries for five weeks. It was released in 36 countries and got at least 25 awards across the globe. Sometimes, a mainstream film in some place becomes an arthouse film in another place because of the orientation of the audience. The film that I got a national award for in Norway, called 'What Will People Say', ran for six months there. It's a commercial film there, but here it would be an arthouse film.
Over the years, do you think there is a change in the way people and the government perceive art?
There are certain things which have improved, such as people being more focused on art now compared to when I started off.  Even the education system is slowly realising it. The Indian government has come up with the New Education Policy, which has a lot of focus on art. My son, for example, is very poor in mathematics and I think apart from a basic level, he does not have to study mathematics because he doesn't want to. Even I was terrified of the subject because I was not interested in it. Those students who are oriented towards art should be given an opportunity from an early age to find their own groove. The government has a pertinent role in this and should spend more on art and related fields.
What is the importance of art in people's lives according to you?
As I had been saying for a long time, art must be promoted well so that human beings find their full potential. That's why it's called a state of 'art' hospital, state of 'art' institution, etc because art takes you to the finer aspects of the potential of becoming a fuller and wholesome human being. Art has always been close to me as I have always acted since my childhood. I just switched between different mediums.
As someone who has been taking training for acting for many years now, how important do you think training is for actors?
I believe that training for an actor depends on what kind of actor you want to become. I wanted to become an actor who could fit into any role, without depending too much on the external aspects of it, like putting on weight and a beard. I focus on how to change my inner being, the software other than the hardware. For that purpose, I always seek actors, teachers, books and places, who can teach me. However, I'm nowhere near anywhere and that's why I continue to be under training. I've recently been learning a new approach. It needs a lot of work and concentration. The approach is taken from 'Rajayoga' and Shri Aurobindo's understanding of 'Swabhava' and 'Swadharma'. It focuses on how to go into the depth of a text to understand the character better.
You have acted in numerous award-winning films. Don't you feel like you have gotten enough expertise in this field?
No, I don't know anything. I wish I could say that. Art is an ever-evolving process. It's like seeking a truth, whose depth is bottomless, that's why the search is never-ending. And I cannot ever get bored of it.
How has your experience been working in Hollywood?
I am one of the luckiest actors on the planet that I played in Star Trek and Life of Pi. I learnt a lot while working with Mira Nair in The Reluctant Fundamentalist and with Danis Tanovic in Tigers. Different directors have different demands and adapting to that is very exciting. One great thing about Hollywood is its work culture. They don't settle for less at all, which I find lacking quite often here. It is not because the filmmakers don't want to but the reasons revolve around a lack of planning. I find the pre-production and production a bit chaotic here. In Hollywood, they start preparing a year ago. Once, I got my schedule of who will drive me to the shoot two months in advance.
Being an NSD alumnus, how does it feel to take a session in your alma matter?
I always like to share what I know. I'm the kind of person who feels that you shouldn't keep it to yourself. I want to give back to this institution as much as I can. I'd be happy if one word, one sentence makes sense to any of these young actors. There's no secret, anybody can do what I do if you put in the hard work. And if I can do something being born in a tiny little town, where newspapers used to come three days after they were published, then anybody can do anything, depending upon if you have a vision. Even if one person gets inspired, that's enough for me.
📣 For more lifestyle news, follow us on Instagram | Twitter | Facebook and don't miss out on the latest updates!