In the interest of full disclosure, OMAAT earns a referral bonus for anyone that's approved through some of the below links. These are the best publicly available offers (terms apply) that we have found for each product or service. Opinions expressed here are the author's alone, not those of the bank, credit card issuer, airline, hotel chain, or product manufacturer/service provider, and have not been reviewed, approved or otherwise endorsed by any of these entities. Please check out
our advertiser policy
for further details about our partners, and thanks for your support!
To kick off our trip to Dubai and Florence, we flew Etihad's Airbus A350 business class from Chicago to Abu Dhabi. I was very much looking forward to this flight, as the A350 is Etihad's new flagship aircraft, and on top of that, Etihad has refreshed its soft product with new Armani / Casa amenities.
So, how was this Etihad flight? Simply spectacular. Etihad's A350 business class is a real winner, with comfortable seats, excellent technology (including extensive entertainment and reasonably priced Wi-Fi), delicious food and drinks, and unbeatable service. This easily ranks as one of my favorite business class experiences in the world.
How I booked our Etihad business class tickets
I booked our Etihad business class tickets using American AAdvantage miles. Specifically, I booked the following for 70,000 American AAdvantage miles plus $5.60 in taxes and fees per person, which is a fantastic value:
4/24 EY150 Chicago to Abu Dhabi departing 12:35PM arriving 11:00AM (+1 day)
Note that American's website wasn't showing this business class award space, but it was bookable by phone (meanwhile it was showing directly on the Air Canada and Etihad websites).
If you have transferable points currencies, then you can always redeem Air Canada Aeroplan points for travel on Etihad, and that's a great value as well. Aeroplan points are easy to come by, as the program is transfer partners with Amex Membership Rewards, Capital One, and Chase Ultimate Rewards. On top of that, there's the Aeroplan® Credit Card (review) in the United States, which is phenomenal.
Etihad business class lounge & boarding
We connected the same morning from Miami on American Airlines, so then headed over to Chicago O'Hare Terminal 5, where Etihad departs from. The check-in process was smooth, and we were invited to use the Scandinavian Airlines Lounge, which I recently reviewed (so won't be reviewing again).
Terminal 5 really is awful for all non-SkyTeam airlines (there's a gorgeous new Delta Sky Club in the terminal, but that's about it).
Our flight was departing from gate M17, with boarding scheduled to start at 11:35AM, an hour before departure. My gosh, the Etihad A350 is one gorgeous bird, eh?
Sure enough, boarding started at 11:35AM, with business class passengers being invited to board first.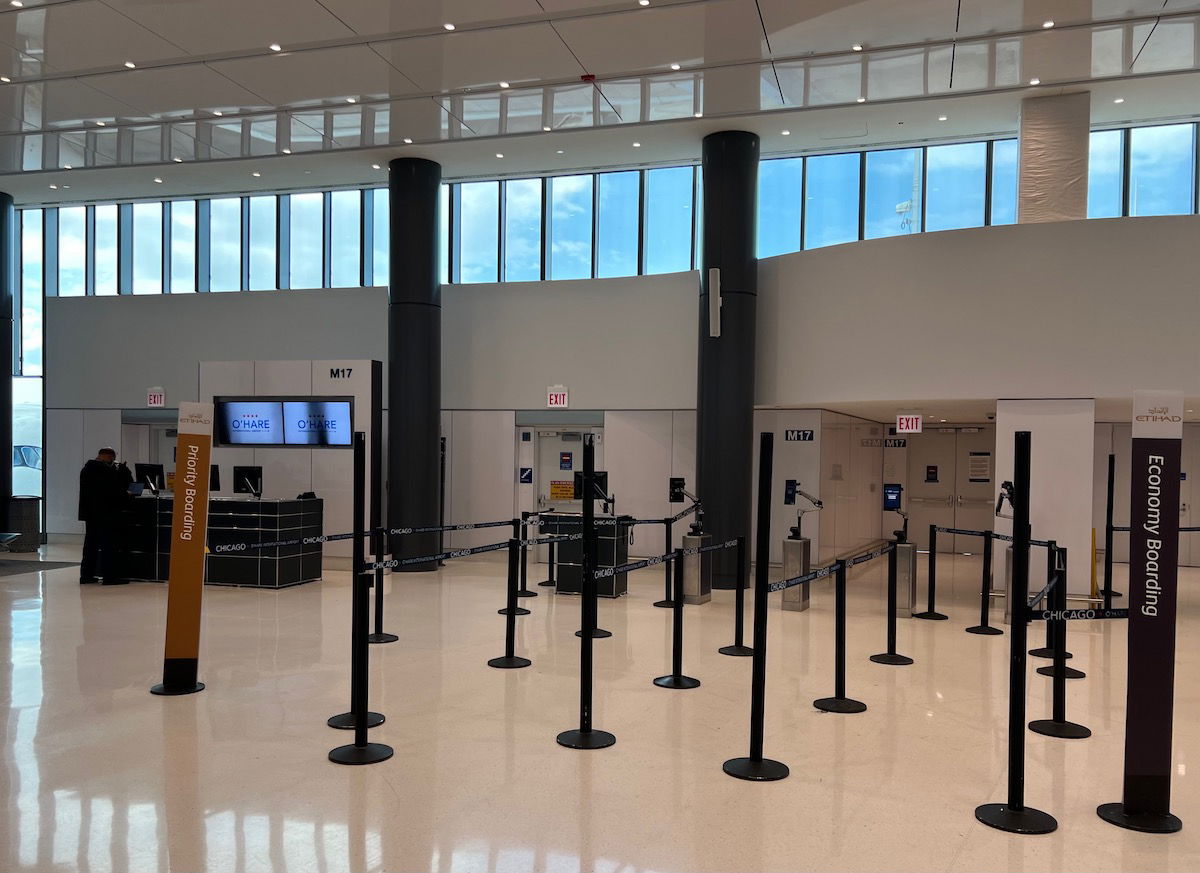 Etihad A350 business class cabin & seats
We boarded through the second set of doors, where we were greeted by Nicolas, the cabin manager, and pointed to our seats. The A350-1000 has a huge space between doors one and two, and that entire area makes up the business class cabin.
Etihad has 44 business class seats on its Airbus A350s, spread across 11 rows in a 1-2-1 configuration. Etihad has customized Collins Aerospace Super Diamond reverse herringbone seats with doors on these jets, which is an excellent business class product. In particular, I love Etihad's cabin finishes.
I also appreciate the lack of overhead bins in the center section, which make the cabin feel considerably more spacious. I know some people might not like that this limits storage space, but there was plenty of room for everyone's bags, as is usually the case in premium cabins.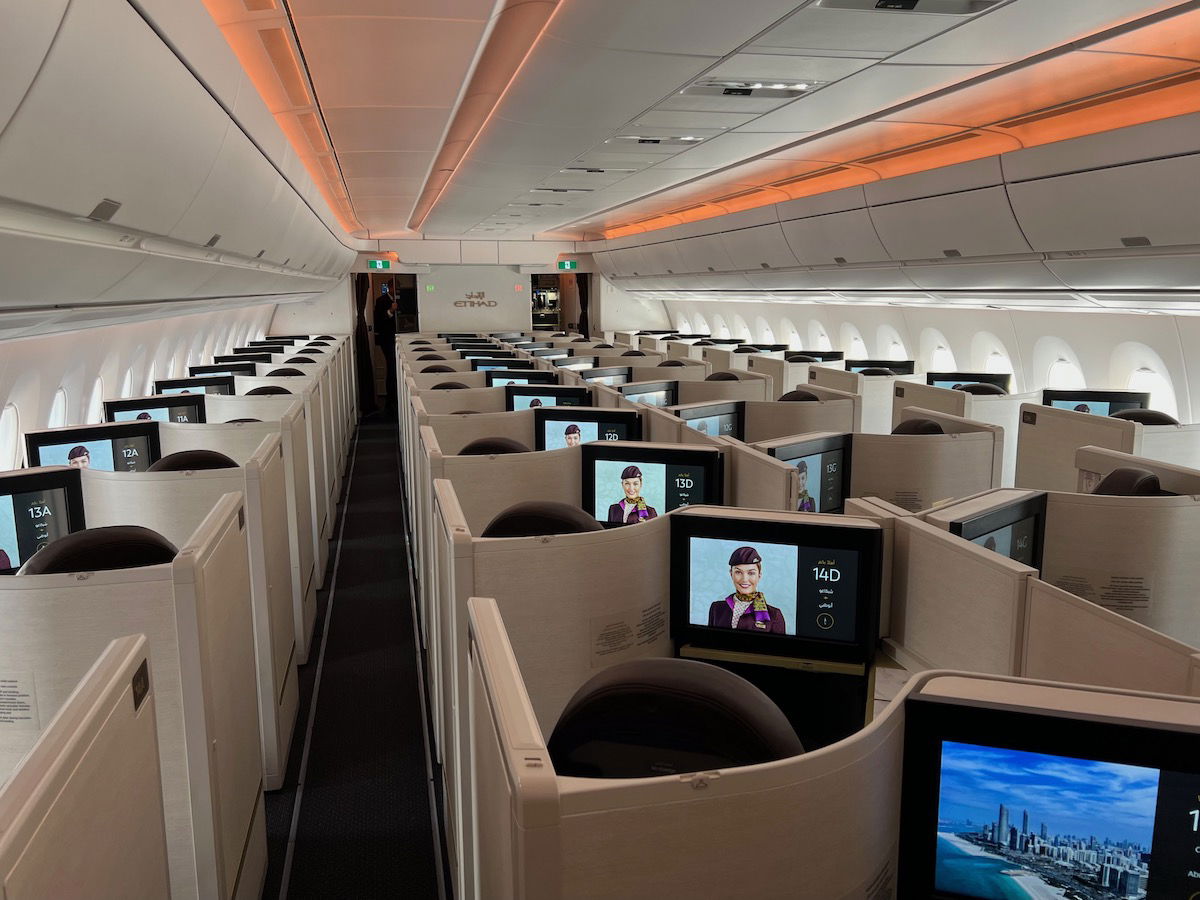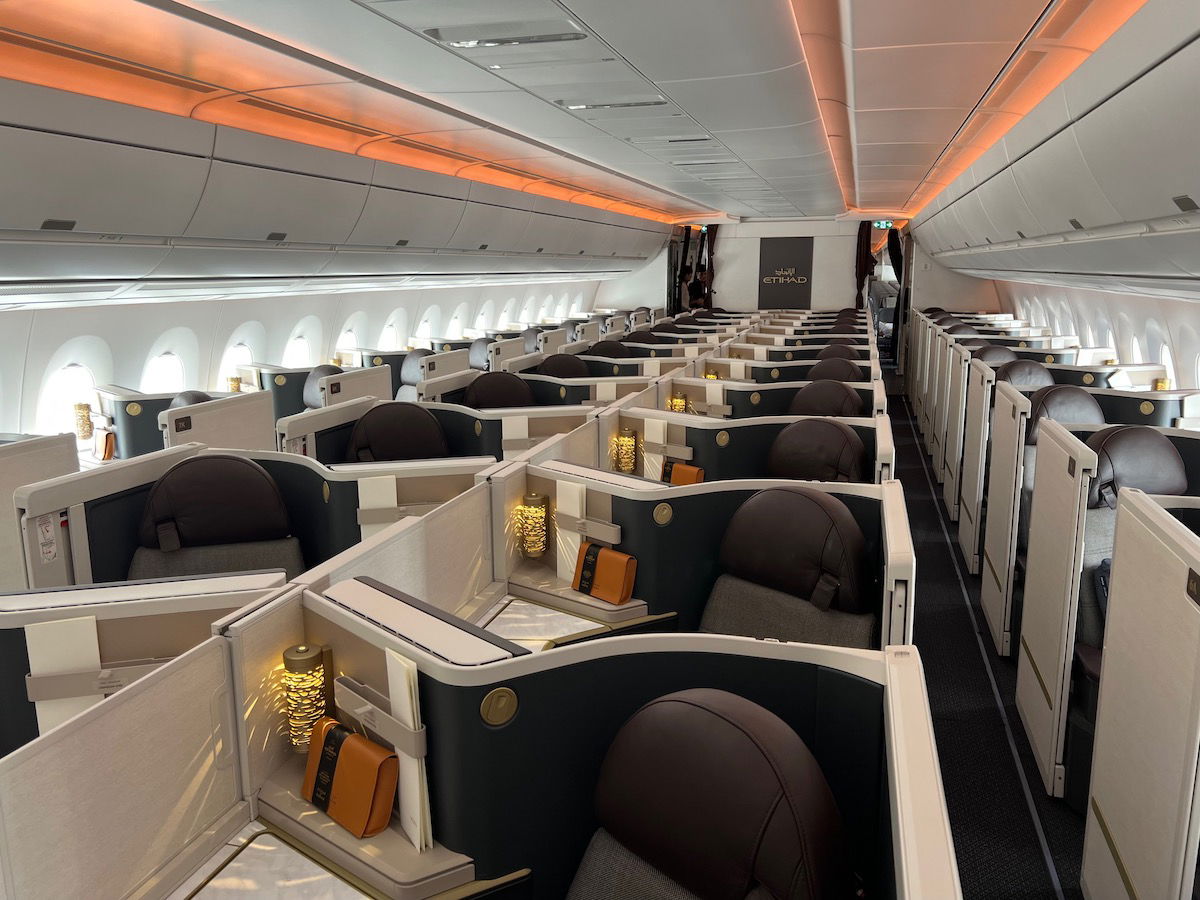 Those traveling together may prefer reserving two center seats, so that you can easily talk with your travel companion. There's a privacy partition between the two center seats, so if you happen to be seated here next to a stranger, don't worry. But that partition can be opened, so that you can easily communicate with your seatmate.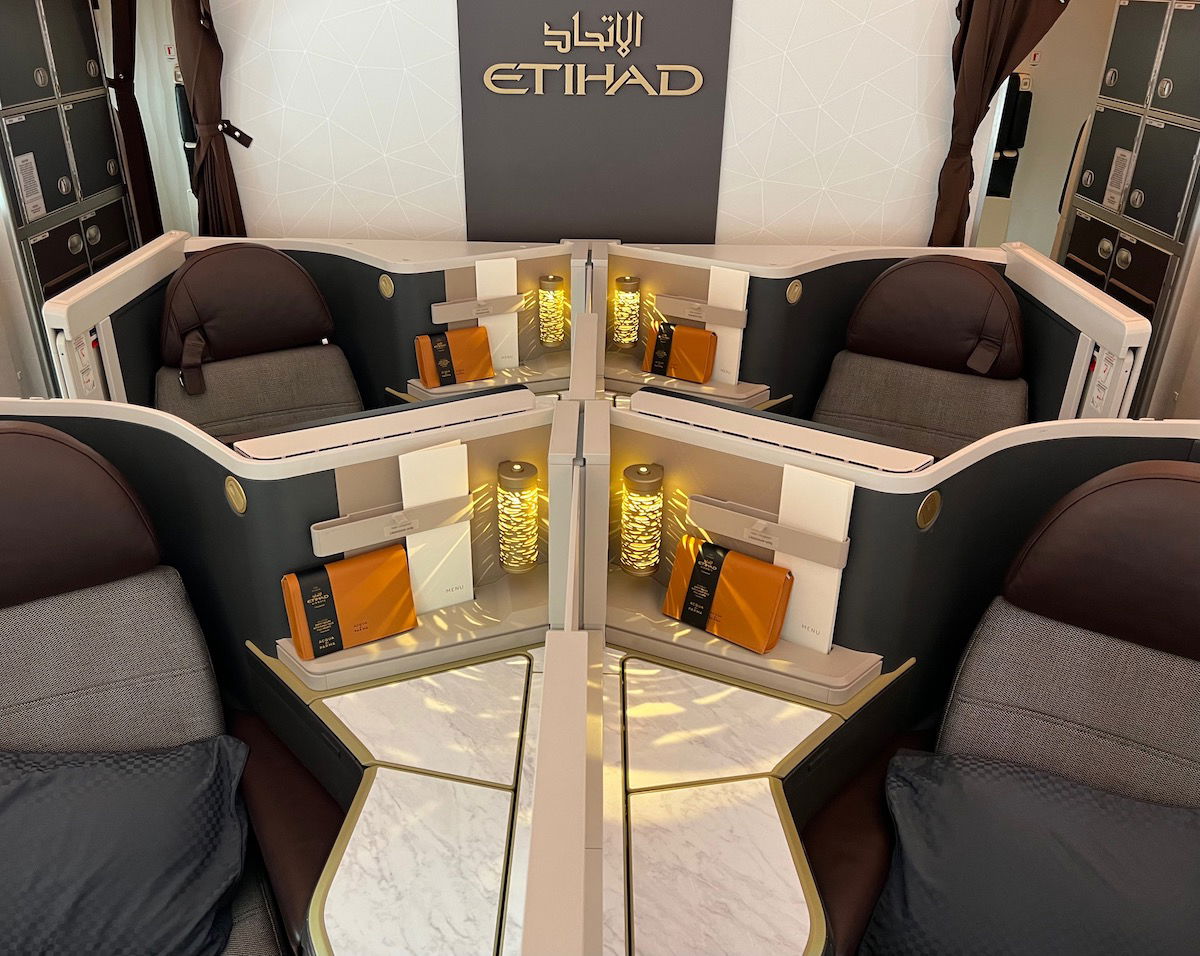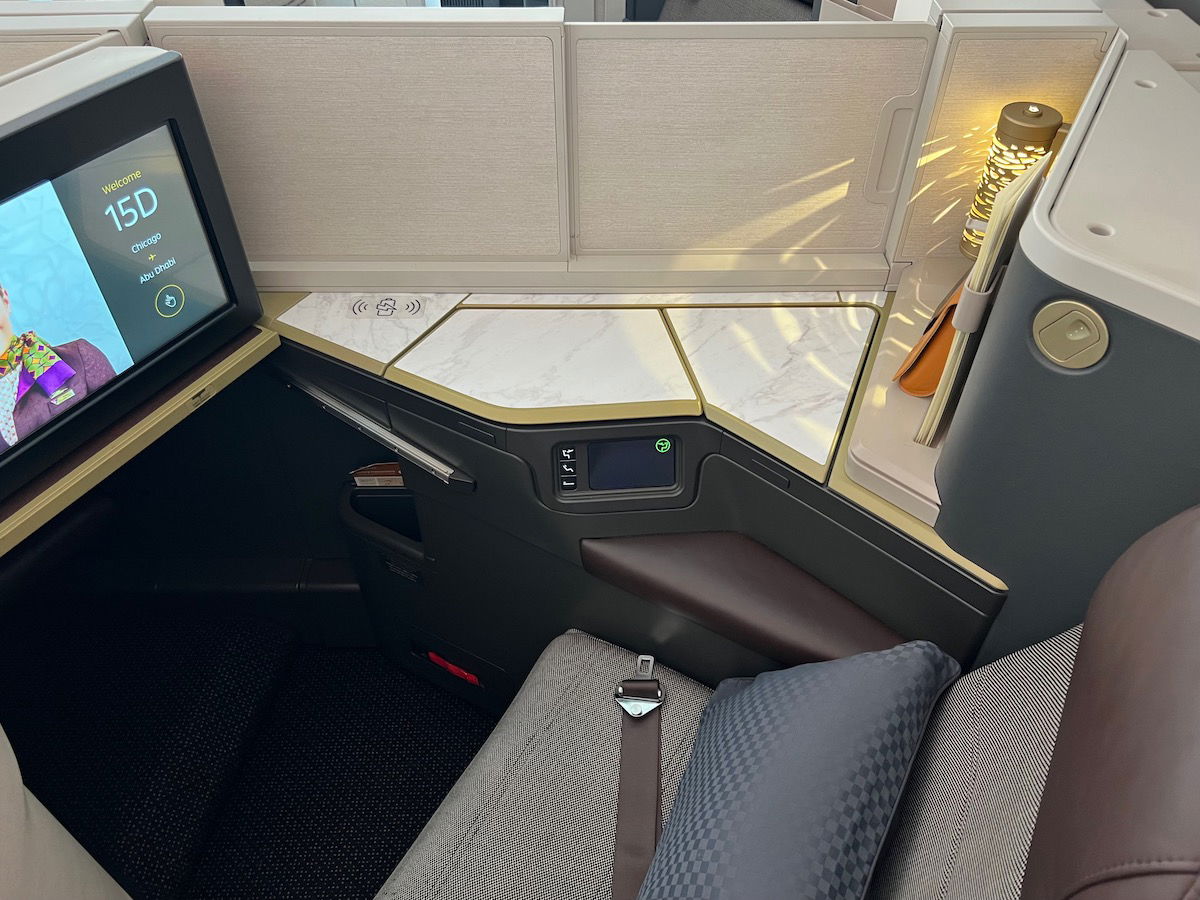 Those traveling alone, or those who spend enough time with their travel companion and/or like to look out the window, may prefer one of the window seats. The great thing about reverse herringbone configurations is that all the seats are more or less the same, so it doesn't really matter which seat you select.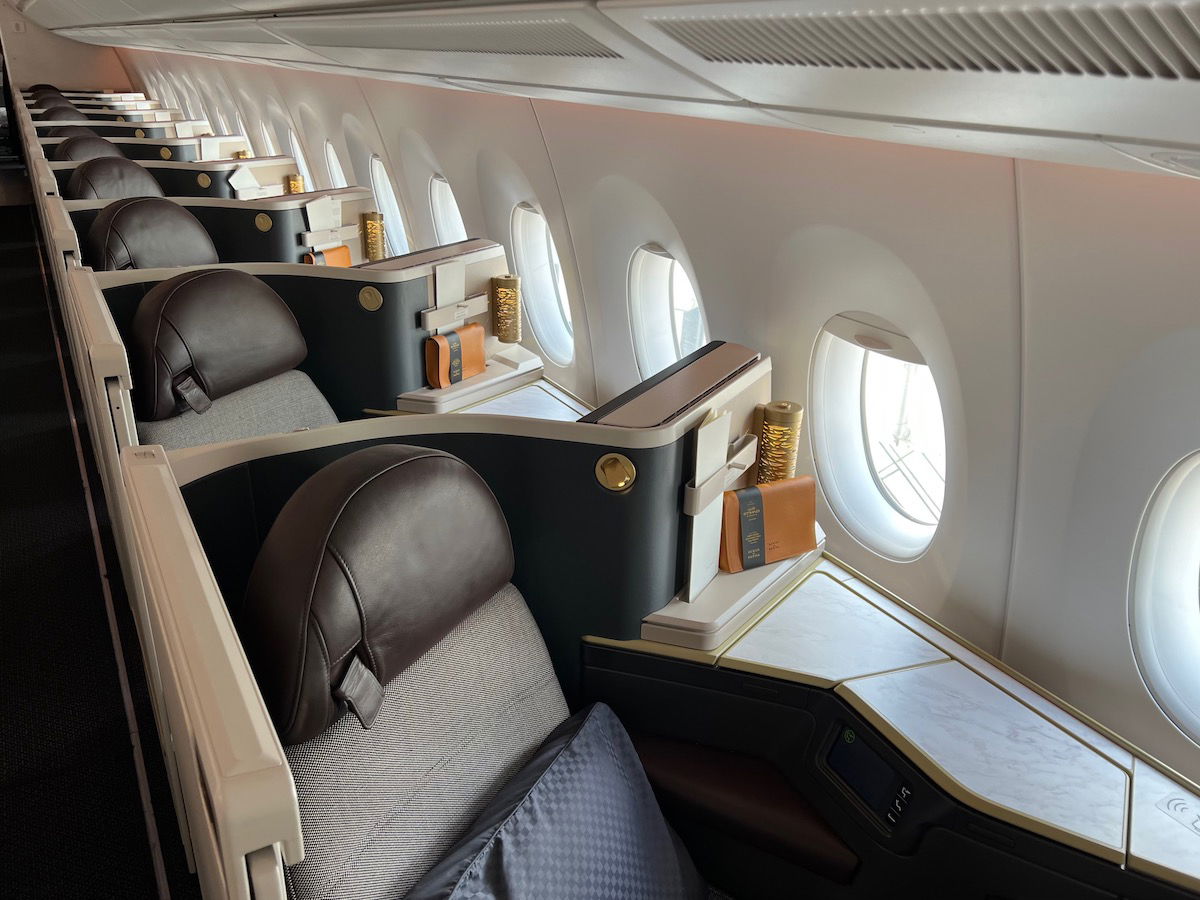 I assigned myself seat 15A, the window seat on the left side in the last row, and I assigned Ford the seat in front of me. In general I'm very happy about having sat in the back of the cabin, as the lavatories are at the front of the cabin, so there's virtually no foot traffic in this area.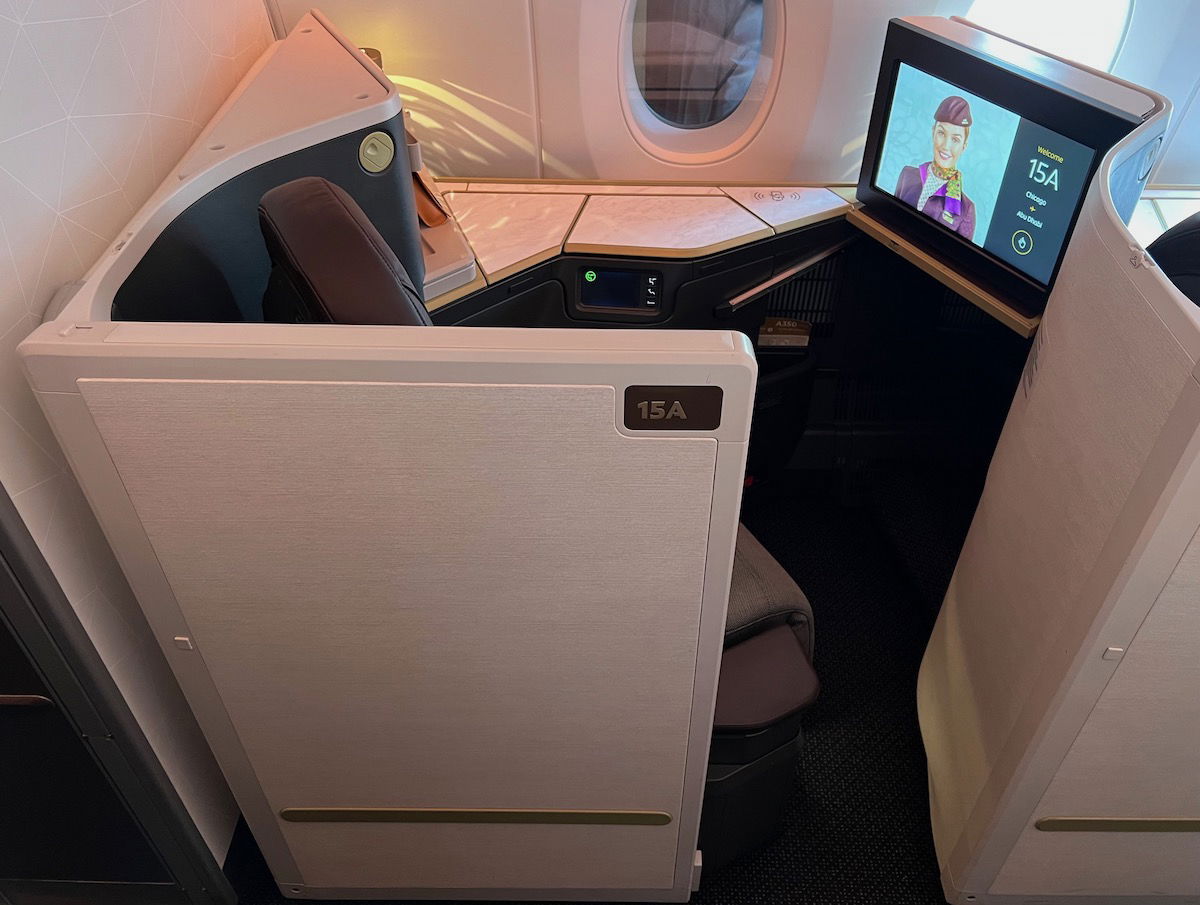 These seats are simply gorgeous, with elegant finishes.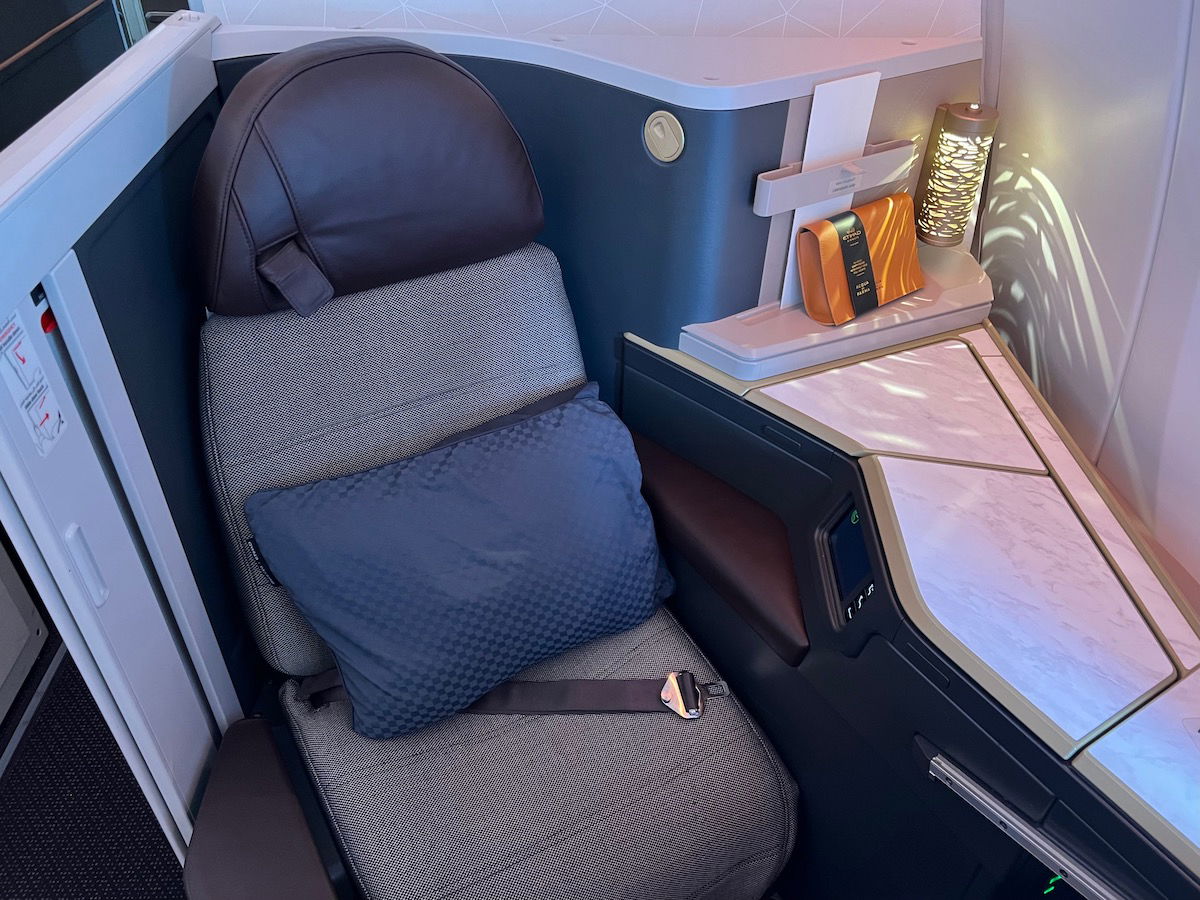 Each seat has an 18.5″ high definition personal television. Underneath that is the tray table, which can slide out, and can then be doubled in size by folding it over.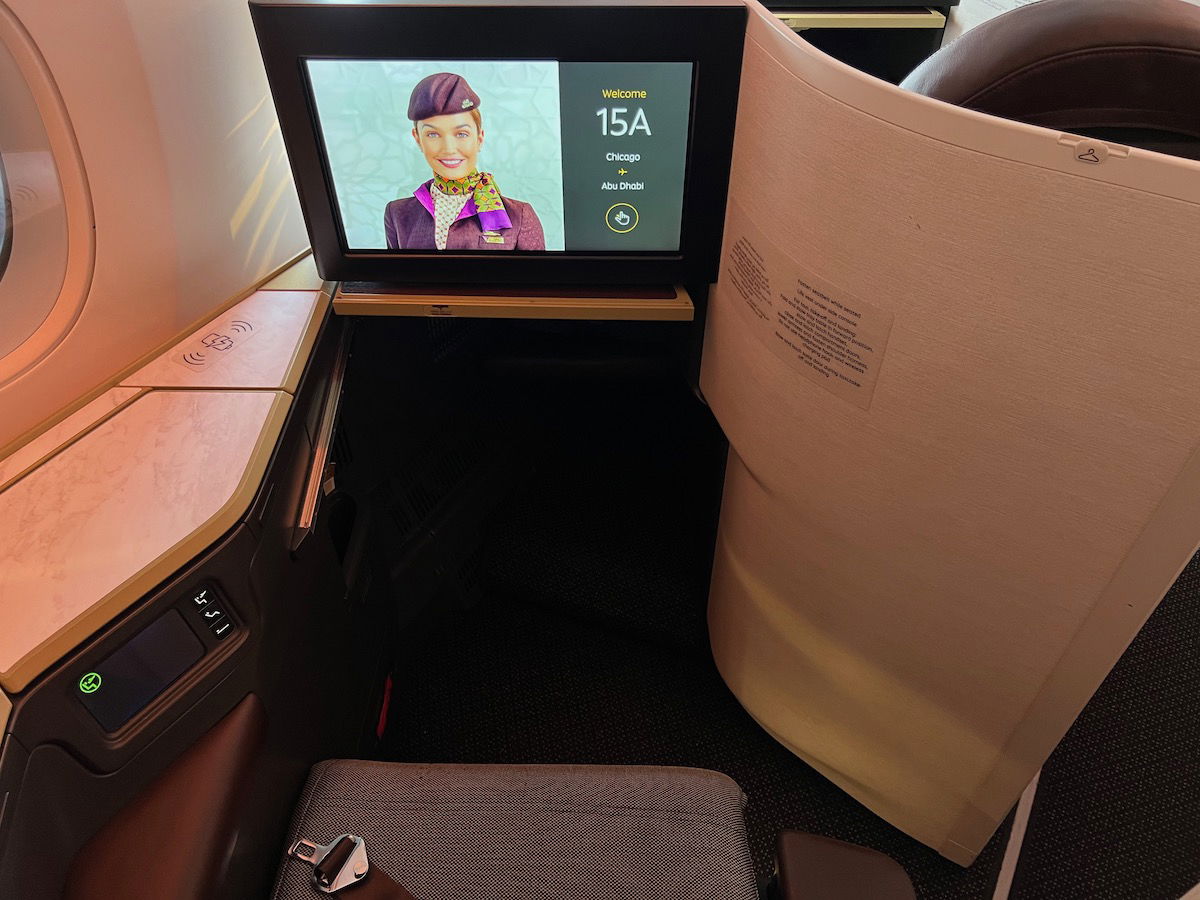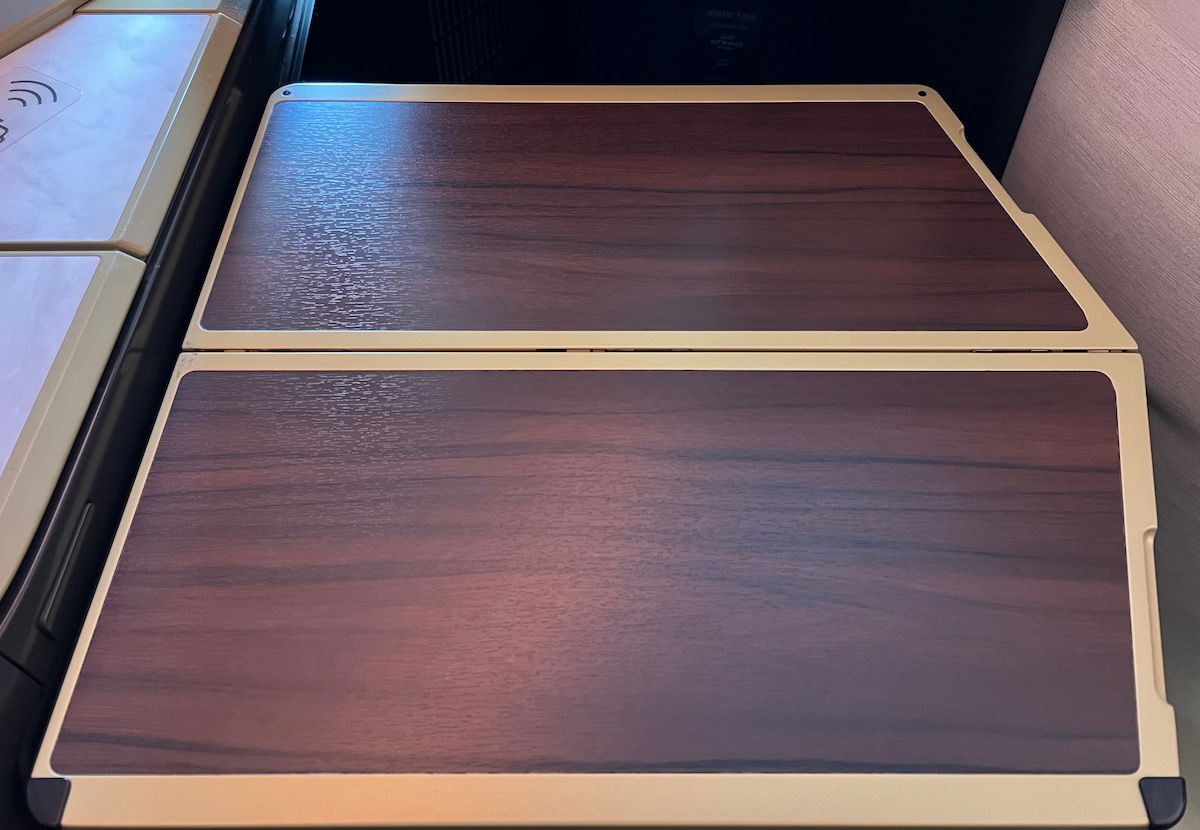 At the back left of the seat was a literature pocket as well as a couple of lights.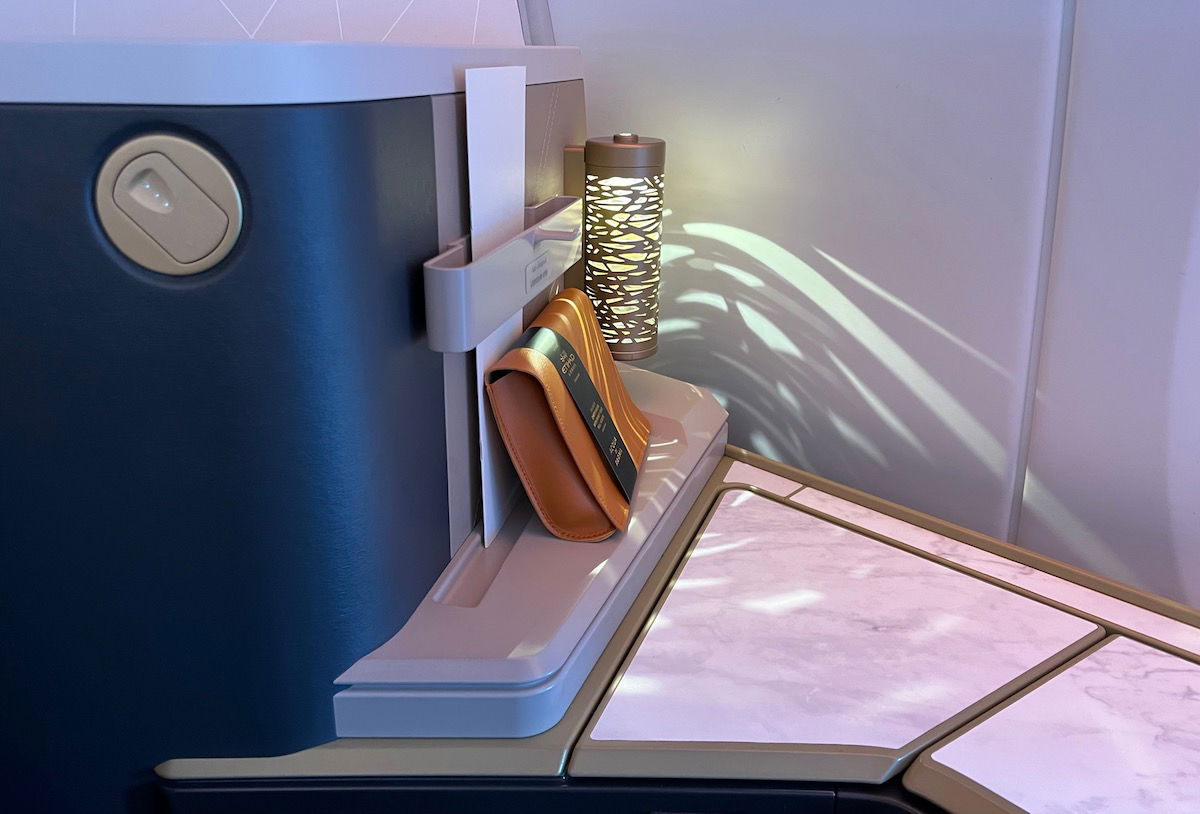 Then there are two hidden storage compartments underneath the counter space. One compartment is pretty shallow, and can be used to store glasses or a phone. Meanwhile the other compartment is a bit deeper, and also has the entertainment controller, headphone jack, and AC power outlet.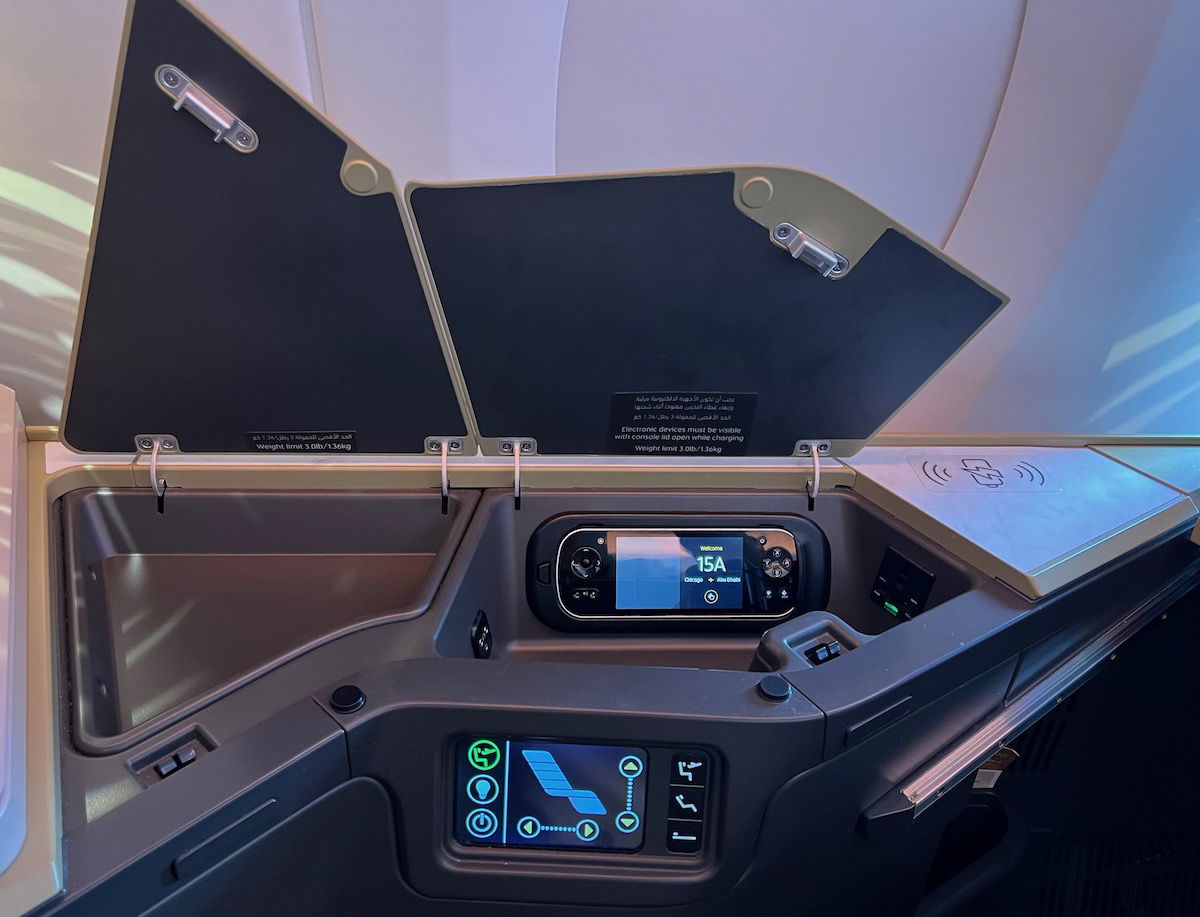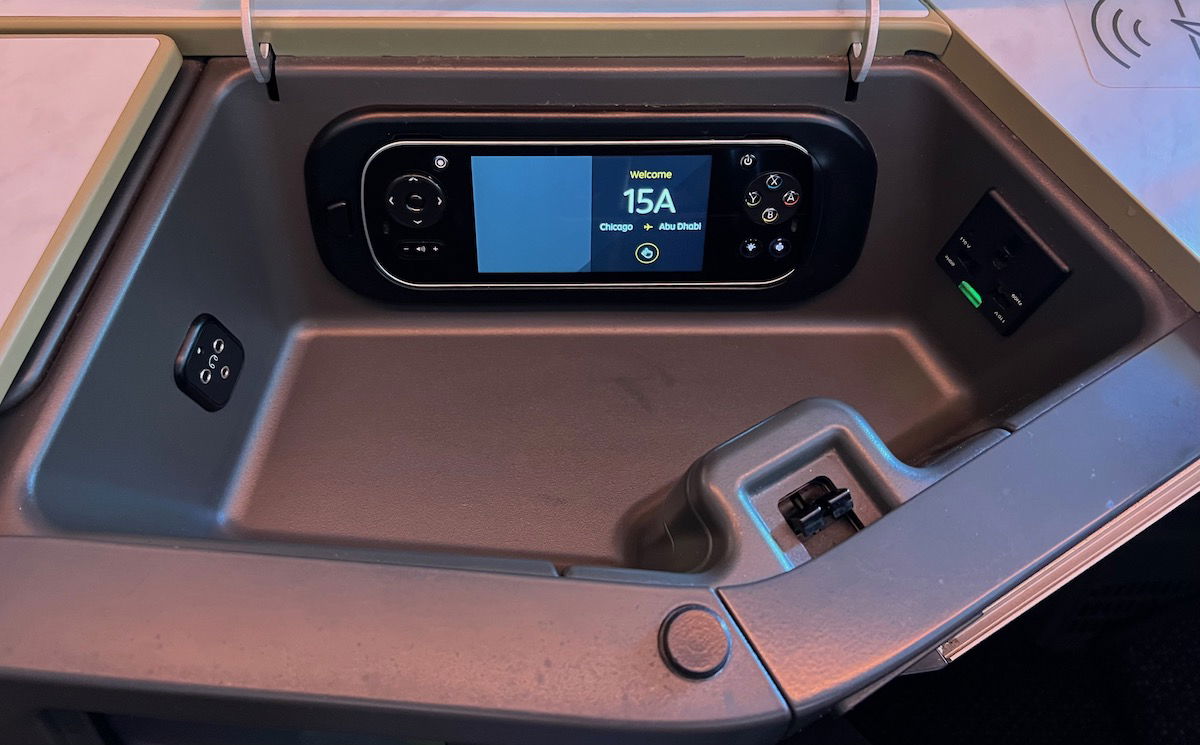 Immediately in front of that is a wireless charging station.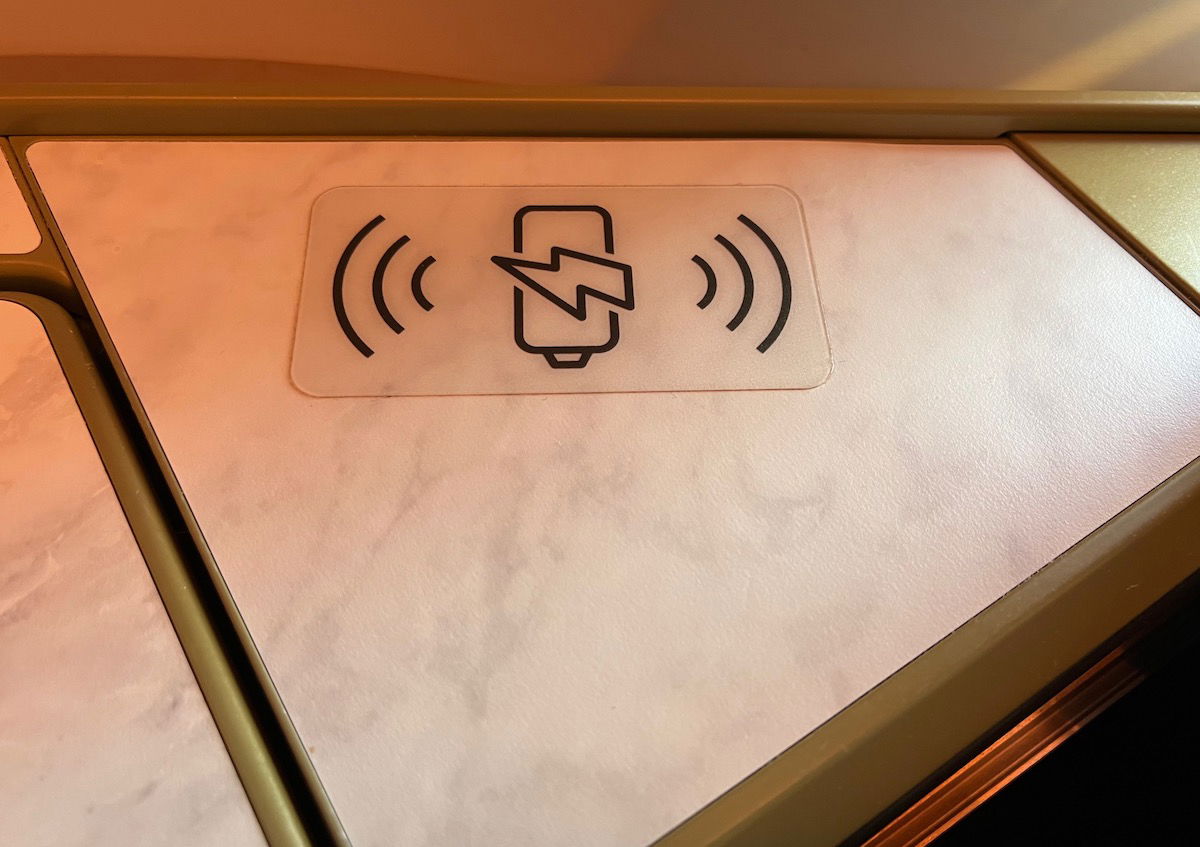 Then underneath the seat and to the left is another exposed storage area, as well as USB-A and USB-C outlets.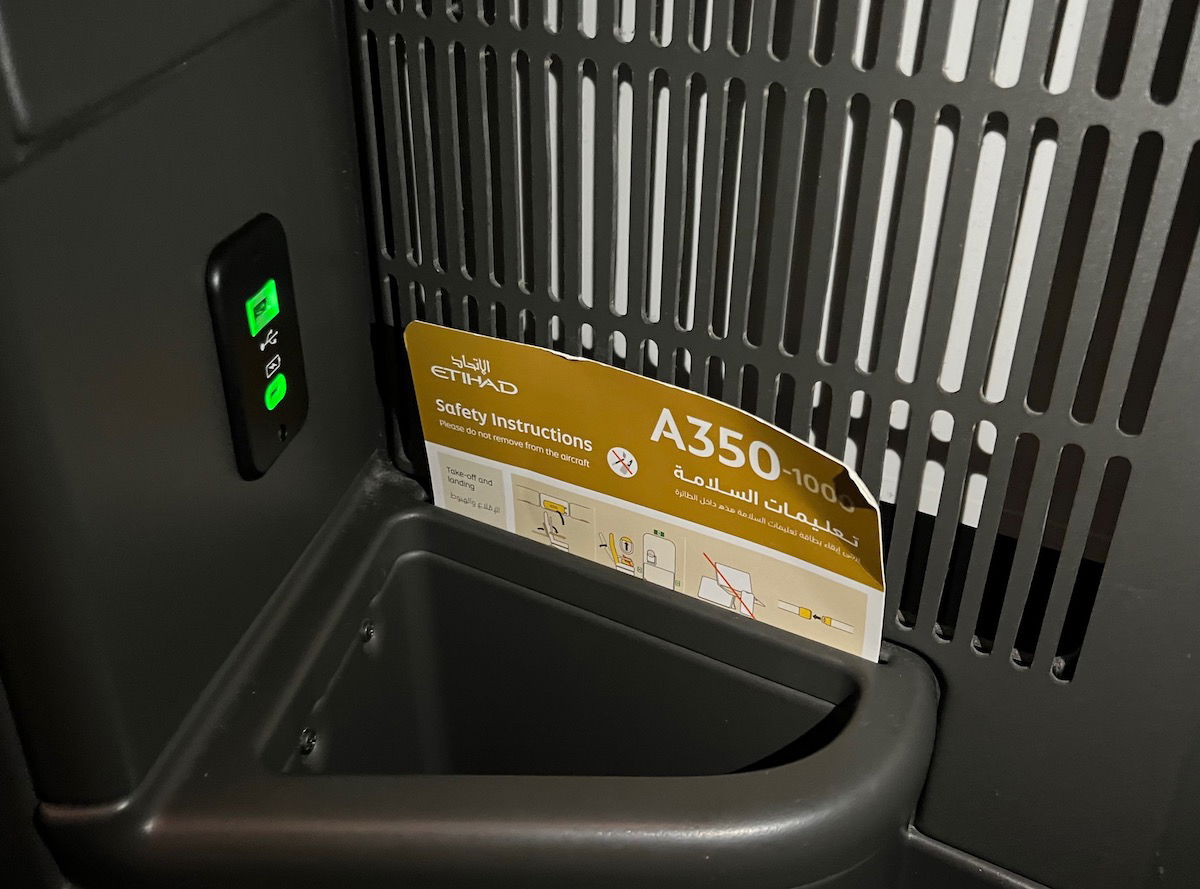 One of the ways that this configuration efficiently utilizes space is by having the footwell be to the side of the seat in front. While this limits your space when in bed mode, I found this to be one of the more reasonably sized footwells.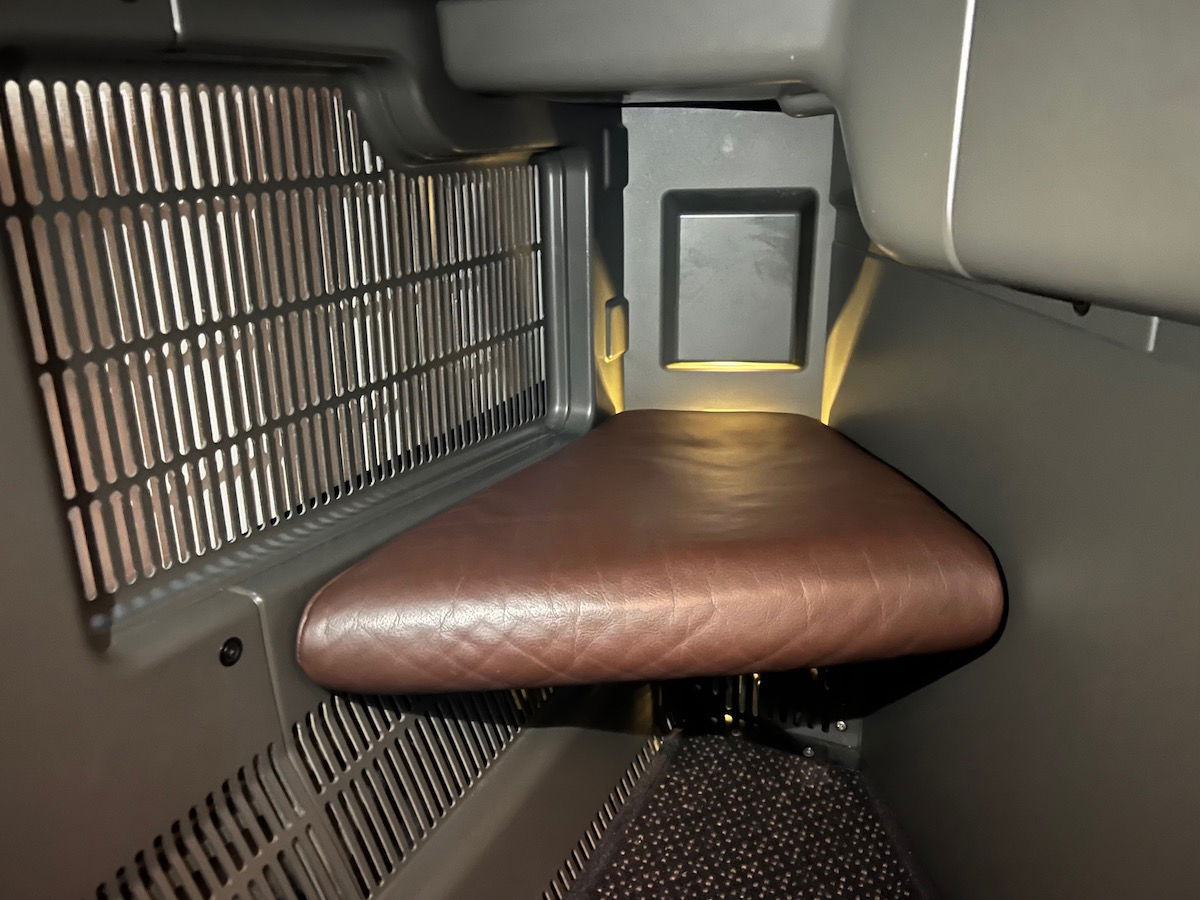 The aisle-side armrest could be raised or lowered, and also had additional storage space.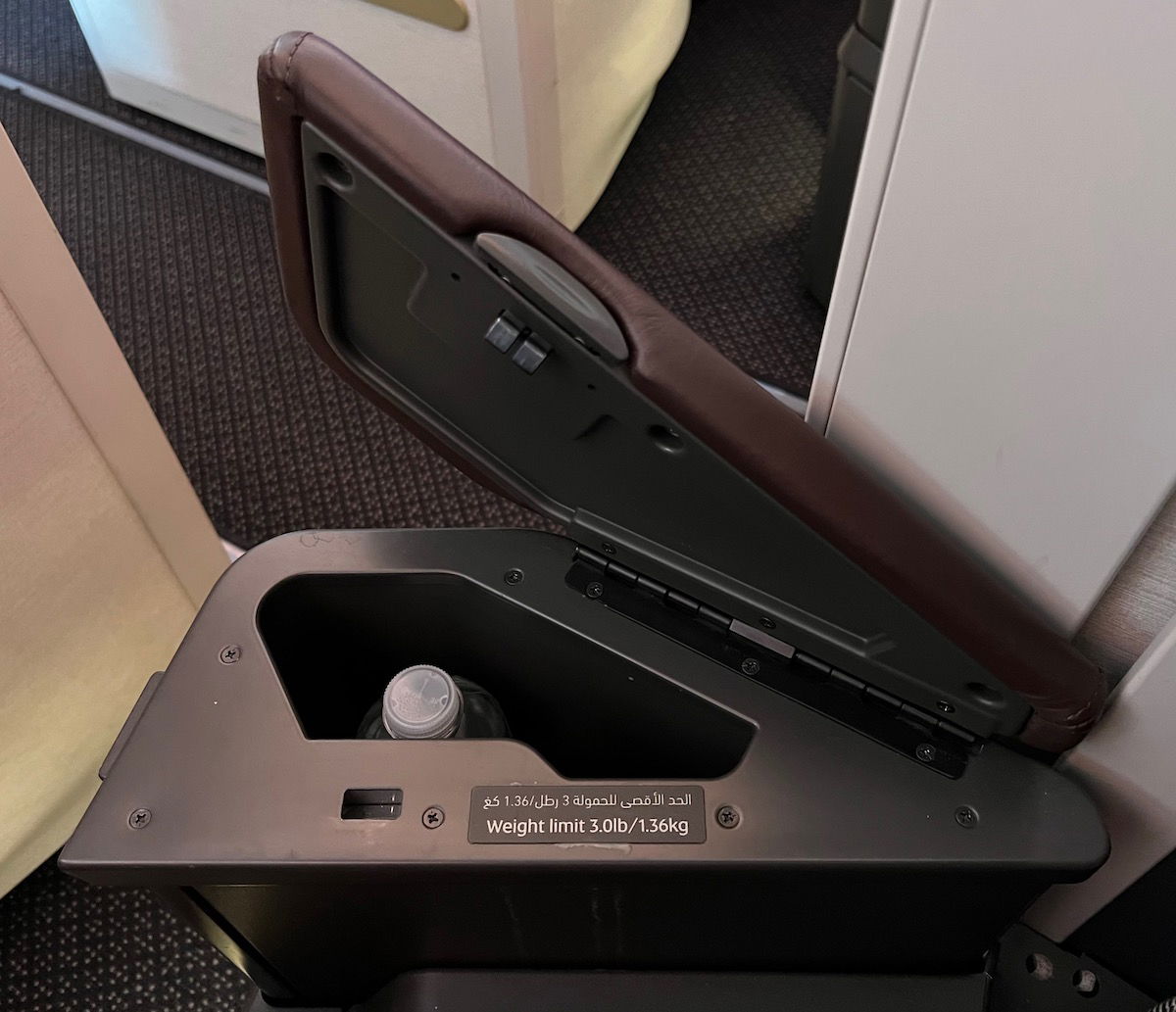 The overhead console had reading lights and the new-style seatbelt signs, but unfortunately there were no individual air nozzles.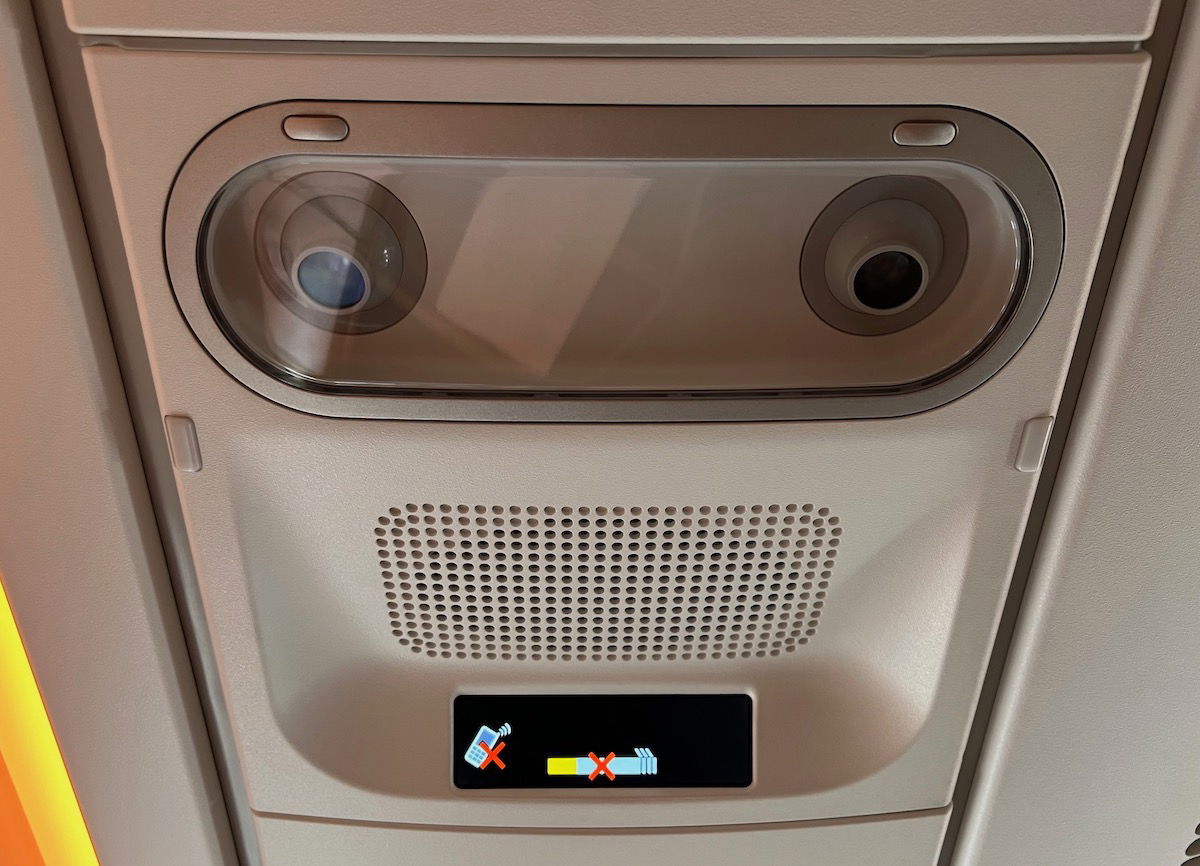 As far as the door goes, that could easily be slid open or closed. The door is about 45″ high, so it gives you a bit of privacy when you're in bed mode, but don't expect that this will give you full privacy. Personally I'm still a big fan of doors on business class seats.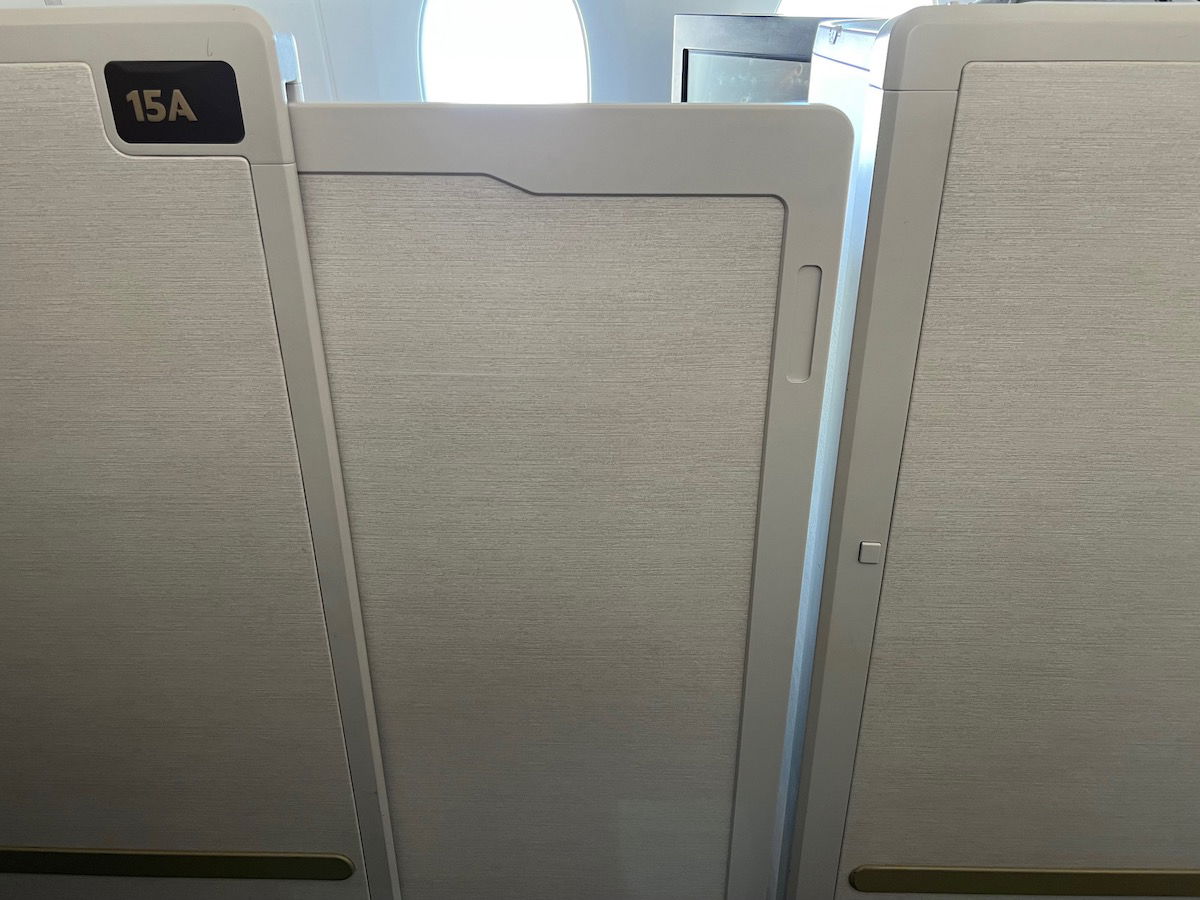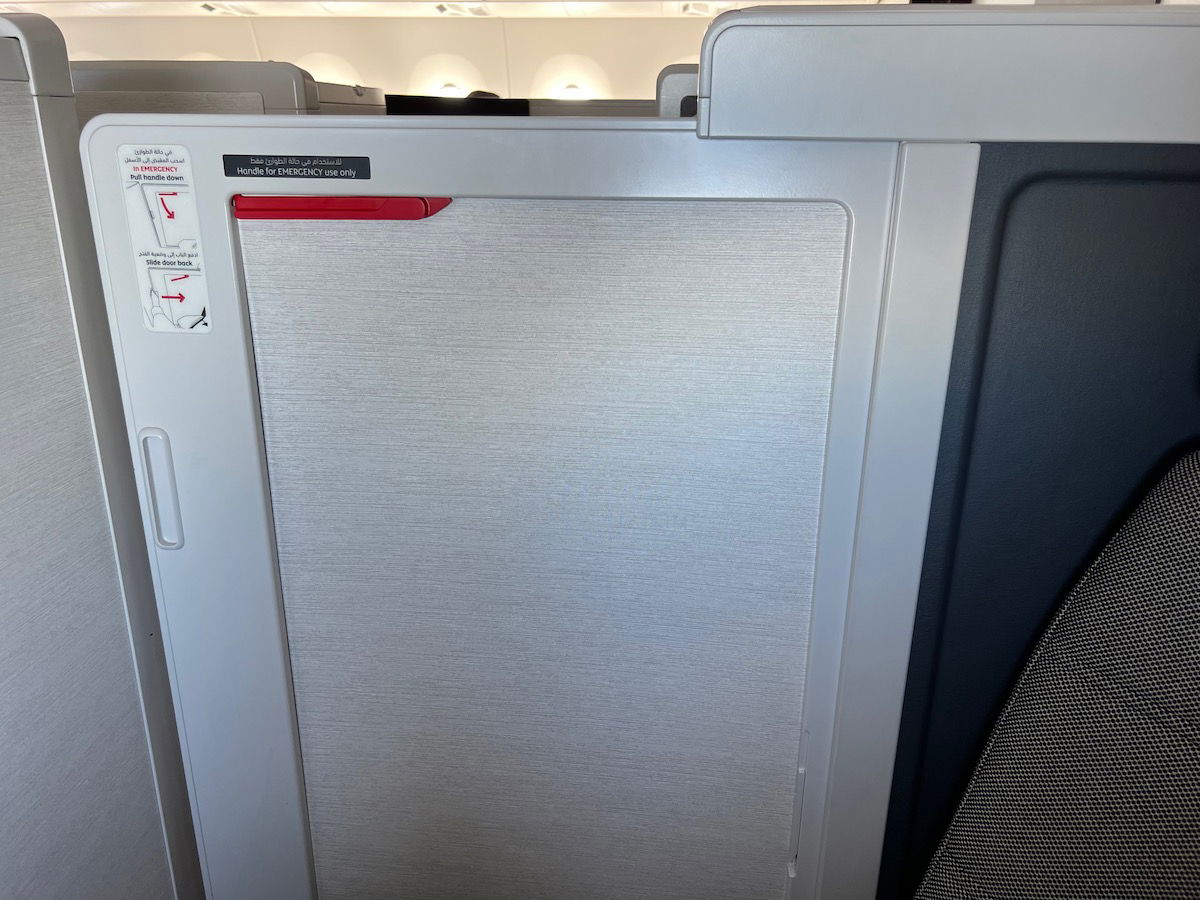 Business class hard products don't get much better than this. Reverse herringbone seats are comfortable to begin with, then Etihad also has doors, and on top of that the seat has excellent tech, including charging. Suffice it to say that this is quite a contrast to Emirates' 777 business class.
Etihad business class amenities
Waiting at each seat upon boarding was a pillow and blanket. My flight featured the new amenities from Armani / Casa, which I found to be excellent. The pillow was nice and thick, while the blanket was cozy and soft, without being overly warm.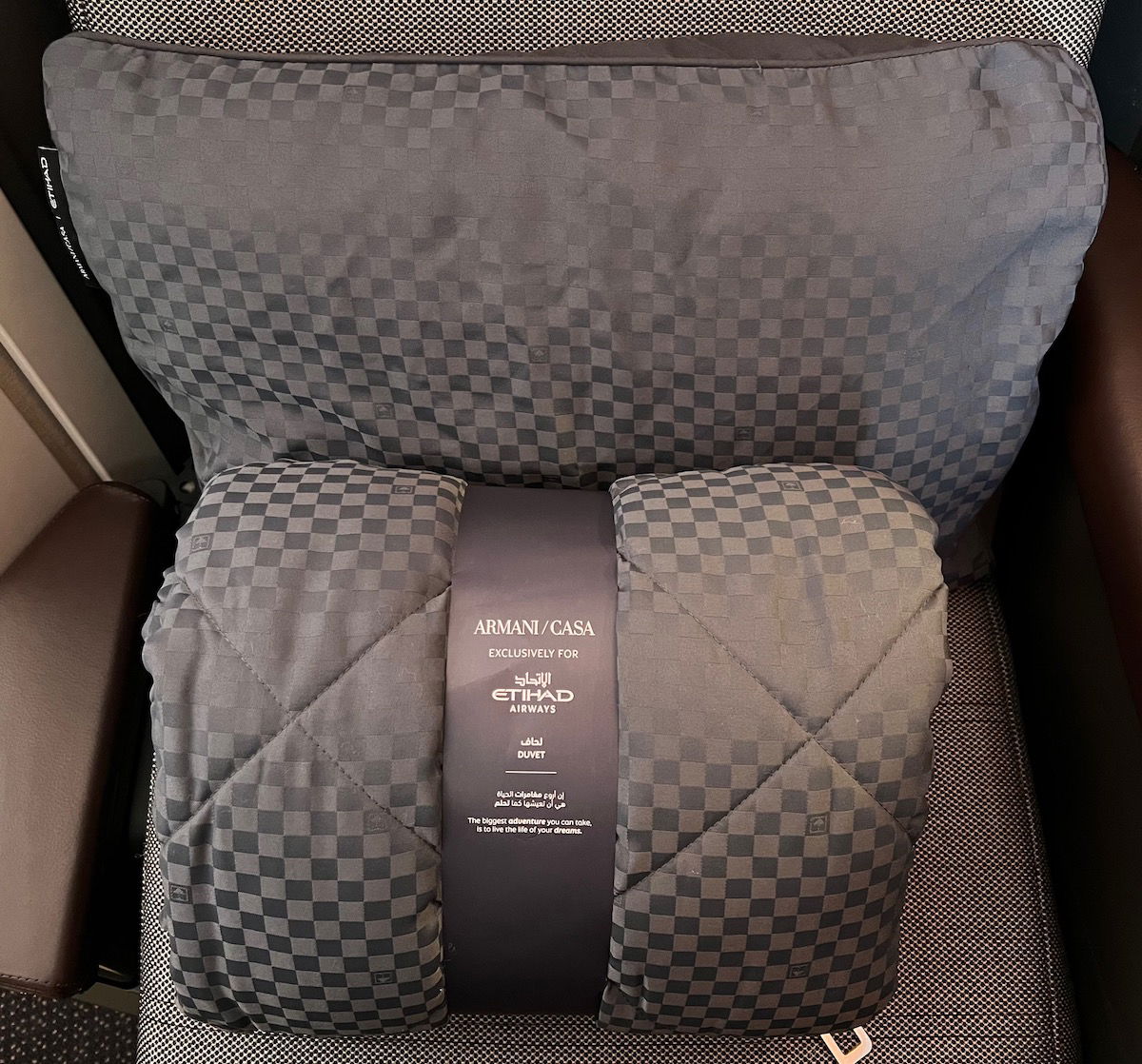 There were also a pair of headphones waiting at my seat. The headphones weren't particularly high quality, but that's not an issue, since Etihad's A350s feature bluetooth audio, so you can use your own headphones with the entertainment system.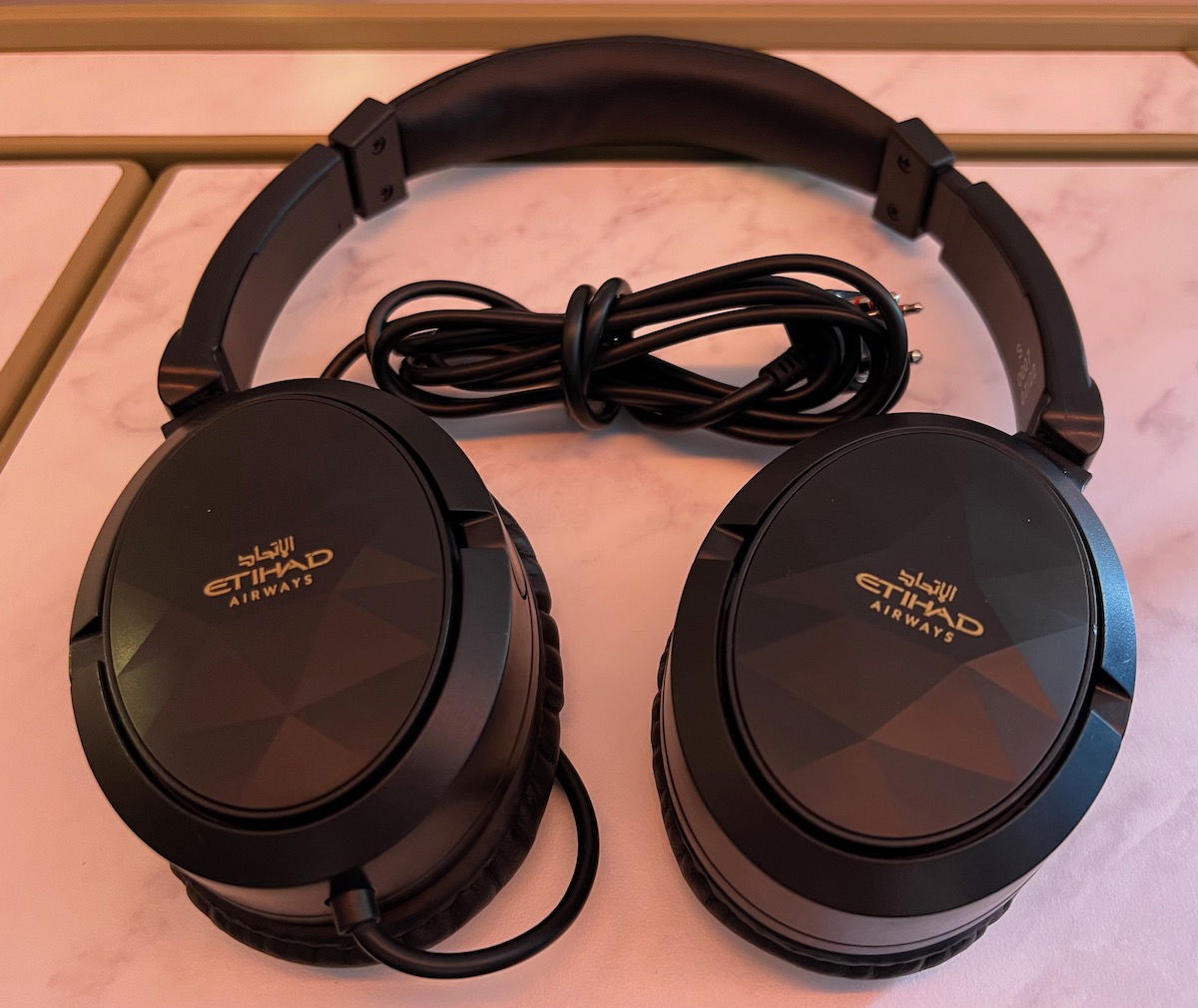 There was also an Acqua Di Parma amenity kit waiting at each seat. The kit itself was nice, though was modestly stocked, with socks, a dental kit, lip balm, hand cream, hand sanitizer, and sanitizing wipes.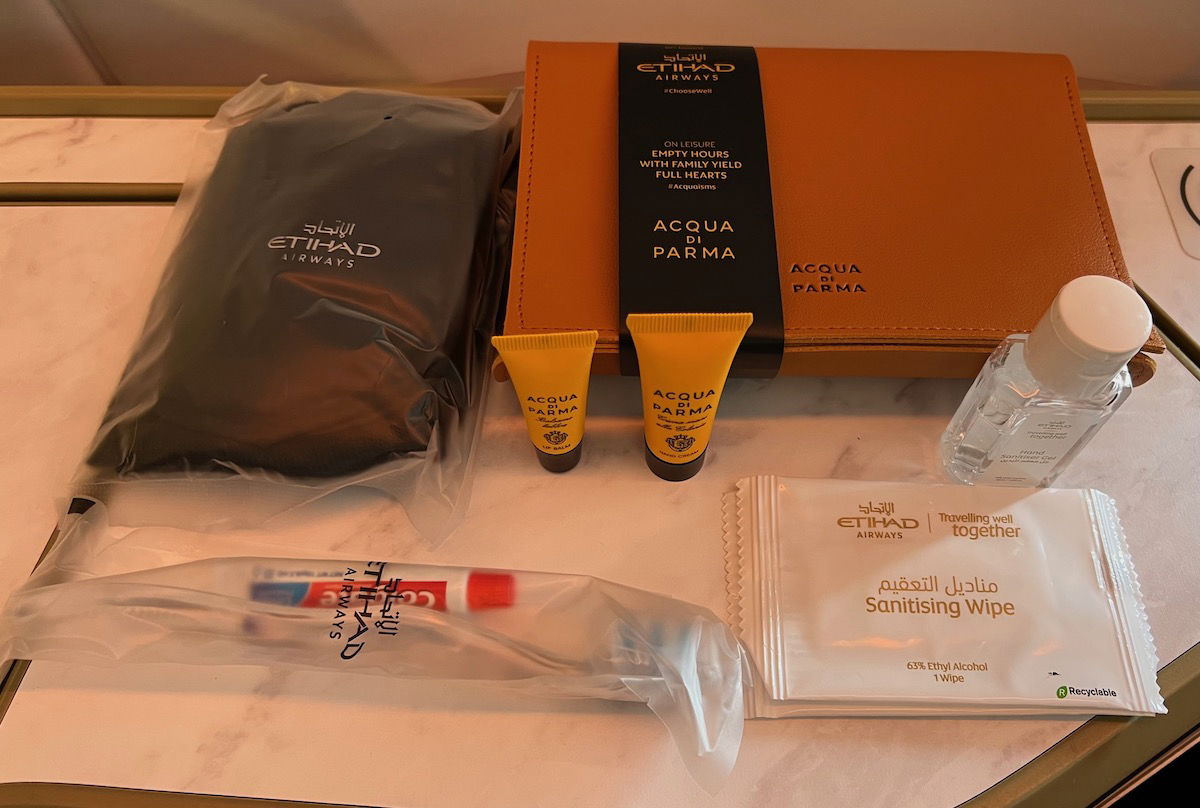 The menu and wine list for the flight were also waiting at the seat.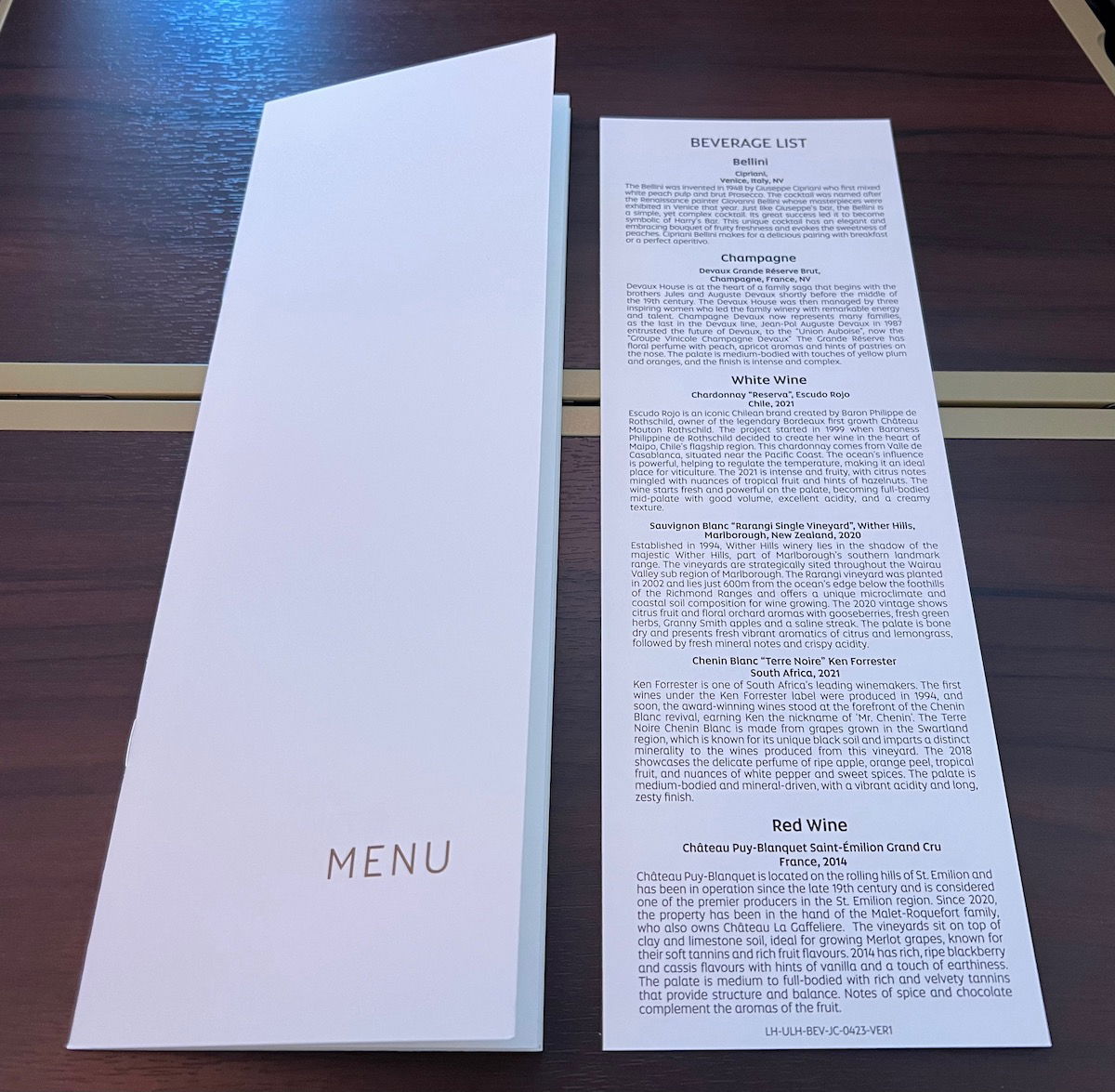 Within moments of settling in, each of the crew members came by to introduce themselves. In particular, cabin manager Nicolas (from France) was working my part of the cabin, as was flight attendant Natalia (from Belarus). Both couldn't have been lovelier or more professional.
They offered to familiarize me with the seat, explained Etihad's dining concept, and offered me a pre-departure drink of choice. I started with a glass of champagne, and on this flight Devaux Grande Reserve Brut was on offer, which I enjoyed. I even more appreciated that there were multiple refills before we even took off. 😉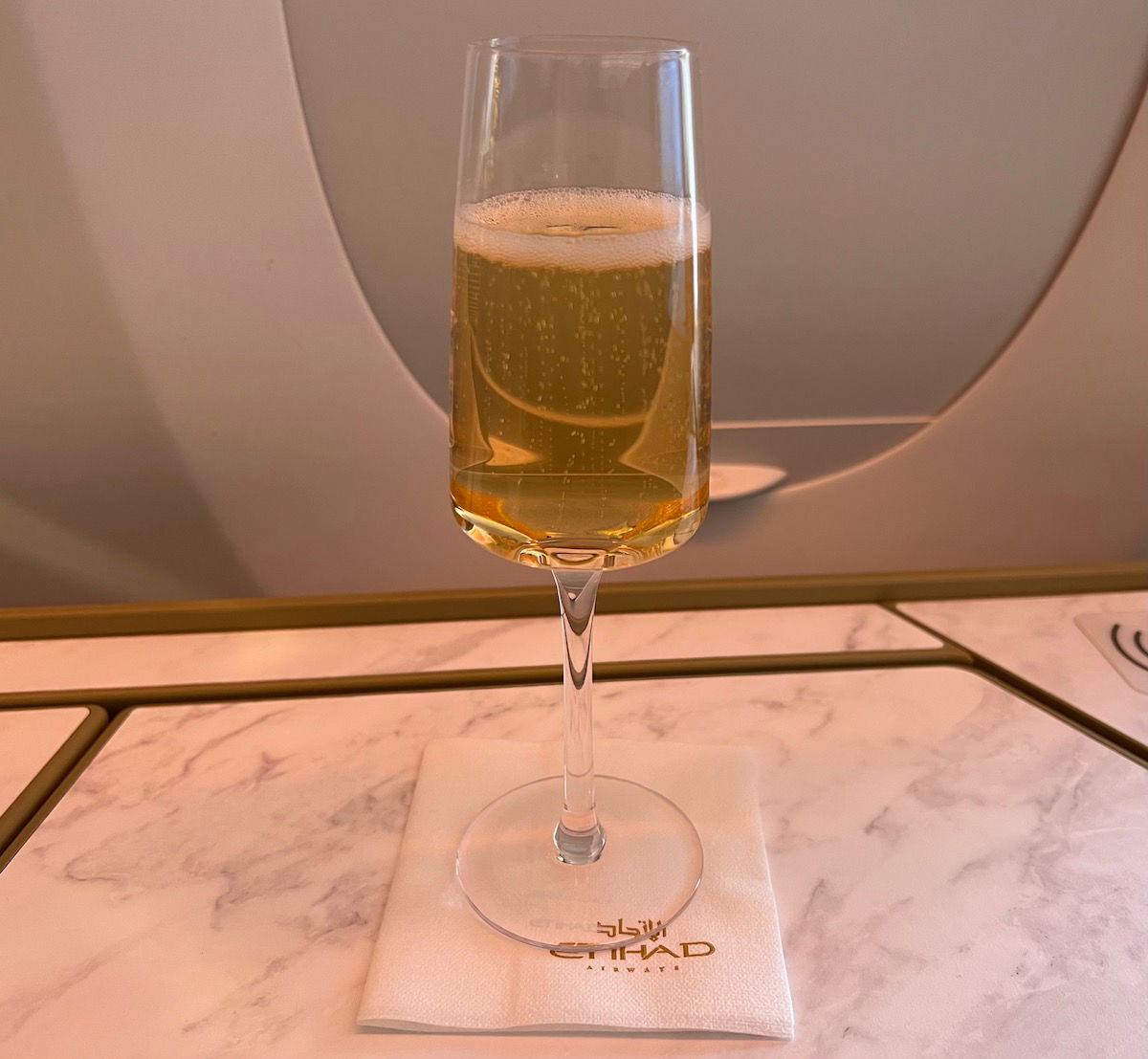 In terms of amenities, it's worth noting that Etihad doesn't have slippers or pajamas in business class. It's fair enough that the airline doesn't have pajamas, since those can be a legitimate expense for airlines, though it sure would be nice if Etihad added slippers, since that makes it much easier to go back and forth to the lavatory without having to put on shoes.
Etihad A350 business class entertainment & Wi-Fi
Etihad's entertainment and Wi-Fi situation on the Airbus A350 is top notch as well. The entertainment system is easy to use — it's a touchscreen system, or you can use the entertainment controller if you prefer.
Etihad has a huge selection of movies, TV shows, radio, and even live TV. I appreciated not just how many different choices there were, but also how many episodes there were of each TV show.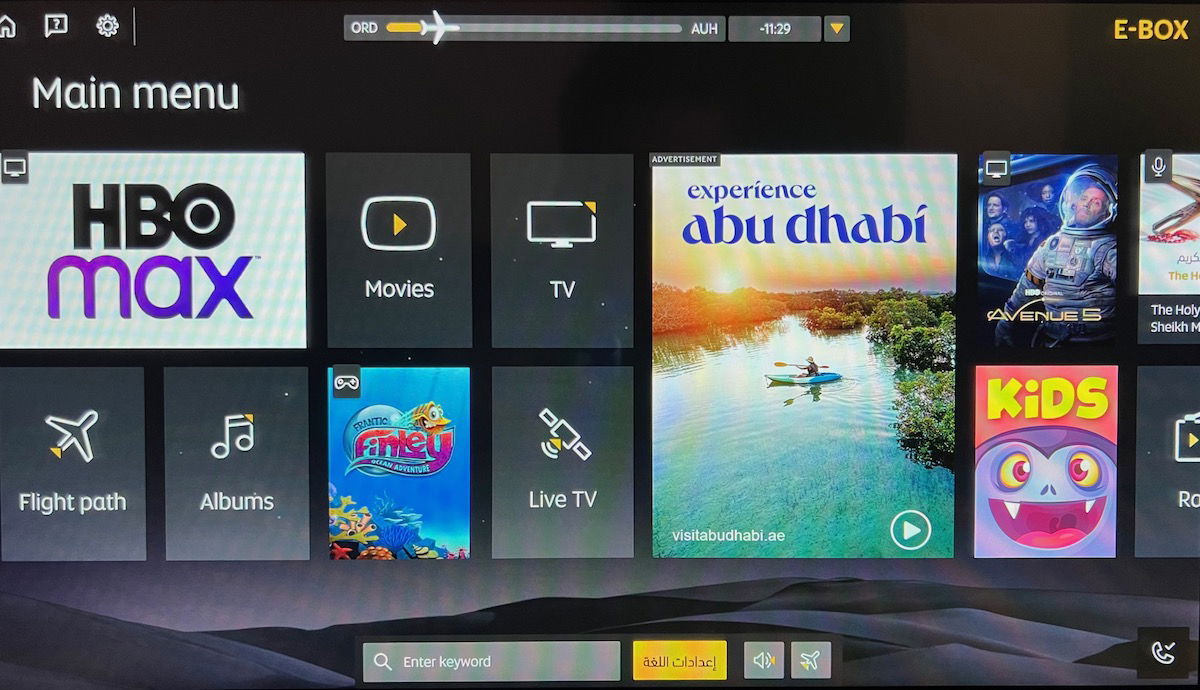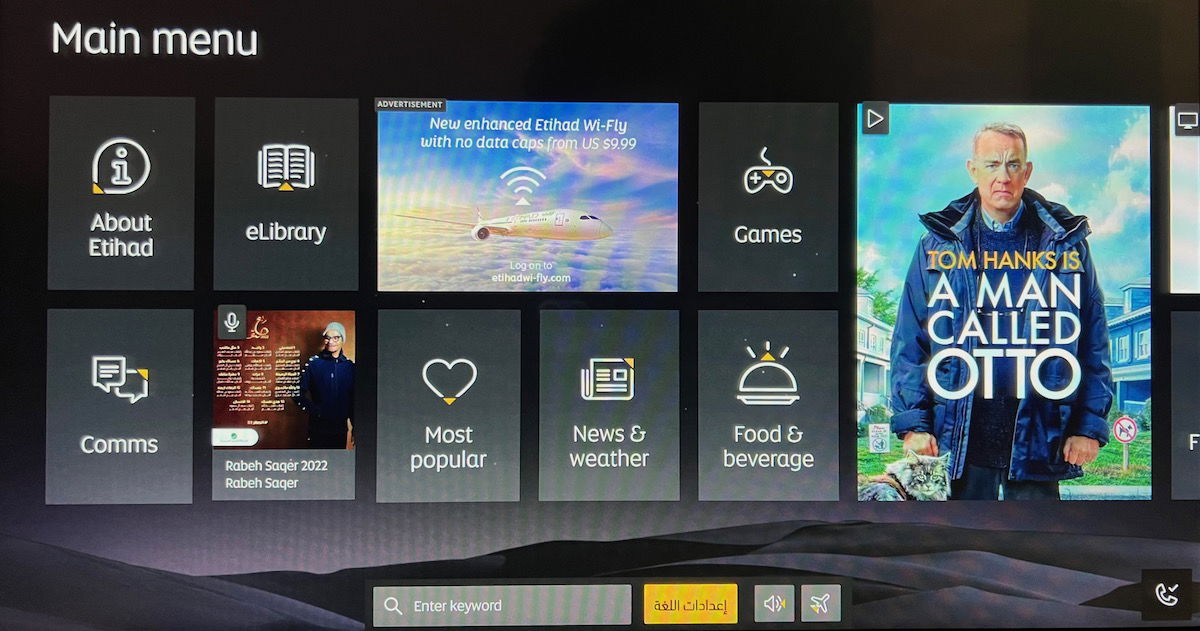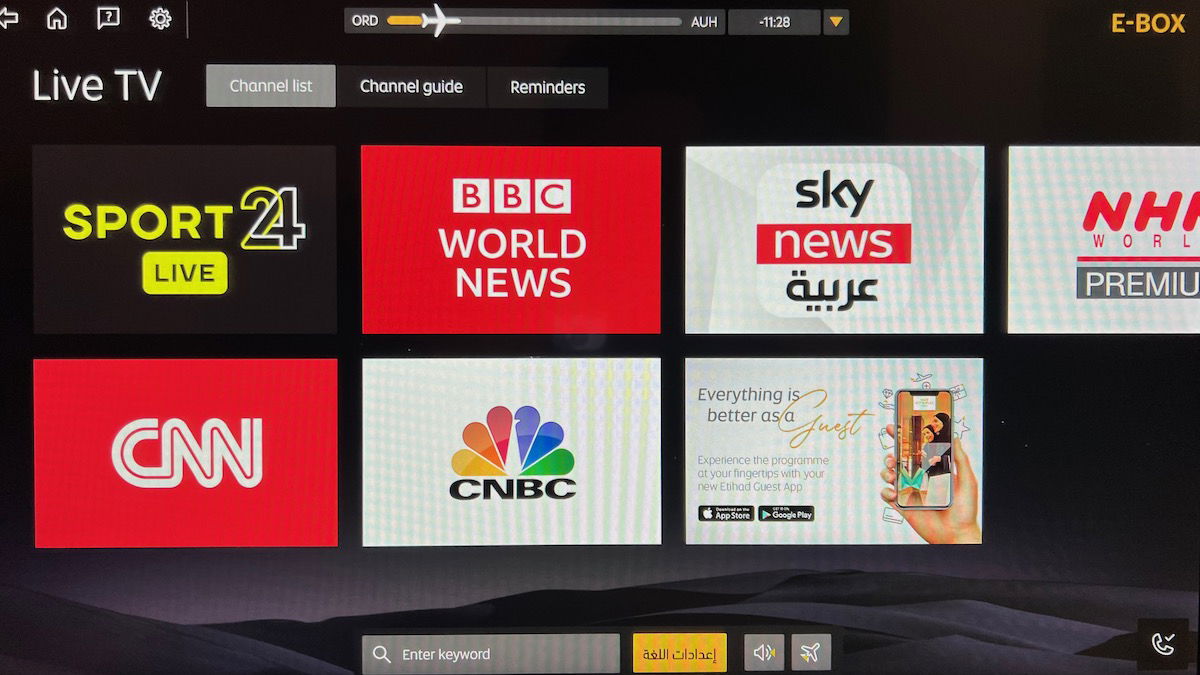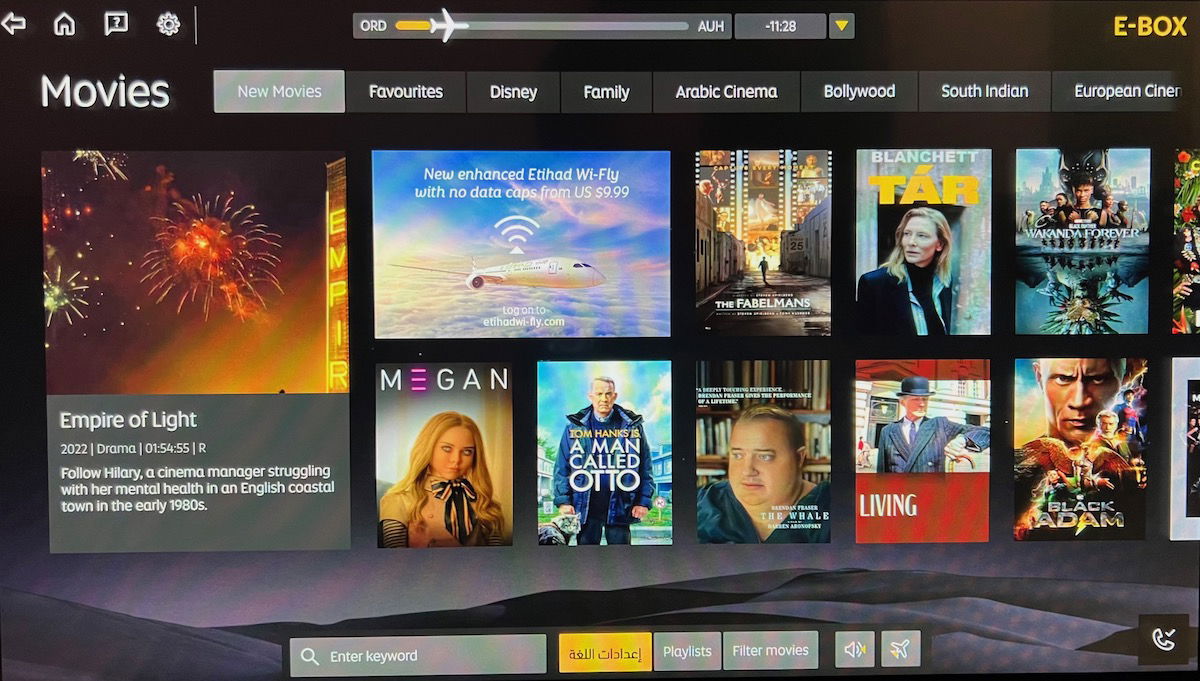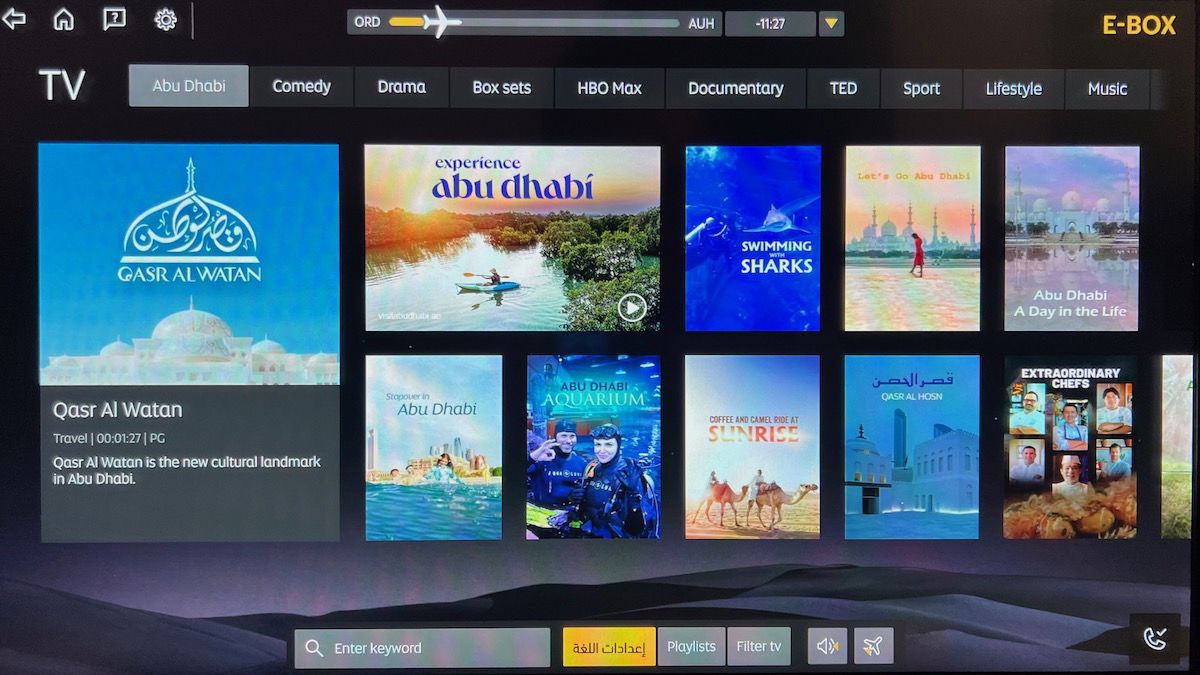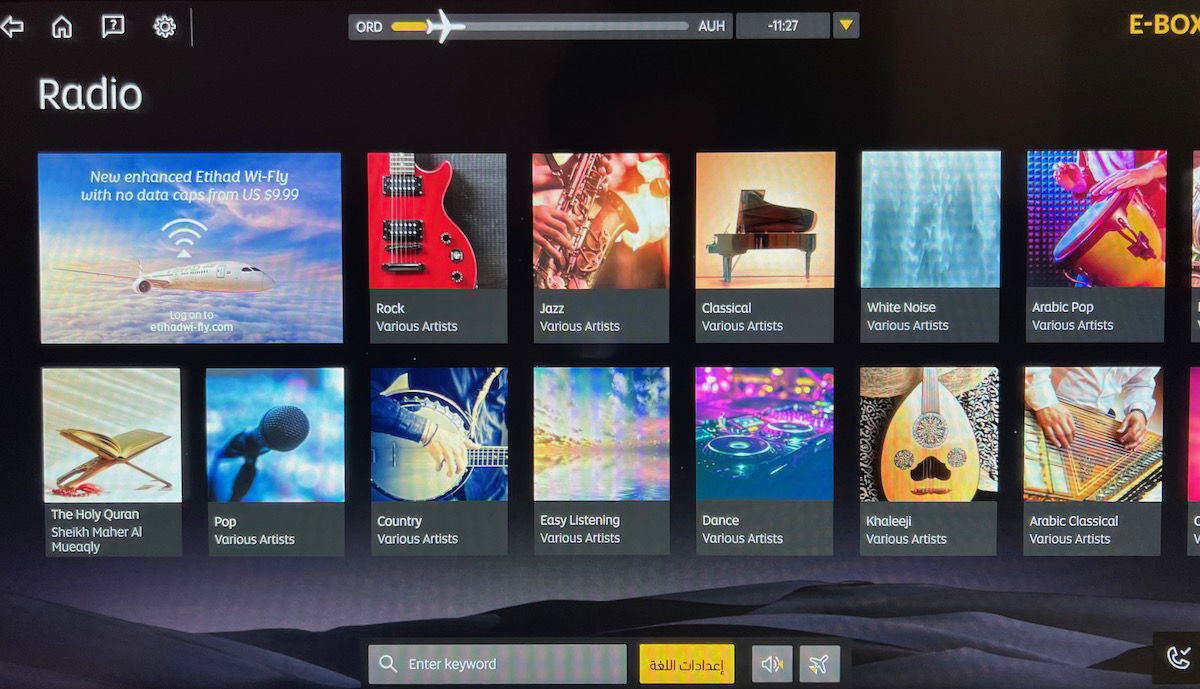 As mentioned above, Etihad's A350s also offer bluetooth audio, meaning you can use your personal headphones with the entertainment, which is much appreciated. The process of connecting the device to the system was easy.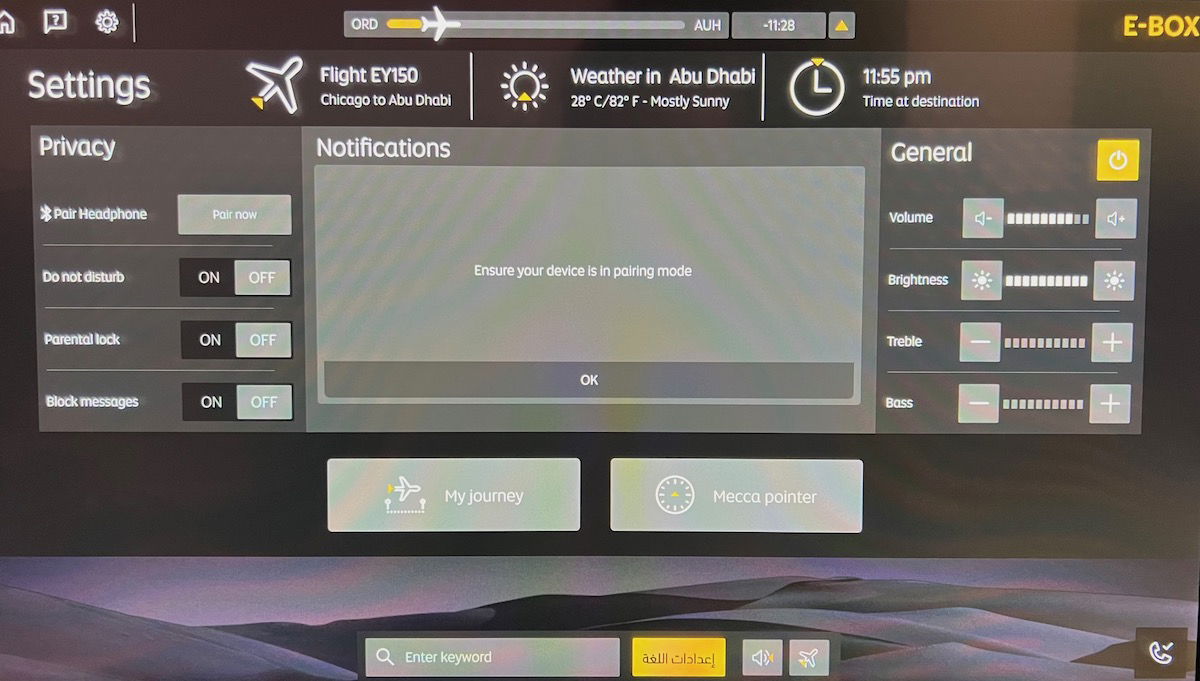 The Etihad A350 also has an excellent map feature, which was highly customizable. I enjoyed watching for almost the entire flight, given the interesting route this flight takes. This has to be one of the most interactive map features I've ever seen.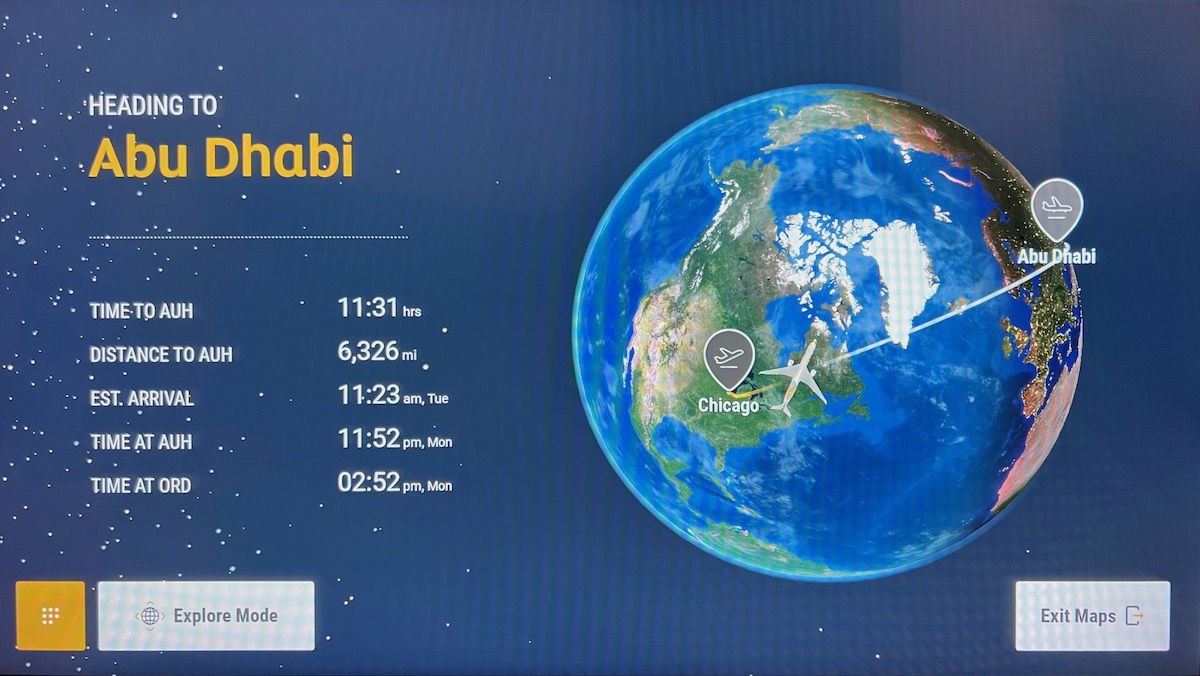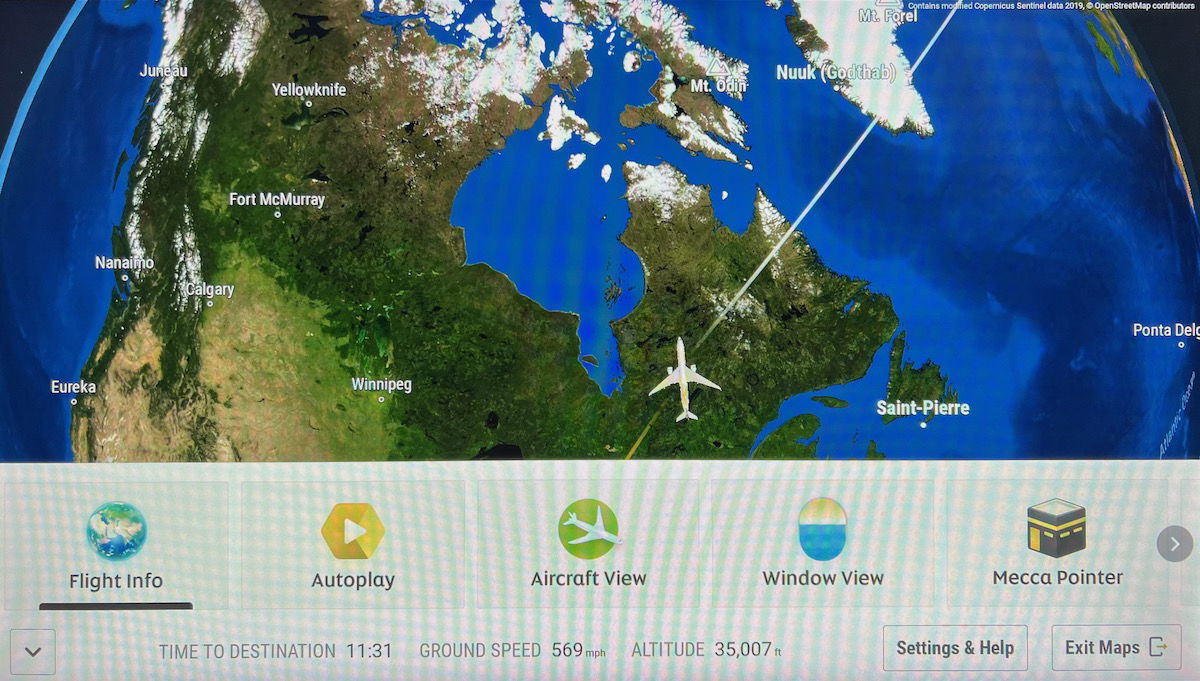 The only area for improvement with the inflight entertainment is the lack of a tail camera, as that's something some other airlines have on the A350.
Etihad also has Wi-Fi provided by Panasonic on its Airbus A350s, with very reasonable pricing. All Etihad Guest members receive complimentary messaging, while you can buy a full flight pass for $19.99, with no data caps.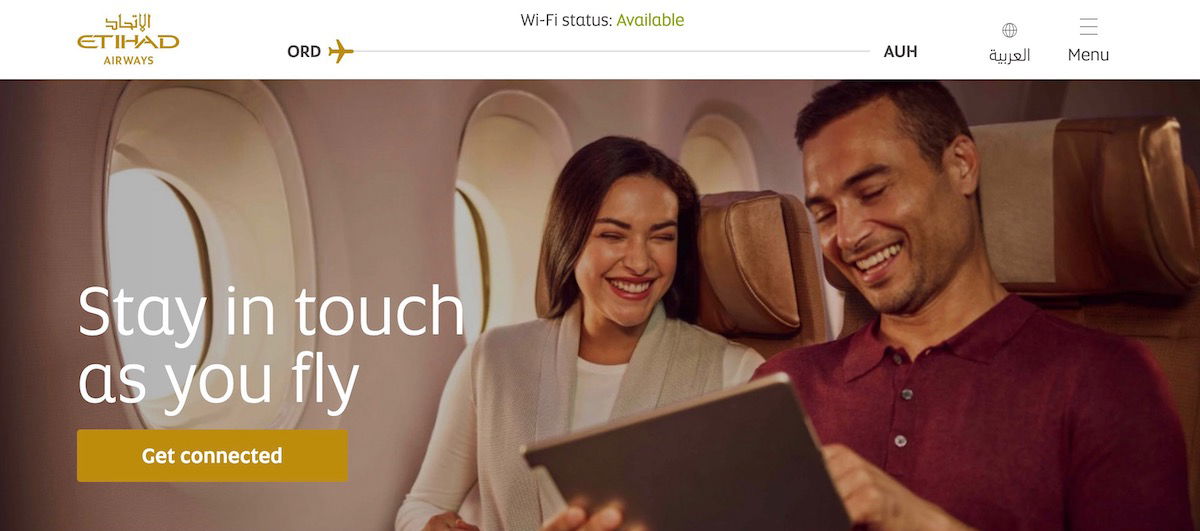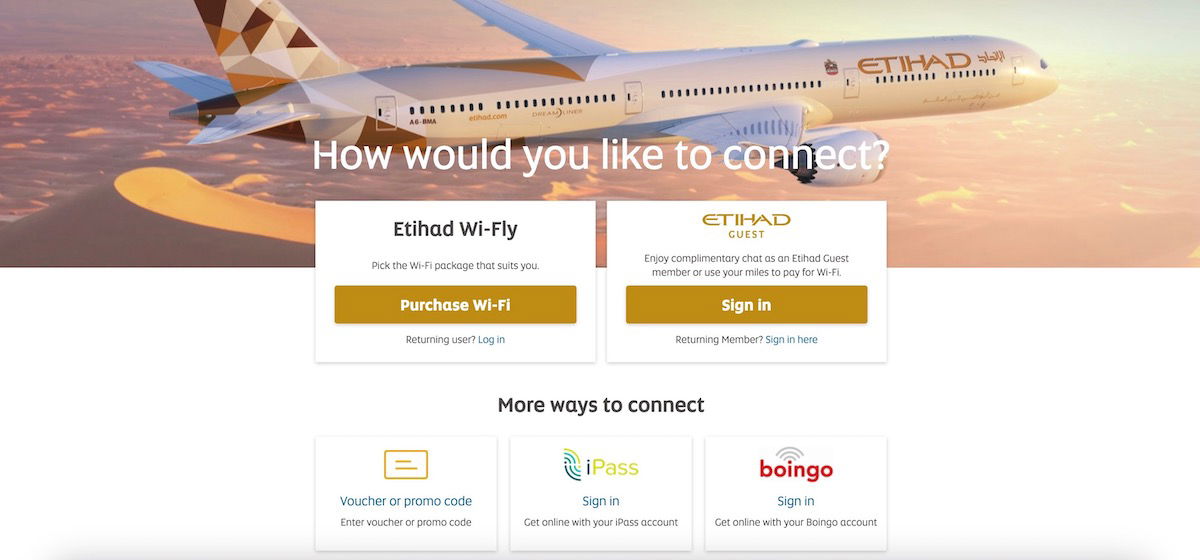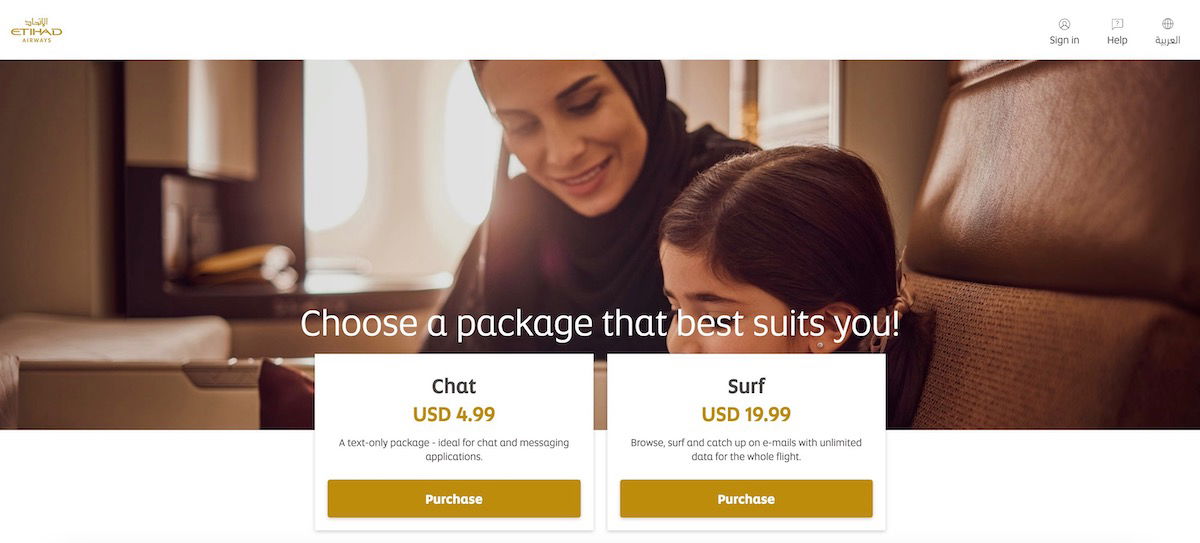 If you buy a $19.99 plan, you can even switch between devices, by creating an account.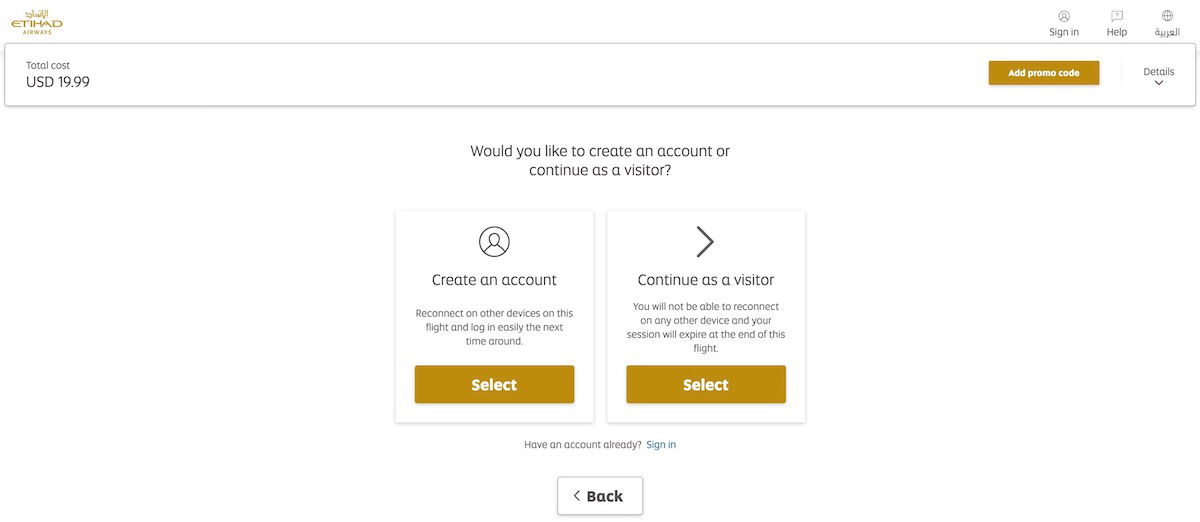 I found the Wi-Fi speeds to be good, though Panasonic isn't the fastest system in the world. Still, I thought the value was excellent, because paying under $20 for Wi-Fi on a flight this long with no data caps is tough to beat.
Etihad A350 departure from Chicago
Boarding was efficient, and was completed by 12:10PM, 25 minutes ahead of schedule. Economy class was nearly full, while business class was roughly 75% full. We were the only people seated in the last two rows of the cabin, so we had quite a private setup.
I also have to mention how much I enjoy Etihad's boarding music, which was playing throughout the boarding process.
Even though boarding was finished early, we still had to wait for some bags to be loaded. At 12:30PM, the captain made his welcome aboard announcement, informing us of our longer than expected flight time of 13hr25min, and our cruising altitude of 35,000 to 41,000 feet (we'd climb higher as we burned off fuel later in the flight).
As you'd expect, there were four pilots on a flight of this length, with the captain flying being from Korea, and the relief captain being from Cyprus — you've gotta love how international Etihad's cockpit crews are!
At 12:45PM the main cabin door closed, at which point the pre-flight prayer and safety video were played. I quite like Etihad's new(ish) Abu Dhabi-themed safety video!
At 12:50PM we began our pushback, and our very short taxi to runway 28R.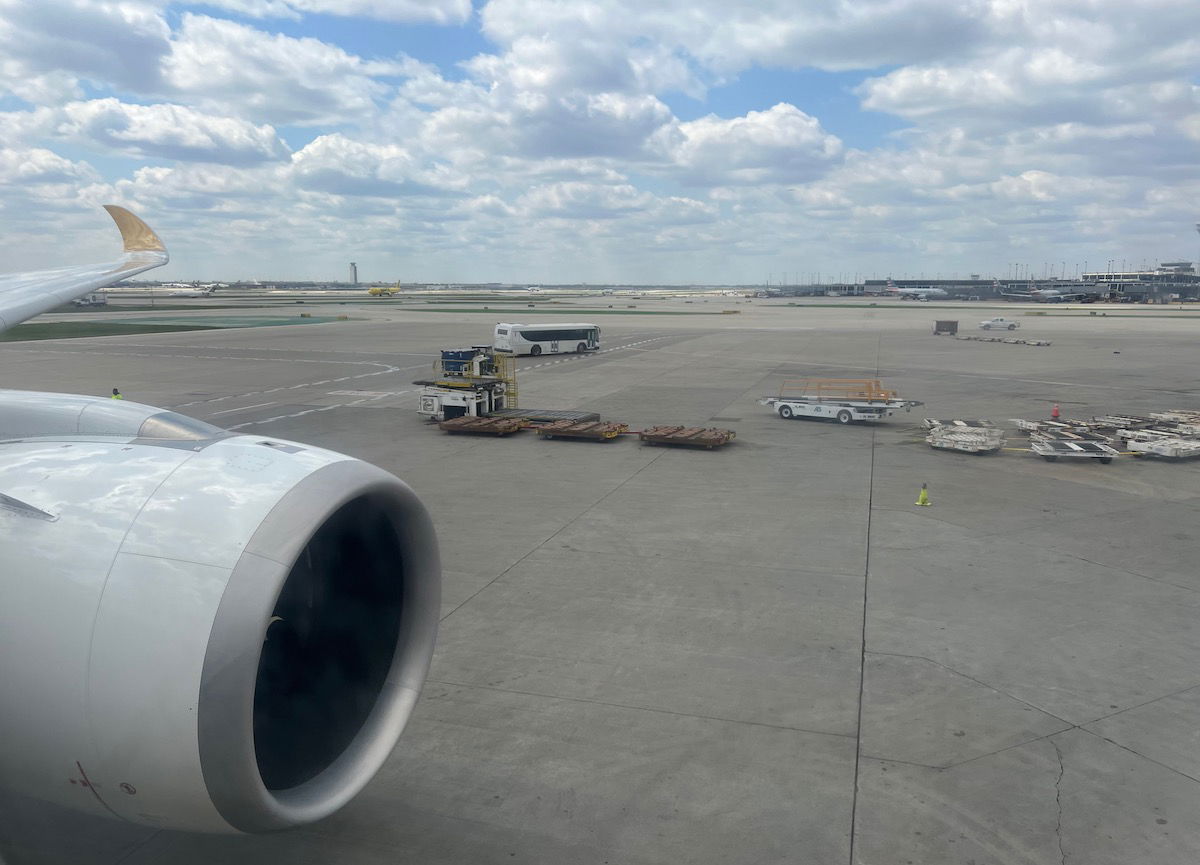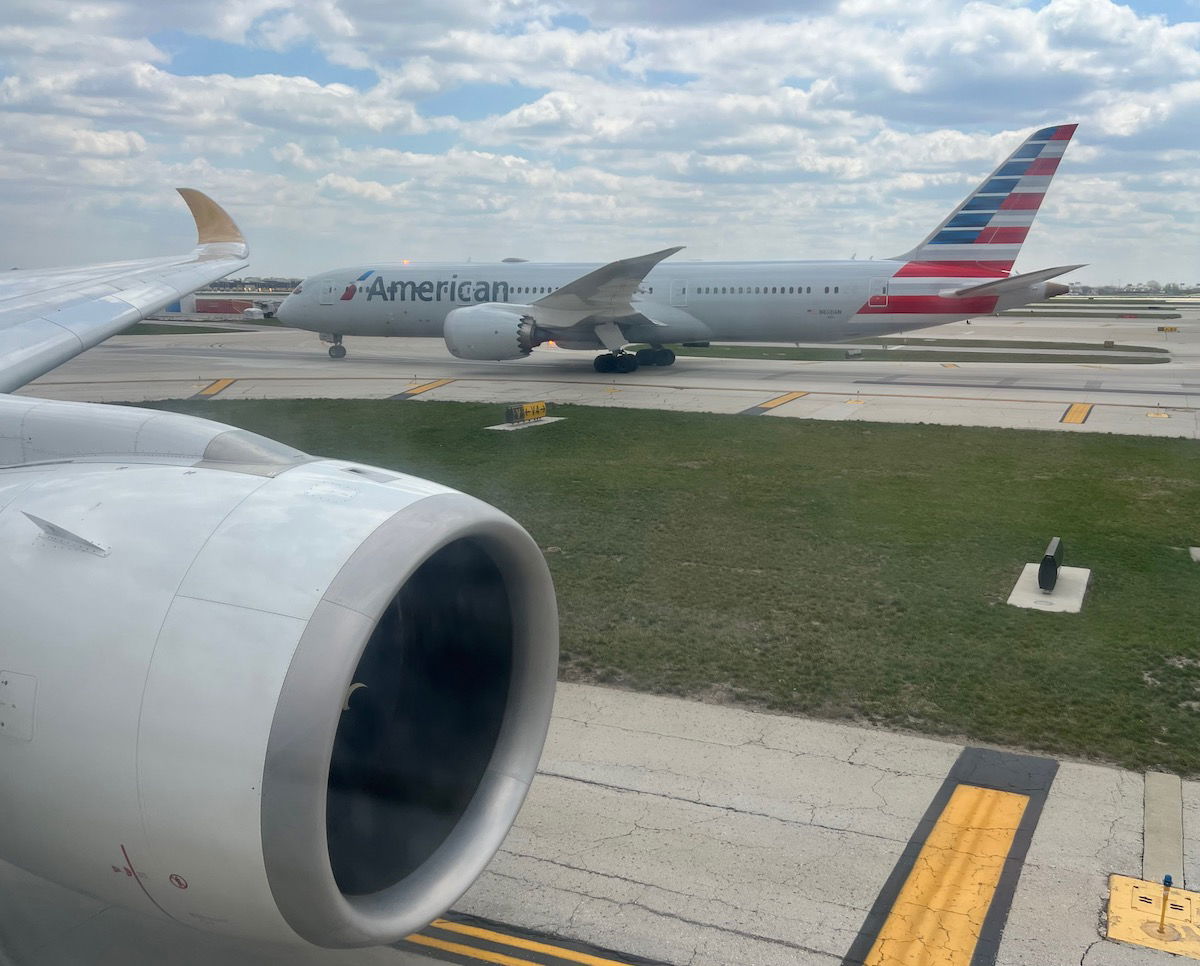 We had to briefly hold short of the runway, and were then cleared for takeoff by 1:05PM.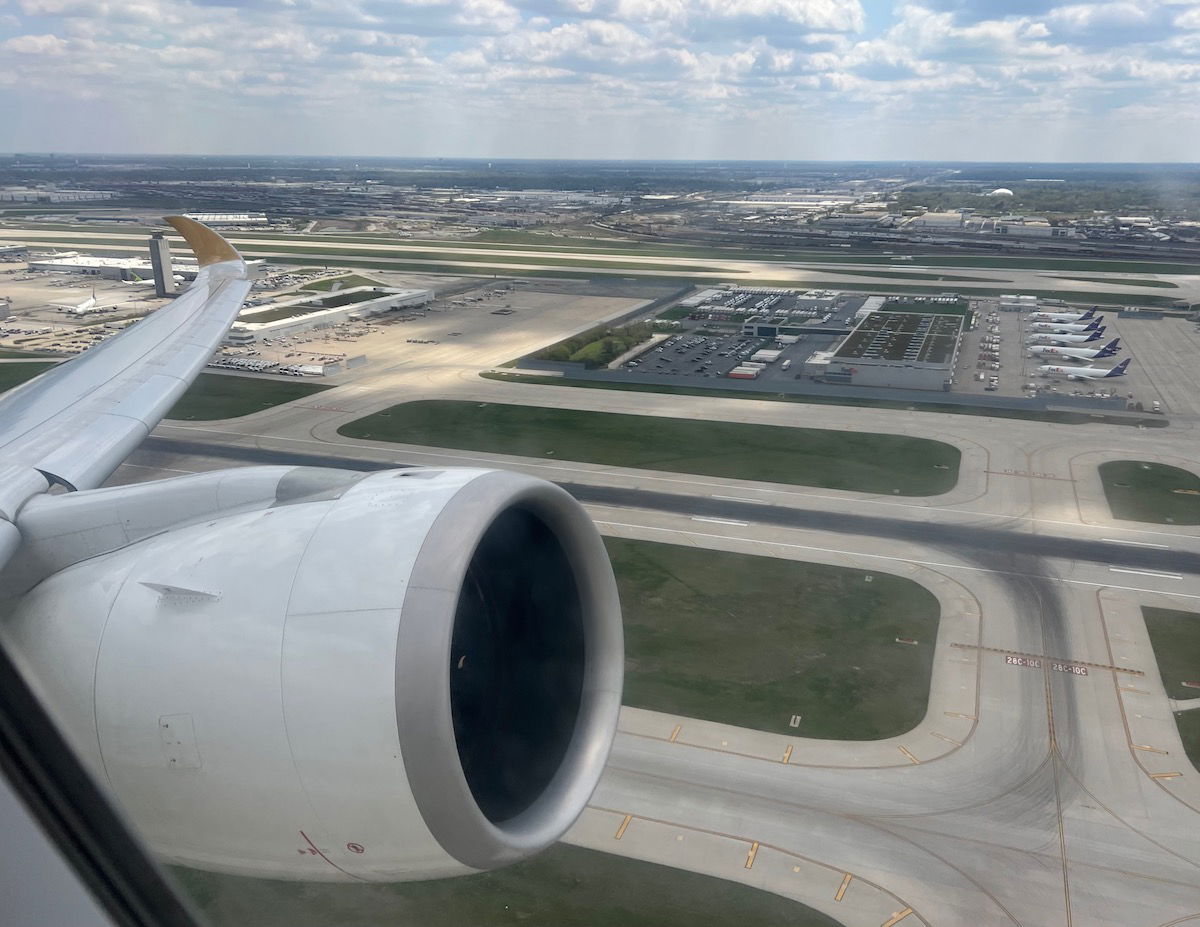 We had a smooth climb out, and the seatbelt sign was turned off within five minutes of takeoff.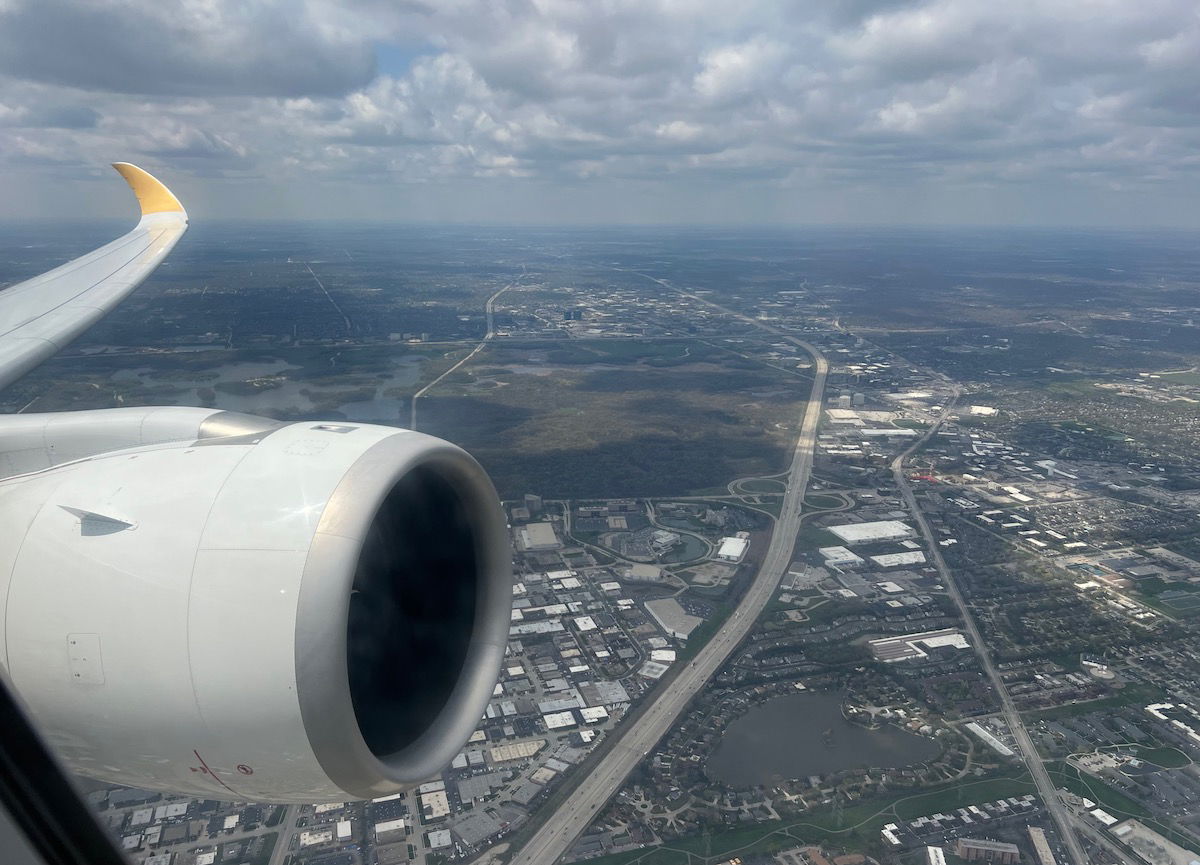 Etihad business class lunch service
Etihad has a dine on demand concept in business class, so you can order what you want when you want. You can find the dining menu below.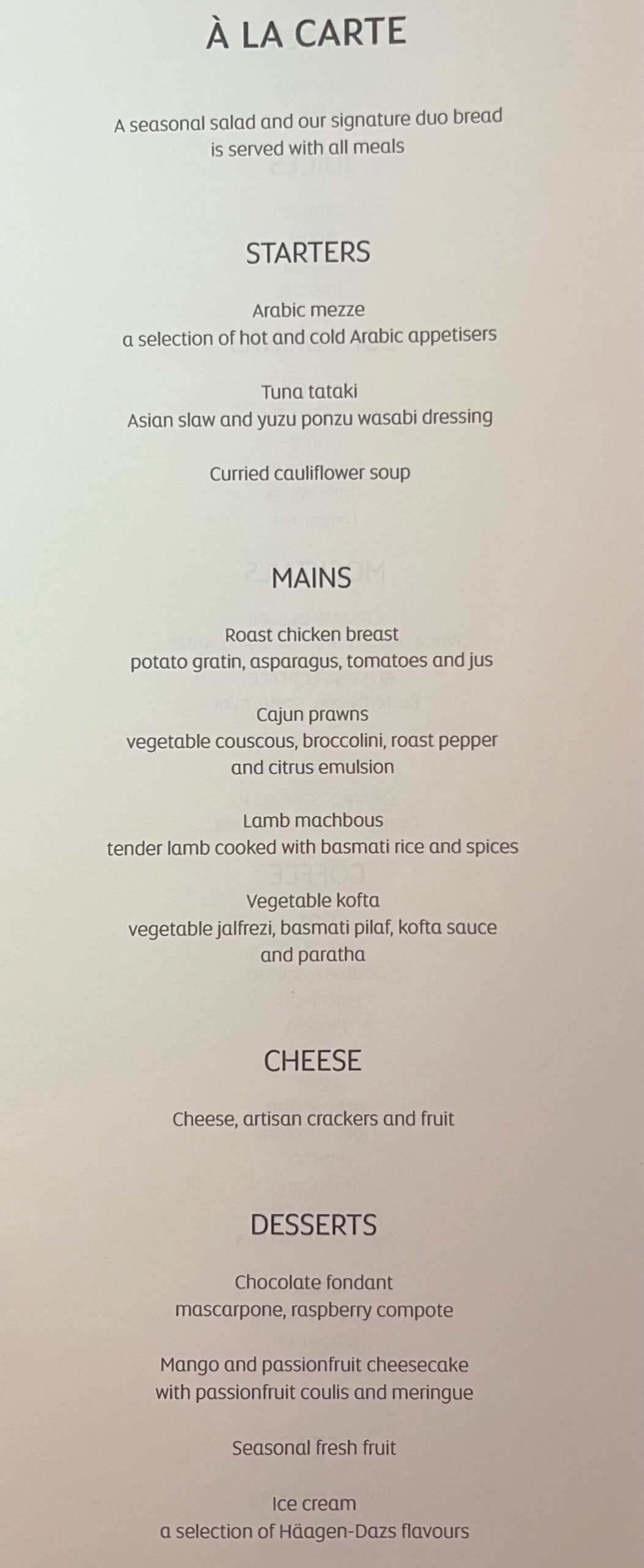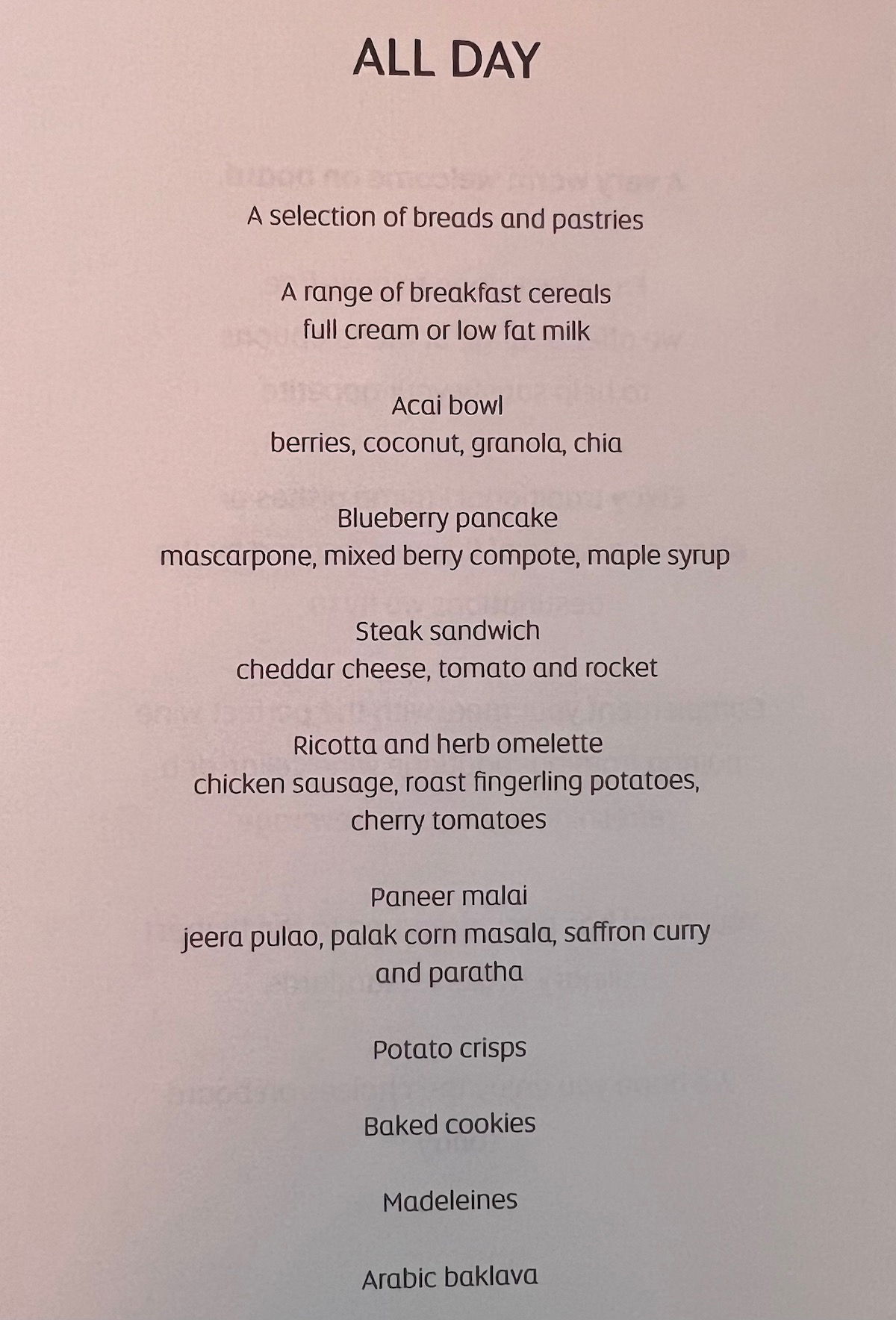 You can then find the beverage list below.



There's something to be said for how quickly after takeoff a crew gets you your first drink. In this case I was served my first drink less than 20 minutes after takeoff, which has to be some sort of a record in business class. I had a glass of sauvignon blanc to drink, which was poured directly from the bottle, and was served with a ramekin of nuts.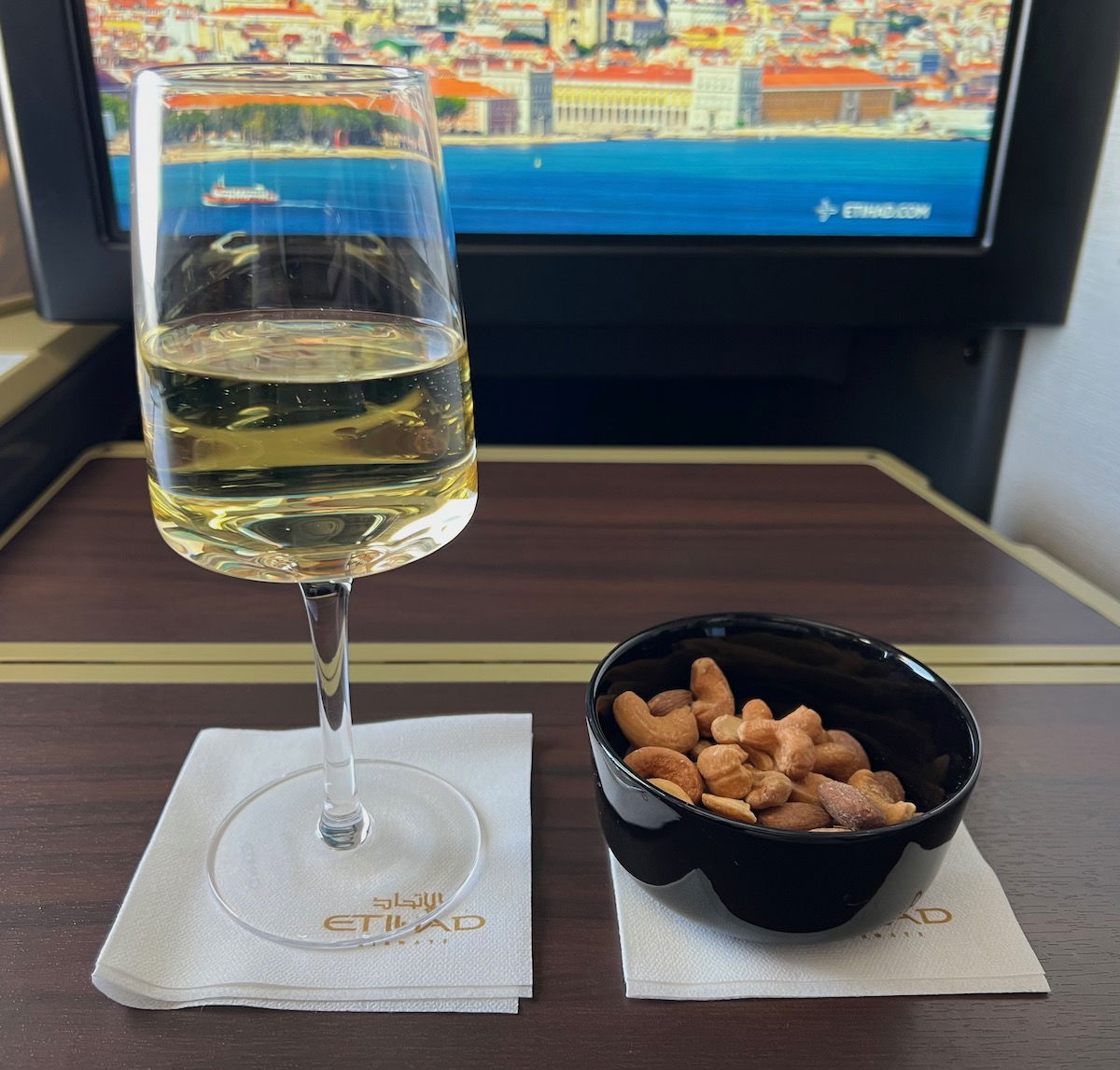 Ford had the signature Bellini cocktail, which was also served directly from the bottle.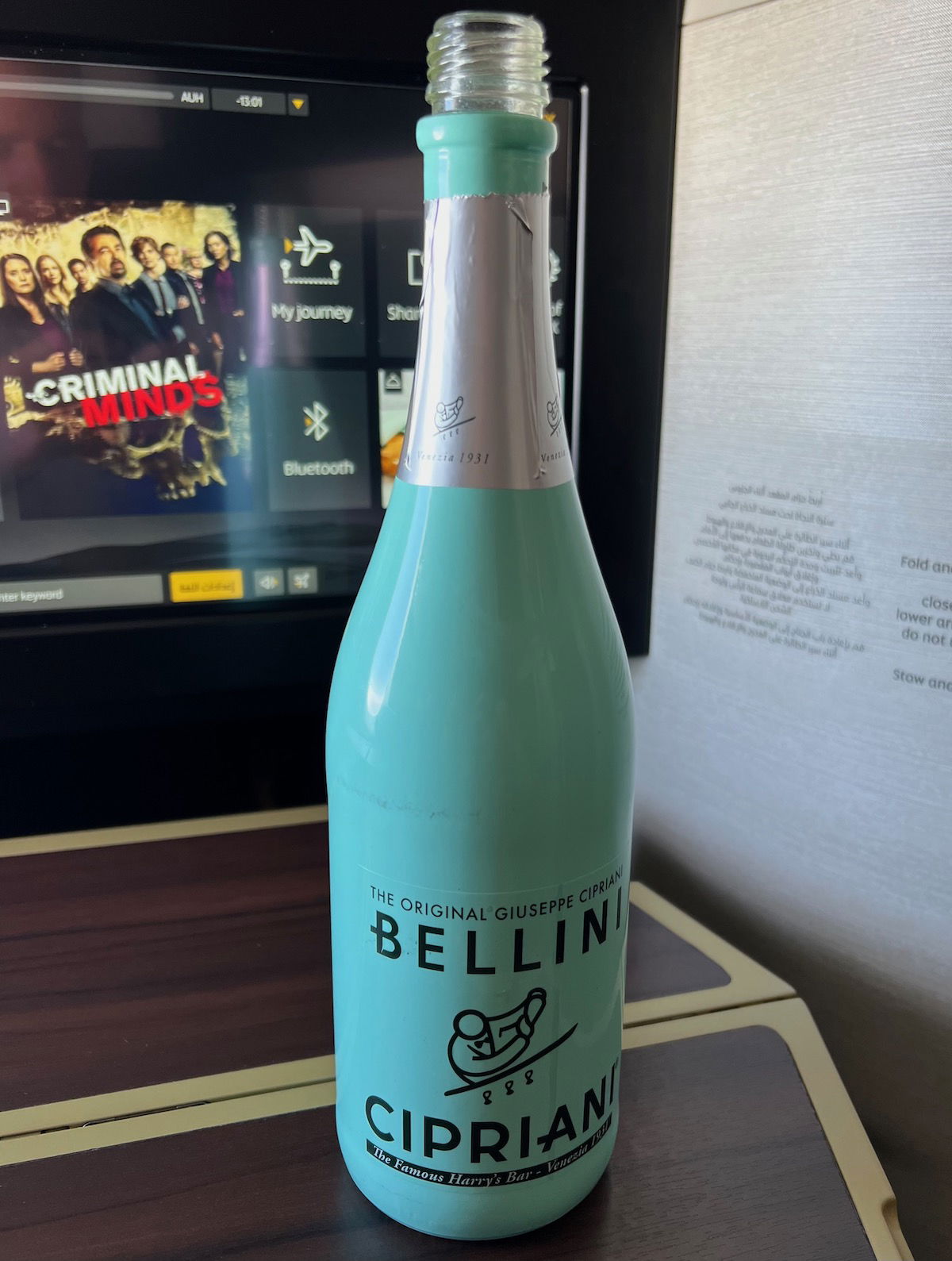 We were both hungry, so decided to have lunch after takeoff. For the starter, I ordered the tuna tataki with Asian slaw and yuzu ponzu wasabi. This was served with a selection of bread, as well as a side salad. This dish was tasty and beautifully presented.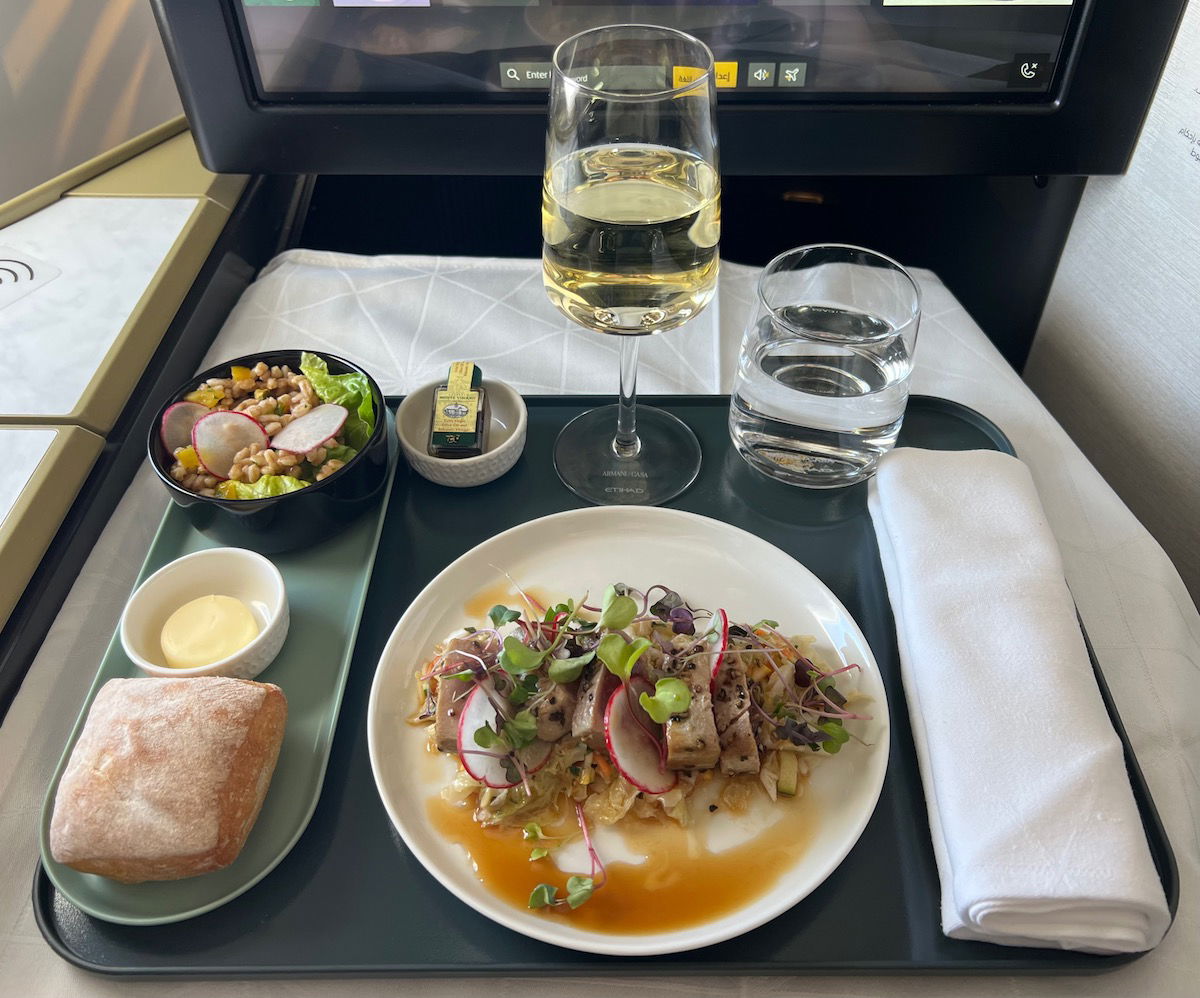 Ford had the Arabic mezze, including both hot and cold options. He enjoyed it, though it's definitely a fairly basic mezze selection.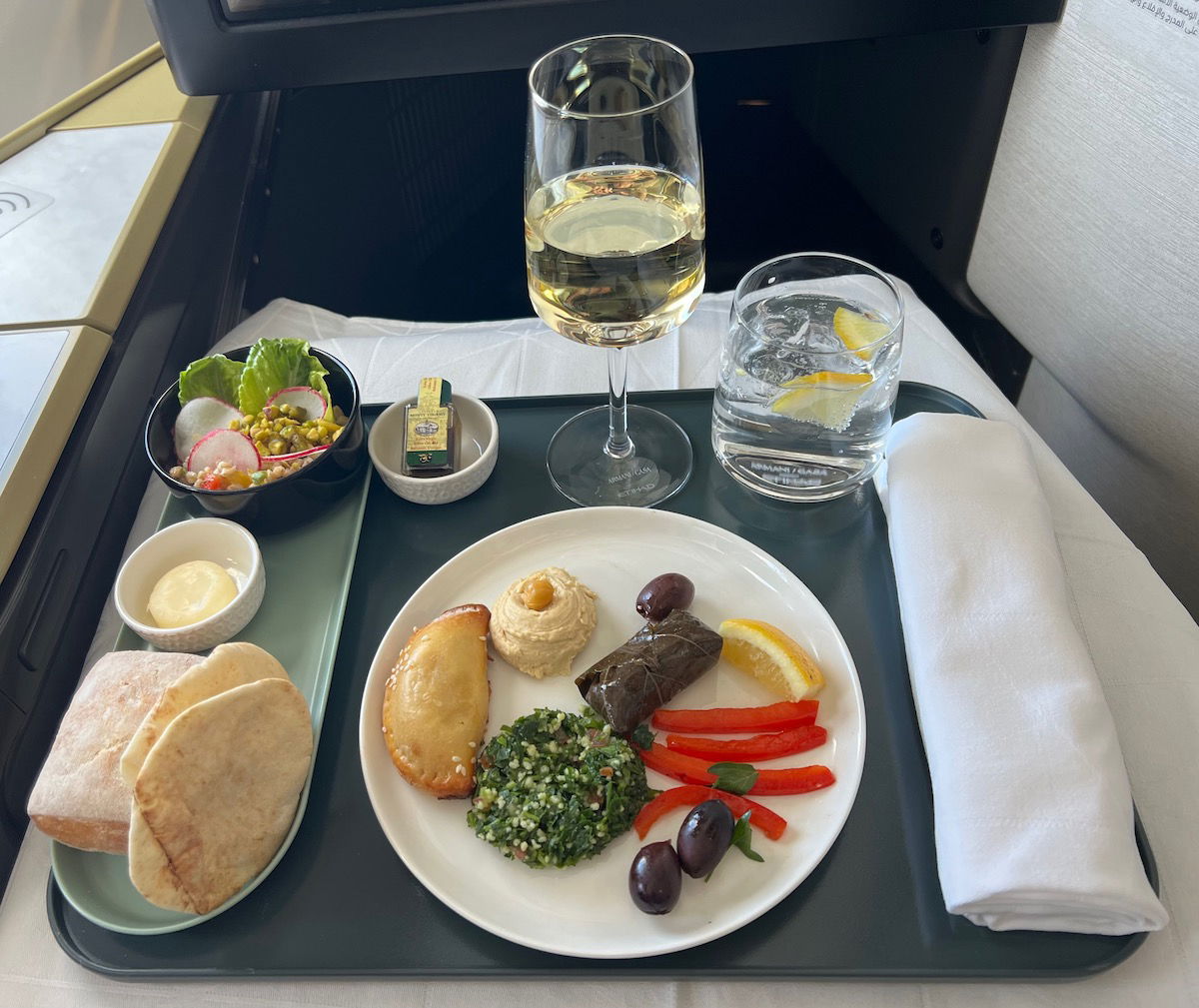 For the main course, I ordered the vegetable kofta with vegetable jalfrezi, basmati pilaf, kofta sauce, and paratha. I'm a sucker for any Asian vegetarian meal, especially on airplanes, and this dish didn't disappoint.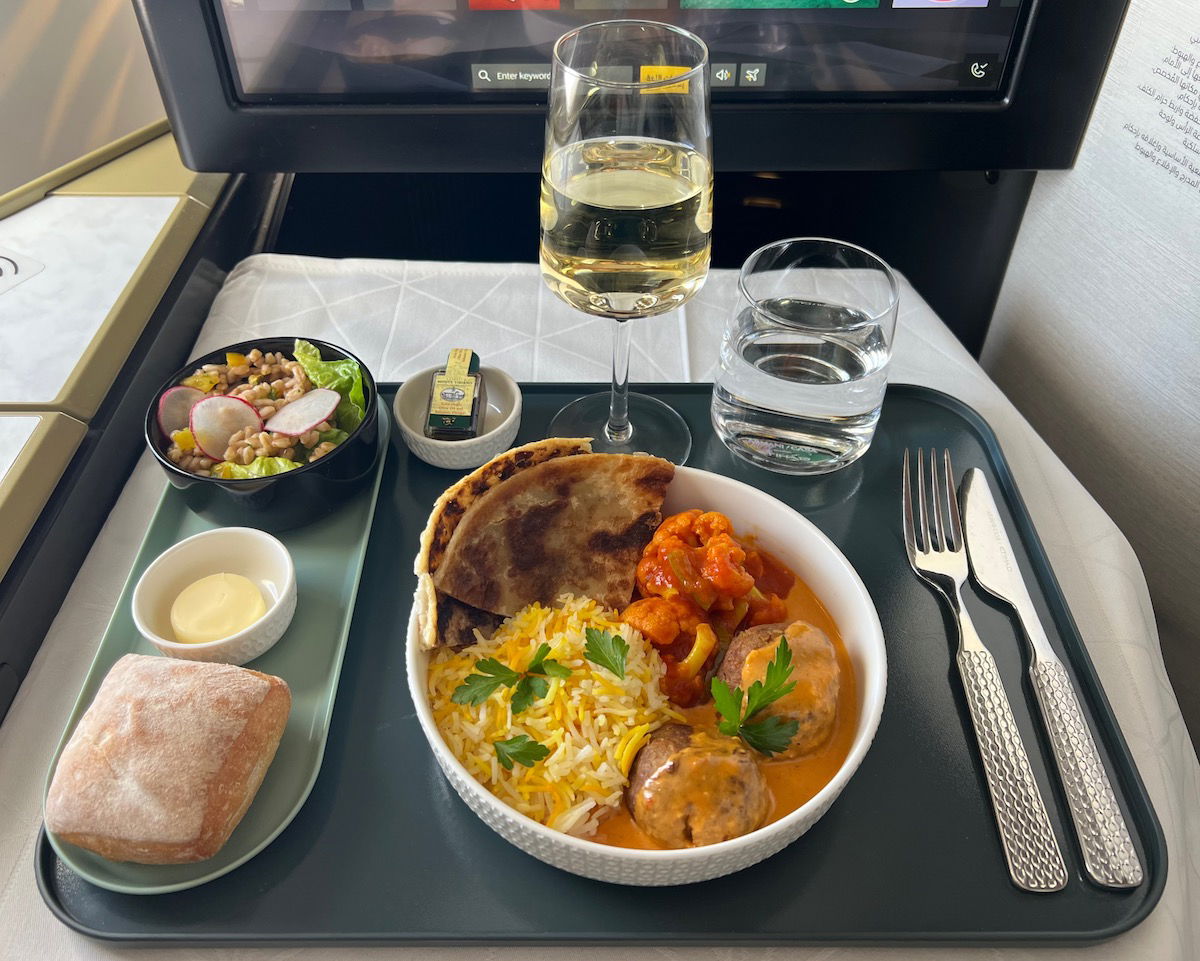 Ford had the roasted chicken breast with potato gratin, asparagus, tomatoes, and jus, which he also enjoyed.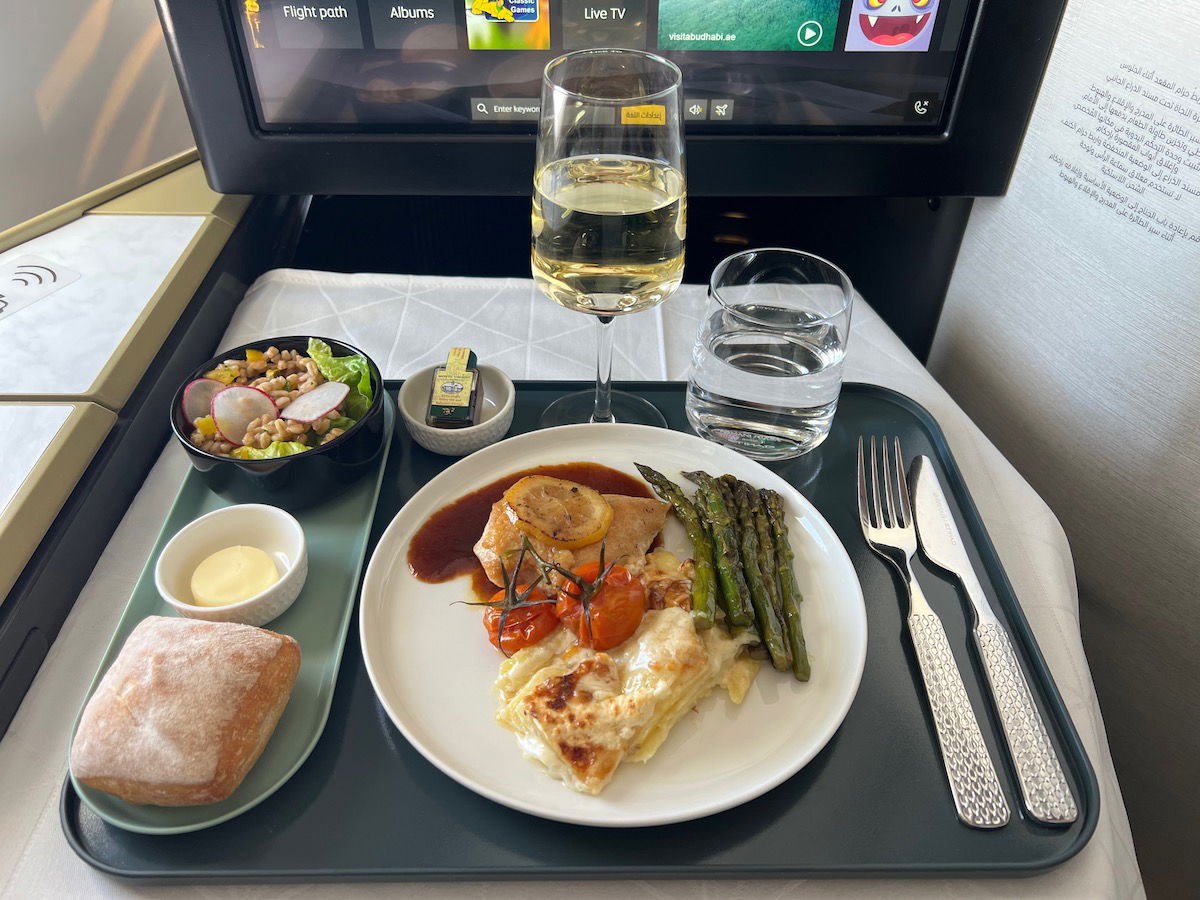 For dessert, I had the chocolate fondant with mascarpone and raspberry compote, which was beyond delicious. I also had an iced cappuccino to go along with it — yay to Etihad for having an epic coffee selection!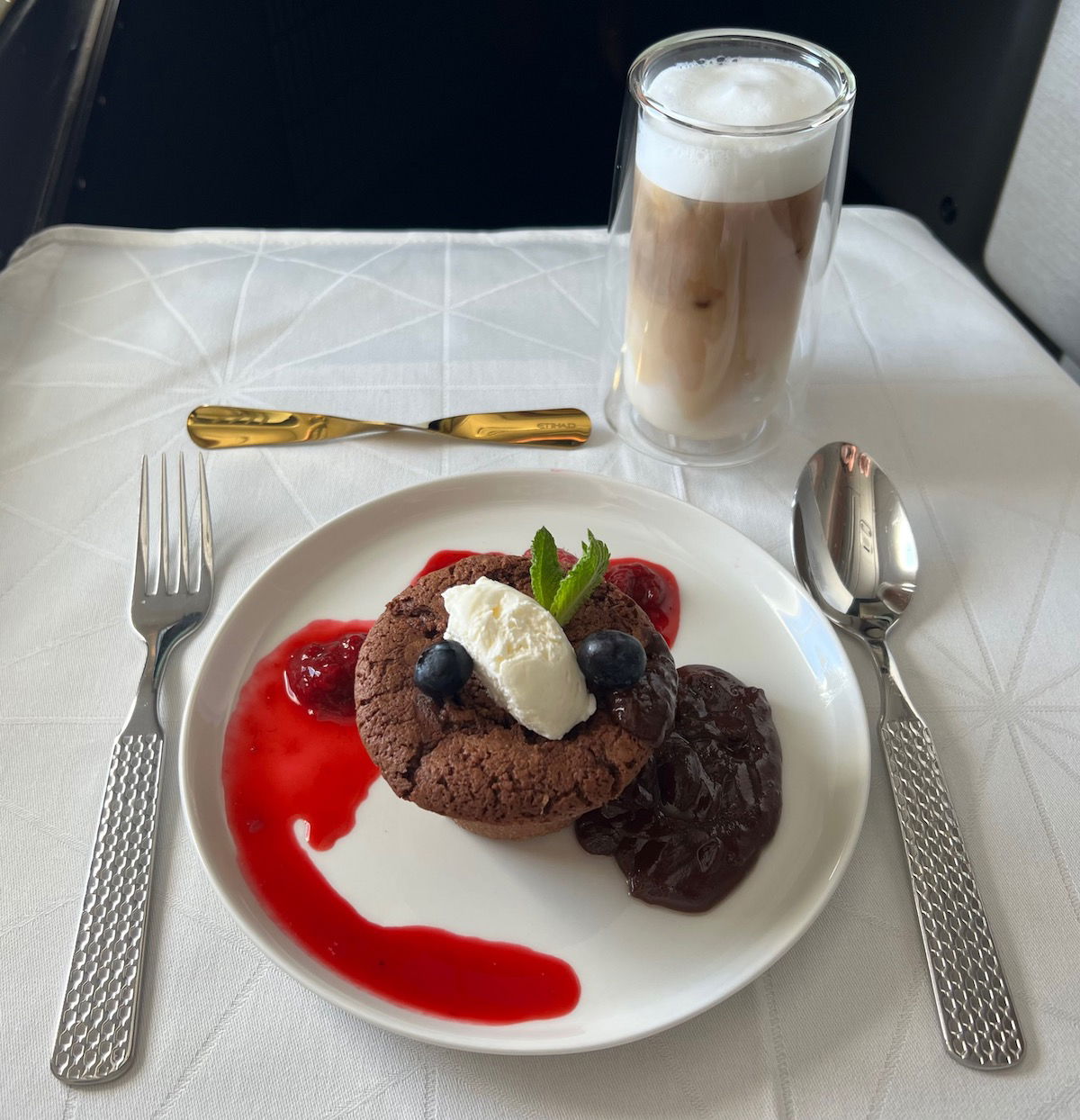 Honestly, what an all-around excellent meal. Everything tasted great, and was also nicely presented. The new Armani / Casa amenities impressed me as well, and I don't think pictures do them justice.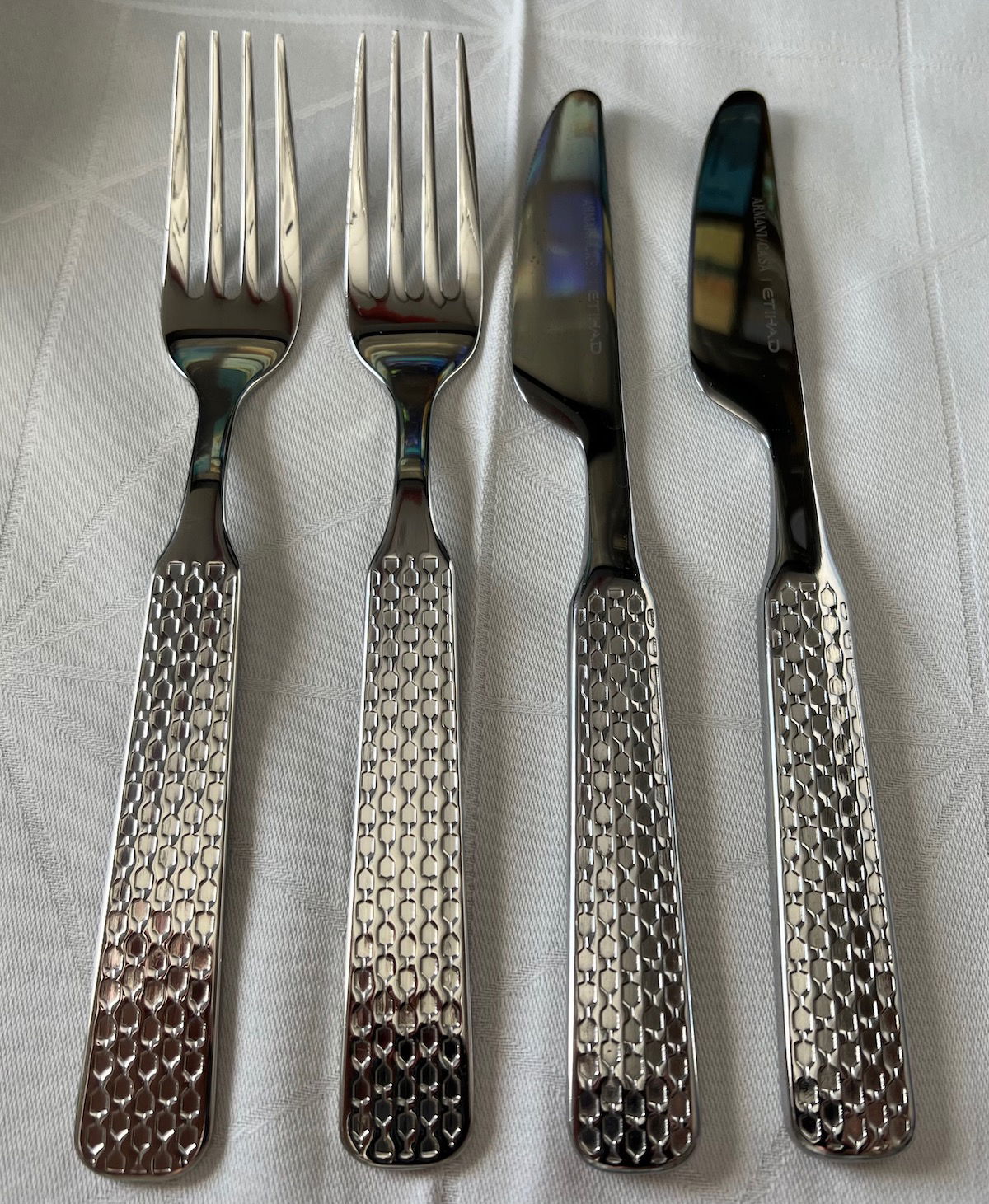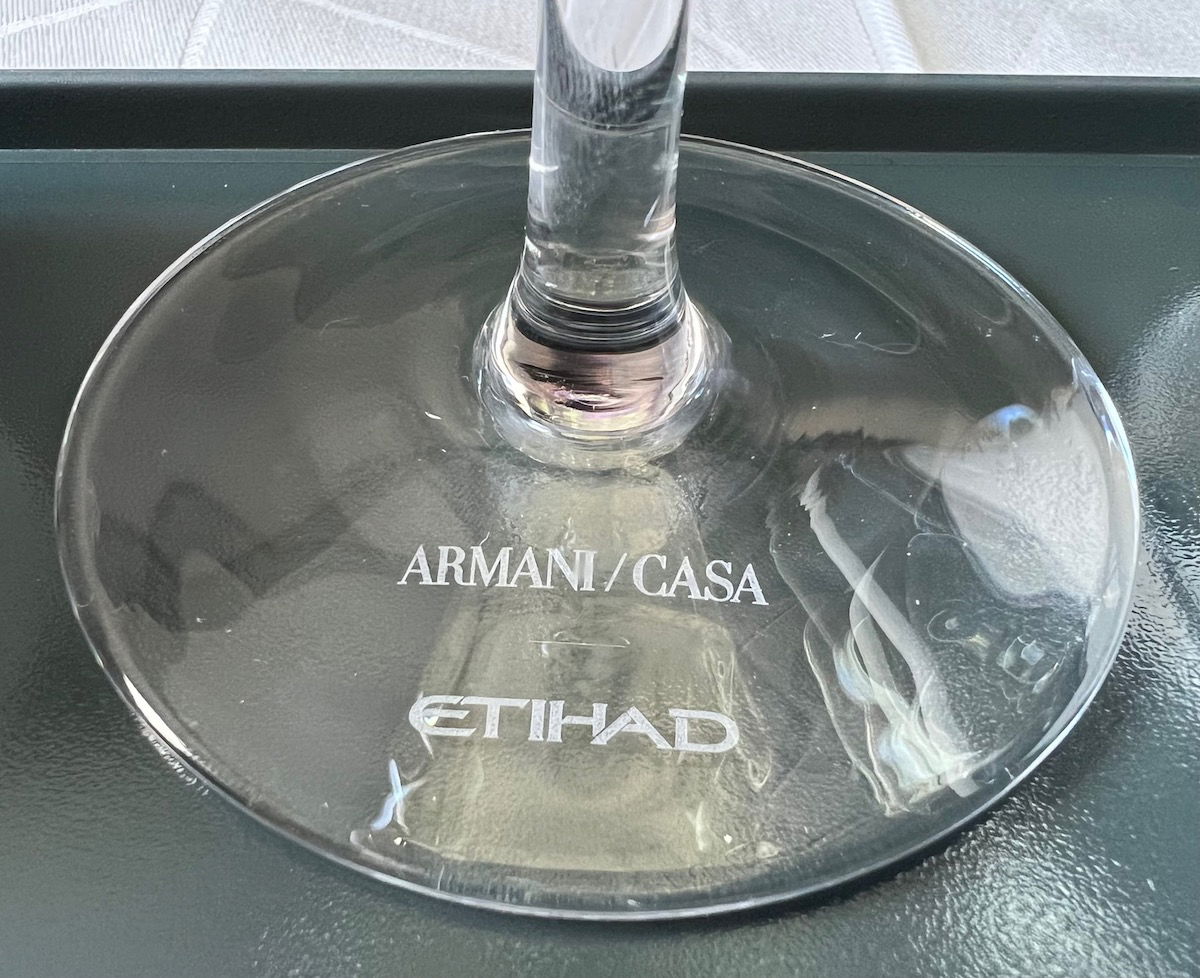 I also liked the pace of service, as it was perfectly customized. My meal was done just over 90 minutes after takeoff.
Etihad A350 business class bed
I was quite tired after lunch, so decided to make my bed and get some rest. I found the bed to be comfortable and cozy, between the door and the excellent bedding. Note that while Etihad will offer an Armani / Casa mattress pad as of later this year, it's not yet available, so I just had the pillow and blanket. Fortunately there were some empty seats, so I could grab a second pillow to get even more comfortable.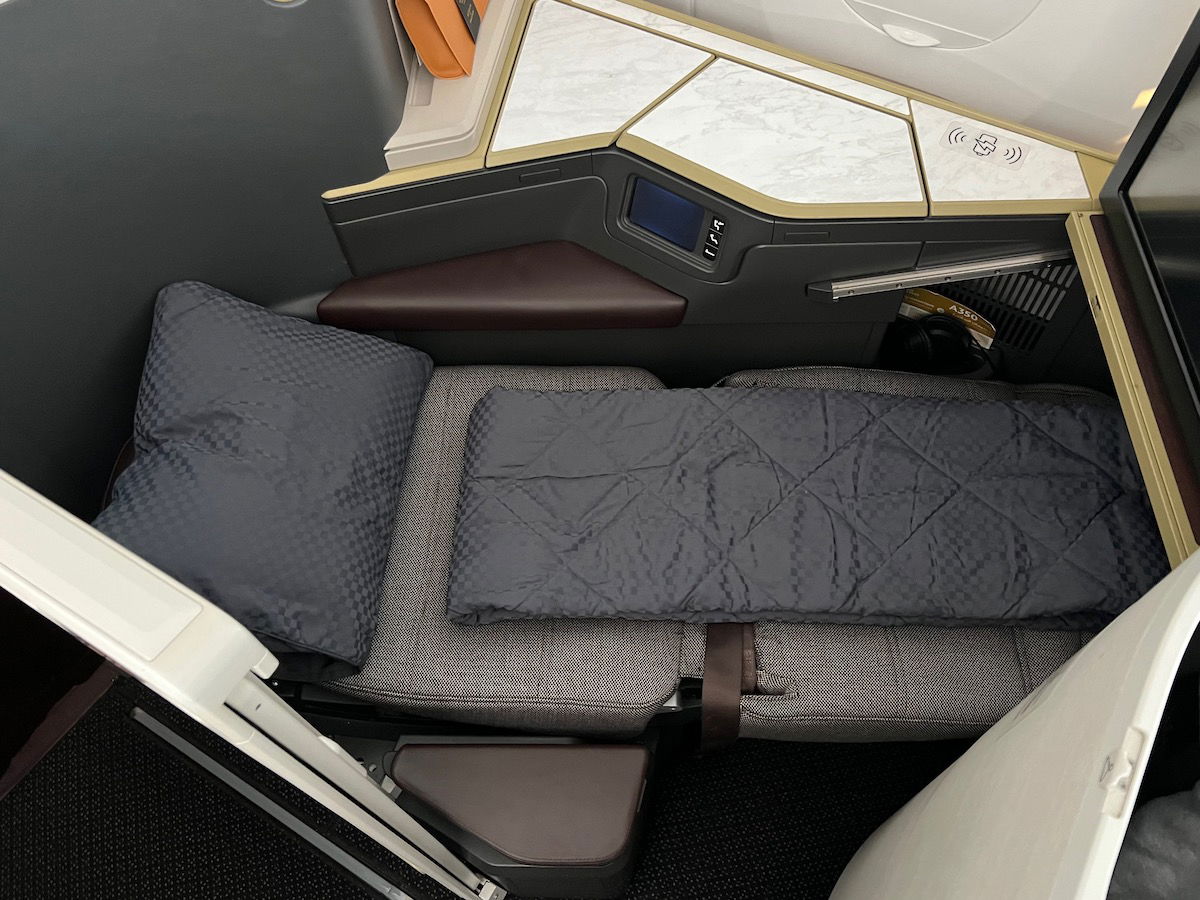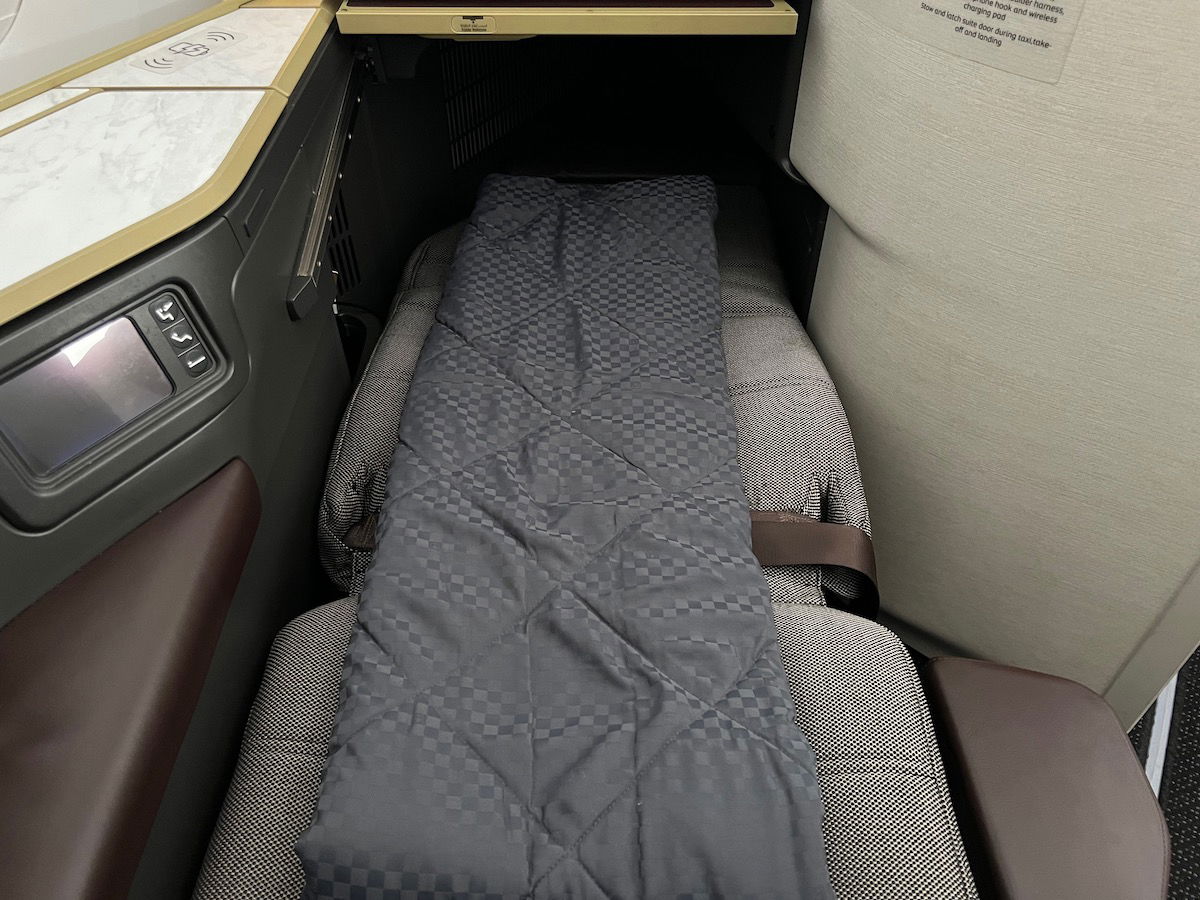 I fell asleep almost immediately, which was great. What was less great is that I woke up a couple of hours later, as we were only over Greenland. A lady seated a couple of rows in front of us decided to watch videos on her iPhone at the highest possible volume without headphones, so that was enough to wake me up.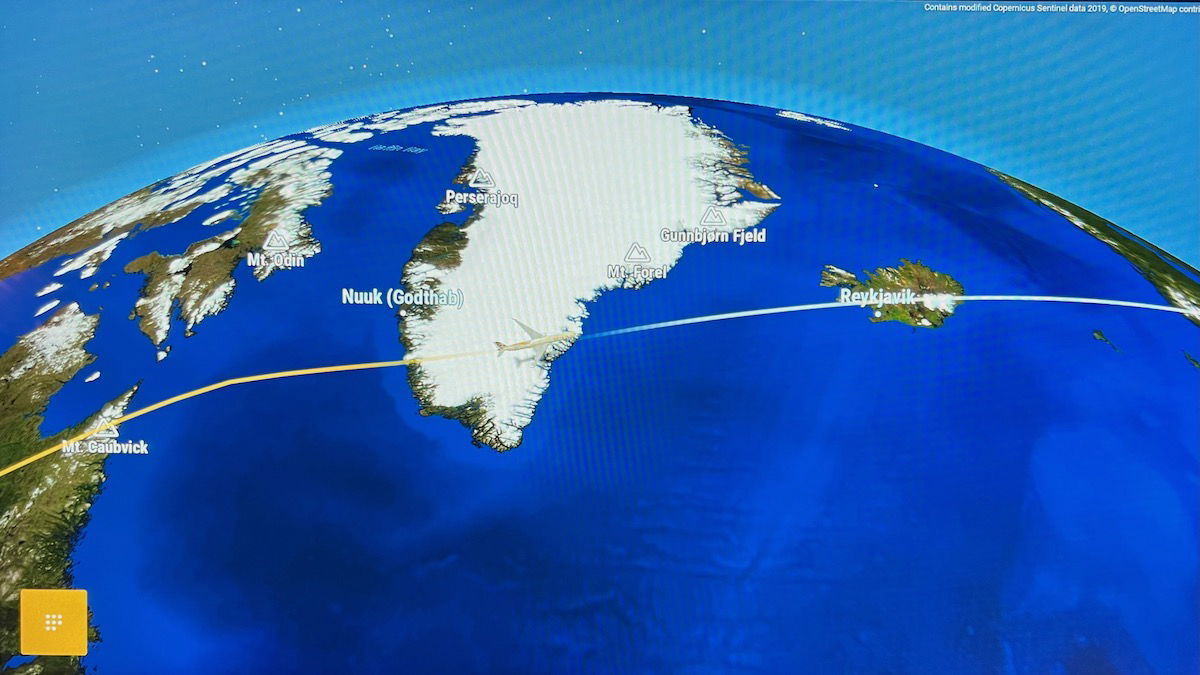 I'm kind of happy I woke up then, since the views were beautiful, and the sun was just starting to set.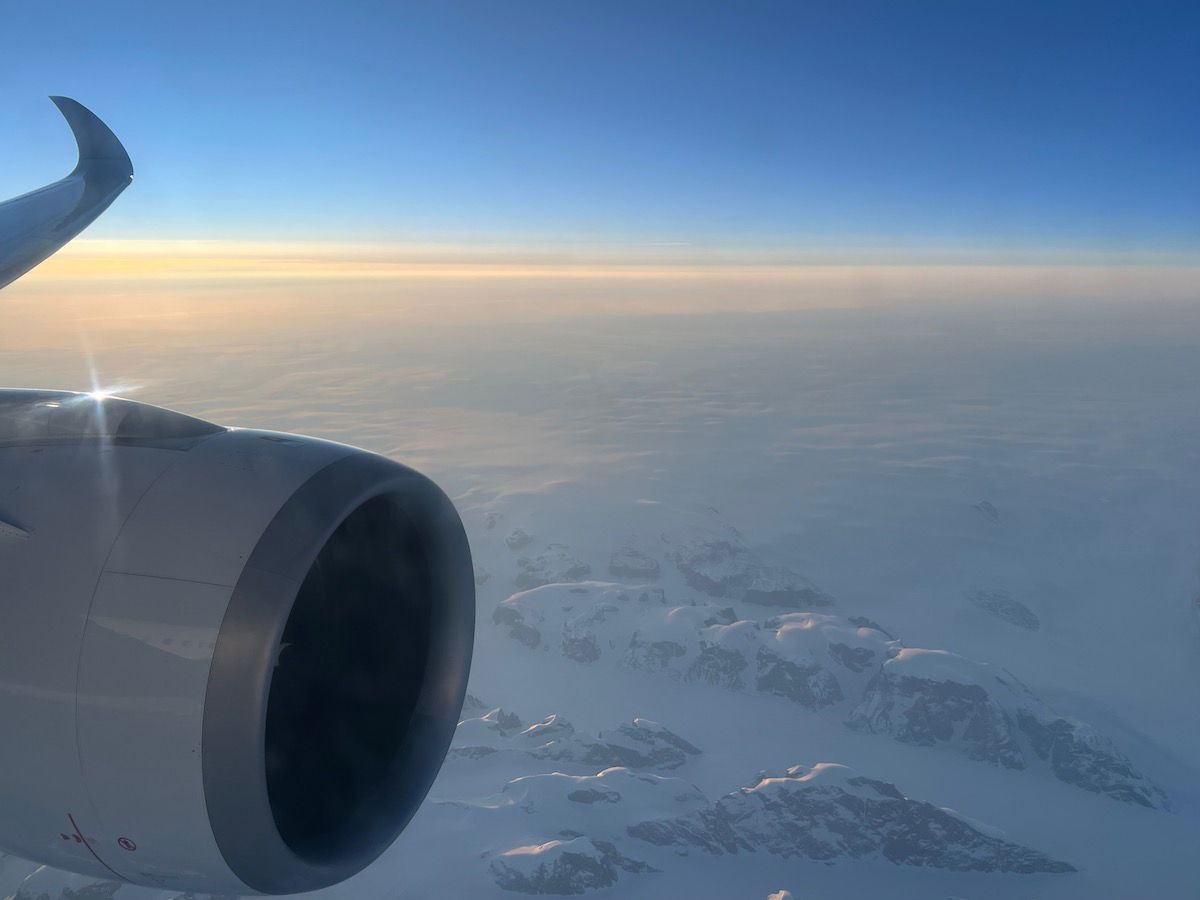 The bad news is that I'm a horrible airplane sleeper, and I didn't manage to get much more sleep during the flight. Oh well… I did enjoy following our progress, though.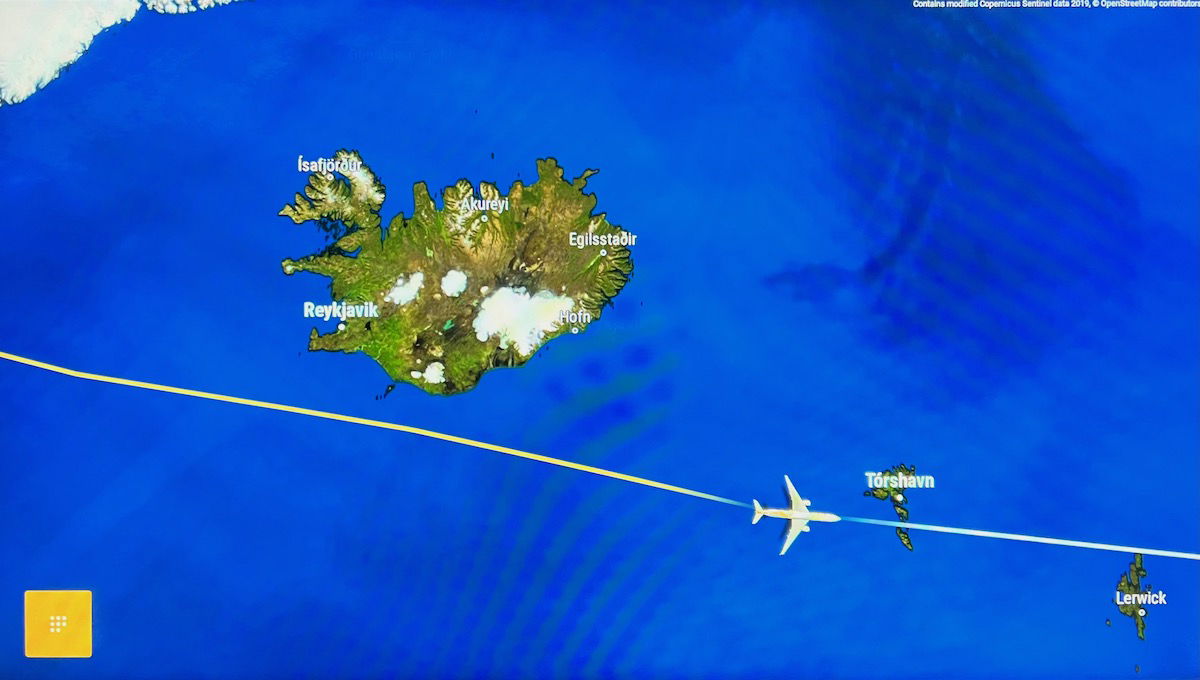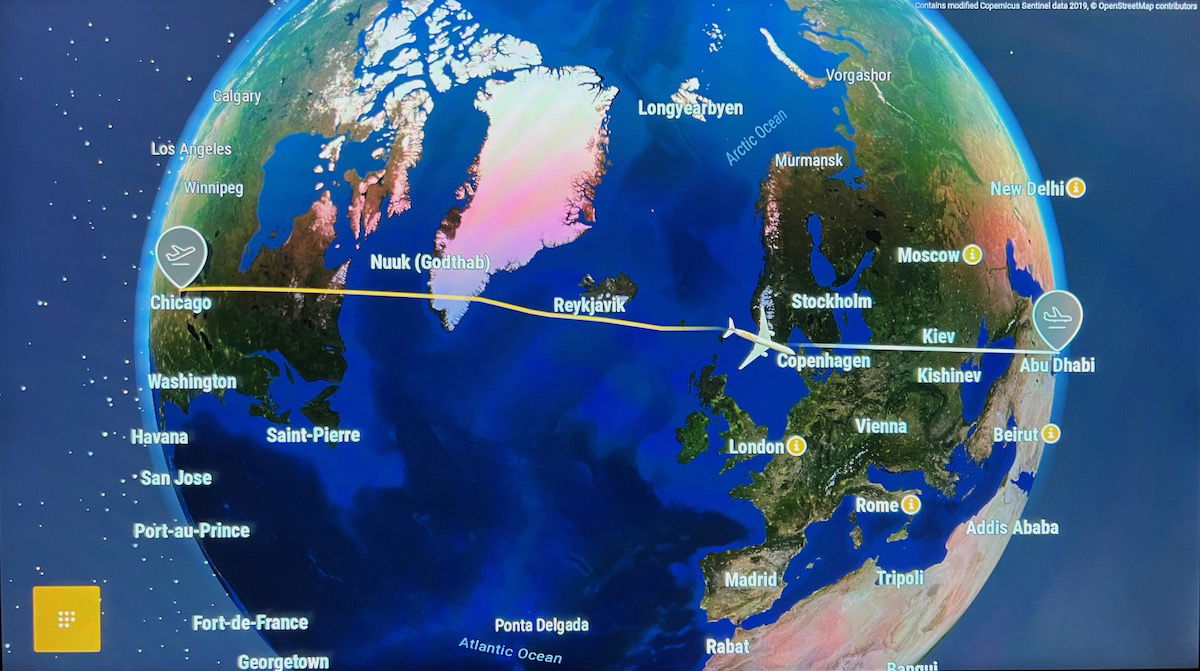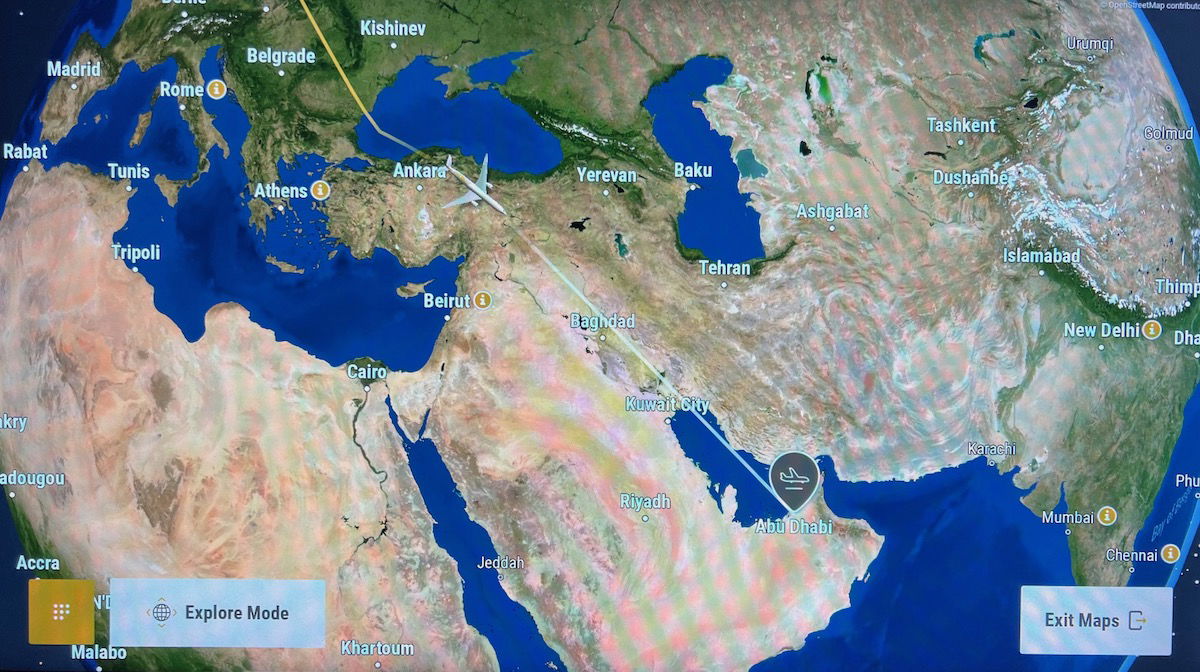 Etihad A350 business class lavatories
Etihad has two business class lavatories located at the front of the cabin, with one being on each side. The lavatories aren't particularly large, but are nicely appointed, and even have a toilet seat that closes automatically (so don't flush prematurely!). I also have to commend the crew for constantly keeping the lavatory clean.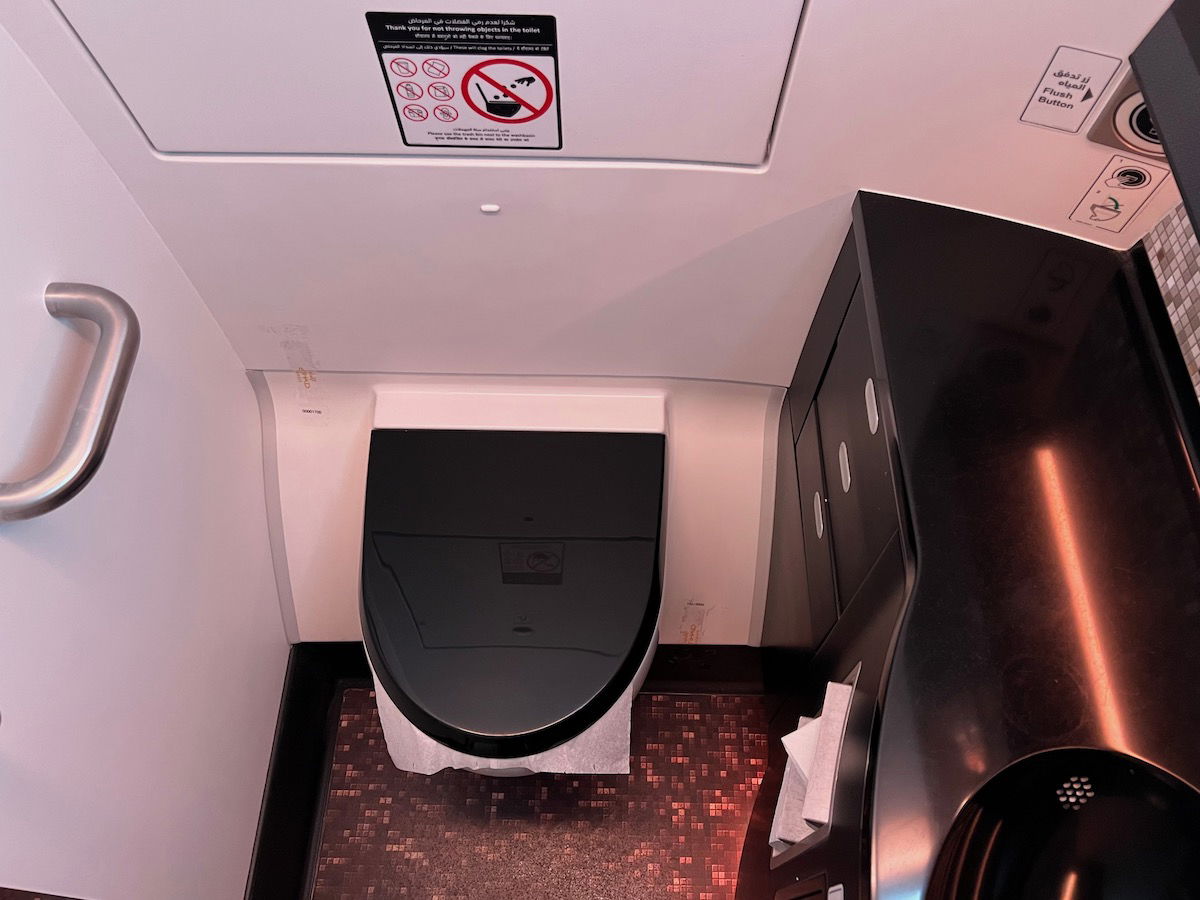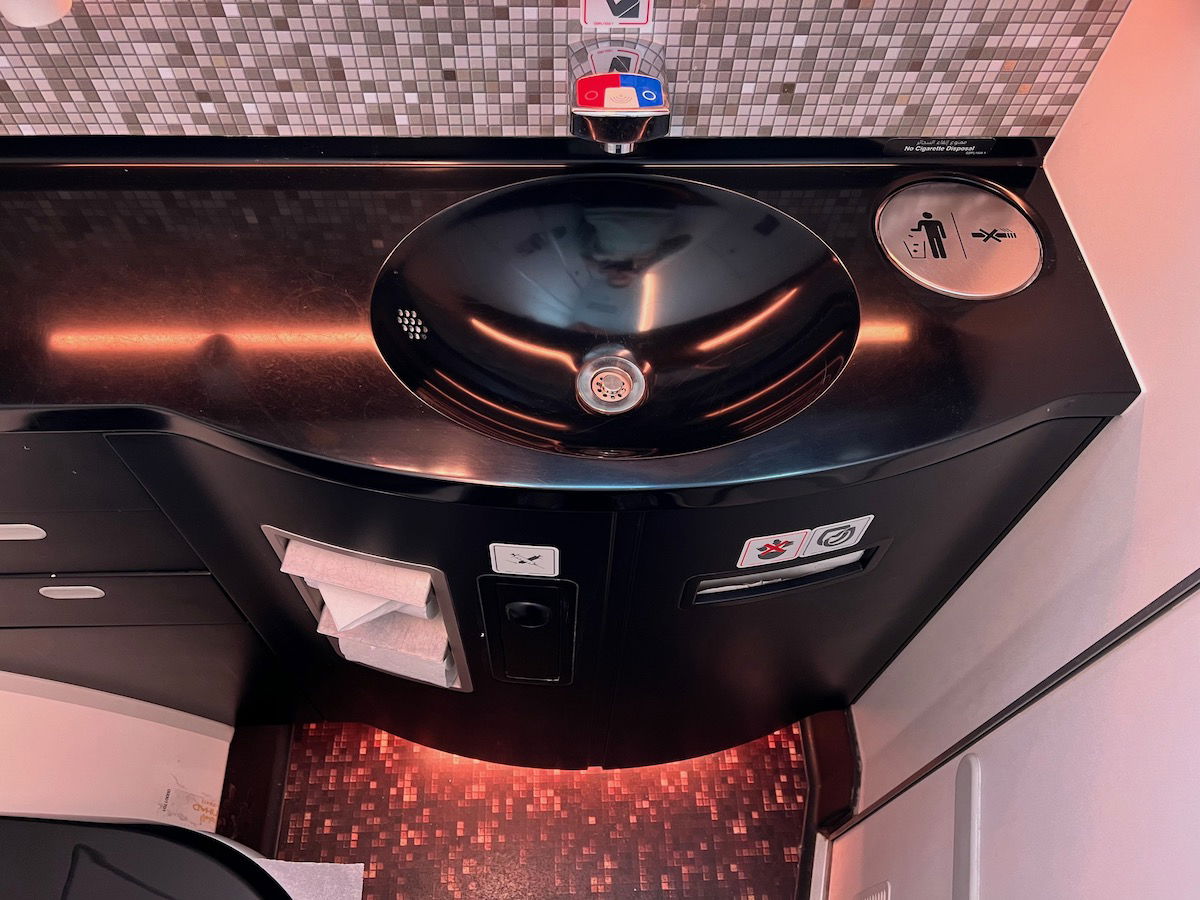 Unfortunately the lavatories are probably the only downside of the Etihad A350 in business class, as I view it. Two lavatories simply aren't enough for 44 business class passengers, and this wasn't even a full flight. I'm not sure what Etihad was thinking with this ratio, but there was often a queue to use the lavatory, especially toward landing.
With that many seats, there should be at least three business class lavatories, in my opinion, if not four. Can anyone think of another airline that has a 22:1 passenger to lavatory ratio in business class?
Etihad business class snacks & breakfast service
Upon waking up, I decided to order a cappuccino, which was served with a madeleine. Etihad's coffee game is exceptional.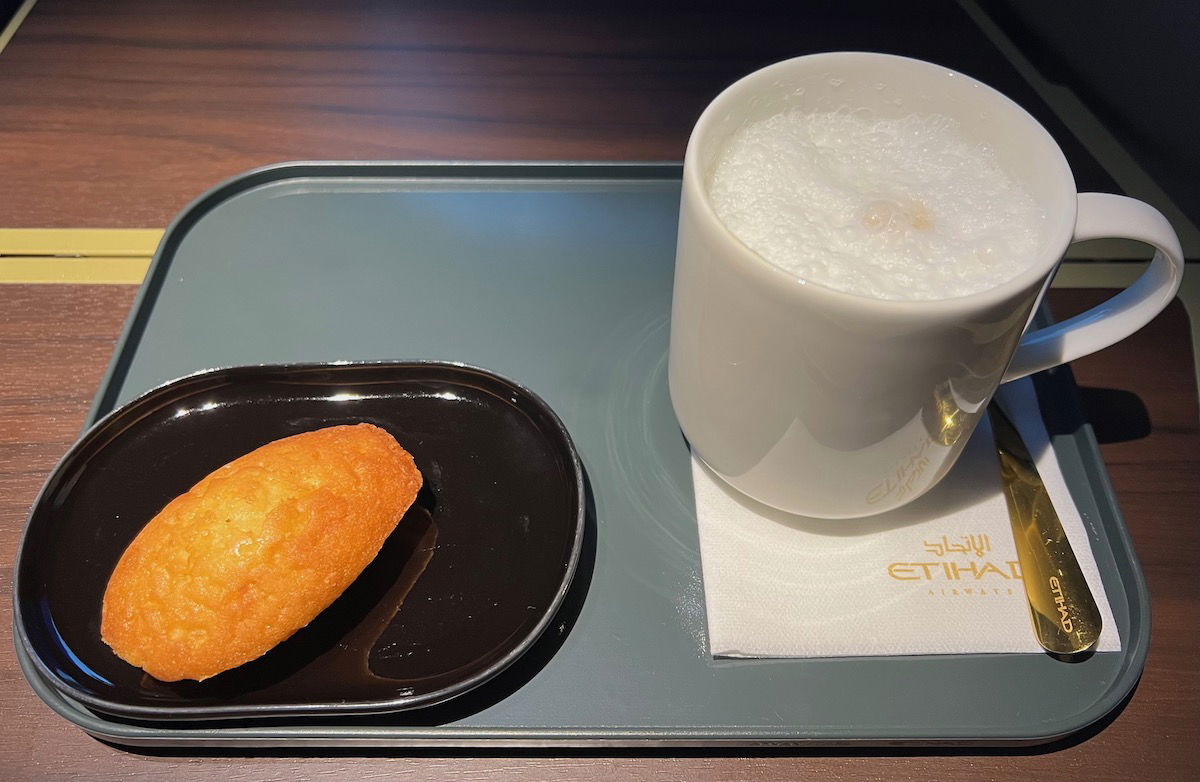 The cabin manager also stopped by my seat with a snack basket, which had several options.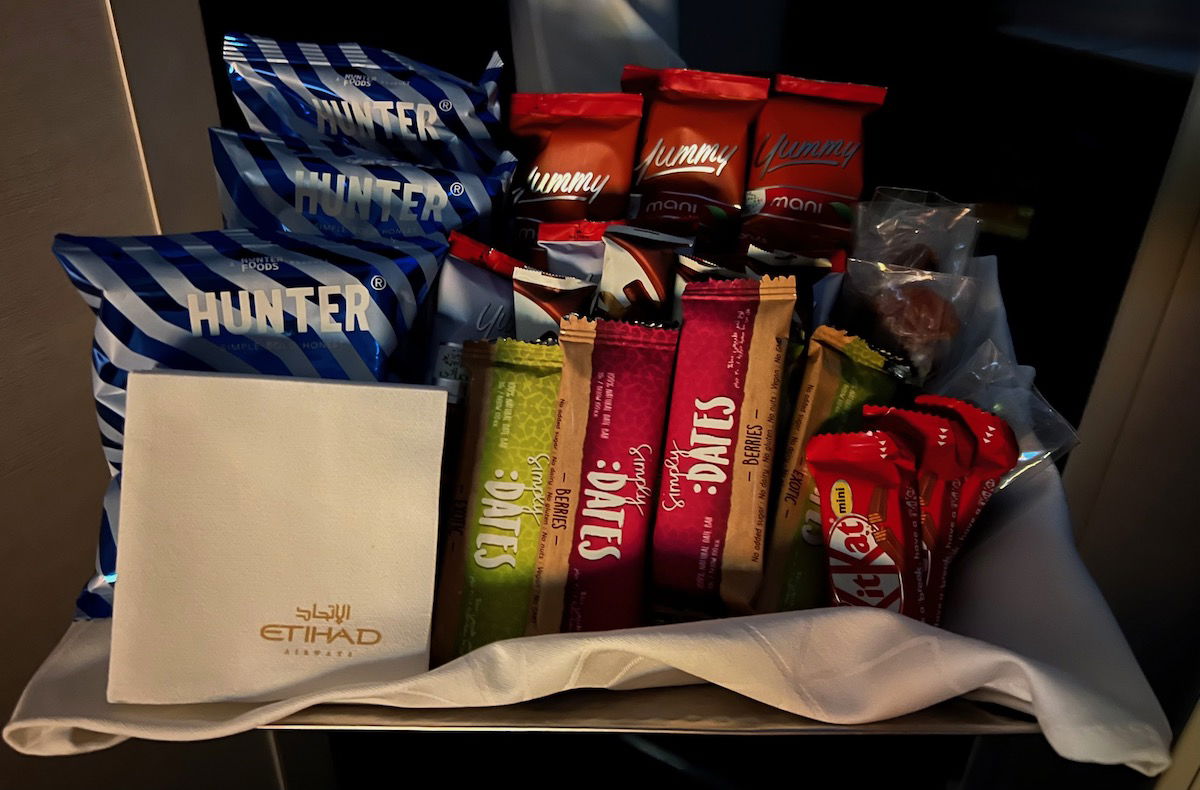 Later on in the flight, I decided to order a mint tea, which was also nicely presented, and even had a Godiva dark chocolate.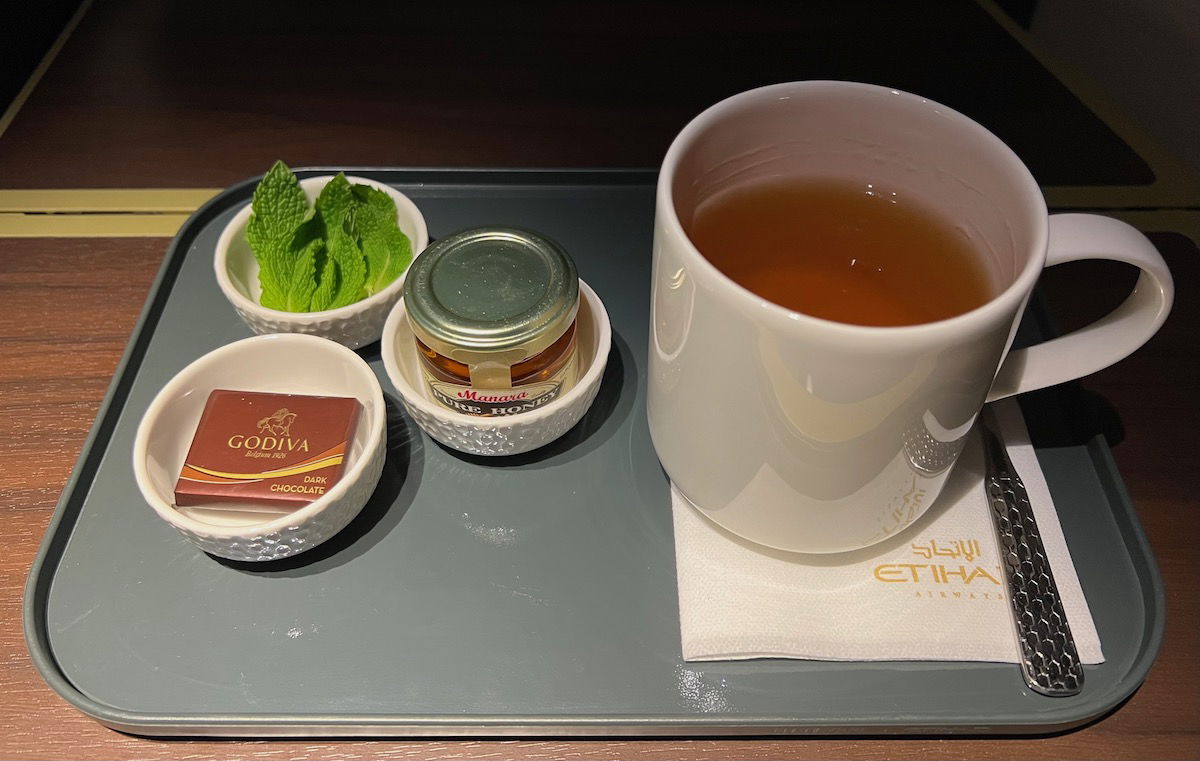 While you can of course order several snacks throughout the flight, I decided to just have breakfast around four hours before landing. I ordered the acai bowl with berries, coconut, granola, and chia. This came with a side of fruit and a croissant, and I also had a green juice to drink.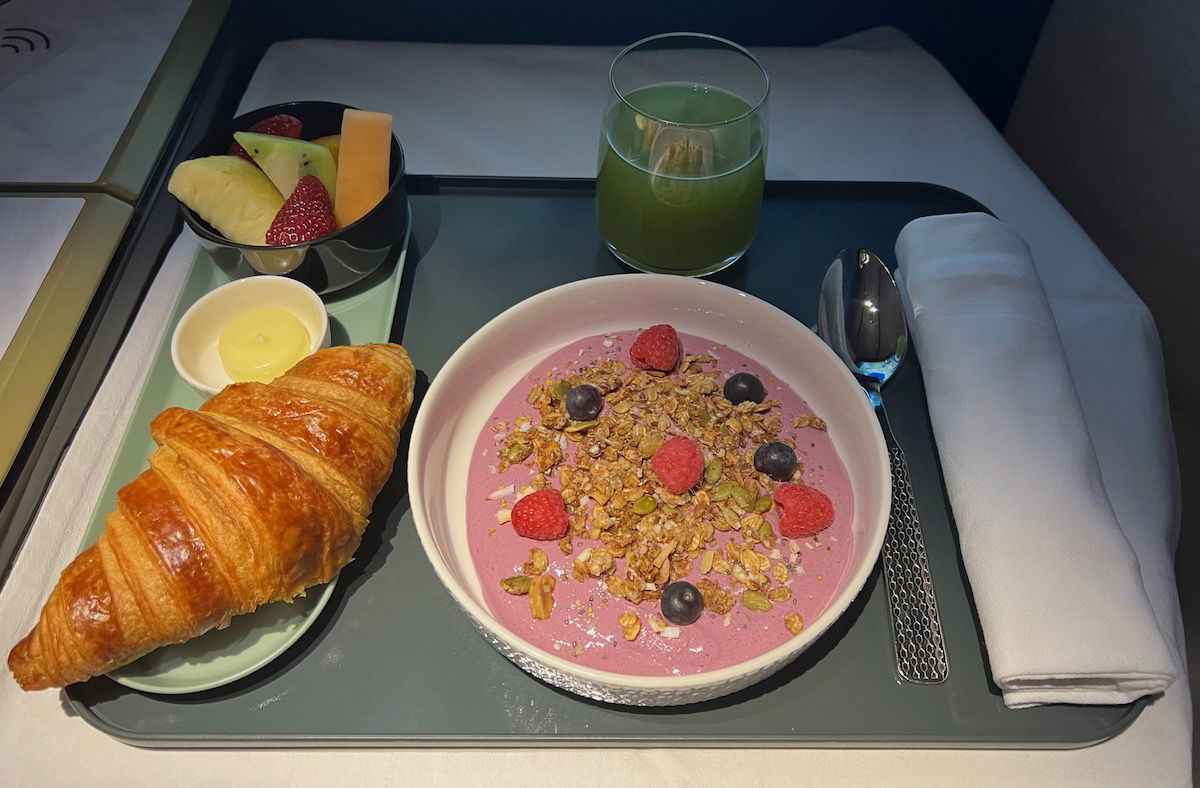 Ford, meanwhile had the Asian vegetarian option, which was paneer malai with jeera pulao, palak corn masala, saffron curry, and paratha.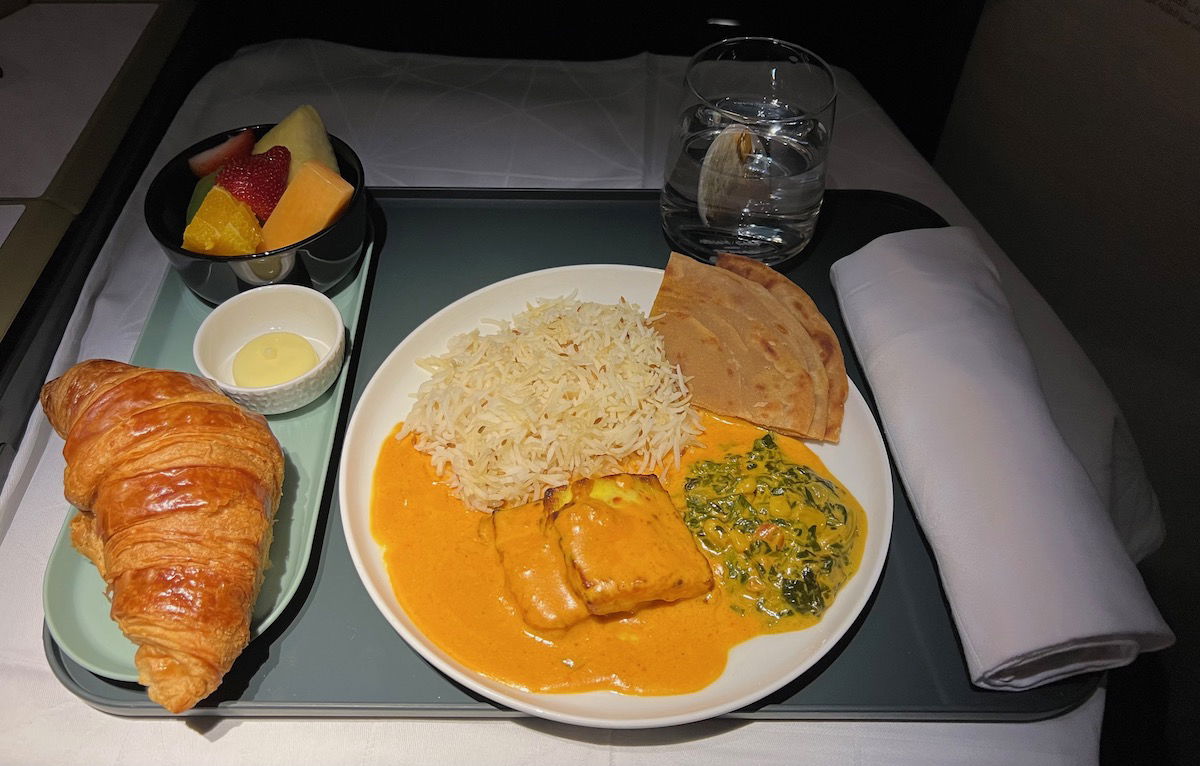 Shortly after breakfast was done, I continued my Etihad tradition. I don't know why, but I always order baklava when flying over Baghdad. It's something I did on my first-ever Etihad flight eons ago, and it's something I've done on every Etihad flight taking this routing since.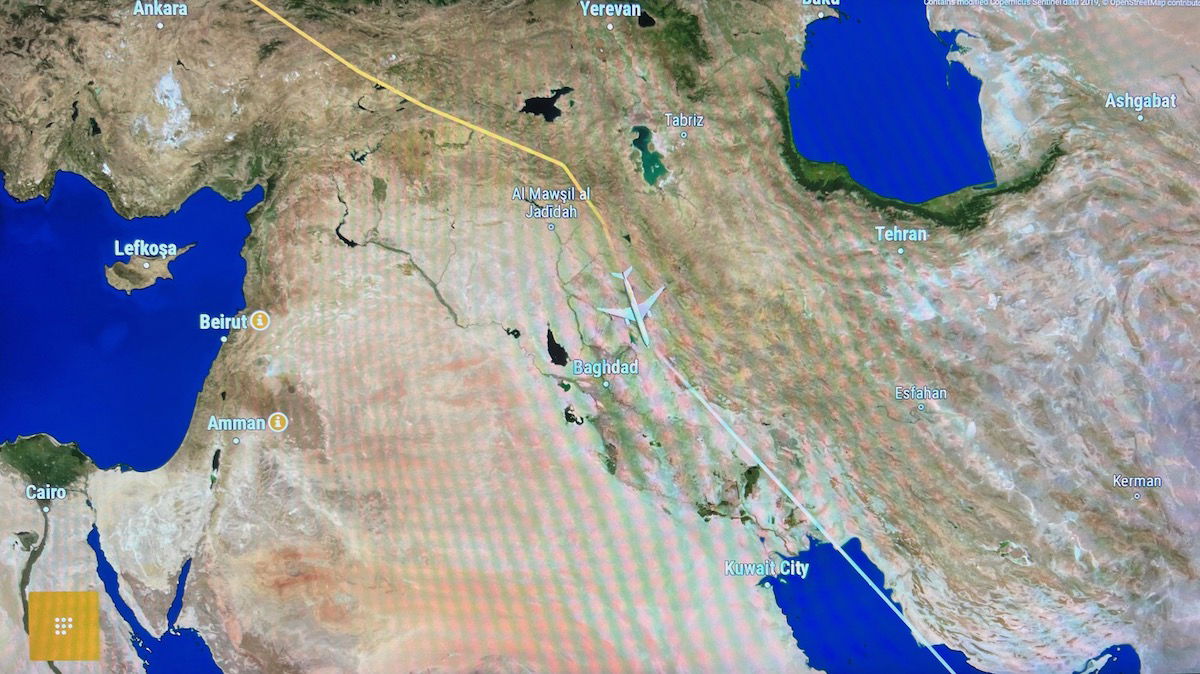 So I present to you my signature "baklava over Baghdad" treat, which I enjoyed with an iced cappuccino. I of course welcome OMAAT readers to join me in this tradition. 😉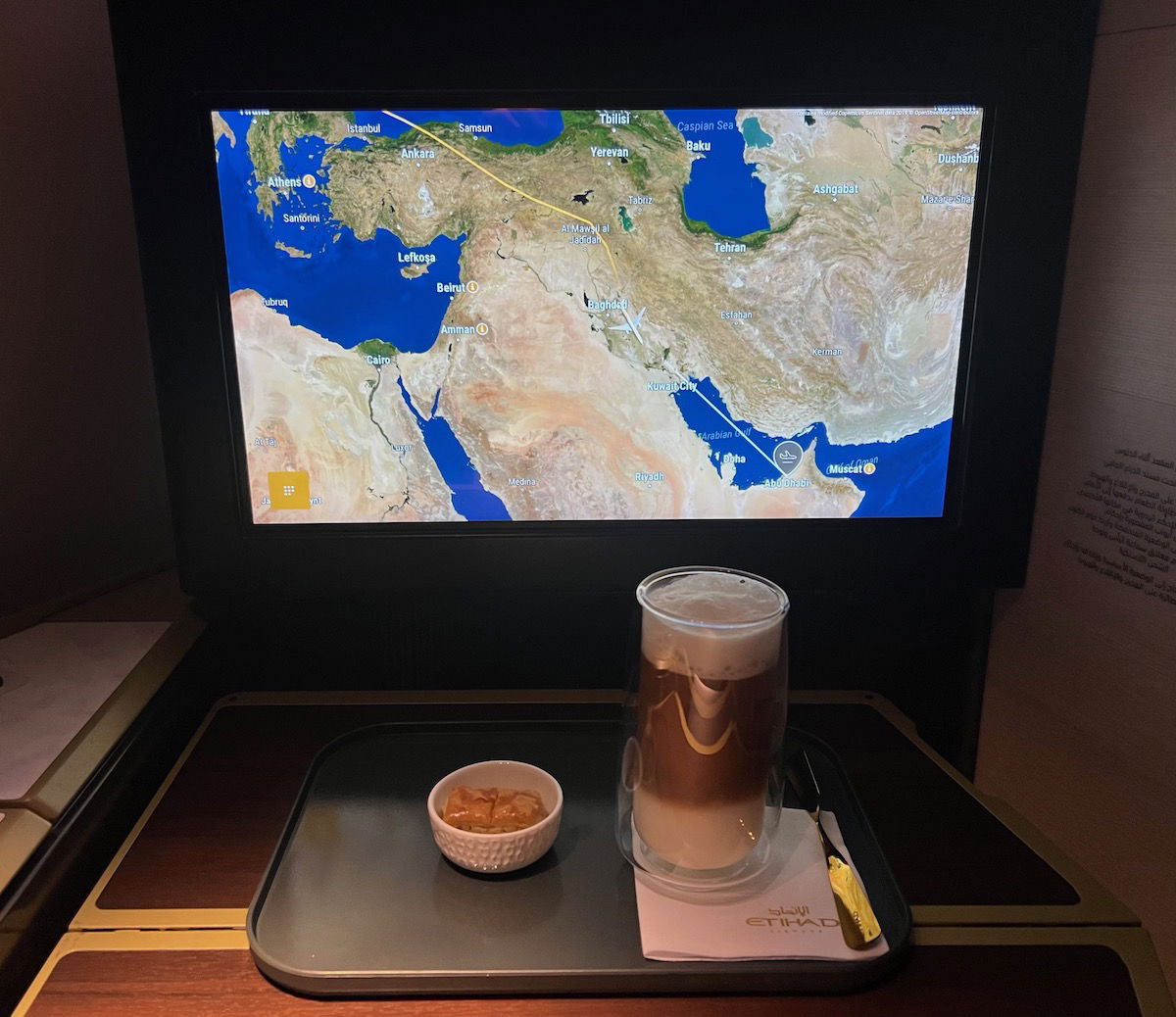 Etihad business class service
Service can make or break a flight. In my experience, service on Gulf carriers can range from exceptional to decent — it's rarely horrible, but it's not always amazing. Well, I'm happy to report that service on this flight was stellar.
Nicolas, the cabin manager, really set the tone for service onboard. He was hands on, friendly, attentive, and had fantastic attention to detail. He's one of the best cabin managers I've ever had on any airline. And it wasn't just that he was awesome, but so was the rest of his crew.
The service on this flight couldn't have been better, and I just hope that I have the pleasure of flying with Nicolas (or any of the other crew members) again.
Etihad A350 arrival in Abu Dhabi
At 10:45AM Abu Dhabi time, the captain announced that we were at 39,000 feet, and were expecting to landing in around 40 minutes. At this point the crew distributed fast track cards for Abu Dhabi, and the cabin manager also personally came around to each passenger to thank them for flying with Etihad, and ask how their experience was.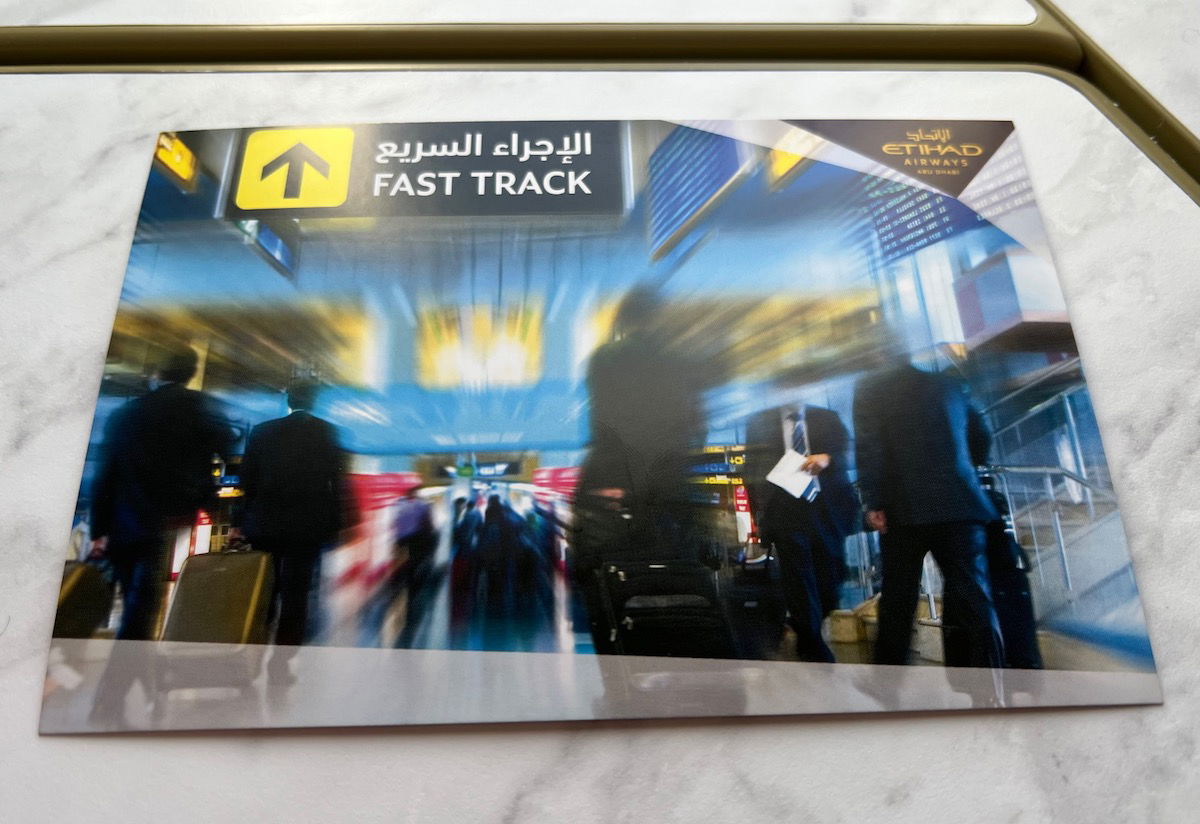 25 minutes before landing, the Etihad landing video was played, about arrival procedures in Abu Dhabi. A few minutes after that the seatbelt sign was turned on. It was a treat to get views of Abu Dhabi during the day, since I feel like I land in the Middle East in the dark 90% of the time.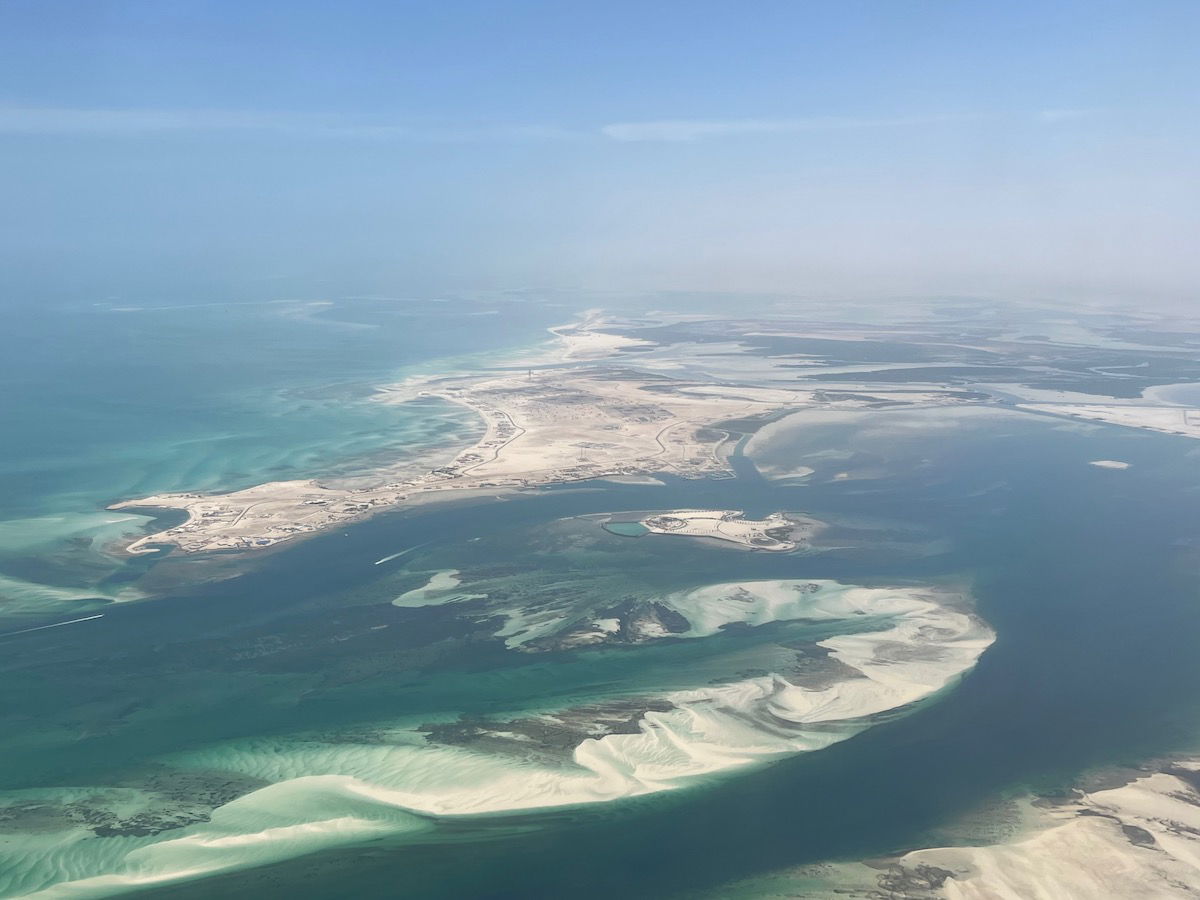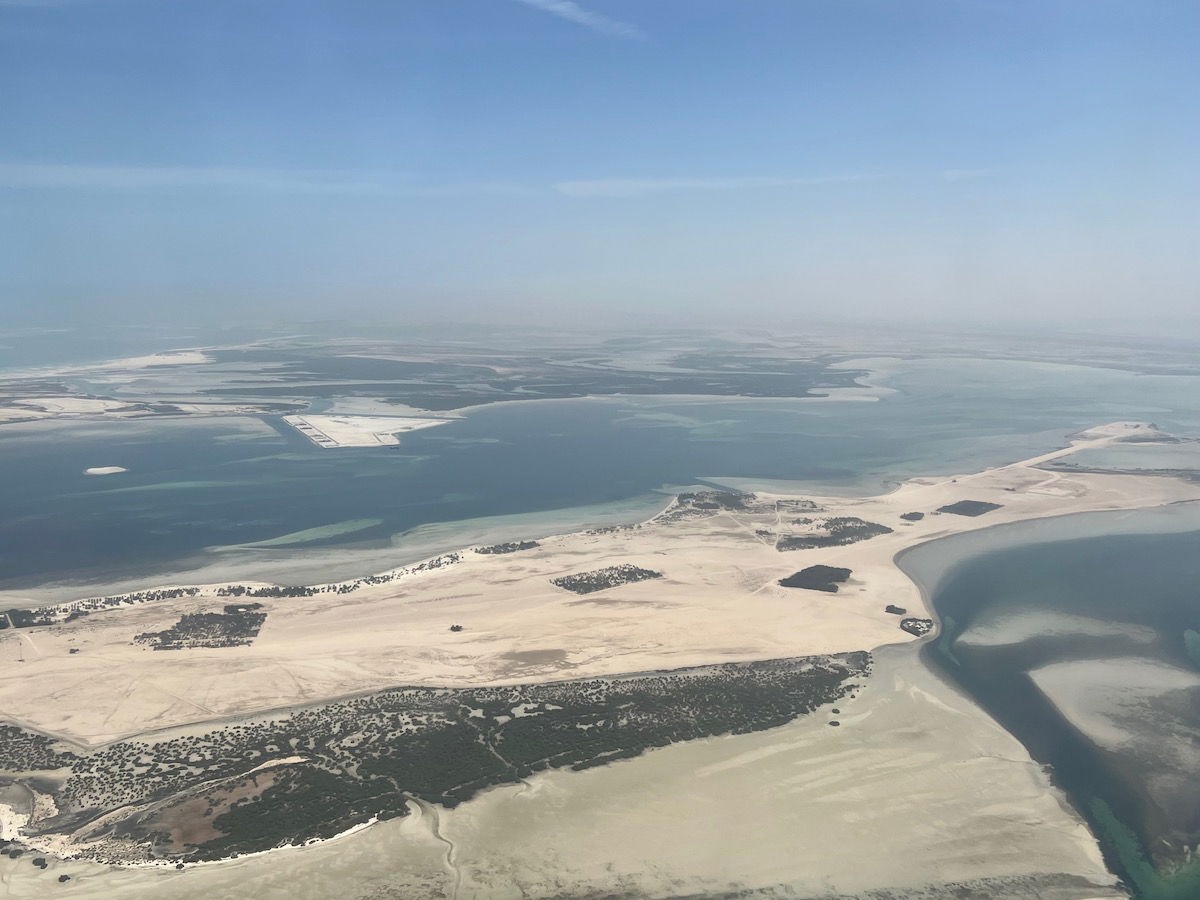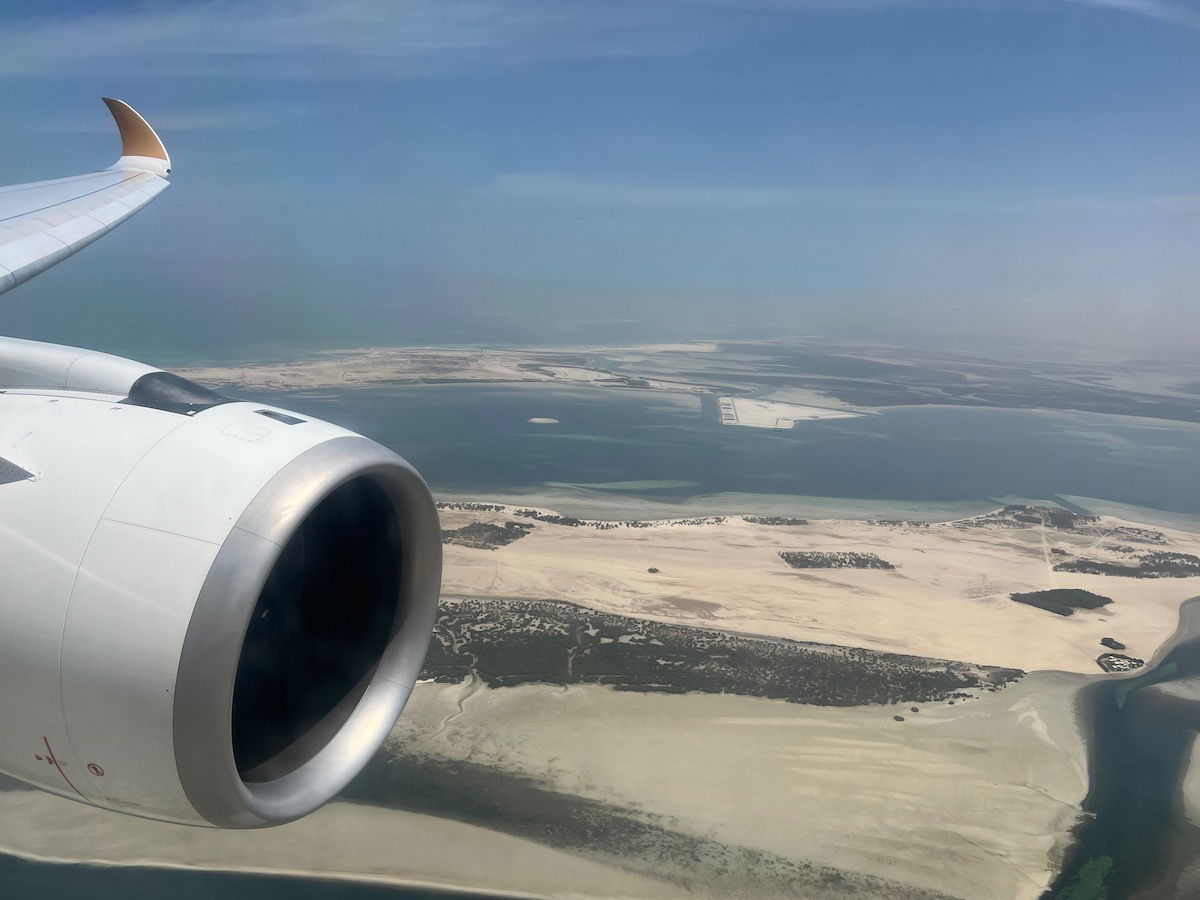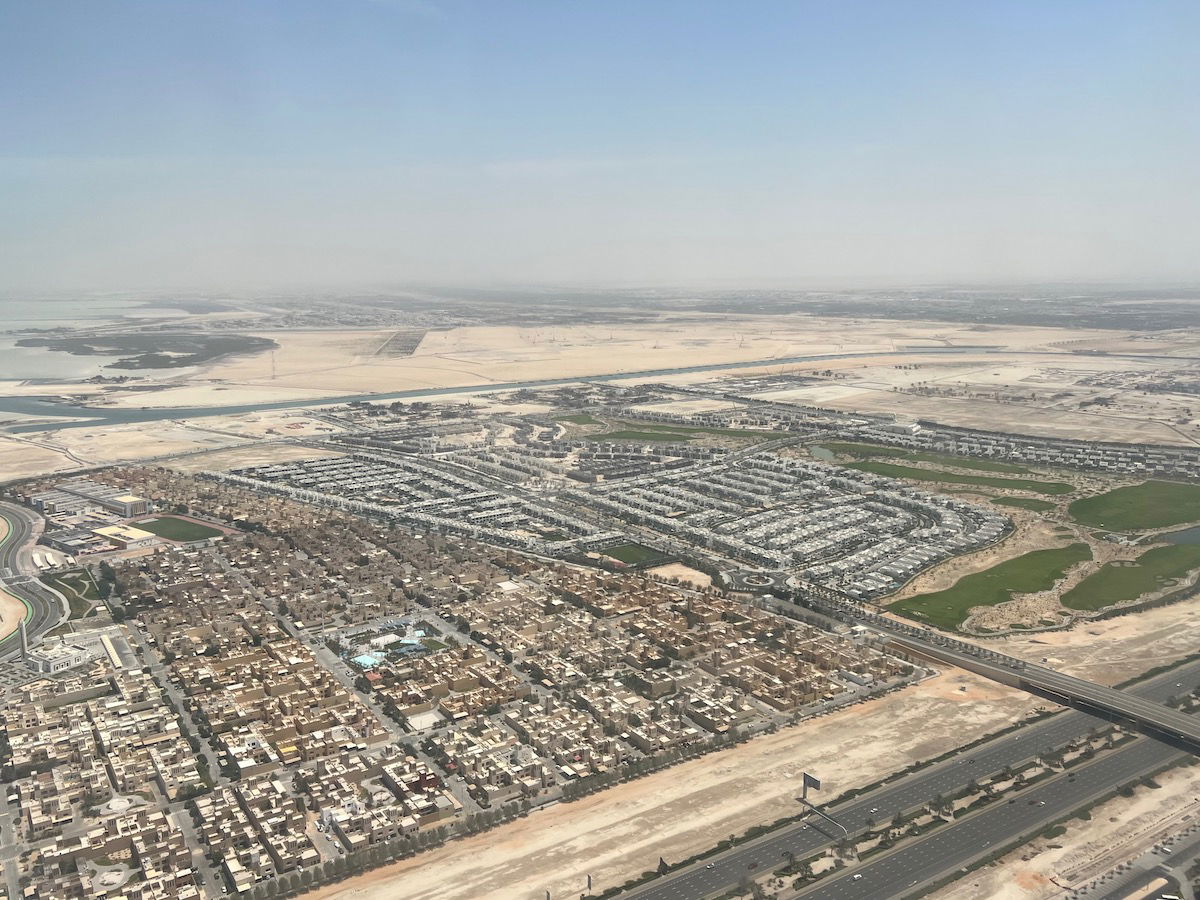 While our descent to Abu Dhabi was smooth, it was a bit windy on final approach, but we still had a perfect touchdown at 11:20AM.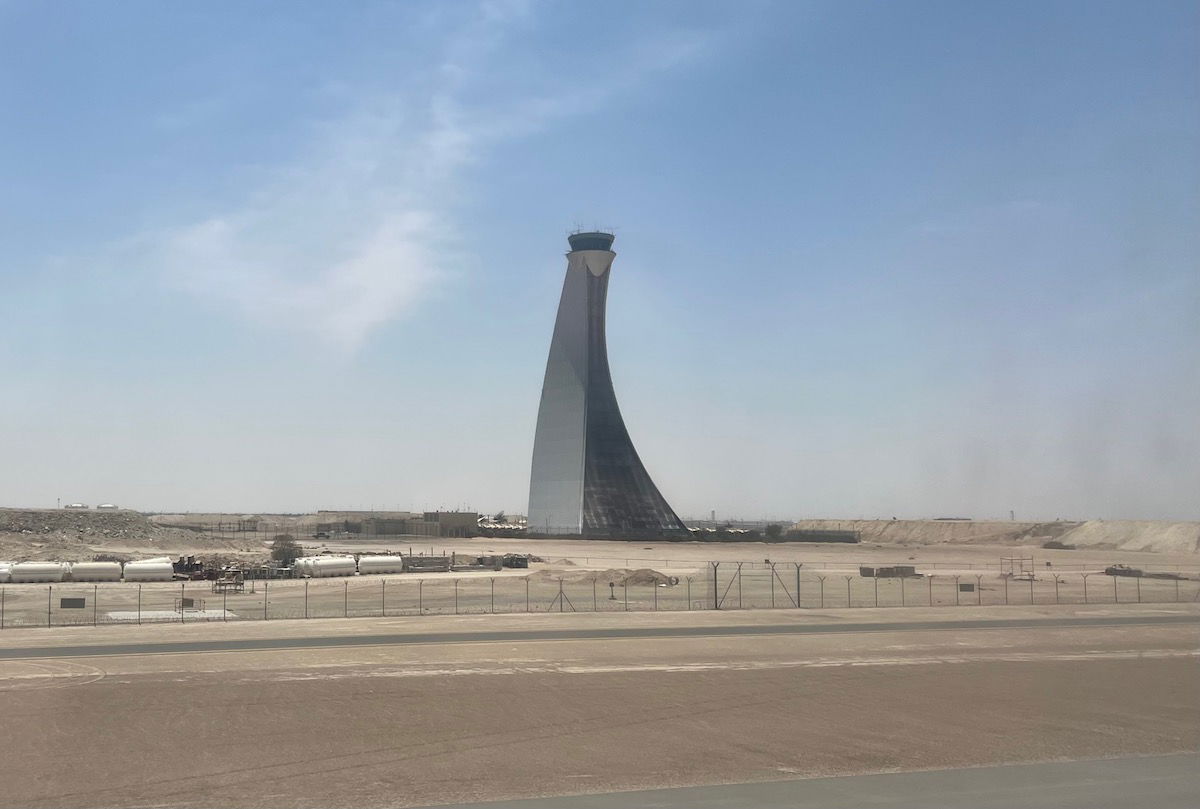 From there we had a lengthy 10 minute taxi to the arrival gate. It was interesting to see some Etihad jets still in storage on one of the airport's taxiways.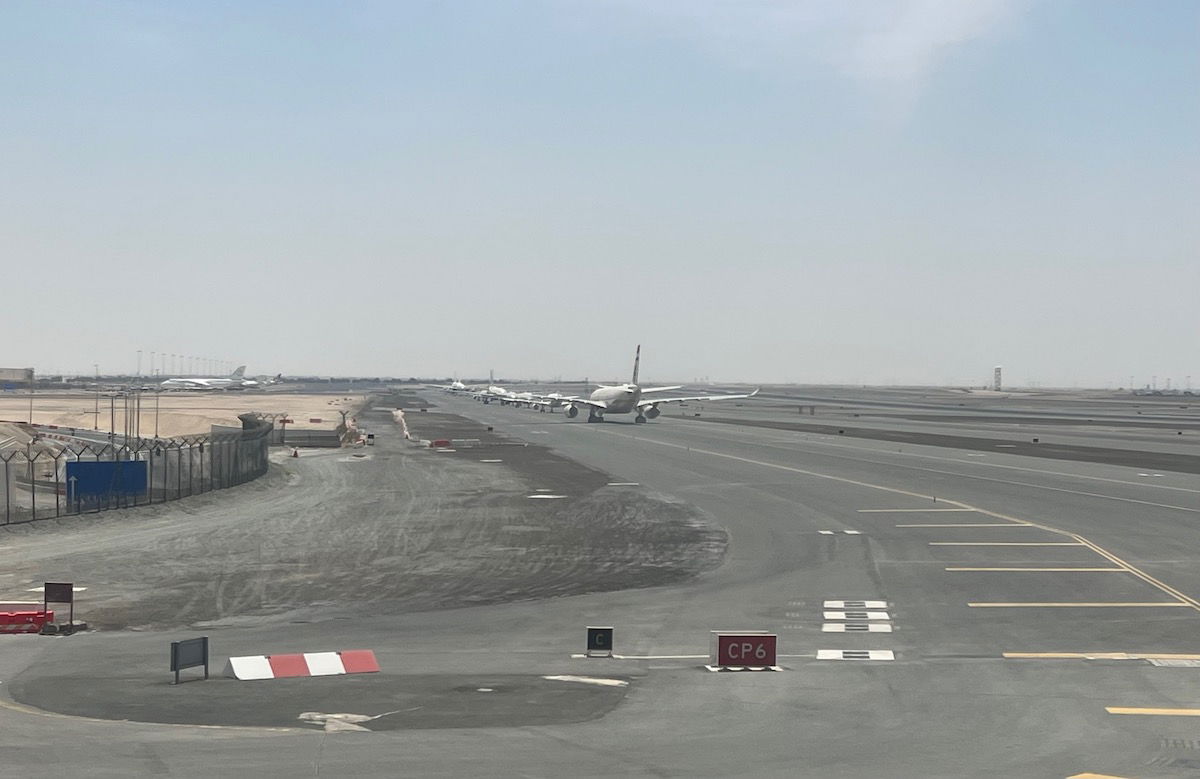 We were arriving at a quiet time, and pulled in a couple of gates over from an Etihad 787.
At that point we cleared immigration and then headed for the Etihad Arrivals Lounge…
Bottom line
I'm so happy I had the chance to fly Etihad's Airbus A350 business class, because it really is a top notch product. The cabin is gorgeous, the seats are comfortable and well designed, the entertainment and Wi-Fi are excellent, the service was top notch, I loved the Armani / Casa amenities, and the food and drinks were very good.
While Etihad has undergone some major changes in recent years, I'm really loving the current version of the airline, and would rank this as one of the world's top business class products.
What do you make of Etihad's A350 business class?