Train Hard – Run Strong at Rock Health and Fitness: All You Need To Know
Rock Health and Fitness is a private personal training studio based in a beautiful converted barn in the village of Great Offley near Hitchin
Are you feeling out of shape, unfit, low in energy and lacking confidence? This isn't how you should feel.
Rock Gym can help you. As owner and experienced health and fitness expert Lisa Austin told Nub News: "We are more than a gym."
Read on for the latest from Rock's Studio Manager Gayle Harvey as the experienced personal trainer and running coach shares the ethos of Train Hard – Run Strong.
Gayle Harvey: Studio Manager at Rock Health & Fitness and the founder of RUN STRONG
………………..
My name is Gayle Harvey and I am the Studio Manager at Rock Health & Fitness and the founder of RUN STRONG. 
I am a Personal Trainer and an England Athletics Running Coach and I also have over 15 years personal running experience from 5K to Ultra Marathon multi day events 
I have a MASSIVE love of running and I love my job as it allows me to introduce the sport to so many others. It's great to help people learn to love running, reach their goals and understand their training so they can keep injury risk low 
To compliment my running I also love to strength train with kettlebells being my favourite. The addition of strength training will make a huge impact to someones running, as it has mine. I am always ready to talk anything running especially if it's help to change a runners mindset that about the importance of strength training  
Building a stronger running body is essential for keeping yourself injury free, improving your performance, technique, core strength, balance and stability – the list is endless. It is a whole heap of fun and is definitely a game changer.
WHAT IS RUN STRONG? 
I started building the RUN STRONG platform two years ago and recently Rachel Hart joined the team so we can continue to expand the business to help more runners become stronger, more confident and happy in their running 
There is something for everything at RUN STRONG for runners of all ages, abilities, shapes and sizes! We have worked beginner runners all the way up to ultra marathon runners. The golden rule is having fun while you get those results. 
6 WEEK STRENGTH TRAINING COURSES 
Small group training twice a week at our RUN STRONG yard at Rock Gym, Great Offley. We work on running specific strength and technique with sessions including lots of single leg and single arm exercises, balance and stability, core work and upper body. There is also an option to train virtually on our class platform VIRTUAL VIBZ and also via my GH:PT app  
MONTHLY TRAIL ADVENTURES 
Once a month we head out as a group on a Sunday morning for some local trail running and of course followed by a post run coffee and a cake! Gayle makes the runs work for everyone so don't be put off by pace expectations – a comfortable 10K distance is all you need to join!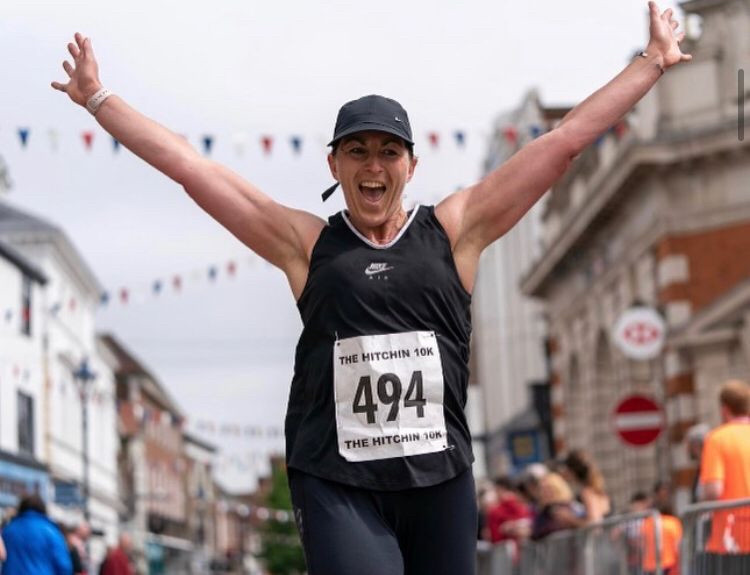 PICTURE: Rachel Hart who leads the Reynolds Runners group at Rock Health and Fitness
REYNOLDS RUNNERS 
Our FREE run club held every Sunday from 930am-1030am meeting at Offley Recreational Ground, Great Offley 
This group is led by Rachel and we have a very laid back approach to the club. Lots of fun is had, you can run/jog/walk and not be judged. Rachel is there to provide support and encouragement and help you build your running confidence without any pressure being applied. If you are a beginner this is perfect for you! Runners of all abilities are welcome and we make the sessions work for everyone without leaving anyone behind 
We offer outdoor small group training for runners looking to improve themselves. The focus being pace, technique, hills, trails and more recently we introduced a Run With Confidence course. These groups are amazing for getting those tougher sessions done, with the correct programming from an experienced coach and support from the rest of the group 
GAIT ANALYSIS 
We also offer a one hour gait analysis service where we will assess your running gait, technique and posture. If strength exercises or mobility drills are required, we will work with you on these 
We are always happy to have a chat so give us a shout on 
Facebook or Instagram @gayleharveypt 
OR call us on 07977 190888 
TRAIN SMART, RUN STRONG 
The next intake of group strength training at Rock is in about 3-4 weeks.
RELATED ARTICLES
Rock Health and Fitness: A private personal training studio based in a beautiful converted barn in the village of Great Offley near Hitchin
Hitchin Nub News Job of the Week: Rock Health and Fitness are looking for experienced Level 3 Personal Trainer