Note:
I have covered SEACOR Marine Holdings Inc. (NYSE:SMHI) previously, so investors should view this as an update to my earlier articles on the company.
SEACOR Marine Holdings or "SEACOR" is a leading provider of marine and support transportation services to the offshore energy industry.
As of March 31, 2023, the company operated a diverse fleet of 59 support vessels, of which 57 were owned or leased in and two were managed on behalf of unaffiliated third parties: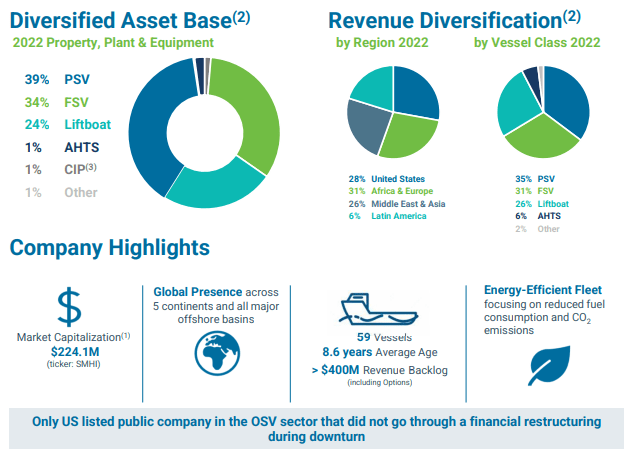 The company's main services are:
delivering cargo and personnel to offshore installations including wind farms
handling anchors and mooring equipment required to tether rigs to the seabed, and assist in placing them on location and moving them between regions
providing construction, well work-over, maintenance and decommissioning support
carrying and launching equipment used underwater in

drilling and well installation, maintenance, inspection and repair

providing accommodations for technicians and specialists
SEACOR has also expanded into offshore wind and invested in hybrid power for a number of platform supply vessels in order to gain exposure to the energy transition.
SEACOR's closest publicly-traded peer is Tidewater (TDW), a company I have been very positive on for quite some time now, based on the ongoing recovery in offshore drilling markets and persistent tailwinds from recent geopolitical events.
While Tidewater cleaned up its balance sheet in bankruptcy six years ago, SEACOR has managed to avoid Chapter 11 at the expense of ongoing debt and liquidity issues very similar to offshore drilling industry leader Transocean (RIG).
That said, the company recently succeeded in addressing near-term debt maturities while at the same time bolstering liquidity and simplifying SEACOR's corporate structure.
Last month, SEACOR reported decent first quarter results with revenues, average day rates, direct vessel profit, and EBITDA all reaching new multi-year highs:
The sequential improvement is particularly noteworthy given the fact that Q1 is a seasonally weak quarter for the industry.
With average day rates expected to increase further and fleet utilization likely to exceed 80% sooner rather than later, the company should start to generate meaningful free cash flow in the very near future.
While SEACOR remained optimistic for 2023, management didn't provide forward guidance nor did it host a conference call, thus complicating modeling somewhat.
Based on Tidewater's stated expectations for improvements in dayrates and vessel margin this year, I am looking for SEACOR to generate between $60 million and $70 million in EBITDA and cash flow from operations to turn substantially positive in the second half.
With Tidewater management projecting dayrates to advance even faster next year, SEACOR should achieve annual EBITDA well in excess of $100 million in 2024.
Please note that in contrast to most peers, SEACOR does not capitalize on maintenance and drydocking costs, which impacts margins and profitability relative to peers.
In addition, the company is actively looking to refinance existing debt facilities at improved terms, but management recently decided not to proceed with a contemplated senior secured bond offering "as the indicative terms and conditions were not sufficiently attractive for the company".
That said, it will likely take just one or two quarters of substantially improved profitability for SEACOR to attract sufficient investor interest to refinance at decent terms.
Bottom Line
With a substantial increase in profitability and cash flow generation anticipated over the coming quarters, investors should consider initiating or adding to existing positions in SEACOR Marine Holdings as the ongoing recovery in offshore drilling activity continues to be supported by persistent tailwinds from recent geopolitical events.
In addition, a debt refinancing at improved terms could provide a near-term catalyst for the stock.
As shares have retreated by almost 30% from multi-year highs reached earlier this year, I am raising my rating from "Hold" to "Buy" with a price target of $12 based on a 2024 EBITDA/EV multiple of 6x.