How much talent does it take to win the national championship in college football?
That's the question I set out to answer more than a decade ago in creating the Blue-Chip Ratio.
Since its inception in 2013 the Blue-Chip Ratio been referenced on all the major broadcast networks and tracked closely by head coaches and administrators. It's not the most complicated calculation in the world, but it's a great way to figure out the top 10 percent or so of the teams in the sport which can actually take home the title.
Put simply, to win the national championship, college football teams need to sign more four- and five-star recruits (AKA "Blue Chips") than two- and three-star players over the previous four recruiting classes.
This has been true basically as far back as modern internet recruiting rankings have existed.
Media will sometimes hype a team which has not met the threshold as a national title contender, but history has shown that is not a smart practice. Think Wisconsin, Baylor, Michigan State, TCU, Utah, Cincinnati, TCU, etc. over the last decade.
RELATED: Sonny Dykes on how TCU will follow its magical 2022 season
The Blue-Chip Ratio threshold does not guarantee a national championship, but a team not meeting it is almost certainly guaranteed not to win it all.
The requirement to stack talent on top of talent makes sense when considering the violence of the sport of football. Even those teams who stay relatively healthy need depth to survive the season. Teams who sign elite class after elite class have greater competition in practice, and greater quality of depth.
Recruiting rankings are not perfect. But they are damn good, especially in the aggregate. Four- and five-star recruits are about 10 times more likely to be drafted in the first round than their two- and three-star counterparts. And five-stars are about 33 times more likely to be All-Americans as two-stars are. For every two-star who becomes a big success, there are multiples who will be going pro in something other than sports. And they are getting better annually due to advancements in technology and data.
That is not to say that development does not matter. It certainly does. But nobody wins a national title by player development in lieu of elite recruiting. Plenty of coaches who are regarded as elite have never sniffed winning it all because they cannot accumulate enough talent. On the other hand, there are examples of coaches who are not regarded as premier head men who have won it all thanks to elite recruits. Not to lump them into the same category, but nobody ever accused Gene Chizik, Les Miles, Mack Brown or Ed Orgeron of being tactical masterminds.
Coaching matters. But recruiting is by far the most important piece when it comes to separating the good from the great.
WHAT THE BCR IS NOT
The Blue-Chip is just the minimum amount of talent needed to win the national championship.
It is not a requirement to make the College Football Playoff. Making the playoff does require some level of talent, but schedule also matters quite a bit.
It is also not a substitute for culture, coaching, player development, etc.
It is also not something you should use to pick games.
This is simply a way to pare down the list of potential national championship teams.
Betting on a team outside the Blue-Chip Ratio to win it all is a pretty bad bet, as history has shown.
But using the Blue-Chip Ratio to pick individual games is also a bad bet. It is simply not designed for that purpose. The only purpose is to say which teams have recruited well enough to win a national championship.
Some teams simply do not have a shot of signing elite prospects and must instead find diamonds in the rough. That's a strategy that can produce wins and conference titles, though perhaps not Playoff rings. And those teams absolutely can beat teams who recruit well in one-off settings. The Playoff, however, is not a one-off.
So use the BCR to narrow down your list of who could win it all. Don't use it to bet on games.
HOW HAS THIS STAT PERFORMED IN THE PAST?
In 2022, Georgia took home the title in dominant fashion with a 77% ratio.
In 2021, Georgia had an 80 percent BCR and won it all, beating the No. 1 BCR team Alabama in the title game. Three of the four playoff teams were BCR teams as Cincinnati was the first crasher since 2017.
In 2020, Alabama had an 83 percent BCR and won it all. All four Playoff teams were BCR schools.
In 2019, LSU won it with a 64 percent BCR, and all four Playoff teams were BCR schools.
Clemson, with a 61 percent mark, took it home in 2018. And all four Playoff teams were BCR schools.
Alabama won it all in 2017 with an incredible 80 percent mark.
Clemson took home the title in 2016 after signing 52 percent blue chips in the 2013-16 classes.
In 2015, Alabama had a 77 percent mark.
In 2014, it was Ohio State at 68 percent.
In 2013, Florida State was at 53 percent.
In 2012, Alabama was at 71 percent
… just as Bama was in 2011.
THE POOL OF PLAYERS CONSIDERED
All high school and JUCO scholarship signees count. Walk-ons are not signees, so they do not. Besides, they are almost never rated.
Sticking with signees helps to standardize the process. If a player signs, is released from his National Letter of Intent, and signs with a new school, as opposed to transferring, I count that player toward the new school.
If a player signs with a school and is unable to enroll and must go to JUCO, he still counts because the school used one of its Letters of Intent (LOI) on him.
I use the 247Sports Composite, which blends the major rankings.
I manually check each signee in each class for accuracy. Some team sites years ago erroneously listed walk-ons as signees. Removing non-scholarship players and verifying signing lists is by far the most time-consuming element.
BUT WHAT ABOUT TRANSFERS?
Last year on transfers I wrote:
"Transfers are not counted. Transfers (not junior college) are not governed by the same recruit rules. And though they're important, they are rarely consequential enough to turn a non-contender into a contender. More on transfers and the evolution of the BCR will be coming soon."
The second part of that is still true. Through three years of heavy transfer portal activity, national titles are not being won through the portal. Georgia did not take a single scholarship transfer last season. Teams loading up on transfers are frequently coaches looking for a jumpstart to a new tenure, or, on the other end, looking for a fix to save their jobs.
But with each passing year, transfers are becoming more ubiquitous within the sport of college football, thanks to the removal of the year-in-residence requirement, opening the door for immediate eligibility. There were more than 2000 scholarship transfers this offseason alone.
247Sports has recognized and reacted to the explosion of transfers, with the most comprehensive transfer ratings in the industry. We have multiple full-time staff, including some who have worked for college football personnel offices, working on our transfer ratings. And, important to me if I was going to include transfers in the Blue-Chip Ratio, the proportion of blue-chip ratings given out relative to two- or three-star ratings is somewhat consistent with the grades assigned to high school and JUCO recruits.
But what I do not know is how those grades will look when evaluated by the NFL draft. I have that data for years and years of high school recruits.
Since the BCR is a historical standard, I will continue to monitor the data over several years and then make a determination as to how it is incorporated into the BCR. I will also provide a graphic of how the BCR looks if transfers were incorporated later in this article, and the results might surprise you.
LET'S GET TO THE 2023 LIST
The list this year consists of, in order, Alabama, Ohio State, Georgia, Texas A&M, Clemson, LSU, Texas, Oklahoma, Oregon, Notre, Dame, Florida, Miami, Penn State, Michigan, USC and Auburn.
I think Tennessee, North Carolina, and Florida State have the best odds of getting in next season if they have big seasons on the field and can convert that into top recruits.
CONFERENCE SUPERIORITY
The SEC leads the way with six teams. The Big Ten is next, with three. The ACC has two, the Big 12 has two, and the Pac-12 does as well. The Group of 5 has zero, and nobody close.
But if you consider that Texas and Oklahoma are going to the SEC, and that USC is headed to the Big Ten, the landscape looks different. There is no team in the Big 12 not named Oklahoma or Texas who is even three strong classes away from joining the list. And without USC, Oregon is likely to be alone in the Pac-12 at the top of the recruiting list for a while to come.
The Big Ten and SEC will have 12 of the 16 BCR teams in 2024 if things hold.
MORE AND MORE SUPERTEAMS MAKE THIS A HARD CLUB TO CRACK
In 2014, no team was above 75 percent. In 2015, only Alabama was. In 2016 and 2017, it was still just Alabama. The 2018 BCR saw Ohio State get into that "super elite: class.
In 2023, there are three teams over that number and eight teams at 70 percent or higher, which is a first.
Oh, and Alabama, which set the all-time record for the highest BCR in 2021, and went slightly higher in 2022, is the first team to hit the 90 percent mark in the history of the BCR.
These superteams are making it tougher for others to join the club. As detailed above, there just aren't any teams threatening to crash the party.
The days of discussing whether teams like South Carolina, Ole Miss, Michigan State, or TCU can make a jump into the upper tier of talent have been somewhat shelved. Those teams were winning a lot and scoring some wins against the college football goliaths in the early and mid-2010s, which left us to wonder if they could turn wins into a few more elite recruits.
But for a variety of reasons it did not happen. And further, not many schools have stepped up to take their places. It stands to reason that the very best of schools filling the bottom of their classes with elite players means the third-tier schools are not able to get as many.
However: very talented, non-superteams do still win it all with the right recipe.
Of course, being that much higher than 50 percent does not necessarily follow with corresponding extra success. LSU in 2019 won it all at 64 percent, and Clemson in 2018 took home the title with a 61 percent BCR. The Tigers of 2016 were 52 percent in BCR. I'll never argue that more talent is worse, but the BCR is focused on the bare minimum level needed.
WILL THE BCR CLUB'S CHAMPIONSHIP MONOPOLY HOLD FOREVER?
No. At some point a team with maybe a high 40s number, a transcendent QB, and great injury luck will bust this. It's bound to happen. This almost happened in 2014 with Oregon and Marcus Mariota. An extremely talented Cincinnati team with a record nine players drafted made the CFB Playoff but was two wins away from winning it all. TCU was an awesome story in 2022, and made it to the final game, only to lose by eight touchdowns to Georgia.
Could that be Tennessee, Florida State, or Washington in 2023? We'll see.
FINALLY, LET'S LOOK AT THE BCR WITH THE TRANSFERS
Here's how it changes with transfers in.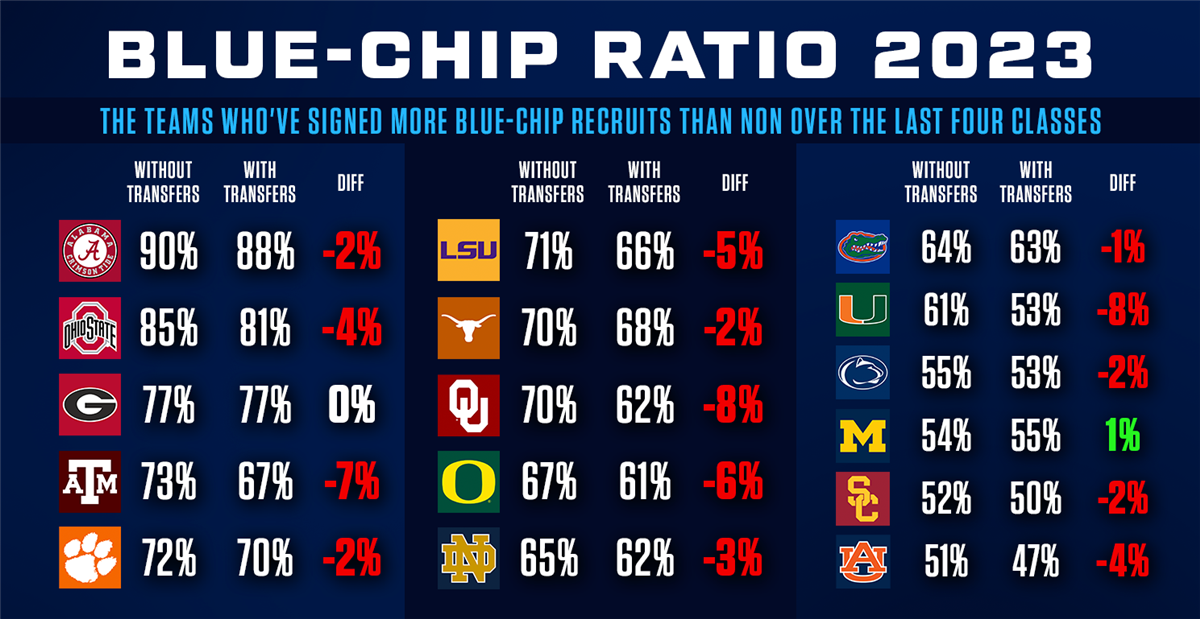 My first takeaway is that the very best teams are not significantly improving their BCR with transfers, at least through two years of complete transfer ratings. Michigan went up by one percent, while a few teams go down by more than five percent if transfers are added in, and Auburn actually drops out if transfers are included.
Does that feel right? I think so. It is comforting to see that, at the very least, it is not inflating their BCR numbers. And it is consistent with the idea that many transfers are taken for depth or to fill holes, and that there are not many elite players available in the portal at premium positions, at least so far.
Florida State will be the most interesting case to look at this year. Including transfers pushes FSU's BCR from 38% to 41%. Yet the Seminoles have top-10 odds in Vegas to win the title. Michigan State receiver Keon Coleman, UTEP offensive lineman Jeremiah Byers, Western Michigan defensive tackle Braden Fiske, South Carolina defensive end Gilber Edmond, and Virginia cornerback Fentrell Cypress II are all additions from this year and almost all will be expected to start.
FSU projects as a very good team. It doesn't have a lot of identifiable weaknesses and QB Jordan Travis is even getting some Heisman Trophy love.
But does it have enough top-end talent? It's potentially a bit of a very good vs. great argument.
Consider that the last four national champions are averaging seven first rounders being picked over the two drafts following taking home the title. They do that because they identify and recruit the very best prospects out of high school, develop them, and don't let them hit the portal.
As someone who graduated from Florida State and still covers the program closely, I have no doubt that the Seminoles have NFL talent. Do they have seven players who will be first-round picks in the next two drafts? Put another way, will quality transfers players the Seminoles added be difference-makers in playoff games? Perhaps we will get the chance to see, as FSU projects to be a favorite in 10 of 12 games. The portal is still in its infancy and is quite fun to follow.
RELATED: Six teams who could crack the Blue-Chip Ratio in 2023