Seven 49ers free agents still searching for an NFL team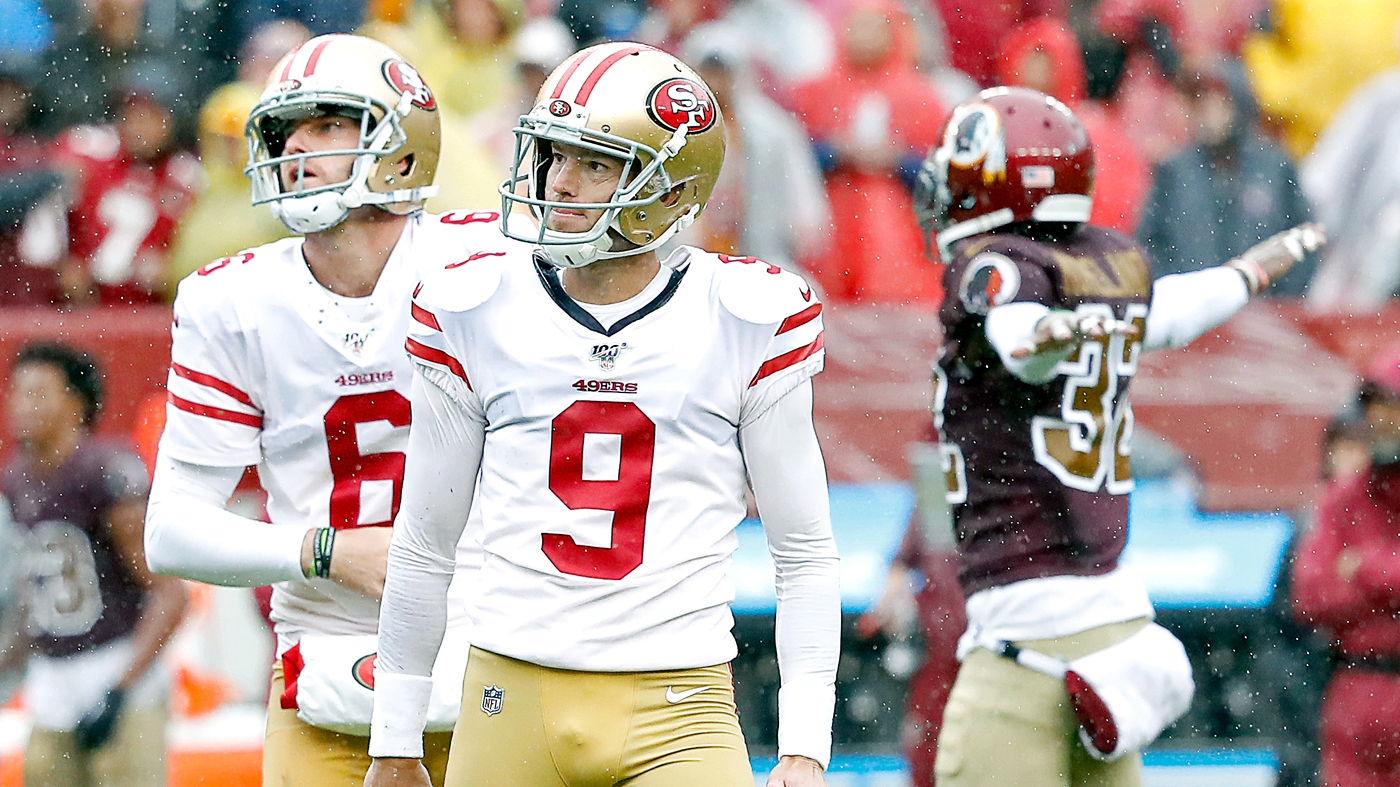 The first week of NFL free agency is in the books, and there has been a lot of movement made by the San Francisco 49ers. The team added defensive tackle Javon Hargrave, quarterback Sam Darnold, and others to the roster.
As is the case every year, departures are inevitable. Gone are some high-profile names like quarterback Jimmy Garoppolo (Raiders) and tackle Mike McGlinchey (Broncos). Key players like cornerback Emmanuel Moseley (Lions) and offensive lineman Daniel Brunskill (Titans) have also found new NFL homes.
San Francisco has tendered a one-year deal to exclusive-rights free agent wide receiver Jauan Jennings. In addition, the following eight 49ers restricted or unrestricted free agents have returned to the team.
As of this post, seven 49ers free agents still seek an NFL team. They are listed below in alphabetical order.
K Robbie Gould
Robbie Gould is probably the highest-profile player of the 49ers' remaining free agents. At the NFL Scouting Combine, general manager John Lynch stated that the 49ers were evaluating kickers to replace Gould. That prompted the veteran to tell ESPN he was done with the 49ers and planned to explore free-agency interest.
So far, there has been little reported interest in the 40-year-old kicker, so returning to the 49ers isn't out of the question. Lynch and Gould's comments could have been negotiating tactics by the two sides, with San Francisco willing to wait and see if any market develops for Gould.
The New England Patriots signed Gould (6-0, 190) as an undrafted free agent out of Penn State in 2005. He made 27-of-32 field goal attempts (84.4 percent) through 17 game appearances last season, per Pro Football Reference. Gould is a perfect 29-of-29 all-time in postseason action.
DE Kerry Hyder
Last season, Kerry Hyder returned to the 49ers after a one-season stop with the Seattle Seahawks. His 2020 campaign with San Francisco was a career-best. The defensive tackle recorded a career-high 8.5 sacks and 49 tackles.
The New York Jets signed Hyder (6-2, 275) as an undrafted free agent out of Texas Tech in 2014. He registered 19 tackles, a tackle for a loss, four quarterback hits, a sack, and three passes defensed through 16 game appearances (one start) last season, per Pro Football Reference.
CB Dontae Johnson
The on-and-off-again favorite of the 49ers coaching staff could return at some point should he remain a free agent. However, that may not happen anytime soon. Johnson suffered a torn ACL on December 11, and it may be some time before he is ready to return to the football field.
San Francisco made Johnson (6-2, 200) a fourth-round selection (No. 129 overall) out of NC State in 2014. He played 18 snaps on defense and 16 snaps on special teams through two game appearances last season, per Pro Football Reference.
QB Josh Johnson
The 49ers appear set at quarterback with Trey Lance, Brock Purdy, and newly signed veteran Sam Darnold. At 36 years old, Josh Johnson may not return unless San Francisco decides it needs another offseason arm for practices.
Lance and Purdy are coming off serious injuries. Lance is expected to be ready for offseason practices after suffering a season-ending ankle injury in September. However, Purdy will miss six months after undergoing surgery to repair the tear of the ulnar collateral ligament (UCL) in his right elbow.
The Tampa Bay Buccaneers made Johnson (6-3, 205) a fifth-round selection (No. 160 overall) out of San Diego in 2008. According to Pro Football Reference, he completed one-of-two attempts for 10 yards through two game appearances last season after being signed off the Denver Broncos practice squad.
Johnson was 7-of-13 in the NFC Championship Game before exiting with a concussion.
TE Tyler Kroft
This past season was Tyler Kroft's only one with San Francisco. He caught four passes for 57 yards through nine game appearances, per Pro Football Reference.
Koft (6-6, 252) entered the league as a third-round selection (No. 85 overall) out of Rutgers by the Cincinnati Bengals in 2015.
TE Jordan Matthews
It's unclear what the future holds for Jordan Matthews, a converted wide receiver. His 2022 campaign ended prematurely when he suffered a torn ACL during training camp. It's unknown if the 30-year-old Matthews plans to continue playing. He has yet to haul in a pass since switching to tight end in 2021 and doesn't have a reception since 2019.
The Philadelphia Eagles made Matthews (6-3, 236) a second-round selection (No. 42 overall) out of Vanderbilt in 2014.
CB Jason Verrett
Jason Verrett is a team favorite, but it's tough to get past his injury history, and that may mean the end of his time with the Niners. Verrett's only healthy seasons came in 2015, his second year in the league, and 2020, his second season with the 49ers. This past season, the cornerback was attempting to return from the ACL injury he suffered during Week 1 of the 2021 season but suffered a torn Achilles on November 10.
The then-San Diego Chargers drafted Verrett (5-10, 188) out of TCU with the No. 25 overall pick in 2014.
The San Francisco 49ers have opted not to tender a contract to restricted free agent linebacker Demetrius Flannigan-Fowles, immediately making him an unrestricted free agent and free to sign anywhere. He may also return to San Francisco on a new contract.
The 49ers did not tender RFA Demetrius Flannigan-Fowles. The linebacker is now an unrestricted free agent.— Matt Barrows (@mattbarrows) March 15,
Javon Hargrave was nervous heading into free agency. He knew he would get paid but was concerned that he might have to sacrifice success in the process. The defensive tackle had just been to a Super Bowl with the Philadelphia Eagles. Often, the teams with the most money to spend are the ones that are rebuilding.
Things appear to have worked out beautifully for Hargrave.
"Sometimes when you're trying to go get the money, you have to go to a team that's in a rebuild mode," Hargrave said. "But if you've got a chance to go to a team that was just in the NFC Championship, that's kind of an easy choice for me. So I was real happy about it.
"It really made me happy because I was real nervous about free agency, on where I was going to have to go. But I feel
(Episode 222) – Al Sacco and Zain Naqvi discuss Sam Darnold's best case scenario, some of the smaller names that joined the 49ers defense, how important bolstering the offensive line is, grading the current free agent class and more!
The audio for the show is embedded above. Don't forget to subscribe!
You can listen to the latest "No Huddle Podcast" episode above, from our dedicated podcast page, on
The first wave of free agency has come and gone, and the 49ers have had to say goodbye to a number of familiar faces while welcoming a few new ones. There's been a good amount of shuffling over the past week, but one thing remains clear — the 49ers still have one of the best rosters in the NFL.
There's still more players to be added in the weeks ahead, both in the draft and in free agency. The 49ers still need depth and competition in a few areas, and maybe a new starter in a key spot on special teams. But with the way things look now, the 49ers could be looking at a fairly complete roster with very few weaknesses once they're done with their offseason moves.
Here's a look at where things stand by position as of March 17, along with some thoughts on where the