Lewis Hamilton's positive comments following Mercedes' double podium at the Spanish Grand Prix are a "good sign", Damon Hill has told the Sky Sports F1 Podcast.
Hamilton equalled his best result of the season with second place, with team-mate George Russell in third, as Mercedes moved 18 points ahead of Aston Martin in the constructors' championship.
The seven-time world champion revealed it was the best he had felt in the car for 15 months after Mercedes brought a big upgrade package to Monaco, including a new front suspension and sidepods, which paid off in Barcelona.
Hill said: "Mercedes showed in the race they've leapfrogged the threat from Aston Martin and Ferrari on a circuit where it really pushes the car's ability to look after its tyres and have good aero balance and good aero performance. It's shown that it has the potential there.
"All the circuits are different but Barcelona is one of those places that shows up pure performance, aero package and balance etc, which is why the Red Bulls were so dominant, or at least Max (Verstappen) was. So I think there are encouraging signs there for Mercedes definitely."
He continued: "Maybe this has unlocked more potential. But whether it's able to unlock more potential to beat Red Bull is questionable because I think they are stuck with the fundamental chassis they have underneath [the car].
"To hear Lewis say 'I'm enjoying driving the car'. That's a good sign and an indication for him because he's been saying, 'I told you we should have done something earlier'.
"They have gone and done what he has been pleading with them to do and they have seen some progress, so well done Lewis."
Can Mercedes catch Red Bull?
Red Bull have won each of the seven races so far this season and are 135 points ahead of Mercedes, while Max Verstappen is the big favourite to win a third consecutive drivers' title.
Hill suggests Red Bull's rivals will already be looking at 2024, while Rachel Brookes thinks the Milton Keynes-based team have more time in hand.
"To overhaul Red Bull before the end of the season is going to be very difficult," said Hill.
"I think if they manage to firmly establish themselves as 'the threat' going into 2024 by the end of the season then they will consider that a victory."
Brookes added: "No matter how much we think Mercedes have caught up with this new design, I think Red Bull have a whole lot more in that car which we haven't seen yet.
"So yes Mercedes have closed the gap a little bit but actually Red Bull are developing and have updates coming which is scary!
"It's brilliant for Mercedes and a morale boost for the team and for everyone who has been working so hard these last couple of years. Yes it's a springboard but it's not a springboard for this year it's a springboard for the future."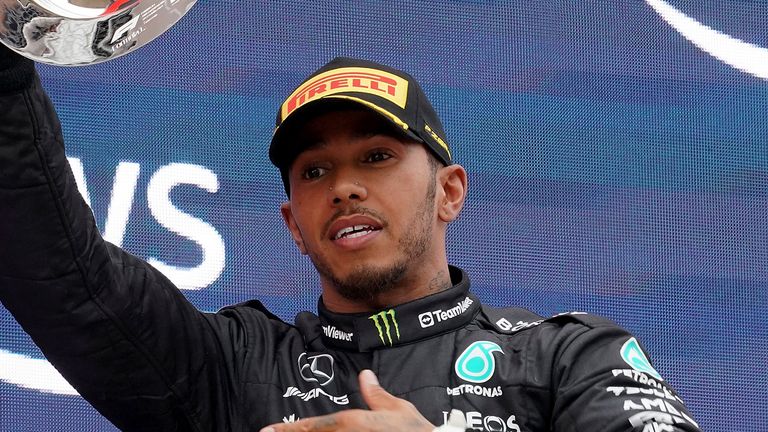 Are Ferrari going in the wrong direction?
While Mercedes' upgrades appear to have paid off, Ferrari had a disappointing Spanish GP as Charles Leclerc qualified 19th and failed to score any points.
Leclerc told Sky Sports F1 he "didn't understand" what Ferrari did wrong as the car felt different throughout the race on his way to 11th.
"My worry is Ferrari are going in the opposite direction. They changed their car and we saw a very different Ferrari in Spain, they are now trying to chase that route as well," said Brookes.
"Where is the other challenge going to come from? There is a lot of work for a lot of teams and head scratching going on.
"Aston Martin, maybe it was just the track, but that's a track you want to go well at because it reflects a lot on the rest of the season. I don't know where they are right now."
Hill added: "It's a funny season in a way because we have seen quite a lot of disparity between apparent form on one circuit and the same form, or expectations, on another circuit. Everyone is scratching their heads apart from Red Bull, who are delivering on every track.
"We can't say we can look at Barcelona and say that is now the formbook for the rest of the season because Canada is a different track, so is Silverstone. There will still be variety through the field.
"Then what can you say about Ferrari? When one is up, the other is down. It's like they are running with one leg all the time. So going forward, you have got the development curve and cost-cap restrictions to think about."
McLaren drivers Lando Norris and Oscar Piastri are the latest guests on the Sky Sports F1 Podcast for a special Q&A answering YOUR questions.
Don't miss an episode of the Sky Sports F1 Podcast. Subscribe now on: Apple Podcasts | Spotify | Spreaker
F1 returns in Canada from June 16-18 with all sessions live on Sky Sports F1, including race coverage from 5.30pm on Sunday June 18