In the video, she could be seen working out on the Pilates reformer, with some assistance from her trainer Radhika Karle.
Sonam Kapoor re-shared a glimpse of her Pilates class shared by her trainer (Source: Sonam Kapoor/Instagram Stories)
Prior to this, Sonam had opened up about her pre, during, and post-natal diet chart in detail. Take a look.
Giving a lowdown on her diet during pregnancy, the 37-year-old listed the following foods:
Vegetables: Carrots, sweet potatoes, pumpkin, spinach, cooked greens, tomatoes, and red sweet peppers (for vitamin A and potassium) are good for your health.
Fruits: Cantaloupe, honeydew, mangoes, prunes, bananas, apricots, oranges, and red or pink grapefruit (for potassium) are a must.
Dairy: According to Sonam, fat-free or low-fat yoghurt, oat milk, soy milk, coconut milk, buttermilk, and paneer (cottage cheese), are also beneficial at this stage. The actor further revealed that she didn't opt for dairy products as she is lactose-intolerant.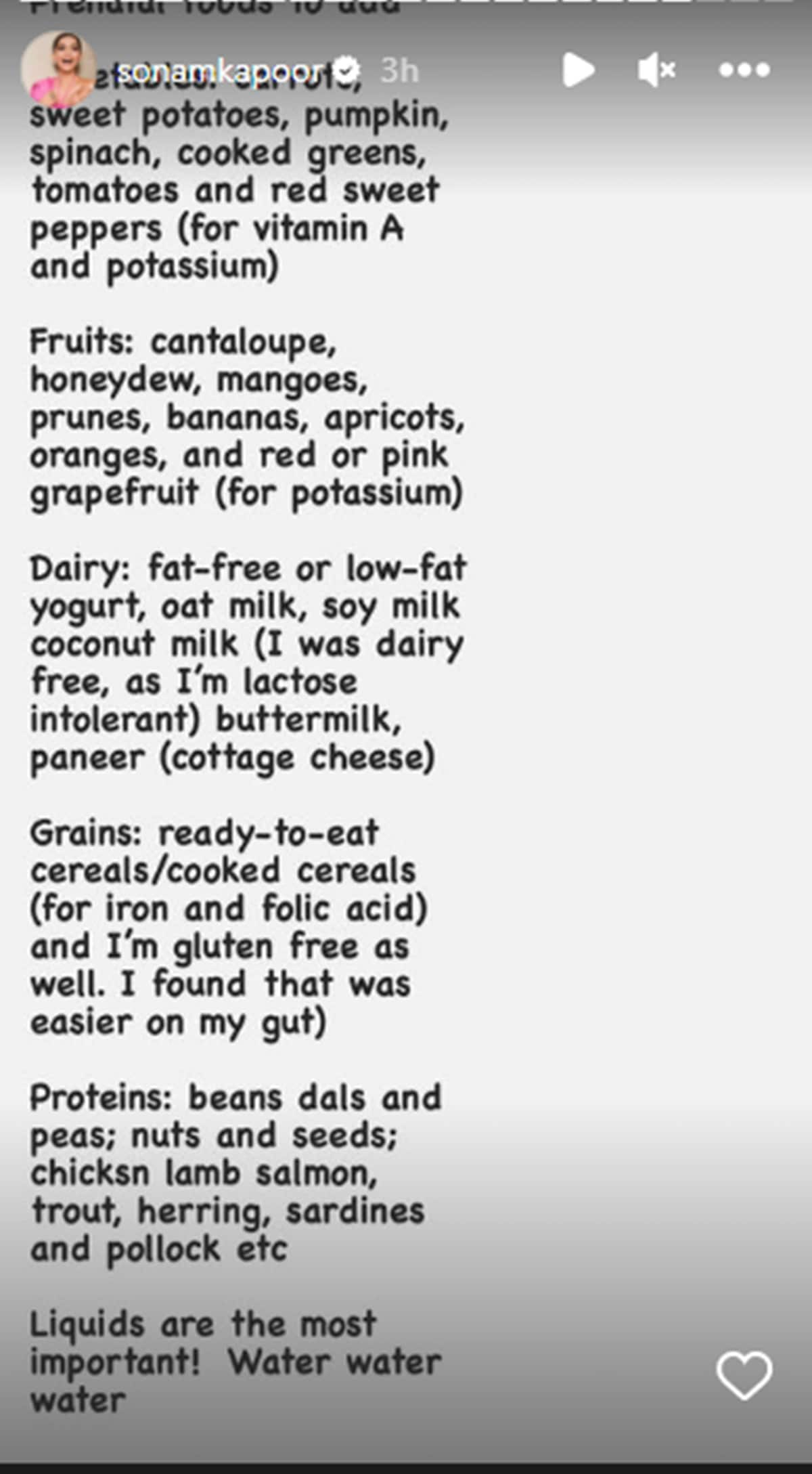 Sonam's diet chart looked like this (Source: Sonam Kapoor/Instagram Stories)
Grains: Sonam shared that she consumes a gluten-free diet. "So, I found that ready-to-eat cereals/cooked cereals (for iron and folic acid) were easier on my gut," she said.
Proteins: Don't compromise on your protein intake. "You can savour beans, dals and peas; nuts and seeds; chicken, lamb, salmon, trout, herring, sardines and pollock etc," said Sonam.
Water: The actor stress on the need to drink enough water. Remember, this is very important, she said.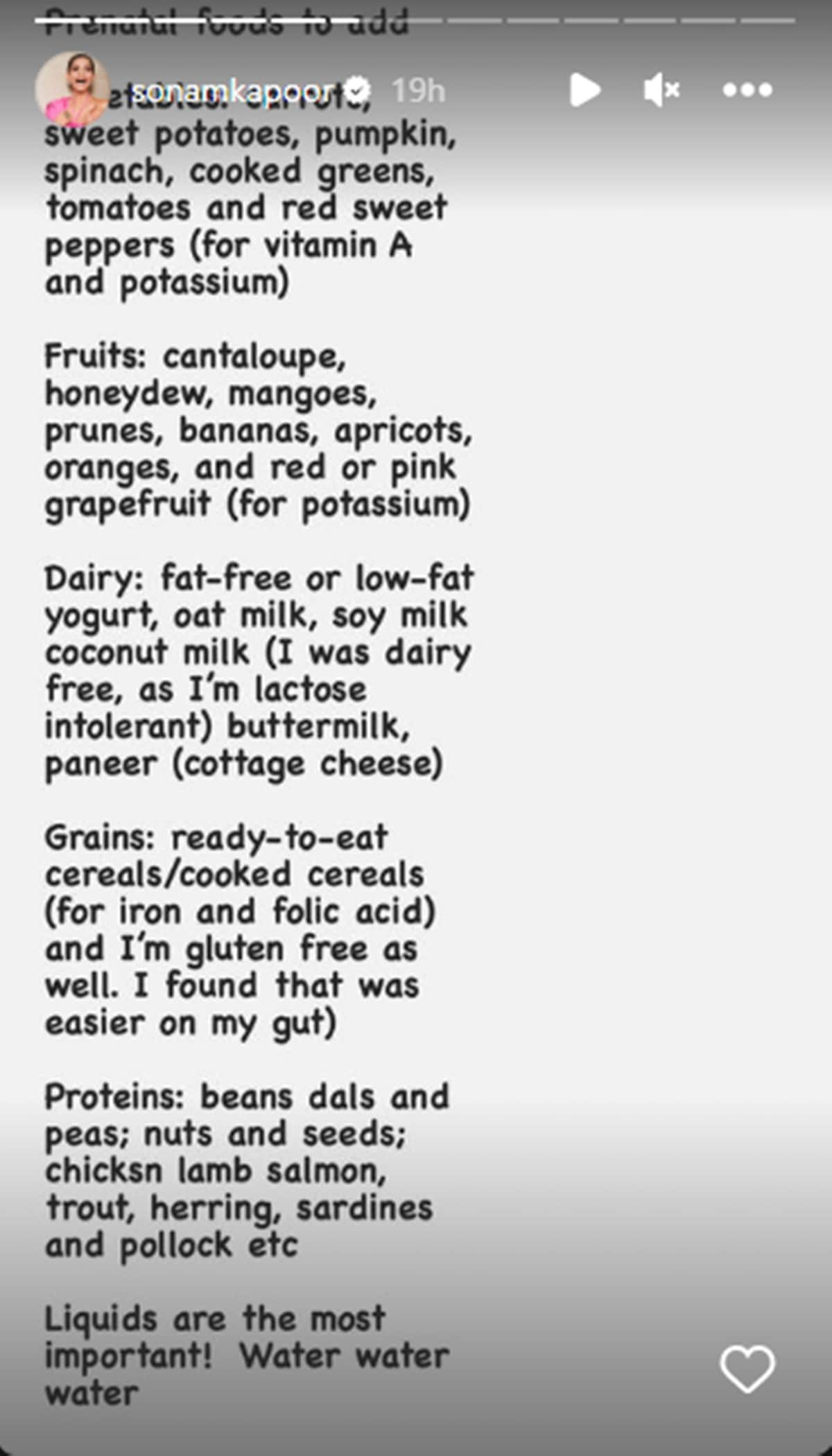 Sonam Kapoor on having fresh fruits (Source: Sonam Kapoor/Instagram Stories)
She also mentioned that it is important to eat clean during pregnancy. "Avoid anything raw during pregnancy. This includes raw meat, fish and salads. The worst thing is to get a bad tummy prenatally; it can be dangerous for your baby's well-being."
Emphasising that chocolate contains caffeine, she urged pregnant women to stay away from caffeine. "Unfortunately chocolate contains caffeine. Limit coffee and chocolate intake," she said.
Limit caffeine intake, said Sonam Kapoor (Source: Sonam Kapoor/Instagram Stories)
Busting the myth that one needs to eat for two, she said, "It's a myth when people say eat for two! Don't let anyone tell you otherwise. Please be sensible while eating if you're carrying a single baby you need only 350 calories more!"
Eating for two is a myth, said Sonam (Source: Sonam Kapoor/Instagram Stories)
Sonam's nutritionist and Pilates trainer Radhika Karle had earlier told indianexpress.com that the actor is doing a great job by eating small portions of clean, fresh, seasonal homemade Indian food.
"She is doing a fantastic job of taking her prenatal supplements, drinking plenty of fluids to stay hydrated in this humidity, and eating in a timely manner to keep energy levels up and avoid acidity," Karle said.
Sonam Kapoor's fitness, diet revealed (Source: Anand Ahuja/Instagram; Radhika Karle/Instagram Stories)
Sonam, also shared a few glimpses of 'ghar ka khaana' that she relished during the nine months.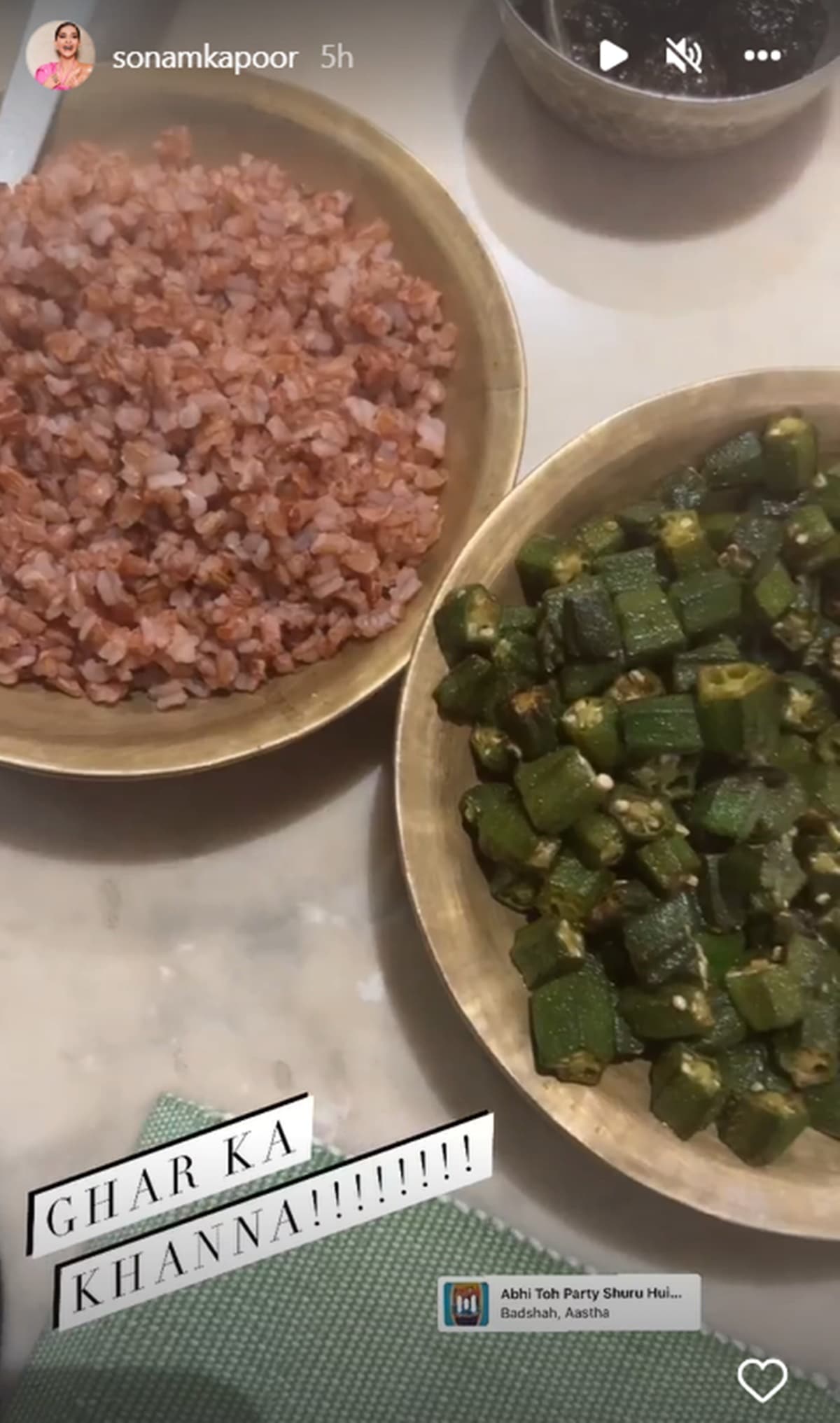 Sonam Kapoor has been keeping up with her diet (Source: Sonam Kapoor/Instagram Stories)
"I did yoga and Pilates throughout my pregnancy. It isn't dangerous to move" Sonam shared.
Karle, who has been training Sonam for more than 13 years, also gave a glimpse of the actor's workout during the last trimester.
"The most beautiful mama-to-be. Home stretch, SK. We got this," she captioned an Instagram Story.
Karle revealed that Sonam has "great body awareness and good core strength". "We are in the home stretch of Sonam's pregnancy so the workout is a combination of strength training using dumbbells, therabands, and resistance loops, plus Pilates on the apparatus. Pilates is a great form of mindful movement that helps with posture and strengthens the core muscles. We are working on keeping strength up while stretching and relaxing lower back and pelvic floor muscles," she told indianexpress.com.
Sonam Kapoor has been working out throughout her pregnancy (Source: Radhika Karle/Instagram Stories)
Some of the exercises that were a part of the 37-year-old's routine include
*Footwork in a seated position on the Pilates Reformer with added upper body work using the theraband to strengthen mid back muscles.
*Seated leg pumps on the Pilates Combo Chair with added shoulder work using dumbbells.
*Modified push ups using the spring load from the Pilates Combo Chair. "This is great core work too," said Karle.
*Arm work on the Trapeze Table while sitting on the Swiss exercise ball.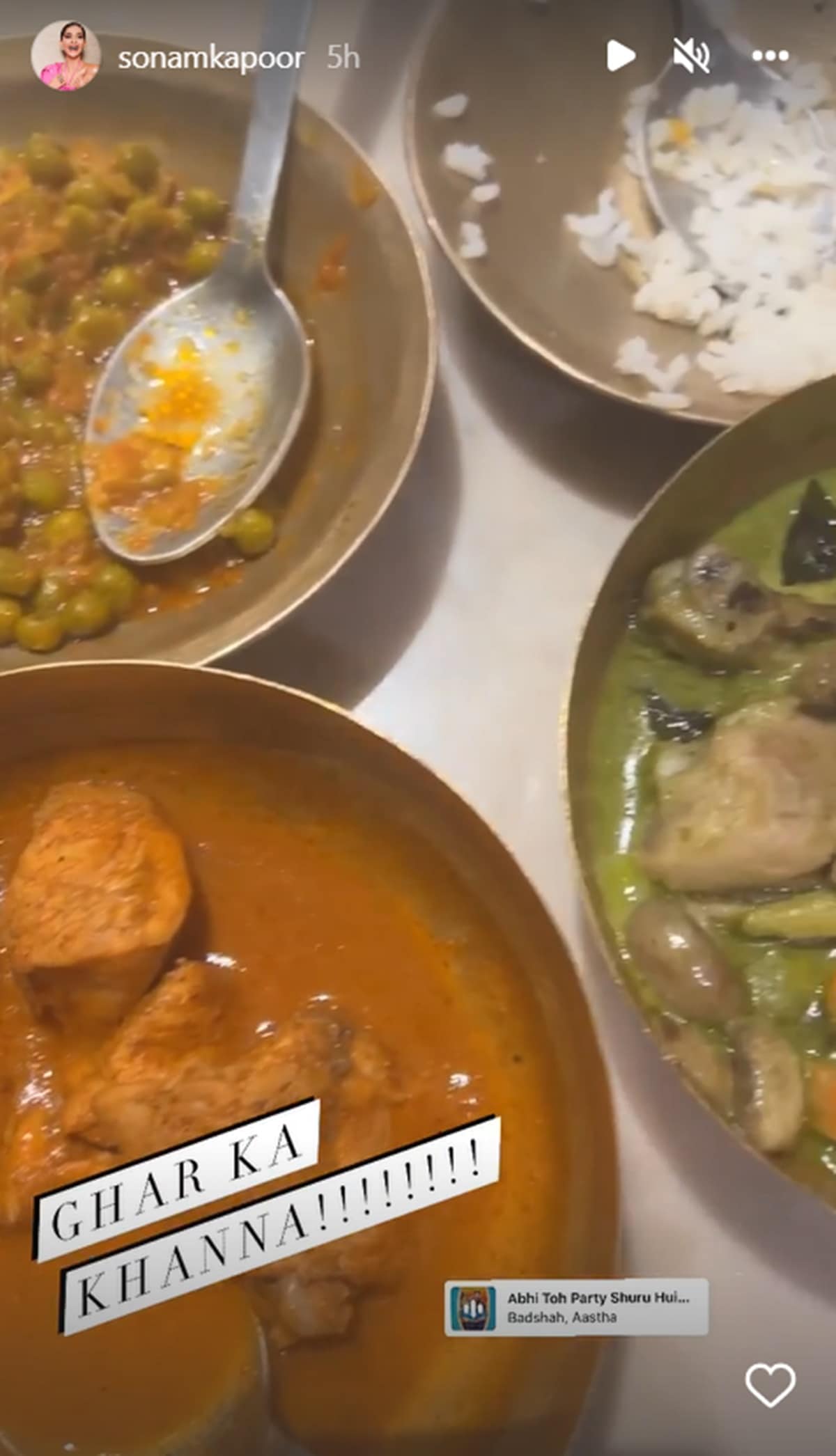 Sonam Kapoor has been having homemade food (Source: Sonam Kapoor/Instagram Stories)
Sonam's pregnancy journey has been "great", according to Karle who was with her during the first and third trimester. "In February, she was braving the cold and going out for walks and training even though she was feeling fatigued. And in June she was glowing…and she still is! Because she has been taking care of herself, it has been really good – eating fresh and seasonal, working out, and regularly going out for walks when she was in London has made the difference. She is a very informed pregnant woman too – reading all sorts of pregnancy-related books, looking up recipes, and tracking things on an app," Karle expressed.
Considering it is important to be mindful about one's mental health, especially in the last trimester as the levels of progesterone and estrogen are at an all time high, Karle shared how Pilates helped Sonam.
"With Pilates being a mind-body form of movement like yoga, it really helps to reduce anxiety and increases focus and concentration. I continue to ensure Sonam is keeping a distinct breathing pattern with each movement, which also helps her mentally. I call it the 'labour room prep' and because she is very good at following the many cues I give her while training, I keep telling her, 'we are set'…and she gives me the eye roll…I'm going to blame the hormones for that reaction, too!"
📣 For more lifestyle news, follow us on Instagram | Twitter | Facebook and don't miss out on the latest updates!