President Joe Biden will be in Covington, Kentucky., on Jan. 4 to tout the launch of an Ohio River bridge project that will receive a $1.64 billion federal funding boost from the $1.2 trillion Infrastructure Investment and Jobs Act (IIJA) adopted by Congress in November 2021.
Biden will be joined by Senate Minority Leader Mitch McConnell (R-Ky.), Kentucky's Democratic Gov. Andy Beshear, and Ohio's Republican Gov. Mike DeWine at a ceremony to commemorate the U.S. Department of Transportation's approval of the IIJA allocation for the Brent Spence Bridge Corridor Project.
The 60-year-old Brent Spence Bridge is a double-decked, cantilevered bridge that carries traffic on Interstates 71 and 75 across the river between the Cincinnati metropolitan area and northern Kentucky.
The overall $3.6 billion project, jointly managed by the Kentucky Transportation Cabinet and the Ohio Department of Transportation, will improve the existing span and build a new "companion bridge." Construction is set to break ground by late 2023 and be completed by 2029.
Both states had sought federal funding for a new bridge for years. "This project will not only ease the traffic nightmare that drivers have suffered through for years, but it will also help ensure that the movement of the supply chain doesn't stall on this nationally significant corridor," DeWine, reelected to a second term in November, said in a statement.
According to a Jan. 1 White House statement, Biden will use his visit to the Ohio River to tout how the IIJA, also referred to as the Bipartisan Infrastructure Law, will leverage federal money with state and local funds to fuel an "infrastructure decade" across the country.
As state legislatures nationwide prepare for 2023 sessions—45 convene in January, including 35 by Jan. 11—allocating federal IIJA funds for often long-planned infrastructure projects will be among the top issues discussed by lawmakers.
The American Society of Civil Engineers (ASCE), National Homebuilders Association, and Associated General Contractors of America (AGCA) are among industry groups lobbying state lawmakers to act quickly in allocating the federal funds to get projects moving.
'Get Projects Done'
ASCE president Maria Lehman told The Epoch Times her organization is encouraging lawmakers to "Get it in, get projects done. The potholes aren't waiting, the bad bridges aren't waiting. It is possible to move projects quickly. [State lawmakers] have to embrace" the federal funding and "proactively push" money into projects that, in many instances, have been on the books for years.
Time is of the essence, she said. "That's one of the things I'm saying. If we don't spend this on the right projects" now, costs will only mount later, she said.
"We have been underfunding infrastructure for a long time," Lehman said, citing federate and state "independent failure to act" on needed projects has fostered a $12.6 trillion national backlog in infrastructure funding.
State legislature 2023 sessions will be the second round in which lawmakers will be allocating IIJA monies since the bill's November 2021 adoption. Federal agencies "have been delivering, the states have been slow in getting [money] out the door quickly enough," she said.
"States that have passed their own revenue streams," such as the 40 states that have raised gas taxes since 2020, "are ahead in infrastructure development," Lehman said, praising metropolitan planning agencies across the country for having plans and state/local match money available to quickly move on projects.
Agencies 'Contributing' to Delays
AGCA spokesman Brian Turmail told The Epoch Times that federal agencies are contributing to infrastructure allocation delays. 
"The biggest challenge that we see, this follows from the federal level down to the states, continues to be confusion and uncertainty in how each federal agency will interpret the new rules and regulations in the infrastructure bill," he said, pointing to changes in the "longstanding Buy American program" among bottlenecks.
"Among the issues is determining [if] any manufactured components must be entirely sourced and assembled in the United States," Turmail said. "What is a manufactured product? The administration has not clarified those [terms] but has already required federal agencies to enforce 'Buy American; requirements."
The undefined devil is the details, he said. "There is a lot of confusion on how to proceed. Do we allow this water system to go through knowing there are components not made in the USA?"
That "confusion equals inaction," Turmail said, noting another issue in moving forward with projects is "Permitting reform is supposedly part of the bill. The legislation … codified what the Trump administration did by executive order that reduced the permitting process from years to months.
"The administration is ignoring the right parts of the legislation and paying copious attention to the wrong parts and just pretending [permitting reform] is not in the bill. We need the federal government to move forward so states can apply" permitting reform to project approvals.
"We haven't seen any movement" regarding permitting reform, he said.
An October White House Fact Sheet offers a state-by-state review of what projects have thus far received IIJA allocations. The ASCE, which produces an Infrastructure Report Card every four years—most recently in 2021—also maintains an updated roster of state-by-state infrastructure projects charting priorities and needs.
According to the White House Infrastructure Implementation Team, more than $185 billion in IIJA funding has thus far been allocated to more than 6,900 specific projects across 4,000 communities in all 50 states, the District of Columbia, and the territories, across dozens of categories ranging from roads and bridges to wildlife restoration to broadband expansion. A brief roundup of highlights includes:
Roads and Bridges: According to the U.S. DOT and Federal Highway Administration (FHWA) approximately $120 billion in IIJA has been earmarked for more than 2,800 bridge projects, including the Brent Spence Bridge Project in Ohio-Kentucky.
Other significant road and bridge projects include the East River Tunnel in New York, the Connecticut River Bridge, and Susquehanna River Bridge and Frederick Douglas Tunnel, both in Maryland.
Rail: According to the Federal Railroad Administration, the IIJA allocates $66 billion in new funding for passenger and freight rail, including $43.5 billion for Federal-State Partnership for Intercity Passenger Rail Grants.
Among beneficiaries is the $105 billion California High-Speed Rail project, which has been on the drawing board since Gov. Jerry Brown lobbied for it in the 1980s.
California voters approved a $10 billion funding measure in 2008. The project was launched in 2012 and with lines being built in segments since 2015. The first section planned to be operable by 2029 is in the San Joaquin Valley area of the Central Valley from Merced to Bakersfield.
When completed, the 800-mile high-speed rail line will have 24 stations. Trains traveling up to 220 miles per hour will carry passers between Los Angeles and San Francisco in two hours and 40 minutes. 
Local Projects: According to the U.S. DOT, it has issued $1.5 billion in IIJA allocations for 26 projects requested by local planning agencies and $2.2 billion for 166 projects "that will allow urban and rural communities to move forward on projects that modernize roads, bridges, transit, rail, ports, and intermodal transportation and make our transportation systems safer, more accessible, more affordable, and more sustainable.
Public Transit: The DOT reported in October that it has allocated $20.4 billion in transit funding and recommended $4.45 billion in Capital Investment Grants "to advance public transit projects" in Arizona, California, Illinois, Indiana, Minnesota, New York, Pennsylvania, Tennessee, and Washington. 
Among public transit programs tapping into IIJA funds to accelerate projects is CapMetro in Austin, Texas, which launched its $7.1 billion Project Connect Texas in February 2022.
The massive project, which Austin voters approved in November 2020, will extend one existing MetroRail line, add two light rail lines, a bus rapid transit line, one commuter train line, a tunnel below the center of the city, purchase an all-electric fleet of buses and trains, and build new park-and-ride stops.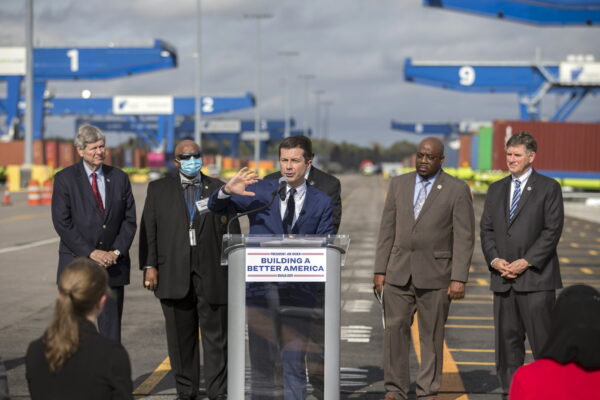 Airports: The Federal Aviation Administration and DOT have earmarked more than $3 billion for 3,075 airports nationwide to upgrade technology and $1 billion to 85 airports to modernize terminals.
Among beneficiaries is John F. Kennedy International Airport in Queens, N.Y., which will tap into the IIJA to accelerate its $4.2 billion Terminal 6 project, set to start its first phase in early 2023.
Ports and Waterways: The U.S. Army Corps of Engineers has approved $3.9 billion in IIJA allocations to 16 harbor and waterway construction projects across 10 states and Puerto Rico. 
In addition, the federal Maritime Administration and DOT have issued $700 million in IIJA federal matches to help fund 41 port projects in 22 states and one territory to improve port infrastructure.
Land Ports of Entry: The U.S. General Services Administration reports it has awarded $3.4 billion in IIJA funding to build and modernize 26 land ports of entry nationwide.
Among projects that will benefit from IIJA funding in this category and, perhaps, several others, is the $4.4 billion Gordie Howe International Bridge linking Detroit, Mich., and Windsor, Ont. 
The six-lane span will be the longest cable-stayed bridge in North America when finished, increasing the Detroit River bridge's capacity from 18,500 cars per day to 26,500 by 2025.
The project also includes the construction of new entry points in the U.S. and Canada. It will be the largest Canadian port of entry on the border while the 167-acre border entry on the U.S. side "will be one of the largest border facilities in North America."
Electric Vehicle (EV) Infrastructure: All 50 states have submitted Electric Vehicle Infrastructure Deployment Plans that have been approved by the Biden administration with $1.5 billion allocated to help build EV chargers covering approximately 75,000 miles of highway nationwide.
Water Infrastructure: The IIJA earmarks $55 billion designated to improve water infrastructure. The Environmental Protection Agency reports allocating more than $9 billion to improve and repair water systems through the agencies' State Revolving Fund (SRF) programs.
The U.S. Army Corps of Engineers also distributed  $200 million for water infrastructure projects to 26 states and three tribes to install backup generators, upgrade aging water and wastewater infrastructure, and construct stormwater improvement projects.