Hammer head-to-heads will again demand the spotlight, while Erriyon Knighton will look to make another statement in the sprints when the World Athletics Continental Tour Gold series moves on to the Irena Szewinska Memorial in Bydgoszcz, Poland, on Tuesday (6).
Four of the top seven women on the world all-time list clash in the women's hammer, as home star Anita Wlodarczyk – the world record-holder and seven-time global gold medallist – continues her comeback.
Forced to miss much of the 2022 season due to the injury she sustained during an altercation with a criminal last year, Wlodarczyk made her return at the Continental Tour Gold event in Nairobi last month, finishing third in a competition won by world bronze medallist Janee' Kassanavoid of the US. Competing two days before the Bydgoszcz meeting, Wlodarczyk and Kassanavoid met again at the Janusz Kusocinski Memorial in Chorzow and on that ocassion they both finished behind Canada's world silver medallist Camryn Rogers. 
There have been some significant revisions to the world all-time list already this season and both USA's Brooke Andersen and Rogers – respectively third and fifth on the list that is topped by Wlodarczyk's world record of 82.98m from 2016 – will be aiming to maintain their strong seasons. World champion Andersen became the third athlete in history to surpass 80 metres in the event last month, throwing 80.17m in Tucson, while world silver medallist Rogers improved her own national record to 78.62m in Los Angeles to win ahead of Anderson just over a week ago.
Brooke Andersen (© Marton Kovacs)
It is the first time that the quartet of Wlodarczyk, Andersen, Rogers and Kassanavoid have all clashed in the same competition. Kassanavoid recorded the 78.00m that puts her seventh all time in May 2022 and she threw 76.60m to finish runner-up to Andersen in Tucson two weeks ago.
The field also features USA's Annette Echikunwoke and Romania's European champion Bianca Ghelber, plus Poland's Olympic bronze medallist Malwina Kopron and European silver medallist Ewa Rozanska.
Rivalries are also renewed in the men's event, where Rudy Winkler of the US and Wojciech Nowicki of Poland – the two athletes to have surpassed 80 metres so far this season – compete again in a field also boasting Poland's five-time world champion Pawel Fajdek and Hungary's 2019 world bronze medallist Bence Halasz.
Winkler, the world sixth-place finisher, threw 80.88m to win in Tucson, while Olympic champion Nowicki recorded 80.00m to beat Winkler in Chorzow a couple of days out from their rematch in Bydgoszcz. Fajdek was fourth on that occasion, on his 34th birthday, and has the chance to build on the 76.42m season's best he set at the end of May.
Nowicki won ahead of Fajdek at last year's Irena Szewinska Memorial and another returning champion is New Zealand's Tom Walsh in the men's shot put. The 2017 world champion beat USA's two-time world gold medallist Joe Kovacs by just four centimetres in Bydgoszcz last year and they are both back, their head-to-head record now 31-27 in Kovacs' favour but with Walsh getting the upper hand in their past two clashes in recent days, in Florence and Chorzow. It was Italy's Leonardo Fabbri who claimed a narrow win in Florence and he also competes on Tuesday, as do Poland's Michal Haratyk and USA's world bronze medallist Josh Awotunde.
Competition is high in the men's pole vault, too, as home favourite Piotr Lisek, the multiple world medallist, again goes up against Chris Nilsen and Sam Kendricks, two days after he beat his US rivals in Chorzow. They will also have to see off the challenge of Philippines' Ernest John Obiena.
The men's high jump pits Ukraine's world bronze medallist Andrii Protsenko against Germany's Tobias Poyte, Poland's Norbert Kobielski and Puerto Rico's Luis Castro Rivera, who cleared a 2.30m national record in Garbsen in May.
Over on the track, USA's world bronze medallist Knighton will be seeking another strong run after winning his 200m season opener in 19.89 in Florence on Friday. That is now the fourth-fastest 200m of the season following the world lead of 19.67 set by world champion Noah Lyles in Kingston on Saturday and 19-year-old Knighton has the opportunity to make his mark again as he races against athletes including Dominican Republic's world fifth-place finisher Alexander Ogando, South Africa's Luxolo Adams and Liberia's Emmanuel Matadi.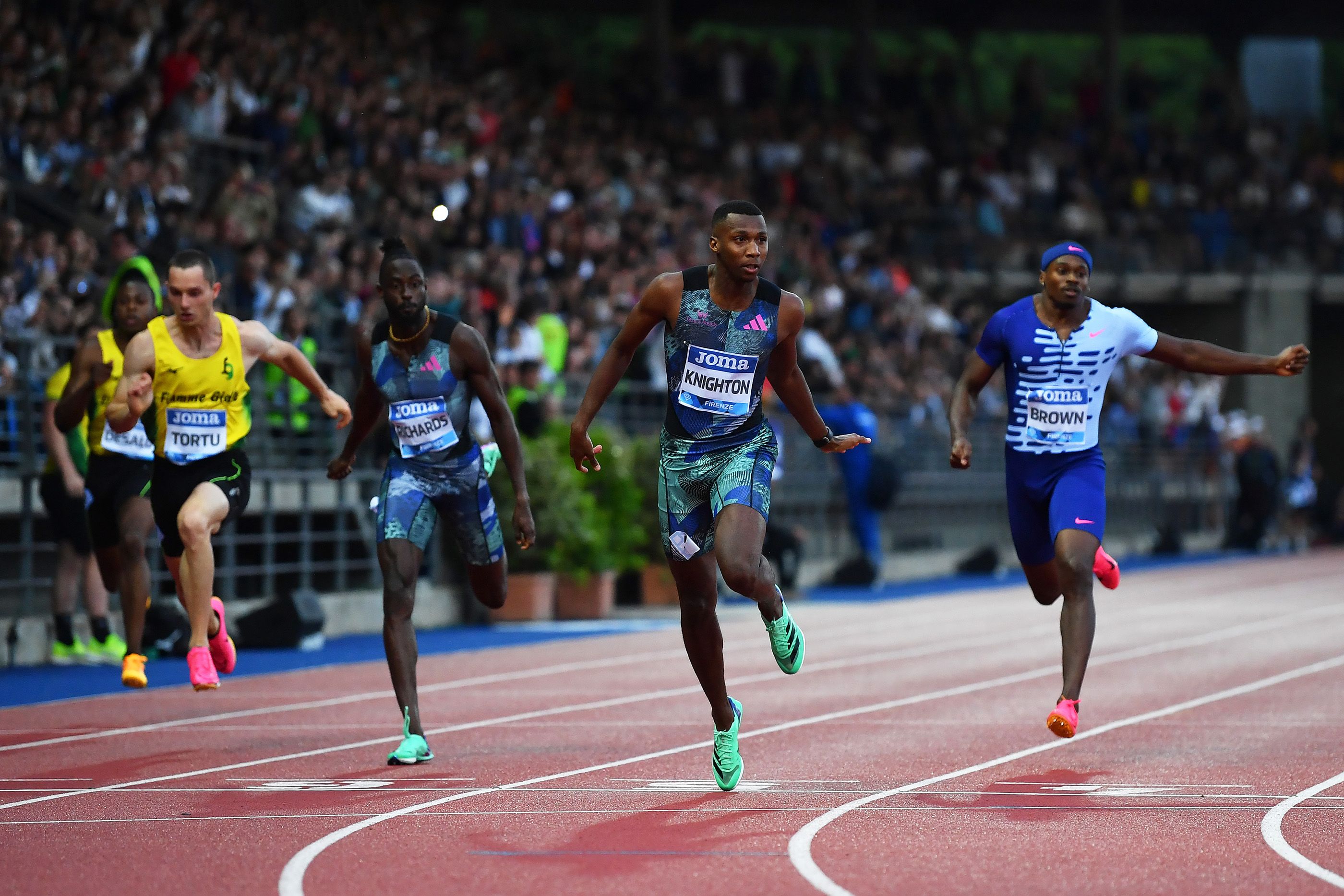 Erriyon Knighton wins in Florence (© Getty Images)
At the fifth edition of the Irena Szewinska Memorial, named in tribute to the Polish sprint great, the women's 100m features USA's world and Olympic relay gold medallist Morolake Akinosun, who ran 10.95 in April and won the USATF Los Angeles Grand Prix in 10.97 at the end of May. She will be looking to dip under 11 seconds again after her 11.20 for fourth place in Florence. Britain's Imani Lansiquot was one place ahead of Akinosun in that Diamond League meeting and they race each other again, joined by USA's Kayla White and Germany's Lisa Mayer.
Lansiquot is also entered for the 200m, where her rivals include her compatriot Daryll Neita as well as USA's Anavia Battle and Cambrea Sturgis.
After a strong indoor season during which he took his 60m hurdles PB to 7.39, USA's Daniel Roberts takes on his first 110m hurdles competition of the year alongside his compatriot Jamal Britt, the NACAC silver medallist who won at the USATF Bermuda Grand Prix in a wind-assisted 12.99, plus Poland's 20-year-old European indoor 60m hurdles silver medallist Jakub Szymanski and Cuba's Roger Iribarne.
USA's Alaysha Johnson could contest four races in two days in Poland as after winning the B race and tying for victory in the A race in Chorzow, she travels to Bydgoszcz where the programme features heats before the final. The NACAC champion clocked 12.42 in Chorzow and was declared joint winner with Olympic champion Jasmine Camacho-Quinn after they ran the same time, down to the thousandth. In Bydgoszcz the field also features Bahamian world indoor 60m hurdles silver medallist Devynne Charlton, USA's Sharika Nelvis, Ireland's Sarah Lavin and Poland's Adrianna Sulek, who recently finished third in the heptathlon at the Hypomeeting in Gotzis.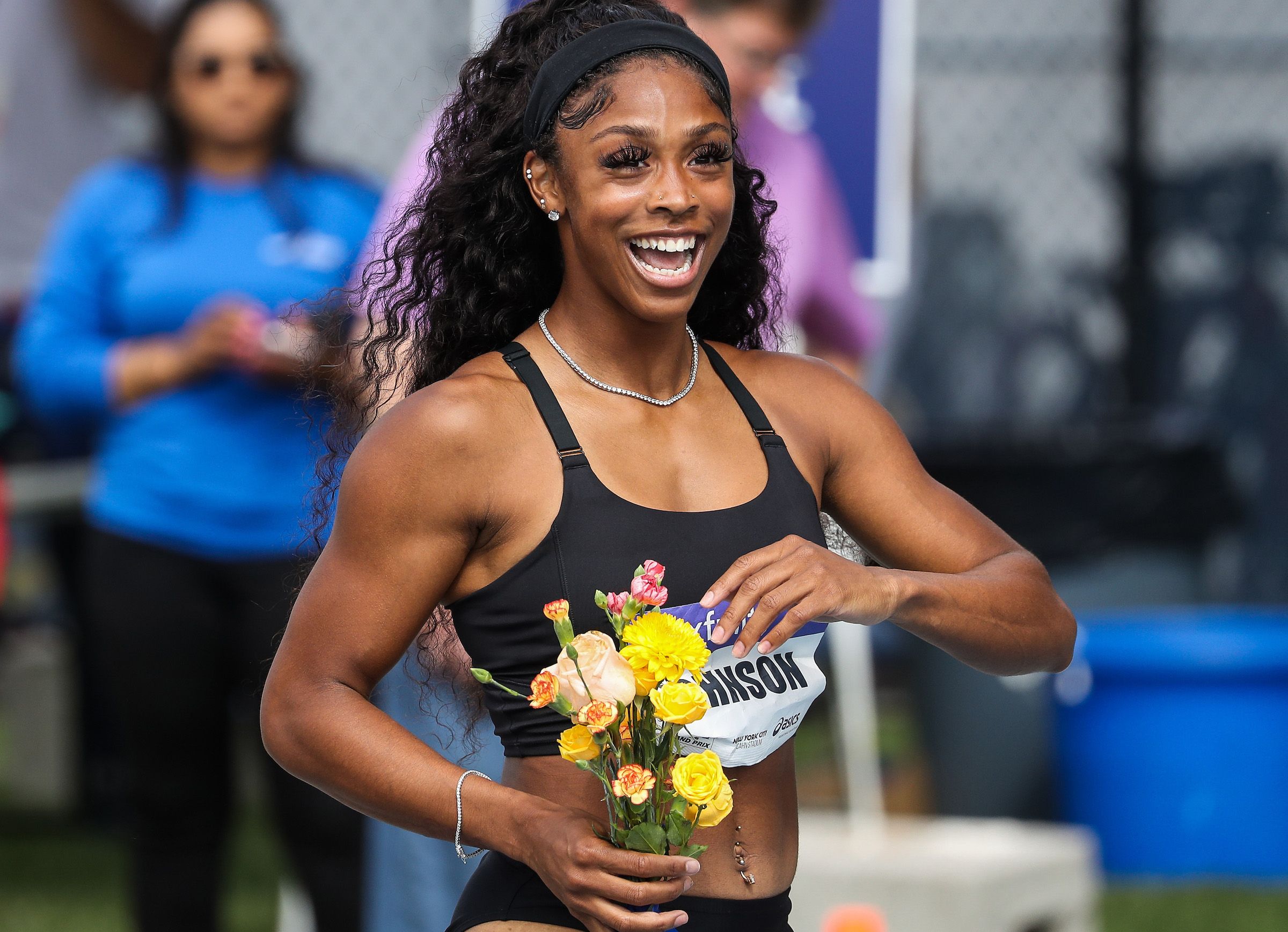 Alaysha Johnson (© Kevin Morris Photographer)
Kenya's Elias Ngeny and Collins Kipruto go in the men's 800m against Sweden's Andreas Kramer and Poland's Mateusz Borkowski, while the women's line-up features Germany's Katharina Trost, Jamaica's Adelle Tracey and Poland's Adrianna Topolnicka.
In the women's mile, Spain's Marta Perez is joined by Ethiopia's world U20 1500m fourth-place finisher Mebriht Mekonen and Kenya's Edinah Jebitok, who finished eighth in the senior women's race at the World Cross Country Championships in Bathurst in February.
In the men's 1500m, Ireland's Andrew Coscoran is back on the track two days after his win at the FBK Games in Hengelo. His competition includes South Africa's Tshepo Tshite, who ran a PB of 3:33.02 in April, and Australia's Matthew Ramsden.
Jess Whittington for World Athletics