If you workout regularly — or are planning to start this summer— then you need a massage gun. A good massage gun can make a world of difference in your workout recovery, and thankfully one of our favorite massage guns is on sale now at Amazon.
The Theragun Elite is incredibly user-friendly. You can easily adjust the massage intensity by simply pressing the up or down button, and by applying varying pressure to your muscles. We recommend, from first-hand experience, starting with a lighter touch. The triangular design makes it really easy to reach all areas of your body on your own, at just the right angles — even those otherwise hard-to-reach spots on your back. It includes five attachments — a dampener, standard ball, thumb, cone and wedge. 
It's a high-end splurge, but trust us — you'll wind up getting a lot of use out of this massage gun once you know how good it makes you feel. 
Theragun Elite 5th generation massage gun, $359 (regularly $449)
You can also save a little extra by purchasing the older model. The 4th generation Theragun Elite is also on sale now.
Theragun Elite 4th generation massage gun, $329 (reduced from $399) 
---
More Amazon massage gun deals to shop now
Save on top-rated massage guns to support your muscle recovery this summer. All of these options have a four-star rating or higher and include tons of positive customer reviews. 
Hyperice Hypervolt 2: $199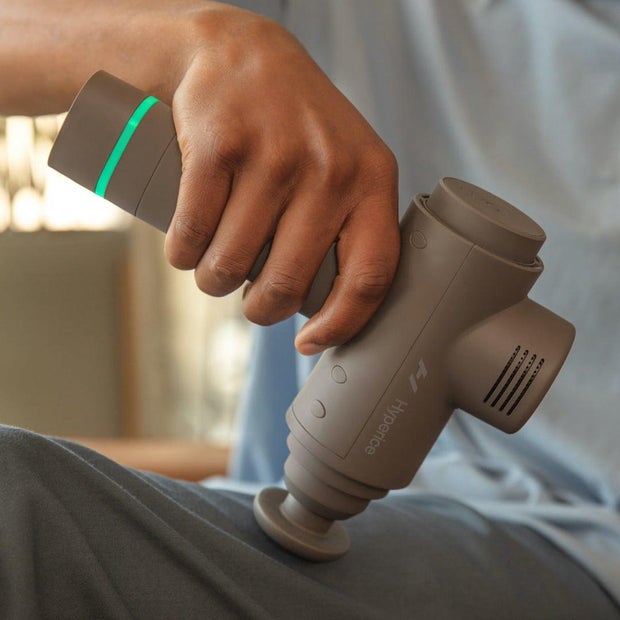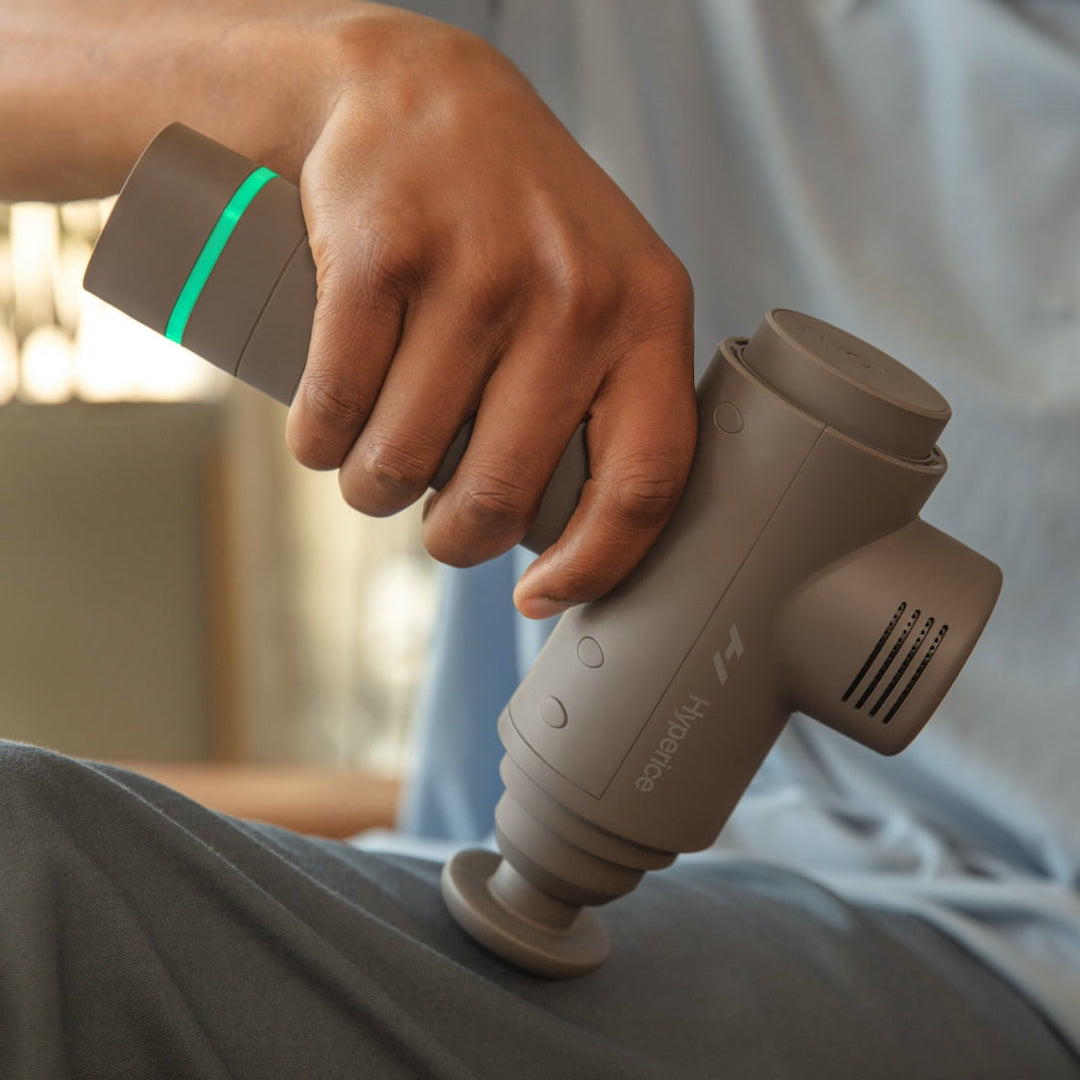 This updated version of the original Hypervolt is lighter, more powerful and features a newly designed handle. It has three speeds and five head attachments, and promises to be super-quiet. It works with the Bluetooth-connected Hyperice app. At 1.8 pound, it's lighter than the Theragun Elite.
"This little gem is great right after a run for easing some of the stiffness," shared one Amazon reviewer. "I also like to use it right before going to bed — it seems to keep me from having quite so much stiffness in my quads and glutes in the morning."
Hyperice Hypervolt 2, $199 (reduced from $299)
---
Hyperice Hypervolt Go 2: $129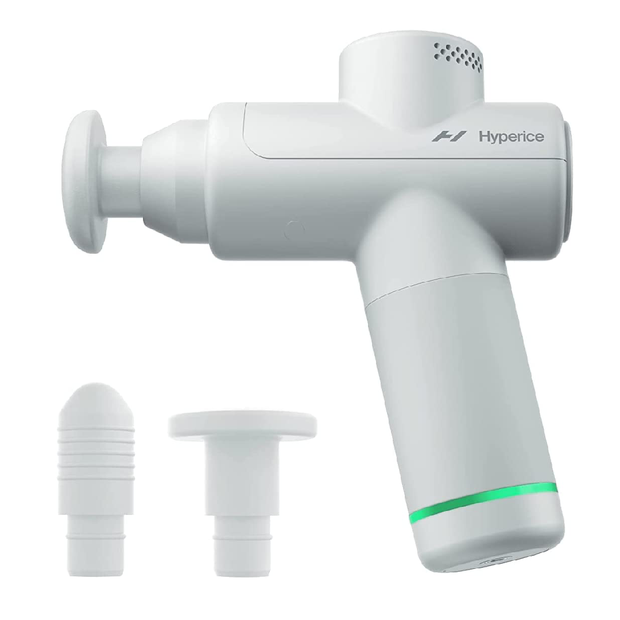 The Hypervolt Go 2 boasts 40-watts of power, two head attachments and three speeds. Its main selling point is its extreme portability – its lack of heft is meant to literally keep you on the go.
"I was gifted a full size Hypervolt which I use regularly for my legs after runs. When I travel and do runs away from home, I surely miss my massage gun. So I purchased the Hypervolt Go 2," wrote a verified purchaser on Amazon. "It charges quickly and is quiet. It will definitely be a good traveling companion for races that are away from home."
Hyperice Hypervolt Go 2, $129 (reduced from $199) 
---
Toloco massage gun: $40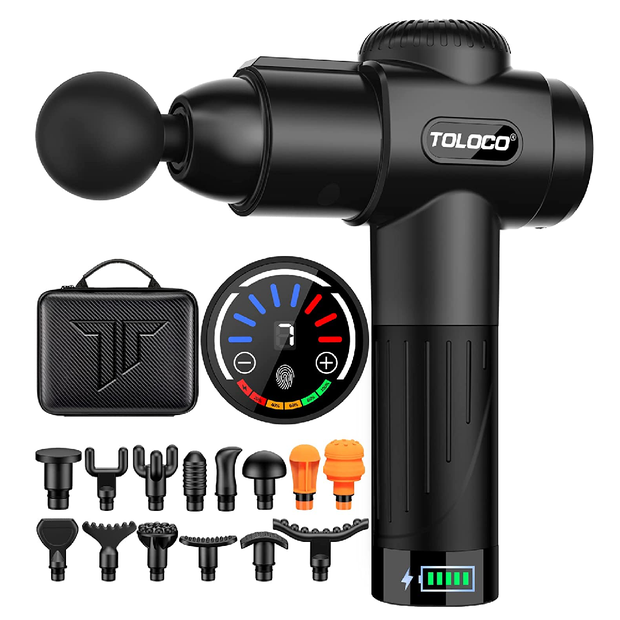 One of the best massage gun deals that you can get right now is on this Toloco massage gun. It's currently 60% off on Amazon.
This massage gun comes with 15 interchangeable massage heads and seven speed levels to help you customize your experience to fit your recovery needs. It offers a long battery life with a smart LED battery display.
"I have always been quite tight in my neck area, and this device gave me relief almost immediately" wrote one Amazon reviewer. "It feels sturdy, provides a powerful thump, and has a suitable range of speeds. The battery is still showing 80% after a week of using it for 5-10 mins a day. [I] highly recommend."
Toloco massage gun, $40 after coupon (reduced from $100)
---
Flyby F1Pro deep tissue percussion massage gun for athletes: $57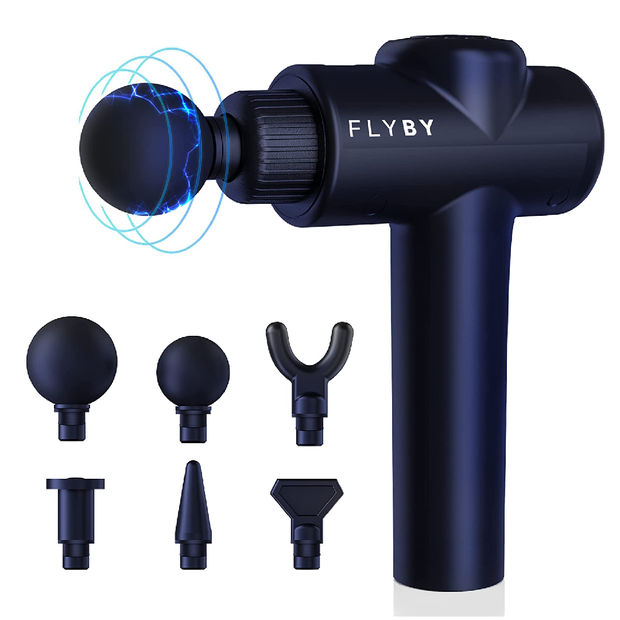 The Flyby F1Pro massage gun offers three speed settings and six interchangeable heads. It is quiet and lightweight, weighing only 1.8 pounds. This high performance massager features a high-impact brushless motor that offers speeds up to 3200 rpm and up to 50-pounds of pressure, It's great for relieving soreness and muscle tension after a serious workout.
"If you are not looking to spend a fortune on the TheraGun, the FlyBy is just for you," shares one verified buyer on Amazon. "It has many different heads to put on the massager for different areas of your body. I personally have shoulder and foot pain, and it relieves the pain about 85-90%."
Flyby F1Pro deep tissue percussion massage gun for athletes, $57 after coupon (reduced from $140)
---
Dr Massage Prowlr massage gun: $72
If you want a more realistic massage experience, consider the Dr Massage Prowlr orbital massage gun. It provides a unique massage experience with needing and sweeping motions designed to mimic a real massage. It comes with three massage heads and 3 different speed settings to allow the user to customize the massage to their needs and preferences.
The massage gun is currently on sale for $80 on Amazon, but you can save an extra 10% with promo code "RECOVERY10".
Dr Massage Prowlr massage gun, $72 after coupon (reduced from $120)
---
Wahl deep-tissue percussion therapeutic handheld massager: $42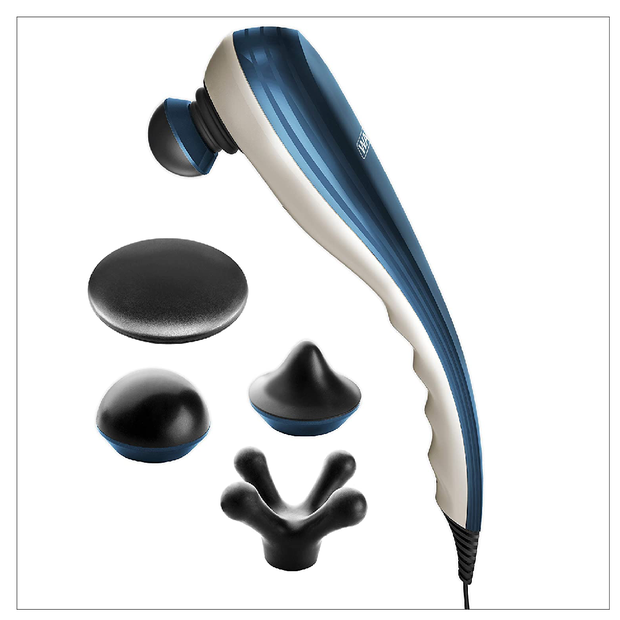 To try out a handheld massager without breaking the bank, pick up this option from Wahl. This deep-tissue percussion handheld massager plugs into the wall and offers up to 3,350 pulses per minute. It comes with two attachments: the standard attachment and an extra-wide flat disk that covers large areas.
One Amazon reviewer shared their experience using this device after a workout: "I have used it after intense workouts and it usually reduces about 85% of soreness without stretching."
Wahl deep tissue percussion handheld massager, $42 (reduced from $45)
---
Related content from CBS Essentials: