Playing tennis on Rod Laver Arena to a cheering crowd of 15,000 is a dream held by every tennis player.
For all but the rarest few, it will remain a distant fantasy.
But for Henry Young, 99, the dream came true at this year's Australian Open.
"To walk along that tunnel, into the arena, looking at the portraits of all the greatest players along the way, you can see the light at the end of the tunnel, and to come out into the open and 15,000 people applaud, it's a memory that will stay with me for the rest of my life," Mr Young said.
"It was just a glorious moment."
From fighter pilot to farmer
A former spitfire pilot, who served with both the British and Australian navies during and after World War II, Mr Young has lived a full life.
Born in Glenelg near Adelaide, his family relocated to New Zealand where he enlisted for service as a 19-year-old in the Fleet Air Arm of the Royal Navy as war broke out.
After the war, he put in for soldier-settler land in New Zealand but missed out and instead transferred to the Australian Navy Fleet Air Arm, and – around that time – met his wife of 72 years, Madge.
"Being a navy wife is very, very hard … so I told her she could have me as an airline pilot or as a farmer," Mr Young said.
"I started putting in for soldier-settler blocks and every one I put in for, there were 2,000 others vying for the same.
"Then I heard about the Australian Mutual Provident Society (AMP) land development scheme near Keith, in South Australia's South East, and we couldn't get there fast enough."
Mr Young bought a truck and built a canopy on the back, then set off for farmland at Sherwood, near Keith.
"We had five and a half years in a bush hut, with no electricity," he recalled.
"It was an exciting time and we all seemed to thrive – it was a bit like a collective farm with all of us soldier settlers in the community at that time.
"We were young and when you're young you think you're invincible."
Mr Young leased and eventually bought the farmland, but the 1959 drought struck in his second-year farming.
"It was a very hard time for a lot of soldier settlers, because they had the full weight of debt on their shoulders as well as the drought," he said.
"We knew we had to get big or get out, so we had to work very hard to grow the property at that time."
A highly self-motivated innovator, Mr Young also worked with local engineering business Vermeeren Brothers to develop one of the early crutching machines for sheep.
"With the banks on my back, one day I lined up my jackaroos – we had two of them – so it wasn't hard to get a straight line … and I said we'd be crutching our own sheep from then on," he laughed.
"So we did for the first 12 months and it just about killed me – my back was terrible – so I took some ideas from some of the basic machines in use at the time, brought the best bits together, and made my own with the help of a local engineering group."
The design was so successful, Mr Young and the local engineers supplied more than 2,000 crutching trailers to sheep farmers across the country.
Hobby becomes life passion
The Young family expanded with the arrival of three sons.
With limited secondary education options available at the time, Mr Young said his stock agent firm Goldsbrough Mort & Co (later, Elders) paid to send the boys to boarding school at Saint Peter's College in Adelaide.
"It was the most tremendous thing for any stock firm to do, and it helped the boys to all gain university degrees."
But continuing farming would not be in the future plans of the next generation of Youngs.
Instead, as his three sons pursued careers in business, Mr Young made the decision to sell the farmland at Keith and retire to Adelaide, aged 70.
It was at this time that his love for tennis turned from a hobby to a great life passion.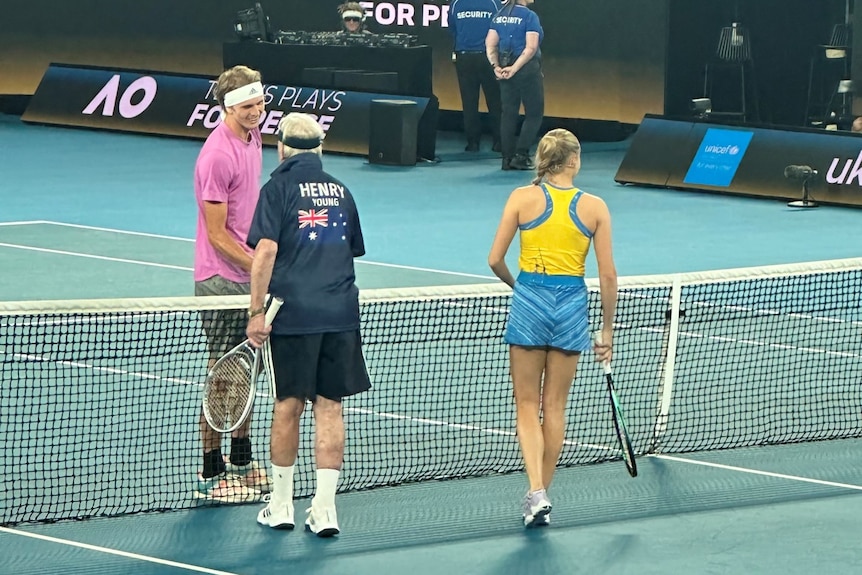 "I was driving past Memorial Drive Tennis Club one day and I saw a sign: tennis players wanted," Mr Young said.
"I bluffed my way in, and the rest is history – I have been playing three to four days ever since!"
He said the competitive nature of the game had kept him interested for nearly 40 years.
"I'm a fighter pilot. I'm competitive. I love the challenge of a tennis match – you can be down and make a comeback. Even if you lose, the challenge is always there."
"The games you enjoy the most are the ones you had to fight the hardest."
He jokes about playing so often, at such a remarkable age: "I'm getting better and better because all my peers are dying off around me!"
Centre court debut
Mr Young has competed in dozens of Masters Games events and even international seniors tournaments, but this year, he said, was the pinnacle of his tennis career.
The Clash of the Centurions — organised by a close friend of Mr Young's — was part of the Australian Open's Tennis Plays for Peace charity spectacular preceding the start of the January tournament.
"It came about because my friend, Geoffrey Reed, had read in the Guinness World Records about the world's oldest tennis player: 98-year-old Ukrainian Leonid Stanislavskyi," Mr Young said.
"Even though I'm six months older, I don't wish to take the title off him.
"Instead, we thought it would be wonderful to organise a match … we toyed with the idea of Wimbledon – but the Australian Open seemed the perfect opportunity.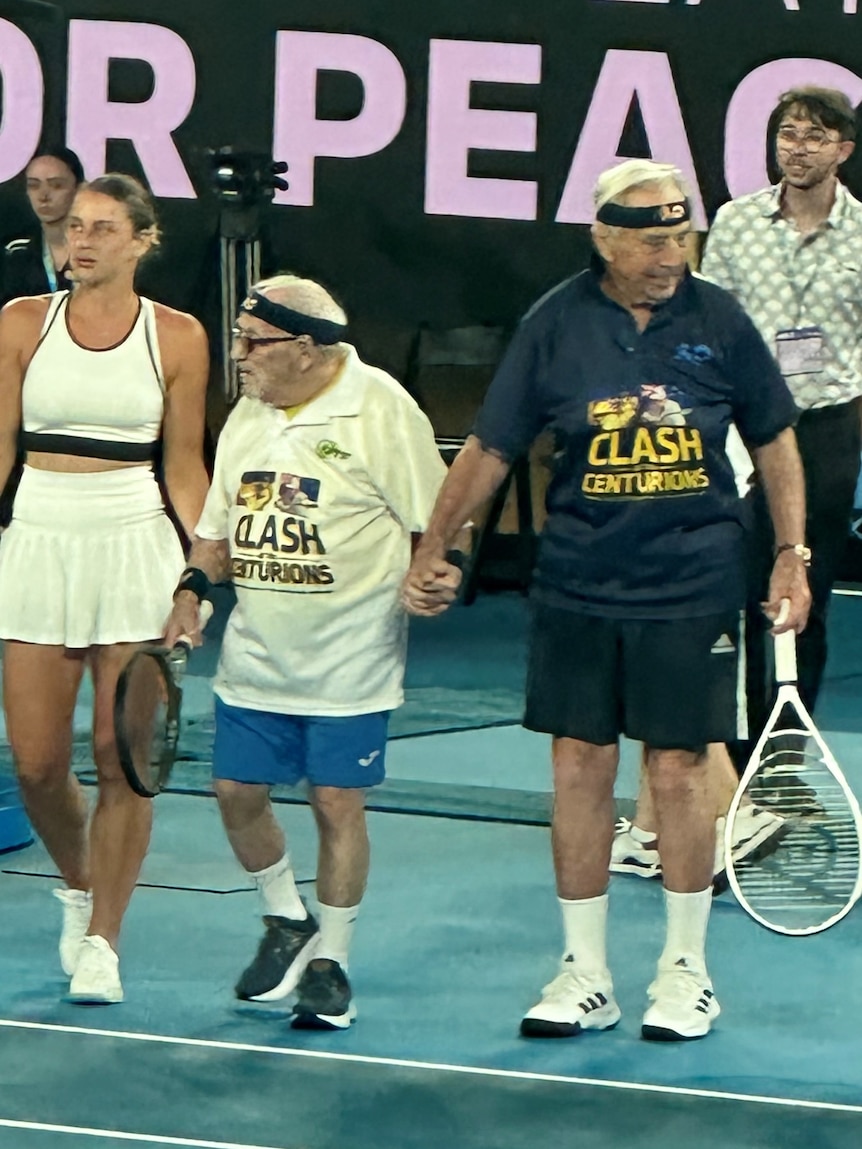 Mr Young said he had "formed a wonderful friendship" with the 98-year-old Ukranian.
With two knee replacements and a hip replacement behind him, Mr Young said he would "keep playing for as long as possible".
"The benefit that tennis gives you in older age is enormous.
"As you get older, it's very easy to dream up excuses to stop playing, and then you just vegetate.
"The way to keep young is to keep active and keep some purpose in your life. Tennis keeps me young."