"Sheffield Wednesday went 330 (over with injury-time) minutes without being ahead (in normal play and on aggregate) in the playoffs, but managed to get promoted," writes Colin Richardson. "Has any other team not had a lead in normal play for longer and won a competition?"
We open with Boris Cule and Ed Rostron, who both nominate Portugal's achievement at Euro 2016: "They famously made it through their group with three draws, before scraping their way to the semis, winning once in extra-time and once on penalties," recalls Boris. "They did lead until the 50th minute of their first group game against Iceland, but then never led a game until the 117th minute of their last-16 tie with Croatia, a total of 337 minutes without leading (not including injury time)." Ed adds that "Portugal played a total of 720 minutes in the tournament and only spent 73 of them in the lead".
Stephan Wijnen can raise the bar, albeit only slightly. "I give you PSV Eindhoven, winners of the 1988 European Cup," he declares. "After beating Galatasaray and Rapid Vienna in the first two rounds, PSV drew the last five games in a row (which was possible because of the away-goals rule): twice in the quarter-finals against Bordeaux (1-1 away, 0-0 home), twice in the semi-finals against Real Madrid (again 1-1 away, 0-0 home), and also in the final against Benfica (0-0, won 6-5 on penalties). That makes 480 minutes plus the injury time of those games."
Everyone else had better stand aside, though: Burnley and Wolves would like a word. "Colin's question will surely prompt memories of the 1959-60 season," notes Andy Wright. "The FA Cup final (the traditional last game of the season) had been played and won by Wolves, who sat top of the league and on the verge of the first Double since Preston North End in 1888-89. However, one fixture remained. Burnley's game at Manchester City had been postponed earlier in the season. It took place on the Monday after the final, with Burnley winning 2-1. As the final whistle sounded, the Clarets went top of the league for the first time since 26 August, a point above Wolves, who had beaten them 6-1 a month before. Other non-leading periods pale into insignificance against Burnley's 3,600 minutes."
Double drops
"Both Reading's first-team men's and women's team have been relegated this season," writes Ciaran S. "Has this ever happened to a club before?"
There's no denying it's been a grim season for the Royals, whose men's team finished 22nd in the Championship, slipping down to League One, as the women's team ended up rock bottom of the WSL. The club is also embroiled in off-field turmoil, with the men's team deducted six points in April after the club breached a Football League business plan and the women's team now switching to part-time status as a result of "difficult but necessary financial decisions".
When it comes to enduring a double relegation in one season, however, Reading are not alone. In fact, the same fate befell some local-ish rivals last term. "[It happened] to Watford in 2021-22," writes Adam Cummings. "The men's team were relegated from the Premier League, while the women went from the Championship to Premier South courtesy of a 30-yard free-kick from pretty much the last kick of the season."
And Derrick Cameron has another contender: "I think one answer is Yeovil Town in 2018-19: from the WSL and League Two."
Champions feeling hard done by (2)
Last week we flagged the stories of those teams who won their leagues but were denied promotion due to questionable systems. But there's another tale to tell …
"Different, but worse than the examples given, is the case of Macclesfield Town," points out Kevin Peel. "In the 1994-95 season, Macc won the Vauxhall Conference, having been top since early November and, during the season, setting a record of 10 consecutive wins. They were denied promotion when a ground inspection identified a problem with a culvert at one end, not affecting the playing surface."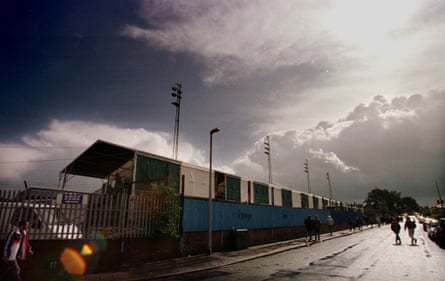 Knowledge archive
"What is the current record crowd for a friendly in Britain?" asked Kris Scrimgeour in 2009.
Pleasantly straightforward, this one. The record for an international friendly is 125,683 – achieved at Hampden Park for a game between Scotland and France, which the home side won 2-0, all the way back on 27 April 1949. That answer was provided by Sean DeLoughry, and so was the record for a friendly between two club sides – 104,493 for Rangers 1-2 Eintracht Frankfurt, also at Hampden, in October 1961.
An honourable mention goes to Chelsea 3-3 Dynamo Moscow in 1945. While the official attendance for that match was listed as 85,000, many witnesses estimated the true figure at close to 100,000, and according to Damon Maddison: "The crowd were spilling out of the terraces and on to the dog track, while some people even climbed on to the roof of the stands to watch." The highest official gate for that tour was actually at Ibrox, however, where 92,000 saw Dynamo draw with Rangers.
Can you help?
"Sheffield Wednesday scored with the last kick in the League One playoff final," begins Putu Winchester. "The next game at Wembley was the FA Cup final, where Manchester City scored after 15 seconds. Are these the quickest consecutive goals scored at a ground? I make it 17 seconds."
"With 12 minutes to go in the 1982 final of the Hong Kong Senior Shield, the manager of Eastern Athletic Association brought on his most experienced defender to protect a 4-0 lead over Rangers FC," explains Kári Tulinius. "That player was Bobby Moore, and he became, and remains, the only player to have won both the men's World Cup and the Hong Kong Senior Shield. Are there any other trophies that have been won by just a single World Cup-winning player?"
"On diving down a Wikipedia hole I noticed that, in 1937, the Basque Country beat Denmark 11-1 for their record win," mails Dan Taylor. "However, Denmark's record defeat is officially 8-0 to Germany (also in 1937). Are there any other examples of a national team's record loss coming against a non-Fifa affiliated team?"
"Partick Thistle won their four playoff games by an aggregate of 16-3 before reaching the final, where they soundly beat Ross County 2-0 in the first leg," writes Jonny Sweet. "They were also 1-0 up in the second leg – before conceding three goals in 20 minutes and excruciatingly missing promotion on penalties. Has there ever been an unluckier or nastier playoff tilt than this?"