This is an edition of The Atlantic Daily, a newsletter that guides you through the biggest stories of the day, helps you discover new ideas, and recommends the best in culture. Sign up for it here.
Until recently, women entertainers could count on their 40th birthday as the death knell for their cultural relevance. But a generation of performers is reentering the pop-culture spotlight in midlife, forcing the public to reckon with the way their stories have been told.
First, here are three new stories from The Atlantic.
---
Underestimated
"When the subject of Pamela Anderson comes up, understatement likely isn't the first word that comes to mind," my colleague Sophie Gilbert writes in a new Atlantic essay. But the 55-year-old model and actor's new memoir—reportedly written without the help of a ghostwriter, a rare feat among celebrity authors—is filled with what Sophie calls "measured acceptance." The memoir, as well as a new Netflix documentary lovingly produced by her son, shows Anderson's preternatural poise in the face of "the same two forces that had defined her life: sexual desire and the desire to watch her be humiliated," Sophie writes.
Understated is an apt descriptor for Anderson, but so is underestimated. On that front, Anderson is not alone. She follows The White Lotus scene-stealer Jennifer Coolidge (age 61) as the latest in a series of women actors whose comeback in midlife has afforded them a gravitas previously denied women "of a certain age" in Hollywood. You might call this moment a vindication of the female protagonist—both in stories onscreen, and in popular culture itself.
Perhaps more than ever, older women entertainers are entering the fore of public life, whether it's to tell their own stories or to take on acting roles of greater complexity. In the process, they're forcing viewers to reevaluate the narratives we tell, and consume, about women as a whole.
This reckoning has been fueled by the revolution in prestige streaming over the past decade, which has led to an increase in opportunities for older female actors. As the Atlantic staff writer Helen Lewis wrote last year, "a new generation of actresses has discovered an answer to the dry decade"—Helen's term for the female actor's fallow 40s—"and is showing the rest of us what we've been missing—stories that capture the fullness of women's lives."
Helen continues:
The streaming wars have created a huge demand for new dramas, and the increased opportunities are obvious. In her 40s, Reese Witherspoon has starred in Big Little Lies, Little Fires Everywhere, and The Morning Show. (As a bonus, the last of these also rescued Jennifer Aniston from a film industry that never quite seemed to know what to do with her.) The HBO remake of Scenes From a Marriage gave 44-year-old Jessica Chastain a role every bit as challenging as an Ibsen heroine. At 46, Sandra Oh began playing a weary spy locked in a deadly pas de deux with a glamorous assassin in Hulu's Killing Eve. And at the same age, Kate Winslet undertook one of the standout roles of her career, as Mare Sheehan, the stoic detective in HBO's Mare of Easttown.
Helen concludes: "The wide-angle lens of television invites immersion in a pivotal midlife decade that—for anyone juggling a career, children, and aging parents, as well as their own compromises, regrets, and unfulfilled ambitions—is anything but dry."
And actors like Jennifer Coolidge are getting the protagonist treatment well past their 40s, taking on performances that expand beyond old tropes. Coolidge spent the better part of three decades playing wacky middle-aged women. But only recently has the public come to recognize that Coolidge's superpower is in performing with a knowing wink at people's preconceptions; she's fully in on the joke. Reflecting on Coolidge's career following the actor's Golden Globes win last month, my colleague Shirley Li wrote:
Coolidge's greatest feat as a comedic performer is her ability to make the audience share her curiosity and appreciation for her characters, many of whom were written to be the butt of jokes about older women. Some, like Carol, are supposed to be pitiable simpletons. Others, like Sophie, are cringeworthy for having robust sexual appetites. Yet Coolidge knows what people expect of Carols and Sophies, so she doesn't stop at making the audience laugh with her off-kilter line readings and impeccable timing. She uses her magic to turn objects of ridicule into objects of affection.
Related:
---
Today's News
Rescuers in Turkey and Syria are working in freezing conditions to find survivors of Monday's earthquake.
Tonight, President Joe Biden will deliver his second State of the Union address since taking office. The speech is set to begin at 9 p.m. ET.
New data show that America's trade deficit rose 12.2 percent last year, nearing a record $1 trillion.
---
Evening Read
The Most Mysterious Part of the Moon Isn't Where You Think
By Marina Koren
The far side of the moon has a certain mystique about it. It's eternally out of view, never facing the Earth—which has earned it a misleading nickname, "the dark side," as if sunlight never reaches its surface (it does). It's the section of the moon we'll never see for ourselves, not unless we hop on a spaceship and fly over there.
But the really mysterious parts of the moon aren't on the far side. They're at the poles, where the sun always hovers near the horizon. The lighting conditions create special circumstances: Hundreds of craters at the north and south poles never, ever receive direct sunlight, and so never feel the warmth of our star. They are, in astronomy parlance, permanently shadowed regions, and they've been that way, dark and frigid, for as long as billions of years. Astronauts have experienced the powdery surface of the moon up close, and space probes have mapped nearly every bit of the terrain from above—but none have peered into the depths of those pitch-black craters. With the right tools, astronomers hope, they'll be able to peek inside and find something spectacular: water.
More From The Atlantic
---
Culture Break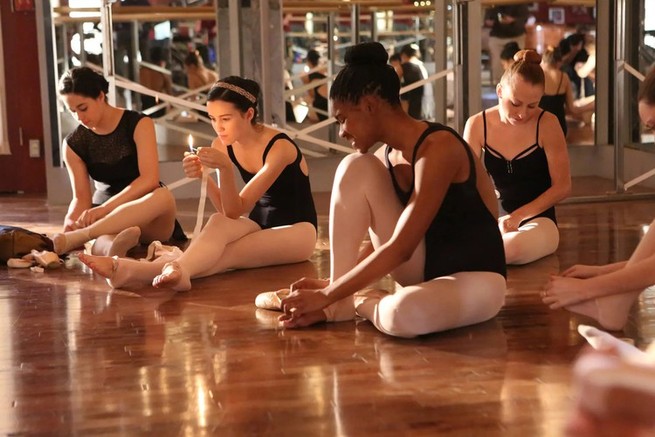 Read. "In Flight," a new poem by Rae Armantrout.
"It would be easy to believe / our bodies / were being operated / remotely, / like drones / receiving instructions, / no doubt coded, / on the fly."
Watch. If you missed Amy Sherman-Palladino's Bunheads when it aired, you can stream the wacky, graceful, and utterly endearing series on Hulu.
Or try something else from our critics' list of 13 feel-good shows to watch this winter.
---
P.S.
Last night I watched Love, Pamela on Netflix and was struck by Anderson's quiet grace. But I was more taken aback by the brazen ridicule of the then-20-something Anderson during her 1990s heyday. As a child of the '90s, I internalized the public's scorn as something natural or deserved by the woman herself. Looking back with fresh, adult eyes made me consider the lessons I'd absorbed without scrutiny.
— Kelli