Investment Summary
The Mosaic Company (NYSE:MOS) is a competitive global supplier of agricultural products and fertilizers. Their comprehensive lineup of crop nutrients comprises phosphate and potash fertilizers, produced and distributed directly by the company. Mosaic boasts an extensive operational presence, with strategically positioned mines, processing plants, and distribution facilities spanning North and South America and Asia.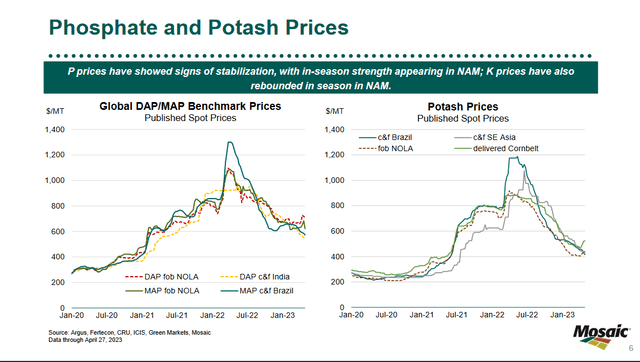 The last report showed the company has a yearly decline in the revenues, 8% to be exact. 2022 was a great year that helped boost fertilizer prices sky high as the war in Ukraine created uncertainty in the market and companies were scrambling to build up inventories and securer yields. Whilst seeing a yearly decline in revenues is never nice, the company has boosted volumes which helped offset this loss. Going forward they are noticing an increased demand in the US. I think the valuation right now is too low to ignore and will just like my last article on the company rate it a buy. The dividend and strong buybacks will help create a lot of value for shareholders at these prices if you stay for the long term.
Solid Market Outlook
The fertilizer market continues to exhibit a promising outlook, driven by the pressing need to establish sustainable and secure food sources. With the ability to enhance crop yields and mitigate potential losses, fertilizers play a crucial role in ensuring food security. In line with this, a report by Allied Market Research emphasizes the positive growth trajectory of the global fertilizer market, projecting a CAGR of approximately 3.55% between 2021 and 2030.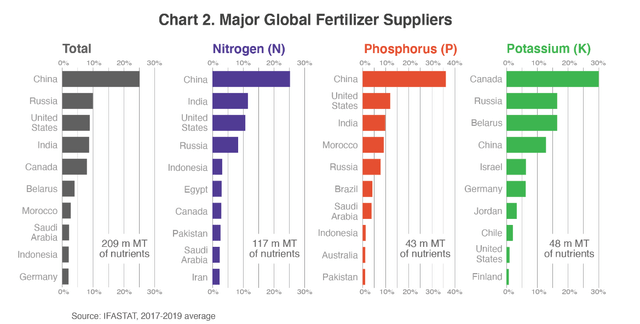 Another key point that I think will help be a tailwind for MOS is that more and more companies are seeking supplies from domestic companies rather than international ones. It's no secret now that deglobalization is helping boost demand for domestic companies, and even though MOS is a global company, much of its revenues are in the US. Here they can play a key role in supplying demand and growing both the top and bottom lines.
Amidst the ongoing concerns surrounding food scarcity, companies like The Mosaic Company hold a pivotal position in meeting the demand for reliable and high-quality fertilizers. By providing essential products that contribute to increased agricultural productivity, MOS continues to serve a robust customer base and play a crucial role in addressing global food challenges.
As the world grapples with the need for sustainable and resilient food systems, the significance of fertilizers in promoting agricultural productivity and reducing crop losses is expected to endure, positioning companies like MOS for long-term growth and success.

Where MOS is able to bring value to investors despite the volatility of the fertilizer market is through dividends and buybacks. Something which they are doing frequently. Close to $500 million was used in the first quarter for buybacks and $152 million for dividends. The company has made solid acquisitions in the past and what I think will continue to help drive growth would be a continuation of that. The company is generating strong cash flows that could be diverted to such efforts.
Earnings Helped By Growing US Demand
Looking at the last report by the company they noted a yearly decline in sales, down 8% YoY, but the company also saw a significant QoQ decline too, around 20%. But it should be said the market is driven by some sort of seasonality so inconsistencies like this are not that important. Looking at the yearly growth or decline is much more useful. What still has me optimistic is that the company noted a strong demand from the US market and the increase in volumes did help offset some of the revenue decreases.
Less favorable pricing for fertilizers is likely to continue for the year in my opinion. It will have to take a catalyst to push prices up to what they were 12 months ago. In 2022 that was the war in Ukraine.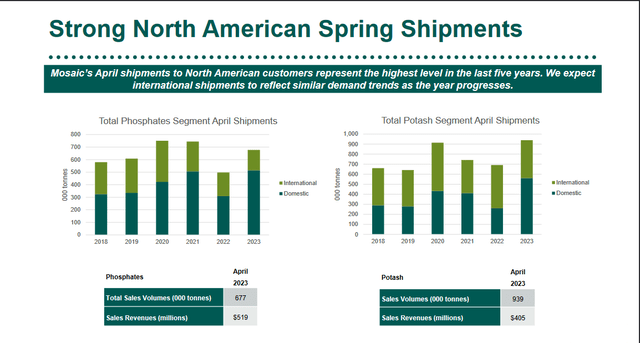 But as mentioned, domestic shipments are increasing at a fast rate as more and more countries are seeking to establish their own food supplies and not have to rely on other countries' ability to produce. It also cuts down on supply distances which should in the long-term also help with margins too.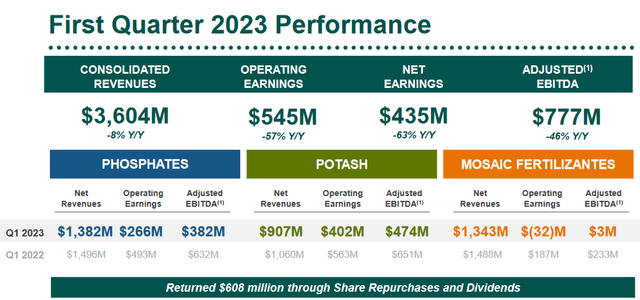 Looking at some other key numbers from the quarter, it is very nice to see the cash flows still remaining quite high. FCF came in just under $200 million, and as the company should face more demand and sales for the remainder of the quarter I don't think it's impossible to once again reach above $1 billion in FCF. With the company dedicating large amounts of capital to growing the value of shareholders I see the program kept up. In the last 5 years, the company has bought back nearly 2.5 % of outstanding shares, and with almost $500 used for repurchasing in the first quarter the company is taking big steps and in my opinion buying when the share price is undervalued.
Looking ahead it will be key to see the development of the margins for the company. They took a hit on a yearly basis, so seeing some form of recovery here will be important to justify the investment case I have for them.
Financials
Looking at the financials the company has a significant amount of long-term debt to pay off in the coming 12 months. Right now the current maturity of the long-term debt sits at just under $1 billion. With the cash position sitting at $450 million, it's not enough to pay all of it off, especially when you take the short-term debt into account as well which is $854 million right now, up from $224 million in December 2022. This doesn't paint a very good picture for the company financially.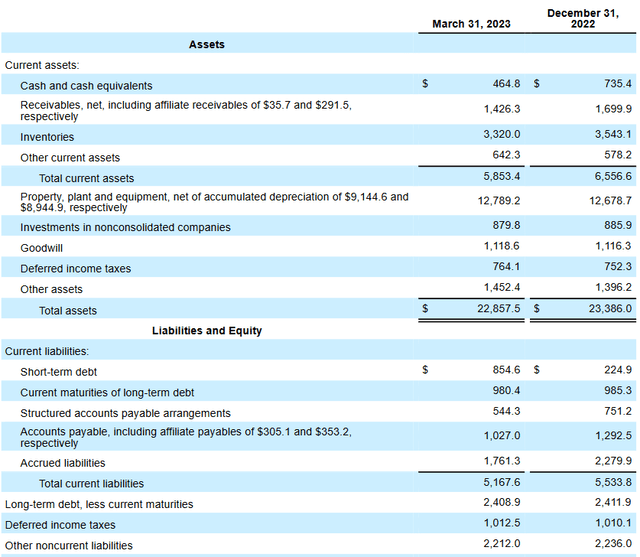 They will need to allocate significant portions of the cash flows to pay off these liabilities to not risk having to dilute shares to raise capital. This is perhaps the riskiest part of investing in the company right now. But as mentioned before, I don't see it as impossible for the company to generate above $1 billion in FCF for the year if prices remain similar and volumes continue to climb as a result of US demand.

Where there might be concern is the company using a lot of cash to buy back shares and distribute a dividend. The cash position decreases by nearly $300 million on a QoQ basis which does create some concern given the number of current liabilities I have just outlined. Ideally, I would have liked to see the company hold a cash position sufficient enough to pay off at least 50% of the current liabilities and then use the FCF to supply the rest. That would put the company in an extremely strong position financially.
All in all, though I think there is room for improvement here for sure. In the coming quarters, I am looking specifically and the FCF growth and the cash position. I don't mind a slowdown in buybacks if it means a better financial position for the company.
Valuation & Wrap Up
As mentioned at the beginning of the article, I still see MOS as a buy, even if they have had a nearly 29% decline since my last article. I think the run-up we have seen in the tech sector has pushed capital out of these companies and into there. It's not just the agricultural sector seeing this, the healthcare sector has also started the year poorly.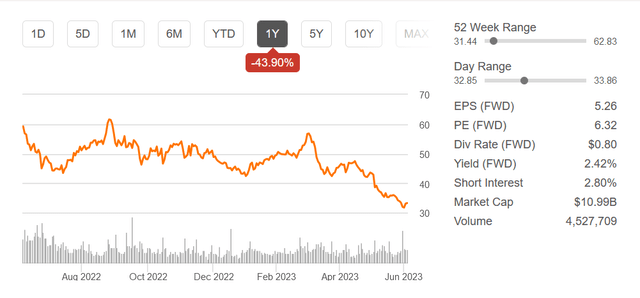 What gives me hope about MOS is the demand they are seeing is strong enough to continue making them able to grow revenues even in a tough environment. Comparing revenues on a YoY basis does seem a little unfair as 2022 was an extraordinary year with fertilizer prices we are likely not to see without a major catalyst happening. MOS is seeing an increase in US demand and that plays into the narrative of deglobalization I think that could be a major driver of growth in the coming years. Pair that with an extremely low valuation and solid dividend and I think we are looking at a company that can pay off very well in the long-term.