One of the world's legendary properties, the Hotel del Coronado barely needs any introduction.
The iconic Southern California resort sprawls graciously along Coronado Beach—its soaring red roof and 10-story Victorian turret visible long before you've completed the journey across the Coronado Bridge and arrived on the Coronado peninsula.
Every U.S. president beginning with Benjamin Harrison (who held office
between 1889 and 1893) up through George W. Bush has stayed at The Del. As have plenty of A-list celebrities, including Brad Pitt, Eva Mendes, Will Farrell, and Jack Nicholson, to name merely a few.
The Del's most famous moment however, is arguably serving as the backdrop for Marilyn Monroe in several scenes from the 1959 film Some Like it Hot—a historical tidbit from the property's history that has been retold so many times it's almost begun to lose it's impact, particularly on generations of visitors who are far less familiar with the Hollywood legend or the movie itself.
More importantly, the Taylor family—including 10-year-old Aidan, 5-year-old Gus the Pug, and grandma— can now also claim to have stayed at the illustrious Hotel Del.
To be clear, my family has been visiting the hotel years, taking part in its famous Easter egg hunts in spring and indulging in its bountiful Christmas buffets at year's end. But as longtime San Diego residents who live just 15 minutes away, there was never a pressing reason to pack a suitcase and spend the night. The arrival of the property's newest addition, the Shore House, changed that.
Less than a year old (opened in September 2022), the Shore House features 75 one-, two- and three-bedroom "residential-style" seaside accommodations.
The term residential-style, however, doesn't really do the new Shore House accommodations justice. Think: chic beachfront townhouse awash in soothing coastal tones and outfitted with all the comforts of home—airdropped into a Victorian neighborhood setting—and you're starting to get a better picture.
Now add to that mental image: spacious bedrooms with ensuite bathrooms, gourmet kitchens outfitted with modern appliances (including a full-size refrigerator, which is a true hotel room rarity); comfortable dining areas where families can gather for meals, and inviting living room spaces complete with an L-shaped couch and working gas fireplace.
The icing on the cake? The Shore House is pet-friendly, too.
All of which could not have made my family's recent visit more inviting. In fact, within minutes of throwing open the door to our accommodations, decompression from the daily grind was fully underway as we settled into the creature comforts provided by our beachfront escape.
And during the course of our three-day stay, we found something new to love each day. Here are some of the highlights that made my family's visit especially enjoyable.
The Accommodations
Let's just take a bit more time to dive into the details of the residential-style accommodations available at Shore House, shall we? In addition to being coastal living beautiful, they're also spacious.
Our residence included two levels. At the heart of the first floor was the living room, dining area and kitchen. This core space was surrounded by two bedrooms, each with their own bathroom. The entire first floor was connected by a long exterior veranda providing unobstructed views of the Pacific Ocean and the pool area below.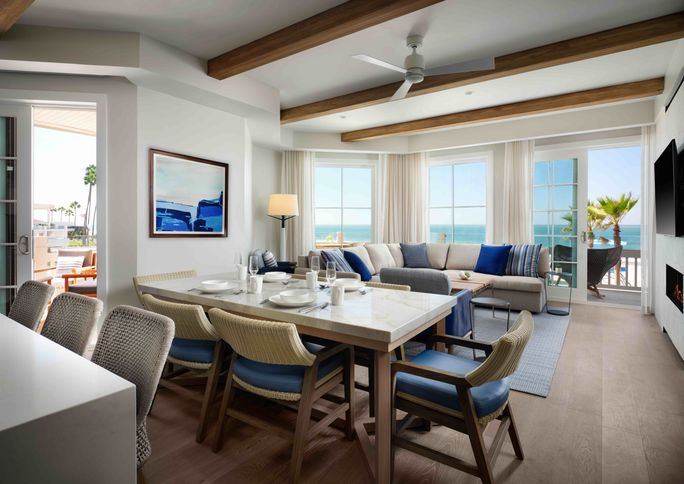 On the second floor of our guest accommodations, there was another bedroom with two beds and yet another bathroom. We could have easily brought a few of Aidan's friends or perhaps another family member or two, and still had plenty of space for everyone—a fact that did not escape me as I surveyed our accommodations and immediately began mentally planning our next visit.
The layout of our accommodations was merely one example of the options available at Shore House. There are one-bedroom residences that sleep up to four starting at 769-plus-square-feet and running all the way up to 831-square-feet.
Need still more space? There's also two-and three-bedroom residences from 1157 square feet up to nearly 1700 square feet. (Which amounts to the average size of a home in many parts of the country.)
The Amenities

Shore House Pool at Hotel Del Coronado (Photo Credit: Courtesy Hotel Del Coronado)
The Shore House is a unique neighborhood of its own at the Hotel Del, set slightly apart from the main hotel. Shore House guests have access to a private zero-edge oceanfront pool that's not open to those who book rooms in other parts of the resort.
During our stay that exclusivity meant not having to worry about whether we'd secure a sun lounger each day. Sitting by the pool here was also far more peaceful then the buzz of activity and music surrounding the resort's main pool area. There are also private cabanas flanking each side of the Shore House pool (complete with a television in each), which can be reserved if you need even more creature comforts while ensconced poolside.
The Shore House also features its own food offerings. This includes a bistro area on the building's ground floor in a space that looks far more like an open concept living room and dining area in a private home than a formal restaurant. Similar to the guest accommodations, this approachable, family-friendly design had the effect of making us feel far more at ease as we ambled down for breakfast each morning and settled in.
The self-serve breakfast buffet available here each day was also a big hit. Loaded with a mix of breakfast comfort foods and elevated healthy options for all diets, there was something for everyone. The matcha chia pudding became my go-to guiltless breakfast treat each day. My son, meanwhile, was able to surf the buffet himself making toast, sampling the myriad of cereal options and fresh fruit.
The bistro area Shore House, is of course, just one of many dining options at The Del. The main resort includes a variety of choices including Serea, Sun Deck, and Sheerwater —each of these three restaurants offers stellar options ranging from coastal cuisine to comfort foods. My son (not the most adventurous of eaters in full transparency) was easily able to find something at each venue, as did I.
Once breakfast was behind us each morning, we explored beyond Shore House and enjoyed all of the amenities that The Del has to offer.
The Entertainment
So many options, not enough time. That's not hyperbole. The Del offers myriad ways to spend quality time together as a family. And many of those options are the purest types of fun. A walk along the stunning beach. Playing ping pong near the main pool. Renting bikes to explore Coronado. S'mores on the beach around a bonfire (with Gus in tow). There's even LED nighttime games available for rent on the beach such as ladder ball and corn hole.
All of these options align perfectly with the Hotel Del's ethos—a resort built in 1880 that still serves up a slice of  Americana, albeit in a regal, elevated setting. Even as the hotel subtly works to incorporate all manner of contemporary creature comforts, The Del still makes you feel as though you've stepped back in time when visiting. This includes the ways in which families are able to connect and enjoy each other's company when visiting.
In keeping with all things 2023, The Del is the first resort I've visited that offers Virtual Reality (VR) diving in the pool. An experience that I'll admit, I was somewhat perplexed by until I tried it. (Why not just go snorkeling or scuba diving for real, I pondered?) Donning a VR headset in hotel's main pool, guests can swim around while viewing images of a tropical coral reef, outer space, the ruins of Atlantis and even skydiving. The experience was remarkably peaceful and far easier than navigating the often choppy waters of the nearby Pacific Ocean. For young children who haven't yet mastered the art of snorkeling, VR offers an immersive and memorable alternative that they can tell their friends all about.
After our VR experience, my son and I (with Gus still in tow) decided to take a dip in the nearby hot tub to warm up and relax. En route, we couldn't help but notice the other hotel guests relaxing in the pool area, a few of whom had their small dogs basking on sun loungers right beside them. It was an unexpected yet reaffirming moment–a legendary, upscale resort that clearly doesn't take itself so seriously that it forgets what makes guests feel at home. And it was a scene that we'd see over and over again throughout our stay.
The Memories
Our three days of connecting as a family and enjoying the rhythms of nature that were luxuriously right at our doorstep while ensconced at the Shore House, flew by far too quickly.  As most good things do.
More walks along the beach please, and peaceful hours of playing ping pong with my son, alternated with swimming, reading by the pool, and contemplating whether to dine at Serea or Sheerwater, or perhaps in the comfort of our own room. More S'mores on the beach (with Gus curled up in a beach chair of his own nearby) and evening games of Corn Hole.
With my 10-year-old son rapidly morphing from little boy to young adult, the quality family time and soul-enriching respite from daily responsibilities that our Shore House stay allowed, was just what this busy single mom needed. For Aidan, a fun getaway with his beloved Pug, and his grandmother in tow, in an environment that made everyone feel welcome and comfortable—was just what his young spirit needed.
Amid the global Covid pandemic, like so many other people, our family rediscovered the value of simple pleasures, including exploring local and the joy that can be found in the ease of a staycation. With the addition of The Shore House to the San Diego hotel and resort scene, the staycation options have suddenly become far more compelling. And family-friendly—for all members of our family.
For the latest travel news, updates and deals, subscribe to the daily TravelPulse newsletter here.

Topics From This Article to Explore