You know the ball, maybe not the date, the score or the state of the game, but if you're reading this then you surely know the ball. Its flight, how it curved and dipped, hit the pitch and twisted back past the bat, and the equal and opposite reactions that followed. The way poor Mike Gatting stared dumbfounded at the ground, as if, yoink, someone had just pinched his lunch from under him, how Ian Healy leaped into the air, both hands above his head, while at the other end Dickie Bird tried to hide his surprise, as if he'd seen a ghost but didn't want to let on for worry people would say he was crazy.
And Shane Warne, well he just clenched his fist. Warne was as good a salesman as he was a spinner, he knew it was always best to underplay the delivery. "All I tried to do," he said, "was pitch on leg stump and spin it a fair way." He didn't need to say much more. Everyone else did the talking for him.
In November 1849, Charles Dickens went to watch a public hanging at Horsemonger Lane gaol. He wasn't interested in what happened on the gallows, but in the reactions of the crowd around them. So he watched the faces, the "bearing, looks, and language of the assembled spectators", the nature of spectacle was best understood not by looking at event itself, but by studying the impression it made on everyone else.
"First ball! Bail is off! He's bowled him! Gatting can't believe it! First ball!" said Tony Lewis on the BBC, with rising excitement. "Lethal."
Over on Australia's Channel 9 Richie Benaud came out with: "And he's done it!" before, of course, he paused, then said: "He's started off with the most beautiful delivery! Gatting has absolutely no idea what has happened to it."
Nor did Jonathan Agnew, who was commentating for Test Match Special from a spot behind Gatting's back. "And Gatting is taken on the pad!" Agnew said at first, then corrected himself: "He's bowled! Well! … we'll have to wait for a replay I'm afraid to tell you exactly what happened."
The newspapermen had another couple of hours to work on figuring it out, which still wasn't enough for some. The Times's correspondent decided it was a "freak" delivery and blamed the pitch. Many of the rest concentrated on what England's poor batting meant for Graham Gooch's future as captain. It was the Guardian's Mike Selvey who seemed to understand best exactly what had happened. "With that one delivery," he wrote, "Warne had carved his name in cricket folklore."
A day later, when the Sunday papers came out, the moment had grown again. It was Robin Marlar who came up with the name. Marlar wasn't the only one who got it, in the Independent on Sunday, Richard Williams called it the "best ball ever seen in Test cricket". But Marlar had been a spinner himself before he turned to journalism and understood what Warne had done in a way that only someone who has tried, and failed, to do similar things himself could.
"The ball of the century, we can safely call it, was the very first from Shane Warne in a Test in England," he wrote, in a phrase repeated in the headline. "Utter perfection, sporting skill elevated to fine art." Marlar called it "the Ball". "It will become a myth."
It has been 30 years since Warne's Ball of the Century at Old Trafford on 4 June 1993. Sunday marks the anniversary. Warne would take another 677 wickets in Test cricket, win another seven Ashes series, a World Cup, an IPL title, a spot on Wisden's list of the five best players of the 20th century and all the rest of it, too.
All told, he bowled about 150,000 balls in competitive cricket, some of them better than that one (he always insisted he'd bowled two that were superior to it to Gooch later that afternoon), many more startling, more artful, or more important. But the myth of the Gatting ball grew with him, like the breakthrough gigs the band did right before they became famous.
As Wisden predicted a year later: "Thanks to TV, Warne's first ball in Ashes cricket, which bowled Mike Gatting, may become the most famous ever bowled." It went viral in the age of VHS. You can find mentions of the Gatting ball in all the places you would expect, in any one of the 15 books written by, for, or about, Warne, the countless other autobiographies by the men who played with and against him and the compilations, coaching guides, and other cricket books.
But it is also there in the oddest most unexpected places, chick-it paperbacks ("Shane Warne! God those fingers are insane!"), children's stories, cookbooks. It has its own poem, A Good Introduction, written by Annabel Tellis in the style of a smitten suburban housewife: "When Shane introduced himself to England / And Mike Gatting's mouth became an O / With a single delivery that changed the world / Mike's, Shane's, and mine, you know."l
There are references to the Gatting ball in philosophy essays, engineering manuals and self-help books, where it is used, variously, to help illustrate points about sensory reconstruction and the art of narrative in the work of Peter Goldie, equations to use to predict the future flightpath of a projectile, and what to do if your spouse keeps cheating on you. It is even in the court transcripts of a murder trial, after the lawyer mentioned it before demonstrating Warne's flipper to the jury in an attempt to try to explain that despite what the prosecutor just told them, things aren't always exactly what they first seem to be.
It is the only delivery in the history of cricket to be name-checked in the British and Australian editions of Hansard. It was used in a putdown by the Liberal senator Richard Alston during a debate on free-to-air TV rights: "If you reckon Shane Warne made Mike Gatting look a mug, I have to tell you that this was the most appalling performance." Fifteen years later, the Tory MP Jacob Rees-Mogg told the House of Commons regarding the Justice and Home Affairs Council: "The degree of spin required to say that we are seeing the repatriation of power reminds me of that famous ball bowled by Shane Warne when he was first visiting England."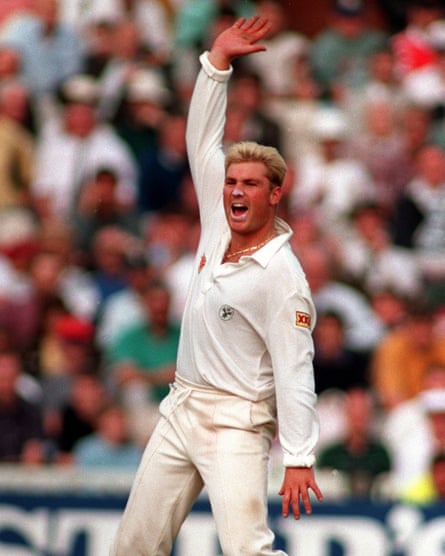 The ball isn't just referenced in one set of lyrics – Paul Kelly's "Mike Gatting looked up, struck as dumb as a post / And walked from the crease like he'd just seen a ghost" – it has two more entire songs written about it. There's Jiggery Pokery, by Neil Hannon and Thomas Walsh: "Jiggery pokery, trickery jokery, how did he open me up? / Robbery! Muggery! Aussie skullduggery, out for a buggering duck" and That Ball, by Eddie Perfect: "It started with an approach more like a shuffle than a proper run / He ambled shambolic, kind of graceless, with a swirl of arms," the second of them the showstopper in an entire Shane Warne musical.
It got so that wherever they played cricket, they knew Warne, and wherever they knew Warne, they knew that ball. In Jonathan Harley's memoirs about his time working as a foreign correspondent for ABC in south Asia he makes a running joke of it: "Defeated, I take a top of beer, settle into my plastic chair, and wait for the inevitable: 'Mr Jonathan, do you know Shane Warne?'"
Australia's former foreign minister Julie Bishop even has a story about her time working as independent observer of the general election in Zimbabwe in 2000, when she was sent into the mountains to interview a gang of war veterans who had taken over a farm. "They were kind of like bikies, tatts and no teeth and chains around their necks."
Their leader was called the Leopard. "You're British," he said with a glare when he met her. Bishop's heart sank. "No," she replied, "I'm Australian." He looked at her, then around everyone else, and said, with a big grin: "Shane Warne."