The travel industry's nonprofit education leader, The Travel Institute, published some initial key findings from its latest study, titled 'The Changing Face of Travel Agents 2023'.
This is the third in a series of surveys of North American-based travel professionals, each conducted with for the purpose of gauging various aspects of advisors' function, while also making note of new and unfolding influences. The Travel Institute's two comparable surveys were performed in 2008 and 2018, allowing for some direct comparisons with this year's version to be drawn, thereby offering a linear view on evolution of travel advisors' role within the industry. 
Highlights of the study's initial key findings include: 
Travel advisors continue to mainly operate in gig economy roles, with the job attracting workers interested in part-time supplementary roles that offer independence and flexibility, as opposed to traditional full-time employment.
71 percent are independent contractors (ICs), while only 29 percent are actual employees, carrying on the previous trend toward an IC agent model. In 2018, 62 percent worked as ICs and 38 percent were traditional employees, while the exact inverse was true in 2008, when 29 percent were ICs and 71 percent were employees.
44 percent of IC/gig workers say that their current role a travel advisor today resulted from a career change, compared to 31 percent of direct employees.
50 percent of ICs work an average of 31 hours or more per week, while 85 percent of employees work the same amount.
34 percent of ICs classify their role as part-time, compared to only nine percent of employees.
Among ICs and direct employees combined, 72 percent of those with 20 years' experience in the role work 31 hours or more weekly, while just 41 percent of those with less than 3 years' experience do the same.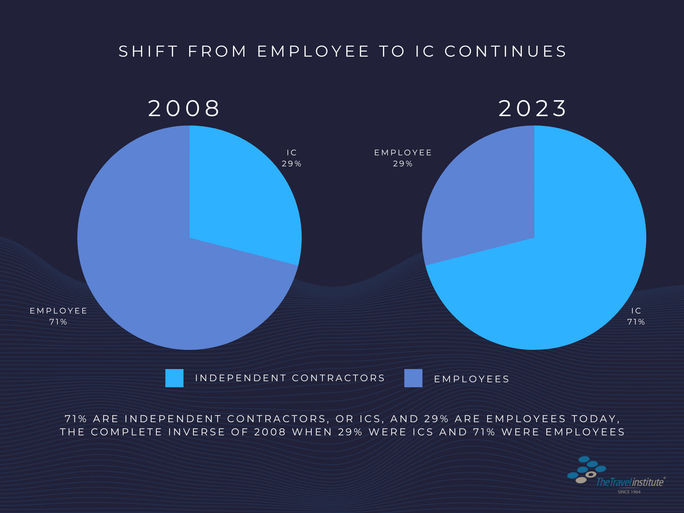 Despite relatively high levels of job satisfaction being reported among current travel advisors (74 percent said they "love what they do"), a significant portion of experienced agents have been withdrawing from the role in recent years, indicating that today's population of seasoned advisors will "age out" in the near future.
Diane Petras, CTIE, president of The Travel Institute, said that these trends, combined with the surge in consumer interest in travel post-COVID, could results in a shortage of skilled, available travel advisors to meet demand over the next decade. She called the survey results "both a wakeup call and an opportunity" for the travel industry's collective recruiting and retention efforts, in addition to educational needs. Still, although one-third of travel companies lost seasoned employees amid the pandemic, restaffing and recruiting did not make it into the list of top priorities among 2023 survey respondents.
---
For the latest travel news, updates and deals, be sure to subscribe to the daily TravelPulse newsletter here.

Topics From This Article to Explore