It's been 10 years since the Grade 1 Metropolitan Handicap, better known as the Met Mile, has been run on the Memorial Day holiday at Belmont Park in Elmont, N.Y. The race landed on Memorial Day in 1971 when the federal holiday was moved from May 30 to the last Monday in May.
The race itself goes back to 1891 at old Morris Park racetrack, which also hosted the Belmont Stakes for a number of years. It was also run at Aqueduct in the 1960s, but the Met Mile has been a Belmont fixture for most of the 20th and all of the 21st century (that could change with Belmont Park construction coming up).
The Met Mile has been won by many of Thoroughbred racing's greatest performers and came to be known as a "stallion making" race for older horses. It has been won by a handful of 3-year-olds, most recently Honour and Glory in 1996, and before that Holy Bull in 1994, Dixie Brass in 1992, and Gulch in 1987. Gulch was the most recent back-to-back winner of the Met Mile when he won again in 1988.
The most audacious 3-year-old Met Mile winner was 1982 Horse of the Year Conquistador Cielo, who Woody Stephens wheeled right back six days later to win the G1 Belmont Stakes going a mile and a half
The Met Mile stands alone as an outstanding race, but New York Racing Association officials made the Memorial Day cards even stronger by adding a pair of additional G1 fixtures, the Acorn Stakes for 3-year-old fillies and the Ogden Phipps for fillies and mares.
In 2014, those three races were moved to Belmont Stakes day, giving that program a total of six G1 races, plus two G2 and one G3.
Spurred on by a Triple Card attempt by California Chrome that attracted a Belmont Park crowd of 102,199, wagering on on the 2014 Belmont Stakes day went through the roof to a record $150,249,399. That was up more than $60 million from the previous year's Belmont Stakes card without a Triple Crown on the line.
But Memorial Day business suffered from the loss of those races in 2014, with handle plummeting from $16.2 million in 2013 to $9.9 million in 2014.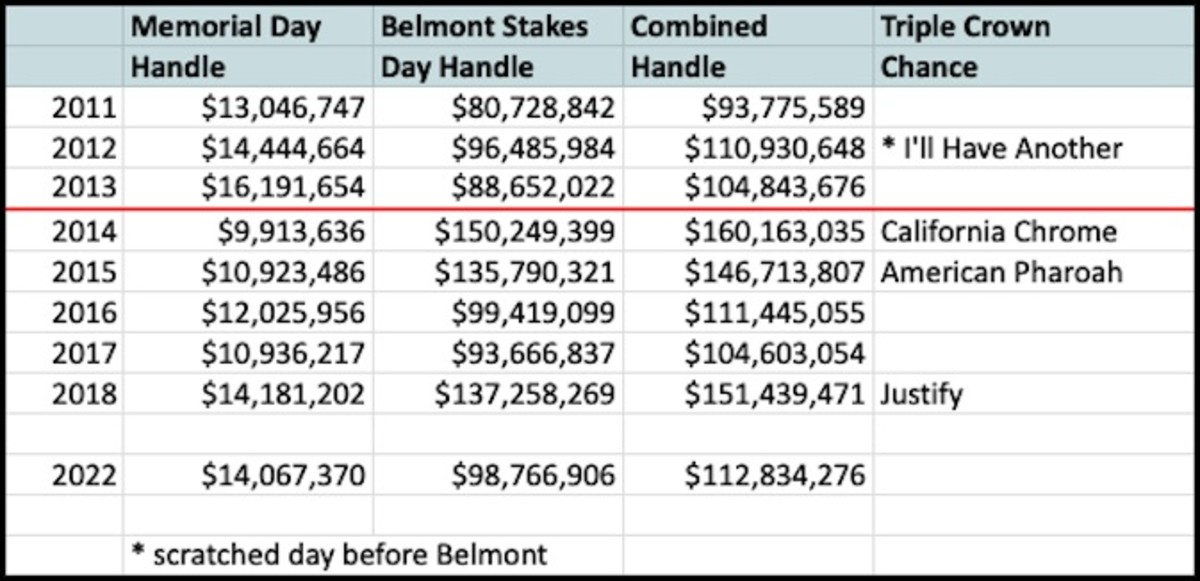 To their credit, NYRA has grown Memorial Day handle back to where it was in the Met Mile days, now focusing on a good day of racing to showcase New York-breds. Of course, it isn't the same from a quality of racing standpoint when you no longer offer three G1 races, but those races had long stopped bringing large crowds to the Long Island track.
Making Belmont Stakes Day as strong a day of racing as there is this side of the Breeders' Cup has helped handle, especially when a horse is going for the Triple Crown. Belmont day business rises and falls with Triple Crown attempts or rivalries that develop in the lead-up to the Triple Crown or in the Kentucky Derby and Preakness.
But the other added bonus for NYRA in having moved those races is the premium price they get for out-of-state simulcasts. When the Met Mile was run on Memorial Day, the cost of the signal to simulcast outlets and advance-deposit wagering companies is lower than it is on Belmont day. So NYRA not only was able to increase handle, they retained a bigger percentage of every simulcast dollar wagered on Belmont day than they would have on Memorial Day.
There are still fans and horseplayers who would prefer the Met Mile be run on Memorial Day, but it made good business sense to move it. You've got to make hay while the sun shines, and nothing shines brighter in New York racing than Belmont Stakes day – even without a run for the Triple Crown.
That's my view from the eighth pole.