The breeze of change is wheezing through Boston – although not nearly hard enough for most people here. Voters in the Lincolnshire market town were the most enthusiastic supporters of Brexit, with 74.9% backing leave in the 2016 EU referendum. Now even they are sceptical that Brexit will deliver the transformation they're still waiting for seven years later.
As the Best in Britain poll in the Observer reveals on Sunday, in the Boston and Skegness constituency more than twice as many people (40%) now want closer links with the EU against just 19% who want relations to become even more distant.
But don't mistake this for a sudden love of all things European. If support for Brexit is softening, then it's because it hasn't delivered the thing almost everybody here mentions: lower immigration. Ask people if they want closer or looser ties to Europe and people start talking about the Bulgarian and Romanian workers in the town.
"Polsky sklep" has been supplanted by "Bulgarian shop" along West Street as the most visible annoyance for some Bostonians, as well as the street drinkers near the statue of Herbert Ingram, the founder of the Illustrated London News, whose memorial lies in the shadow of the town's main landmark, St Botolph's church.
"Brexit? Best bloody thing that ever happened," barks one older gentleman, making his way towards the shops in Market Square. "If only we could get rid of the eastern Europeans." Does he favour closer ties? "More distant!"
But he is unusual. People here may still support Brexit but fewer think it has gone well. A woman approaching middle age stops for a quick chat, and in spite of her support for leave, she's not sure how the UK's relationship with Europe should develop.
"I think many of the advantages that could have been taken haven't been taken," she says, adding that the country was divided. "There's always got to be a period of adjustment. You can't expect everything to be hunky dory straight away. I don't disagree with it [Brexit] but we need to get in charge and sweep out the political class."
Boston has been doing exactly that. In the May council elections, the Conservative administration on Boston borough council was swept out of power by the new Boston Independent group. Now the local authority's 30 seats include no Labour councillors, one Lib Dem and only five Tories in what has been one of the party's safest parliamentary seats.
One of those Conservative councillors is Anton Dani. Sitting in the sunshine and fresh air outside his cafe on the edge of the town square he says that leave voters – and campaigners such as him – were like a bride who had been walked up the aisle by politicians then jilted at the altar. Even members of his own family who had voted out would now vote remain.
"Nigel Farage walked away. David Cameron walked away and left us with Brexit. And then we had Theresa May spending millions and where did that get us?
"Boris said we could have £350m every week that we were giving to Europe and give it to the NHS. Did we do that? No." One of his customers is George Lersch, 30, a former financial services worker who voted leave and is one of the disillusioned. "We should be closer [to Europe] but stronger in how we negotiate," he says. "Why do we need different financial regulations in the UK compared to Europe?
"We've got a billionaire boy as prime minister and he and his family have never walked in the shoes of 99% of people in this country. There's problems with NHS funding, school funding and even the Labour party won't even stand with the unions. We should be looking inside first."
Those in Westminster might argue they've been trying to do just that. Whitehall has offered Boston £21.9m from the towns fund, and another £14.8m from the levelling up fund. That should translate into a new urban park, improvements to Boston railway station, a new leisure centre and renovations to the historic shopfronts.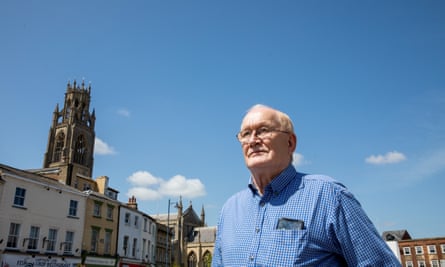 The only person who mentions any of this is one of Boston's few remain voters, Ken Franklin, an 83-year-old who has caravanned around much of Europe and continues to believe the UK should have closer ties.
Most of his friends were leavers. "They think there's too many foreigners here," he says. "Boston is a strange town in some ways because it's in the middle of a big farming community. I've lived here for 30 years and there's always been a lot of foreign workers in the town to pick fruit and vegetables."
Funding may make Boston prettier, and perhaps attract holidaymakers here for day trips, but economic ambitions revolve around boosting agriculture and food production – not exactly a recipe for reducing the numbers of migrant fruit and vegetable pickers.
"The town's [a mess]," says a smoker outside the pub. "Always has been, always will be."